January Jones Height, Weight, Age, Movies, Boyfriend, Net Worth
Last updated: May 28, 2020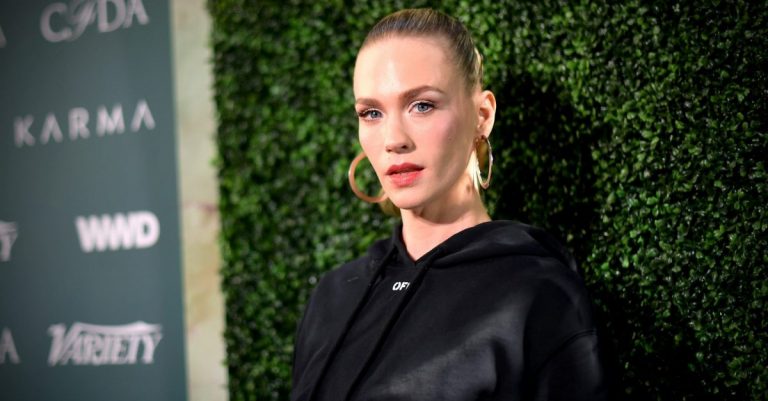 January Jones
Quick Bio / Wiki
Net Worth: $ 10,000,000
Birthday: 5 Jan 1978
Age: 43
Country: United States
Occupation: Actress, Model
Sexual orientation: Straight
Body Measurements
Height: 5.6 ft
Weight: 135 lb
Measurements: 37-24-36 in
Hair Color: Blonde
Eye Color: Blue
Personal Life
Birth Name: January Kristen Jones
Nationality: American
Nickname: Jan
Religion: Agnostic
Ethnicity: Mixed
Family Details
Father: Marvin Jones (Coach, gym teacher)
Mother: Karen Jones (Manager at sporting goods store)
Siblings: Jacey Jones (Sister), Jina Jones (Sister)
Distinctive Features

Curvaceous, and buxom figure
Lisp and breathless voice
Who Is January Jones?
January Kristen Jones who is better known by her professional name January Jones, was born on January 5, 1978, in Sioux Falls in the state of South Dakota, United States. Her father's name is Marvin Jones, who's a coach, a gym teacher, and her mother's name is Karen Jones, who's a sports goods shop manager. She has Jina Jones and Jacey Jones, two sisters.
She is best known in the famous television series Mad Men for playing a part as Betty Draper, as well as for notable roles in American Wedding, We Are Marshall, and in the 2011 films Unknown, Seeking Justice, and X-Men: First Class. Since 2015, Jones has been starring as Melissa Chartres in the Fox series The Last Man on Earth.
Education
She attended Roosevelt High School in Siux Falls. After her graduation from the School, she moved to New York City to become a model.
January Jones Relationships
Marital Status: Unmarried.
Children: She gave birth to a son, named Xander Dane Jones on September 13, 2011. The father of the child has never been revealed.
Will Forte

(2015)

From April 2015 to September 2015, she was in a relationship with actor Will Forte.

Liam Hemsworth

(2013)

Actor Liam Hemsworth had a fling with January in August 2013.

Noah Miller

(2012-2013)

Noah Miller dated January from August 2012 to 2013.

Jason Sudeikis

(2010-2011)

From late July 2010 to Jan 2011, January and Jason were dating each other.

Adrien Brody

(2010)

Adrien Brody and January Jones dated in 2010.

Jeremy Piven

(2010)

In Jan 2010, January and Jeremy Piven were spotted together multiple times.

Bobby Flay

(2010)

Bobby Flay and January Jones dated in 2010.

Tommy Alastra

(2008-2009)

Producer and actor, Tommy Alastra dated Jones from 2008 to 2009.

Josh Groban

(2003-2006)

For three years, the actress dated a musician, Josh Groban.

Seann William Scott

(2003)

Seann William Scott and January Jones dated for 2 months.

Brandon Davis

(2002)

January Jones and Brandon Davis had an encounter in 2002.

Jim Carrey

(2002)

Jim Carrey and January Jones dated briefly in 2002.

Nick Stahl

(2001-2002)

The duo dated for two months.

Ashton Kutcher

(1998-2001)

They dated from January, 1998 to February, 2001.
January Jones Quotes
"I went to a party at the Playboy Mansion once. For a Halloween Party. And everyone wasn't in costume, or if they were they were little bunnies or something, and I went as Michael Jackson."

- January Jones

"I prefer to remain mysterious and have people MAKE their own judgment calls about me than to always have to EXPLAIN who I am and what I'm about."

- January Jones

"It's something I was very hesitant about, but we're the only mammals who don't ingest our own placentas. It's not witchcrafty or anything! I suggest it to all moms!"

- January Jones

"If I could do one thing over I'd have been nicer to my parents."

- January Jones

"It's not witch-crafty or anything! I suggest it to all moms!"

- January Jones

"I wanted to be a meteorologist. I wanted to be a marine biologist."

- January Jones

"Why not show off if you've got something to show?"

- January Jones

"I choose roles that are not me."

- January Jones

"Crows follow me wherever I go."

- January Jones
January Jones Houses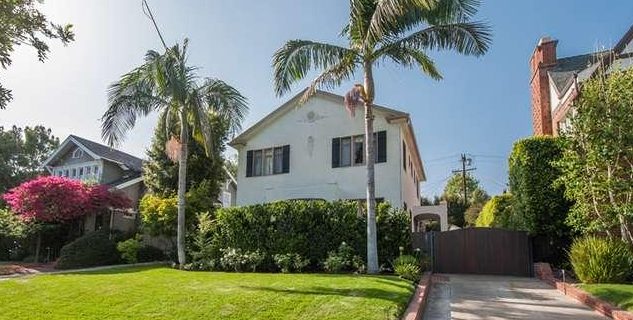 2,200-square-foot home has hardwood floors, a wood-burning living room fireplace, French doors, a breakfast area, three bedrooms and three bathrooms. In 2014, Mad Men star, January Jones has sold her house in Los Feliz for $1.37 million.
Location: Los Feliz
Price: $1.37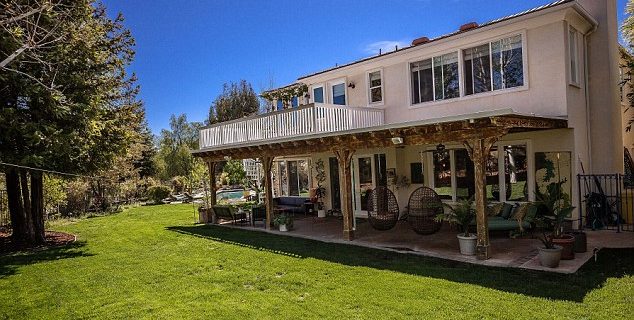 In 2014, she has bought a gorgeous 3,300-square-foot home in Los Angeles. Inside the home there are four bedrooms and five bathrooms, making it ideal for accommodating guests.
Location: Los Angeles
Price: $1.7million
January Jones Car Collection
Land Rover

Range Rover
January Jones Plastic Surgeries
Did January Jones ever get plastic surgery?
The curves of January Jones body are perfect and this is a big indication because when a lady possesses perfect curves it shows that her body is naturally attractive. She is completely natural and she relies on her discipline, skin care, and natural features.
January Jones Hobbies and Interests
Food: Green Bean Casserole.

January Jones Tattoos
Does January Jones Have Any Tattoos?
January Jones has at least 2 known tattoos.
January Jones Facts & Trivia
According to her, she makes her own jewelry.

She is best known today for her job on Mad Men's AMC series.

She gave birth to ehr first child when she was 33 years old.

Standing at an average height of 5 feet 6 inches (168 cm tall), January Jones has a slim build.

In 2011 she had to lose weight for role in X-Men: First Class. She gone from dress size UK 10 to UK 6.

After giving birth to her child Xander Jones in 2011, she consumed some capsules made from her dried placenta, coupled with a healthy diet.

She has also worked at Dairy Queen.
January Jones Major Awards

Golden Globes (Nominee) - 2010
Best Performance by an Actress in a Television Series - Drama
in Mad Men (2007)

Golden Globes (Nominee) - 2009
Best Performance by an Actress in a Television Series - Drama
in Mad Men (2007)

Primetime Emmy (Nominee) - 2010
Outstanding Lead Actress in a Drama Series
in Mad Men (2007)

Screen Actors Guild Awards (Nominee) - 2016
Outstanding Performance by an Ensemble in a Drama Series
in Mad Men (2007)

Screen Actors Guild Awards (Nominee) - 2011
Outstanding Performance by an Ensemble in a Drama Series
in Mad Men (2007)

Screen Actors Guild Awards (Winner) - 2010
Outstanding Performance by an Ensemble in a Drama Series
in Mad Men (2007)

Screen Actors Guild Awards (Winner) - 2009
Outstanding Performance by an Ensemble in a Drama Series
in Mad Men (2007)

Screen Actors Guild Awards (Nominee) - 2008
Outstanding Performance by an Ensemble in a Drama Series
in Mad Men (2007)
Net Worth & Social Media