What is Tom Cruise's Net Worth in 2023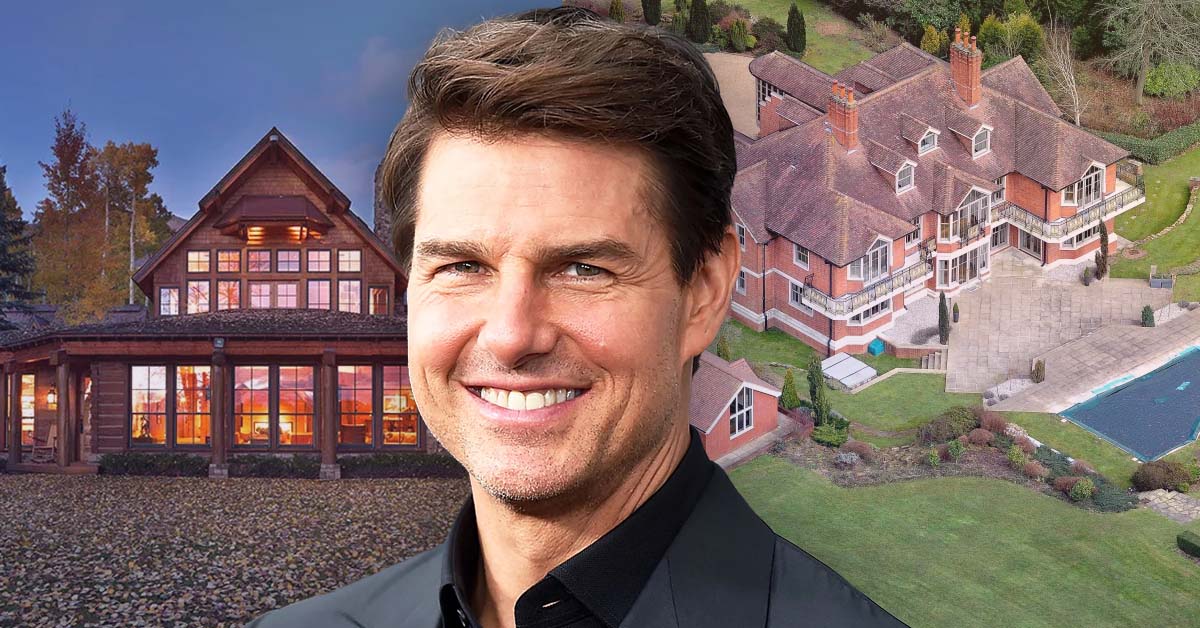 With a leading role in more than forty movies, Tom Cruise is worthy of the title of Hollywood's leading man!
How Much is Tom Cruise's Net Worth?
Tom Cruise is one of the wealthiest celebrities. With a net worth of $600 million, he has established his name and reputation as one of the highest-paid actors in the world.
He has starred in dozens of movies that grossed $9.5 billion worldwide. His highest-grossing movie was the latest release Top Gun: Maverick, which hit $1 billion worldwide, followed by Mission: Impossible – Fallout which grossed $800 million worldwide.
When Did Tom Cruise Start Acting?
Tom Cruise's first acting credit was a brief appearance in the 1981 movie Endless Love. In 1986, Tom Cruise starred in Top Gun. The movie became a major hit and further cemented Tom's career in the movie industry.
Three years later, Tom Cruise earned his first nomination for Golden Globes, BAFTA, and Oscars with his portrayal in Born on the Fourth of July. In 1993, he starred in The Firm, which became a critical and commercial success.
Tom Cruise began his producing debut with the mega-hit Mission: Impossible in 1996, where he also played the leading role. Later that year, he starred in the titular role of Jerry Maguire. The role earned him a second Oscar nomination and a Golden Globe Award.
In 2006, Tom reprised his role in Mission: Impossible III. He also co-starred alongside other big names like Ben Stiller, Jack Black, and Robert Downey Jr. in the 2008 movie Tropic Thunder.
Tom Cruise's latest release was Top Gun: Maverick, the highly-anticipated (and long-overdue) sequel of his 1986 hit, Top Gun. The movie premiered at the 2022 Cannes Film Festival and received critical acclaim.
How Many Houses Does Tom Cruise Own?
Tom Cruise owns multiple houses scattered all over the world as if those were mere monopoly pawns. When he had just secured his reputation as one of Hollywood's leading men, Tom Cruise purchased a 10,000-square foot secluded ranch in Colorado. The property stood atop a vast 320 acres of land. He eventually sold the ranch in early 2021 for $39.5 million.
In 2005, he purchased an $11.7 million home in Hollywood Hills. Tom Cruise decided to sell the property for $11.4 million a decade later. Fellow actor Eva Longoria later bought it.
Tom Cruise also purchased a massive mansion in West Sussex for $4.2 million. The 11,331-square-foot property was bought in 2006 and stood on more than 14 acres of land!
When Tom Cruise was still married to Katie Holmes, the couple purchased a lavish manor in 2007 for a whopping $30.5 million! The couple divorced six years later, and Tom sold the house two years after their divorce for $38 million.
In 2017, Tom Cruise bought a lavish penthouse in Clearwater, Florida. It's reported that Tom purchased this property to stay close to the Scientology church, as the apartment was only a few blocks away from its international headquarters.
What Car Does Tom Cruise Drive?
For an A-lister like Tom Cruise, dozens of lavish properties aren't enough. Of course, the man has to spend some bucks on luxurious cars, too!
Tom was reported to be one of the first people who bought a Bugatti Veyron. He showcased his new ride at the premiere of Mission: Impossible III back in 2006. Tom owns a 996 Porsche 911, a customized Ford Excursion, a Mercedes S class, and a Mercedes CLK.
Moreover, Tom loves classic American muscle cars, owning a 1958 C1 Chevrolet Corvette, a Saleen S281 Ford Mustang, and a 1949 Buick Roadmaster.
Does Tom Cruise Collect Bikes?
Some Hollywood actors are huge motorbike fans, namely Ryan Reynolds and George Clooney. And Tom Cruise is another one on the list!
The actor is a massive collector of expensive motorbikes and knows to ride them well, if you haven't noticed from his motorcycle stunts in his movies. In his garage, Tom Cruise keeps a BMW S1000RR, a bike he bought after riding it in Mission: Impossible – Rogue Nation.
He also spent $103,000 for a Vyrus 987 C3 4V, which he rode on his 51st birthday. Another ride he bought is a Triumph Bonneville which Tom purchased at an auction for $30,000.
Tom Cruise also owns a dozen other bikes, including a Kawasaki GPZ900R, a Triumph Speed Triple, a Honda CRF450X, a Ducati 999R, a Ducati Desmosedici RR, a Confederate Hellcat, and a BMW R nineT.
What Watches Does Tom Cruise Wear?
Tom Cruise is one of the celebrities who frequently sports luxurious watches on various occasions. The actor owns a $4,490 Rolex Datejust and a Cartier Calibre, which he bought for $6,290.
Furthermore, Tom Cruise also owns a Breitling Chronomat, which sports a hefty price tag of $5,790, and a Panerai Luminor Marina.
Is Tom Cruise an Entrepreneur?
In 1992, Tom Cruise and his former agent Paula Wagner established Cruise/Wagner Productions. The production company's first project was the first installment of the Mission: Impossible franchise in 1996. Until its defunct in 2008, the company grossed more than $2.9 billion worldwide.
In 2006, Tom and Paula acquired the movie studio United Artists, where Tom served as the producer and actor while Paula became its chief executive. The studio's first project was the 2007 historical movie Valkyrie, in which Tom Cruise starred.
How Many Roles Did Tom Cruise Turn Down?
Tom Cruise is one of Hollywood's leading men, that's no doubt. This means that he must have gotten so many movie offers! For an A-lister like Tom Cruise, it's normal to be picky with his roles.
Tom was set to star in The Curious Case of Benjamin Button, but he dropped out of the production after Steven Spielberg was replaced as the director.
Another role he dropped out from was a role in Donnie Brasco. He backed out from the cast ensemble because the production was pushed back and was replaced by Johnny Depp.
Tom Cruise was also forced to turn down several roles due to scheduling conflicts, such as Enemy of the State, because he was still filming Eyes Wide Shut, Footloose because of scheduling conflicts with All the Right Moves, and Rumble Fish because he chose to star in Risky Business.
Tom Cruise also turned down the leading roles in Salt, Speed, and Without Limits.
How Much Does Tom Cruise Earn?
In the early days of his career, Tom Cruise hardly reached the $100,000 mark for his salary. He only earned $50,000 and $75,000 for Taps and Risky Business, respectively. His salary began to skyrocket after he made $2 million for the 1986 hit Top Gun.
He later earned $3 million in Cocktail, $9 million in Days of Thunder, $13 million in Far and Away, $12 million for both A Few Good Me and The Firm, and $15 million for Interview with the Vampire.
Tom Cruise earned $70 million in the first installment of Mission: Impossible as both producer and actor. He made a pay raise to $75 million for the third franchise installment.
From 1983 to 2011, Tom Cruise was reported to earn a total of $445 million, bonuses included. Meanwhile, between 2011 and 2019, the amount slightly decreased to $300 million. This amount means that Tom Cruise earned a whopping $745 million throughout his career until 2019!
When Tom Cruise agreed to reprise his role in Top Gun: Maverick, he was entitled to a base salary of $13 million, with an additional $60 to $120 million for the backend points.
Conclusion
Tom Cruise is one of the highest-paid actors in Hollywood, and it's easy to see why. With a net worth of over $600 million, he has starred in some of the most successful movies of all time. Despite his wealth, Tom Cruise remains down-to-earth and gracious with his fans. We can't wait to see what he does next!