Top 14 Logan Lerman Quotes & Sayings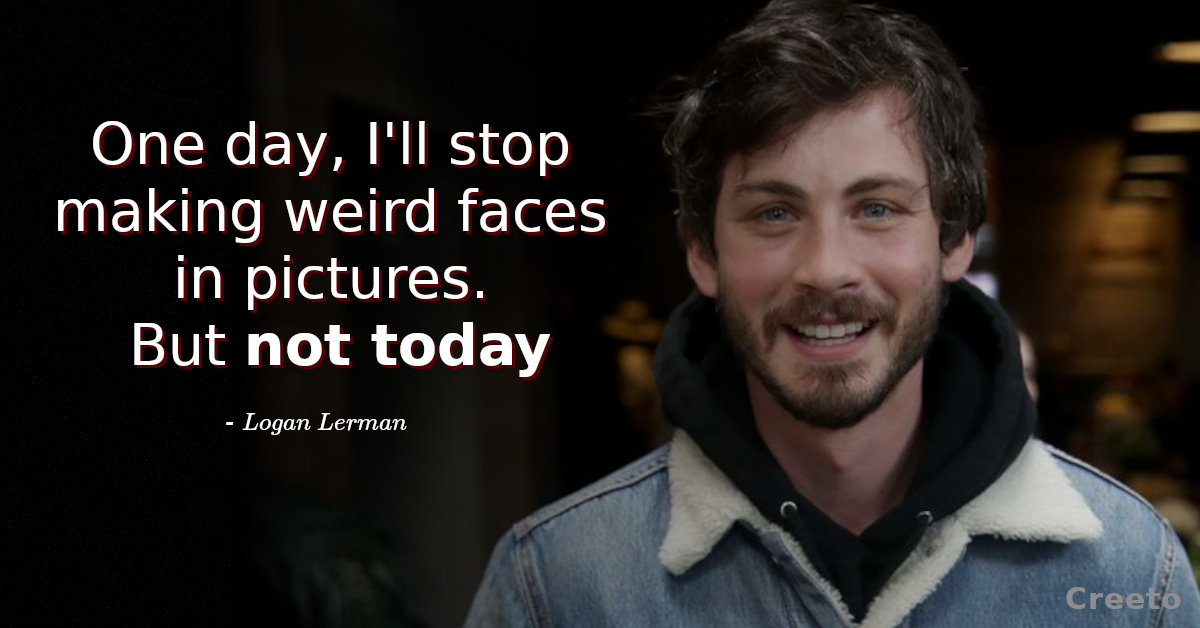 Logan Lerman was born on January 19, 1992 in Beverly Hills, California, in the US. He is best known for playing the title role in the fantasy-adventure Percy Jackson films.
He had a passion for films from a young age. He entered into the creative industry at the age of four doing commercials. He also played roles in the films The Butterfly Effect, The Number 23, The Three Musketeers, Indignation, Noah and Fury.
Here is a compilation of quotes and sayings by Logan Lerman.
I know these will become old stories someday and our pictures will become old photographs and we'll all become somebody's Mom or Dad, but right now, these moments are not stories. This is happening and I'm here.

Life is a rollercoaster ride and I don't intend on being the one screaming and hanging on for dear life.

I'd say a man is someone who is honest, strong-minded, moral, genuine, just a good human being.

I would add a little more love in the world. It's ridiculous, I know, but it is one thing I would do.

It's like, to me, acting is like a child walking in the park, the better the actor, the greater the playground he has.

I want to be a good actor more than anything – someone you can respect.

Honestly, my character doesn't have much in common with Harry Potter besides the fact that he's an unlikely hero who's thrown into a huge situation.

Fun. I'm not the kind of guy kids picked on in school, but I've seen it happen. I've never really given much thought to being cool. I don't really think about it one way or the other.

When I receive a new role, I completely become my character.

I just want to make sure I'm contributing good films to movie history rather than being famous just to be famous.

Jews took it very seriously to marry other Jews and repopulate the Jewish bloodline, and my father's generation gets very serious in my household when they're like, "You have to marry another Jew," because that's still kind of the mentality coming from the baby boomers. So I know that type of pressure.

One thing a girl has to have is a good sense of a humor. I'm a really laid back guy who can find humor in just about anything, so my girlfriend would need to be a little like that too. She doesn't have to be a big jokester, but to me finding humor in things and not taking too much too seriously is a way of enjoying life, so that is important to me.

It's my passion, that's what I wanna do, it's the end goal, that's what I crave every second of the day is to be working on a production but also to be the person leading the production and guiding the pacing of the storytelling.