Who Is Seth MacFarlane Girlfriend? List of Girls He's Actually Dated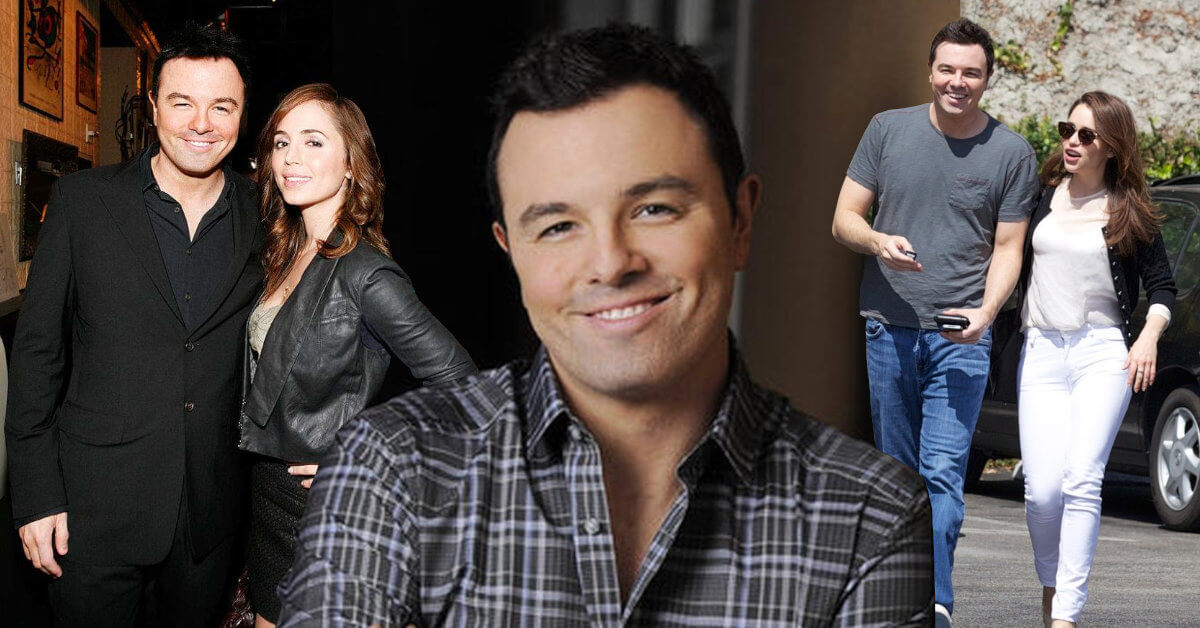 Ladies, if you are fond of animation and comedy series, he must be familiar to you; Seth MacFarlane! The American lad is well known for being an actor, screenwriter, producer, director, and singer. Phew, quite a list, eh? But another list that he's well known for is the gorgeous exes and girls he's been linked with. 
Before we dive into his list of girlfriends which is pretty lengthy, we find it fair to highlight all his achievements and works first. He's, after all, a talented man on his field.
Seth MacFarlane: A Talented Man Whose Life Is to Be Envied Of
Seth's most well-known work is probably the animation series 'Family Guy. He's been nominated for Emmy Awards twenty-three times, in which he won five of them. Seth has also been nominated for five Grammy Awards for his musical pieces in 'Family Guy, 'Music Is Better Than Words, 'No One Ever Tells You,' and 'In Full Swing.'
Furthermore, the movie 'Ted,' which he co-wrote, also earned a nomination for Academy Award for Best Original Song in 2013.
The Connecticut-born actor received a star on the Hollywood Walk of Fame in 2019. Not only that, but he was also inducted into the Television Hall of Fame a year later in 2020 for his achievements and contributions to the television series industry.
Talented, critically acclaimed, and rich. These factors must be several reasons why Seth had succeeded in winning the hearts of dozens of gorgeous ladies here and there! Trisha Cummings, Emilia Clarke, and Anne Winters, to name a few.
So, what charm does Seth possess that had all these gorgeous ladies went head over heels for him? Well, it's about time to dig in!
Seth MacFarlane and His Girlfriend Anne Winters
Seth MacFarlane is currently dating future co-star Anne Winters. He and his girlfriend Anne were first romantically linked after the actress joined Seth's comedy series, 'The Orville.'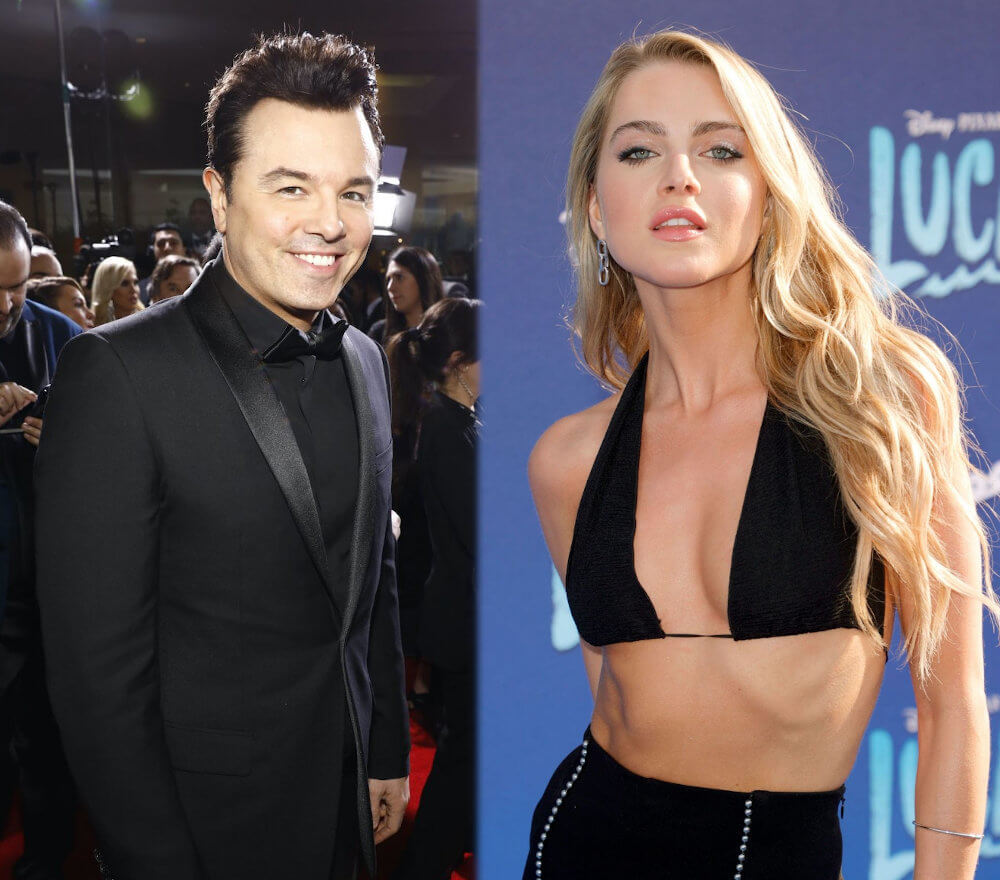 Anne, who lately has been known as the high school "it" girl in Netflix's '13 Reasons Why, will appear as a new series regular for season 3 of 'The Orville.' Seth himself is the creator and the protagonist of the series, portraying an up-and-coming officer, Captain Ed Mercer.
While Seth has opted to keep his love life more private for several years and Anne herself has no dating history publicized, the couple finally went Instagram Story official on Anne's Instagram account.
In the story Anne posted last December, Seth was seen cuddling with Anne while watching a movie in the backyard. The intimate and romantic setup left fans assuming that they're currently enjoying a romantic staycation. Well, still in the honeymoon phase, we suppose?
Nevertheless, it sure is interesting to see their chemistry in season 3 of 'The Orville' and how both characters will interact!
Another Co-Star Romance with Halston Sage
Before he dated future co-star Anne Winters, there's another co-star who caught the eye (and heart, too) of Seth MacFarlane. Meet Halston Sage, who portrayed Lieutenant Alara Kitan in the first two seasons of 'The Orville.'
Despite both Seth and Halston never directly addressed their relationship, they've been spotted on several dinner dates. Not only that, but the pair also involved in some sweet exchange on their Instagram accounts, mentioning and crediting each other on several posts.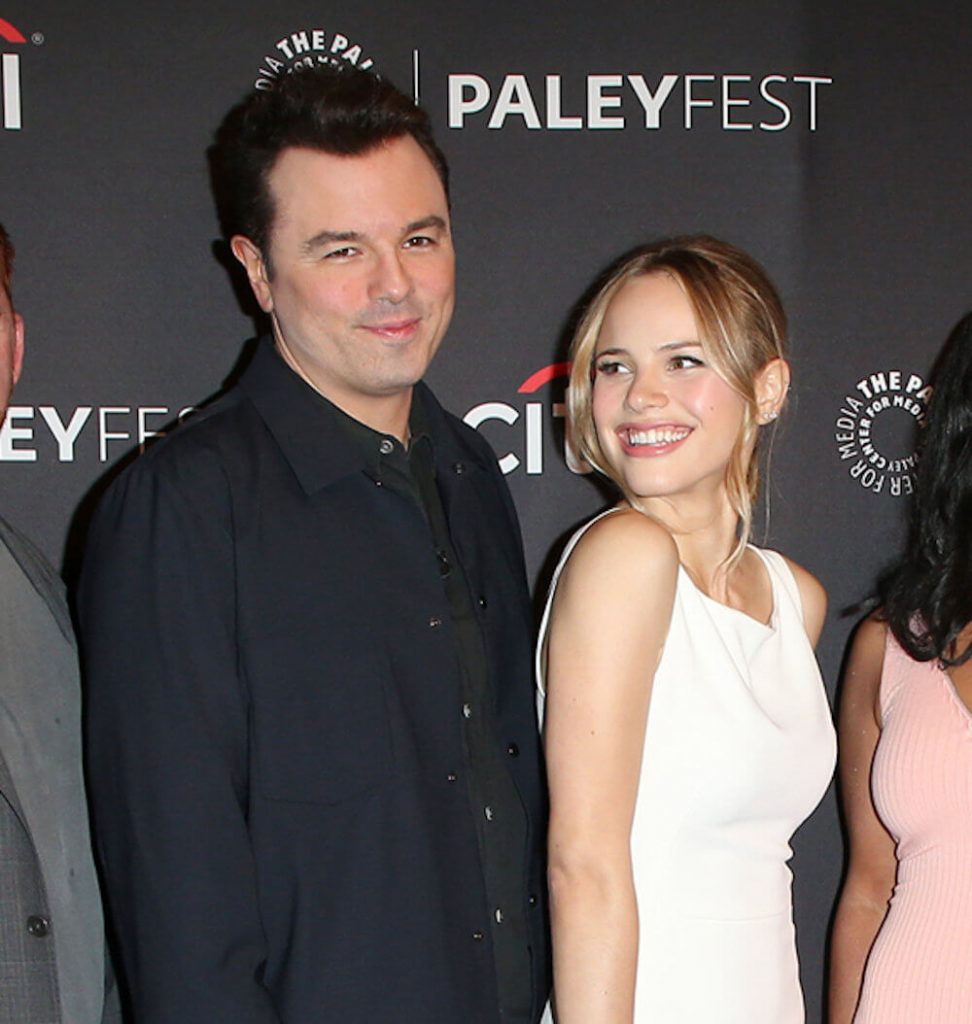 Interestingly enough, the one who eventually confirmed their relationship was Halston's grandmother, Helen Schrage!
The family is happy with their relationship, as Helen stated that "everyone seems to be okay with whatever she is doing" and that "if she is happy, we are happy."
Helen also expressed her wish to meet her granddaughter's famous boyfriend to Radar. She said, "I have not met him because he is in New York, and she is there most of the time. If he wants to meet me and she wants to, I'll be here and open my arms to it."
Unfortunately, the couple went on their separate ways in 2019, and it might not be an amicable split!
It seems that the speculation was true after all because Halston quitted 'The Orville' after the third episode of season 2. Worse, FOX Television didn't provide any reason for her departure from the series.
Well, another reason why you shouldn't date a co-worker!
Conquering the Heart of 'Mother of Dragons': Emilia Clarke and Long-Distance Relationship
The couple dated for several months between 2012 and 2013, when Seth was 39 and Emilia was 25—considering that none of Seth's exes are less than ten years younger than him, fair to say that he has a type after all (although an odd one, if we may say).
During the time they dated, both Seth and Emilia remained close-lipped about their relationship. Only several pictures were captured by the paparazzi of them strolling around while embracing each other.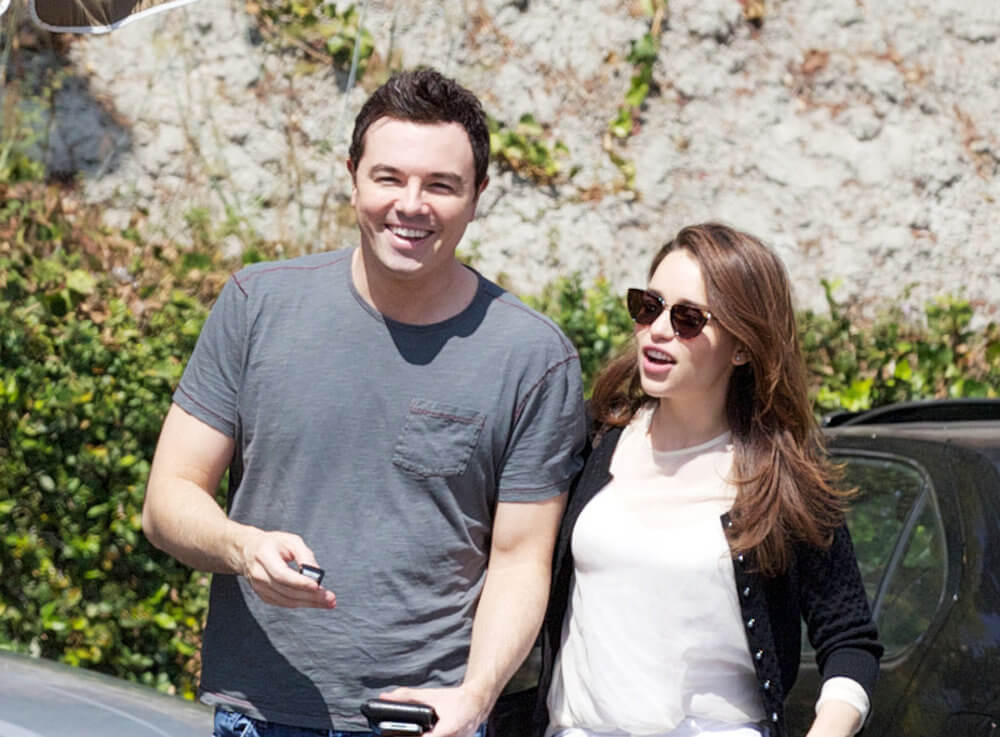 Unfortunately, the couple didn't last long, as a reliable source told that "they are no longer dating." The long-distance relationship didn't work for them, with Emilia spending most of her time in Europe to film' Game of Thrones.
However, several insiders also stated that the couple split was that Seth refused to propose and settle down.
Later, three years after the split, Emilia finally opened up about their relationship in an interview with 'Glamour' magazine. The actress shared the downside of dating a fellow celebrity is that she'd "have strangers giving you love-life advice like, 'I'm a big fan of the show, and I'm not sure what you're doing with that guy."
Emilia also admitted that the comment was something she didn't react well to, which is entirely understandable. However, she further explicitly stated that the exchange "happened in New York when Seth and I were together."
We say the fan was lucky that she didn't carry one of her dragons around at that time!
Two Year Relationship with Trisha Cummings
Ladies, if you like reality shows, particularly MTV's 'The Real World', you might know Trisha Cummings. The TV personality appeared in 24 episodes of one of the show's seasons, 'The Real World: Sydney'.
The show itself was about putting many strangers to live together and then documented their lives and their relationships with each other. Cliché plot of reality shows, if we might say.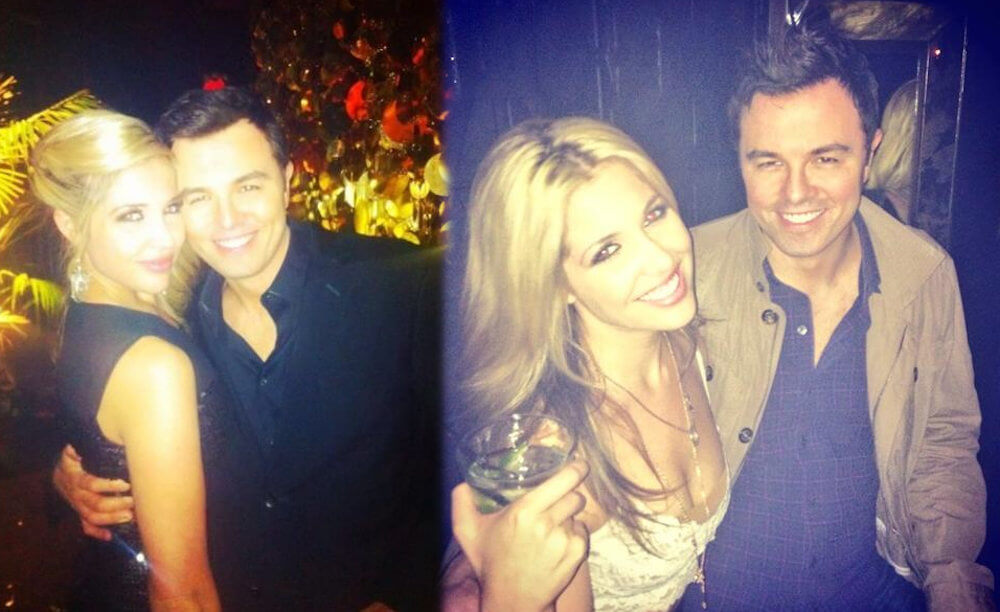 And yes, Trisha and Seth dated from 2010 to 2012. A two-year relationship, which is pretty long for a Hollywood relationship!
The couple never really addressed their relationship publicly. Only several pictures frequently appeared now and then, courtesy to paparazzi and anyone who leaked the photos. However, the couple had things going well, and there's even rumor circulating that Seth and Trisha were engaged.
Unfortunately, they never really had the chance to tie the knot as they went on their separate ways in 2012. Both parties didn't provide any reason on why the relationship ended.
Other Gorgeous Ladies Rumored to Have Dated Seth MacFarlane
Other than Trisha, Emilia, Halston, and Anne, Seth has an impressive list of beauties he had been rumored with. All of them are gorgeous, talented, and young. Only one person, Christa Campbell, doesn't fit his preference on younger lovers, being a year older than Seth.
Now, the first honorable mention is Alexis Knapp. The 'Pitch Perfect' beauty was reportedly hooked up and dated Seth back in 2013 after knowing each other for about three years. Unfortunately, the romance didn't last long as they parted ways sometime after.
Not sure if we could call it a relationship or a mere fling, but Seth MacFarlane and actress Katie Sah were reportedly involved for a short period in 2009. Despite didn't last long, they sure had a lot of fun together!
Who said Seth only attracts actresses? The talented celeb had also won the heart of a Canadian actress and singer, Kate Todd. The pair was rumored to be dated between 2008 and 2009. However, there is no confirmation from both parties whether they dated or just really good friends.
Seth was also romantically linked with actress Amanda Bynes in 2008 after telling a reporter at a party that he had to "run because his date was getting away." Yes, he's referring to Amanda, and no, Amanda wasn't his date to the party.
Ever heard of "soulmates look alike"? This was what many people thought of Seth MacFarlane and Eliza Dushku. Eliza, known for her role in the series 'Buffy the Vampire Slayer,' looks like the female version of Seth. The pair was rumored to be dating each other for about a month, from January to February 2008.
Another beauty he's been linked with is Kat Foster after appearing on 'Family Guy, Seth's pride and joy. The pair met on the set and reportedly started dating sometime in 2007 before calling it to quit in January 2008. No reason for the split up being shared with the public.
It's been quite a challenge to keep up with Seth MacFarlane! Besides his long list of achievements, filmography, discography, and other works, his list of younger lovers is just as long!
Well, there's nothing else we can do other than to wish him and his current girlfriend Anne Winters a great and healthy relationship. And, who knows? Probably she is 'the one who makes him ready to settle down!