Top 13 Sasha Pieterse Quotes & Sayings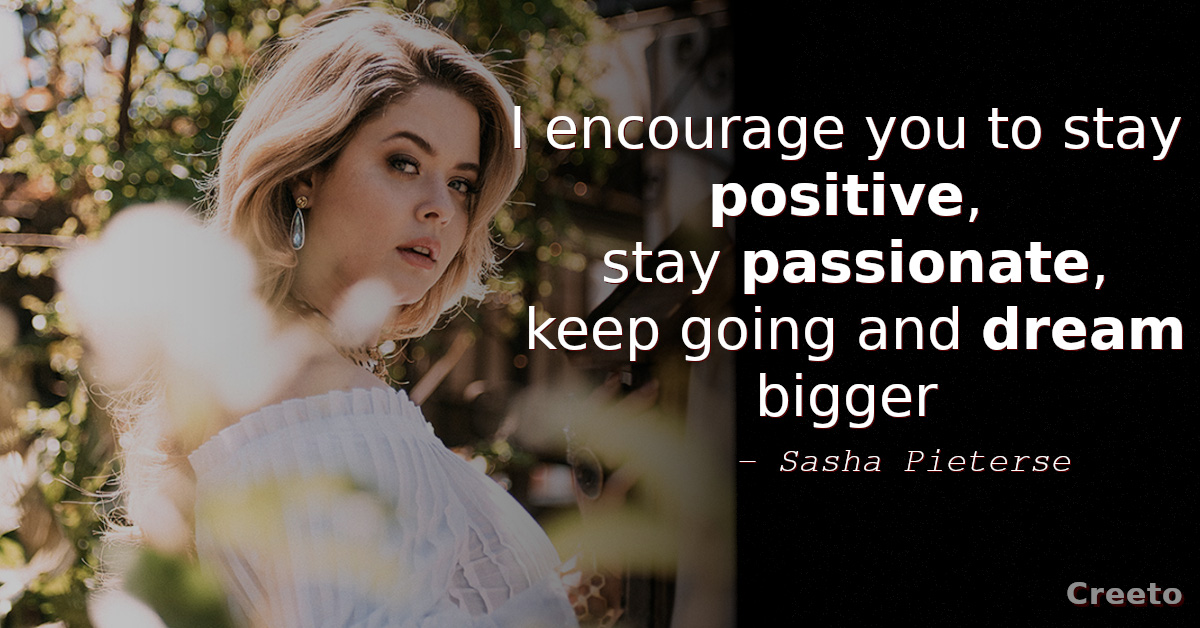 Sasha Pieterse was born on the 17th of February 1996, in Johannesburg, South Africa. She is a well-known American actress and singer who is immensely popular for her portrayal of Alison DiLaurentis in the ABC's TV series Pretty Little Liars.
Explore some of Sasha Pieterse best quotations and sayings.
I am pretty sure I will never get a better character name than Japonica Fenway.

I really want to do more movies; that's where my heart is.

When I watch movies or TV, I am like, 'Wow that guy is really cute, I really like him,' but I don't really have one person that I would die to go to something with. There are so many hot guys.

Your hair tends to get used to the product you use. Every month or so I change it out.

I think a 'PLL' movie would be fun.

I got my heel stuck in a drain as I was crossing the street and cars were coming. It was really scary. A girl in heels in New York is a hard combination.

To clean your face thoroughly, even do a scrub, and let it sit and make sure your pores are clean before you go to club. If it sits on your face overnight, dirt just builds up. Even just laying there the whole night, stuff gets on your face, so anything else there is just really not good.

I've almost been hit by a lot of things in New York City. I am pretty sure I have almost been hit by a bike messenger before.

I was asked to do a reading of 'G.B.F.' and I loved the script. I thought it was one of the most amazing things I'd read, but it took a year to get a green light for production.

I wish I never got buried alive.

My mom used to make my costumes when I was little; she sews a lot. One year, I was a bride and I had a big wedding dress and a bouquet. Another year I was a medieval princess with a long teal dress and a veil. It was a little extravagant, but it was cute!

I've been singing for a really long time and I love a lot of genres, but country just seemed like the best fit. The people in that genre are just so nice and welcoming. And that seemed so appealing. Also my voice fit it and seemed like the way to go.