Miles Teller's Wife: Meet Keleigh Sperry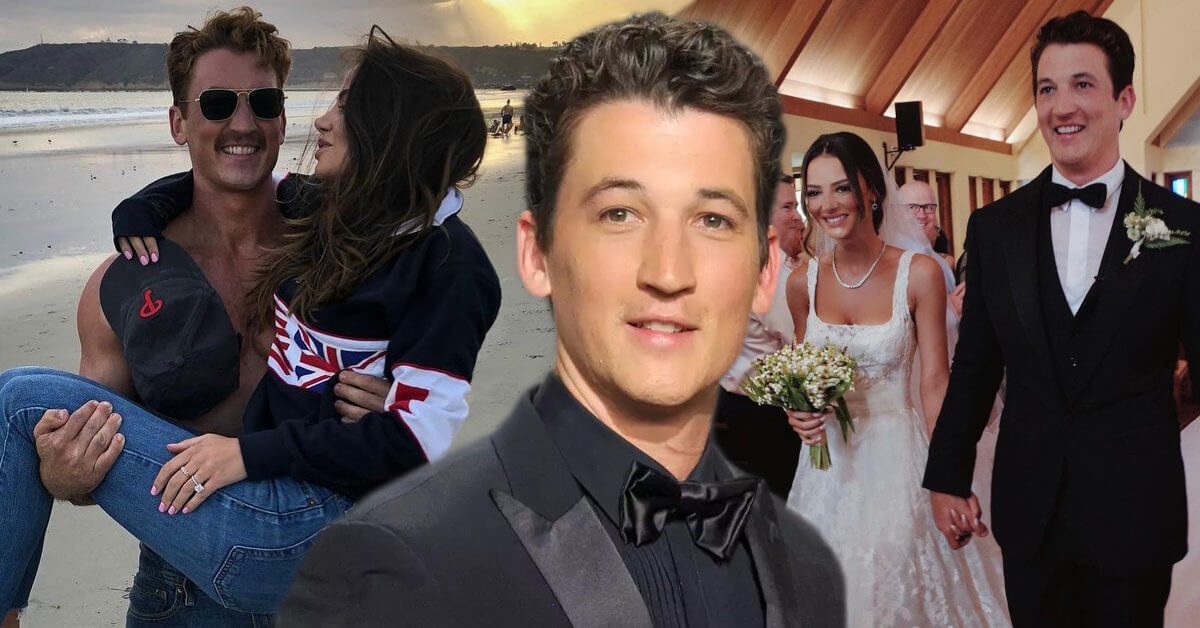 What do you feel when you meet the right person? Of course, you will be drawn to them immediately, from first sight. This moment happened to Miles Teller when he saw Keleigh Sperry, the love of his life, for the very first time.
The American actor met the actress at a party in May 2019. Thanks to their friends, they could meet and get along very well. Now, let us see the love moments between the two below.
Timeline of Romance
Their fateful meeting happened in 2013 when an afterparty for the Black Eyes took place. Miles was the one who asked the actress to dance with him. Miles didn't even think it went well, but he attempted to ask several times until he succeeded. Shortly after the event, they started dating.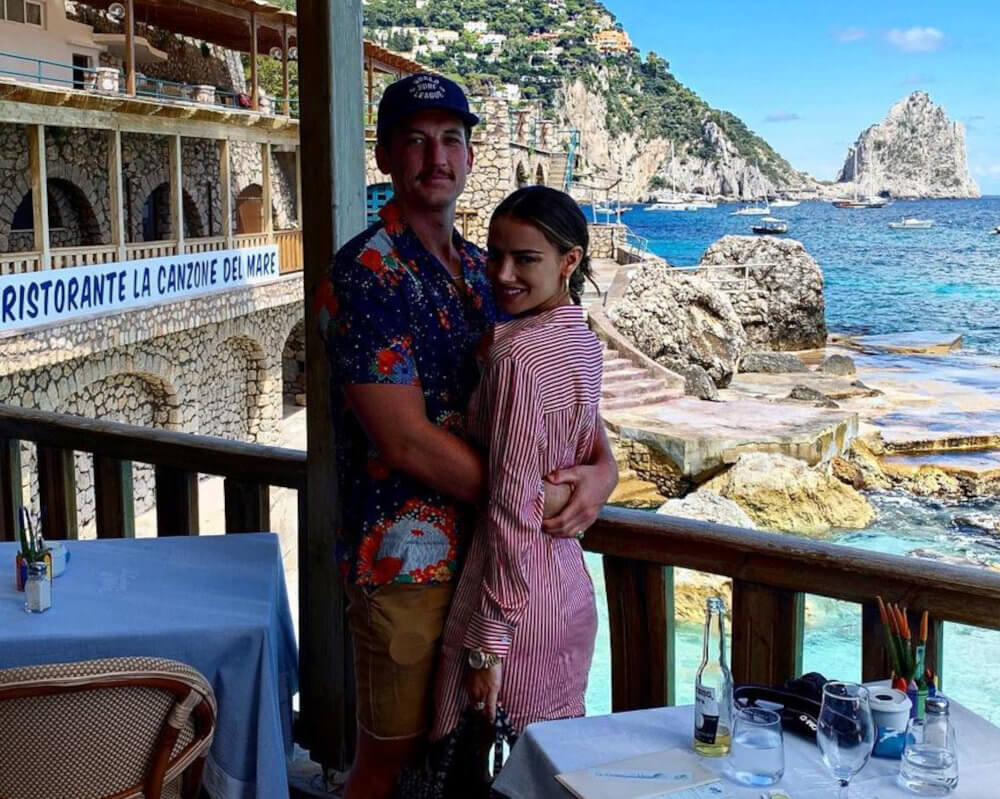 Four years later, Miles mustered up the courage to propose to Keleigh. He found the right time to do that. Miles attempted this while they were on a safari in South Africa.
Miles remembered that the moment he proposed to Keleigh, it was beautiful, like doing an impromptu engagement. But the funny thing is, Miles thought it was not so cool doing that on a safari because when they were going to take photos, elephants were coming in and such. What are you expecting when you propose to a woman on a safari?
When Jimmy said that Miles was supposedly not getting out of the Jeep, Miles said, "Well, we got out. If the girl wants a photo, you have to get out of the Jeep." That's sweet, but, well.
At least, his attempt was successful. It is shown on Keleigh's Instagram post. She uploaded a photo of her and Miles kissing in front of four mini cakes/chocolate, which says 'Happy Birthday' on the plate. She captioned the photo, "Happy birthday, my angel."
A few months later, after the birthday post, the two were married on September 1, 2019. Keleigh was also posting the photo of this event on her Instagram. In the post, she took the chance to thank the media and wedding planners since they helped make the wedding successful.
She said, "Married! Thank you, @voguemagazine and @christieroseevents, for the best week of Hawaiian experience for our family and friends. We feel so loved and grateful. Thank you, @erichmcvey, for the best photos."
After the wedding, Keleigh often joined Miles on the red carpet, including at the Vanity Fair Oscar party. They looked very harmonious as they also wore black formalwear. The party was happening last February 2020.
A year after, in February 2021, Keleigh found an opportunity to honor her relationship with Miles on Valentine's Day. As she is very expressive in showing the moment to the media, she uploaded their wedding photo, and she wrote, "8 years of being your valentine. I love you, the one I want to go through time with."
The couple in the photo looked very happy while holding hands. Keleigh, carrying a bucket of flowers, also looked so beautiful in her white dress.
Their lovely moments continued as the pair shared snaps while on a double date with Miles' Divergent co-star, Shailene Woodley. Shailene's fiancé, Aaron Rodgers, was also there, wearing a pink shirt beside her. And as always, Keleigh looked gorgeous with a white crop top as she leaned on Miles' cheek. Keleigh also posted a photo on her Instagram.
Keleigh's post contained several photos and videos of their happy moments together as a couple. The Dance actress also posted their anniversary on her Instagram account. It happened in September 2020. She was thankful since Miles had been beside her for eight years and still counting.
Miles Teller and Keleigh Sperry had an opportunity to star in Taylor Swift's surprise music video in November 2021. I Bet You Think About Me, directed by Blake Lively, and the music video used a wedding theme. Miles played as a groom at a wedding and was later crashed by his ex-girlfriend (Taylor Swift).
It would be memorable for the couple, as Keleigh expressed her gratitude by posting it on her Instagram account.
Life Has Gotten Pretty Enjoyable
In an interview with Men's Health cover story, the actor expressed his gratitude towards his wife. Miles said that Keleigh Sperry could keep him calm, and it was pretty great. Since Keleigh is always with him from when he wakes up until he goes to bed again, he feels loved, and it feels terrific.
As Miles enjoyed his life with Keleigh, they also made some time to work on their backyard and did some landscaping. Miles revealed that they planted a lemon tree, hydrangeas, and a rose garden. He said they wanted to add color to their backyard since they were staring at the backyard more than usual.
Since Miles said he found 'his person,' he feels fortunate. Their relationship is getting stronger day by day, and Miles feels excellent. Things would get very exciting because his loved one is always beside him.
Miles Expressed His Feelings via Twitter
While Keleigh is very expressive in showing her relationship on the Instagram account, the actor was also passionate about showing his ties on Twitter.
On September 1, 2021, he tweeted, "2 years ago today, I married the woman of my dreams. There isn't a day when I'm not reminded of how much I love and adore you. Thank you for your kindness and unconditional support, Keleigh. I would be lost without you."
The tweet was also accompanied by a photo of Miles, who landed a kiss on Keleigh's forehead. Some people reacted to the tweet, saying, "Happy Anniversary! What a beautiful picture," The others also commented, "For more years to come, bless your marriage," with a GIF photo.
Miles was also ever posting a photo of Keleigh beside their dog. Keleigh enjoyed sitting on a couch, wearing a black jacket and sunglasses, and looking at the camera. Unfortunately, the dog seemed sullen (or does every dog look like that while looking at the camera?)
People on Twitter also seemed to realize it. One of the Twitter users commented, "The closest one doesn't seem to be so enthusiastic about being in the photo, though," which was pointed out to the dog.
But one of the users said that he loved the dog's side-eye expression. Well, it does look so cute, though.
Then at a New Year celebration, Miles posted a photo of him between his sister, Dana Teller, and Keleigh. Dana sent the picture, and Miles decided to post it on his personal Twitter account.
Some people commented on the Tweet, saying, "All the love to you and yours this year, Miles!" The others also commented, "Love the three of you. So happy to see you starting 2022 with a blast."
Seeing the couple's moments via social media made us think they are getting along really well. Let us hope that their marriage will be lasting forever.
Miles Teller and Shailene Woodley
Shailene Woodley, an actress who often co-stars in several movies with Miles, can be considered the actor's best friend. They have been friends for almost a decade and have stayed in touch until now.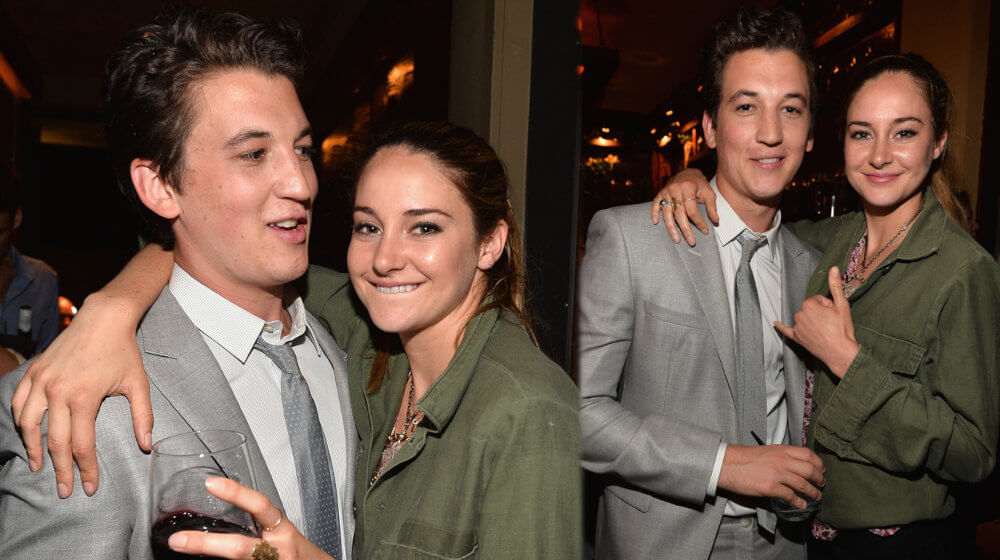 Miles Teller and Shailene Woodley were cast as love interests in The Spectacular Now's drama. The two first met in 2012. Shailene recalled how Miles got a role as Sutter, her co-star in the movie.
When the director looked for a suitable actor, Miles Teller was the only person who came to her mind. That was how Miles got the role, and they got along very well.
Other than The Spectacular Now, the duo has worked together in four different movies. After playing lovers in the first movie, they played rivals in all three Divergent films. Then, Shailene and Miles also reportedly had signed on for their fifth film titled The Fence. In this 2020 movie, the two played as a newlyweds pair.
Being in five movies made Shailene want to be a famous screen couple like Kate Winslet and Leonardo DiCaprio with Miles. She revealed that she would love to do a musical with him later.
As for Miles, he said a similar thing about Shailene. Miles thinks that he and Shailene match up well since they have similar styles in everything they do.