Who is Jason Sudeikis Girlfriend? Is He Married? All About His Love Life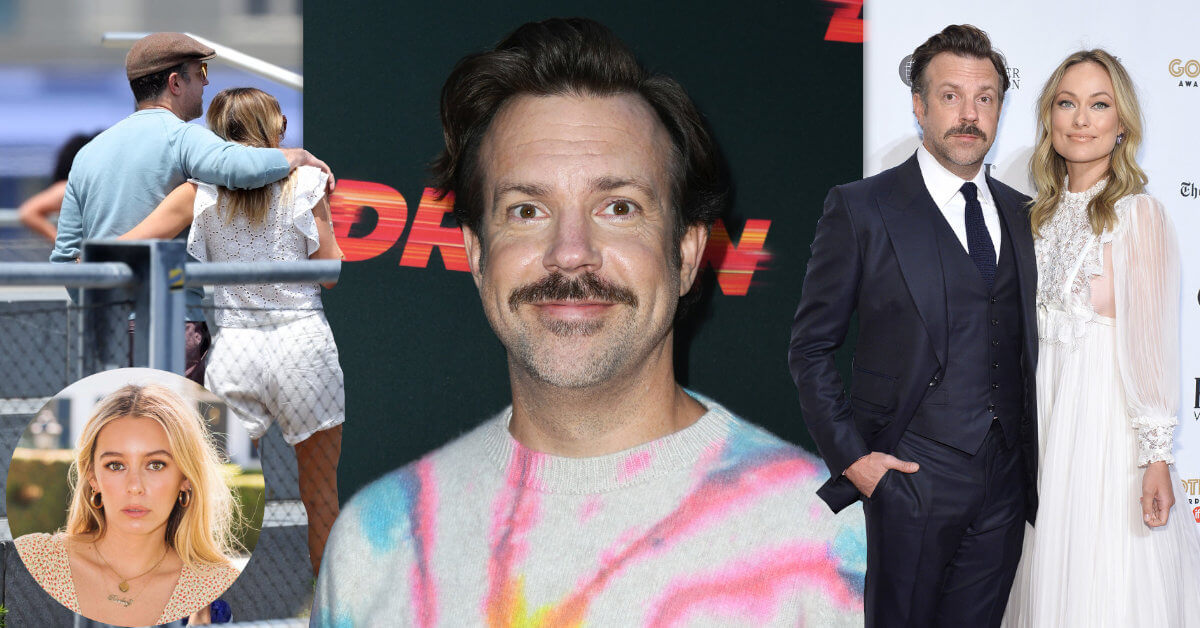 Jason Sudeikis is an American actor, comedian, producer, and writer. He starred in Saturday Night Live in 2008 but decided to leave the show after eight seasons.
Though he mostly appeared as a funny guy, he got an impressive list of girlfriends. Well, was he having Olivia Wilde and Keeley Hazell as his ex-lovers? It tells a lot about his dating life! Here, we will know all about Jason Sudeikis' love stories!
Jason Sudeikis Was Finally Seen with "Secret" Girlfriend, Keeley Hazell
Jason Sudeikis is currently dating Keeley Hazell, a beautiful and talented blonde English actress, singer, and model. We might recognize her in Horrible Bosses 2 and Ted Lasso.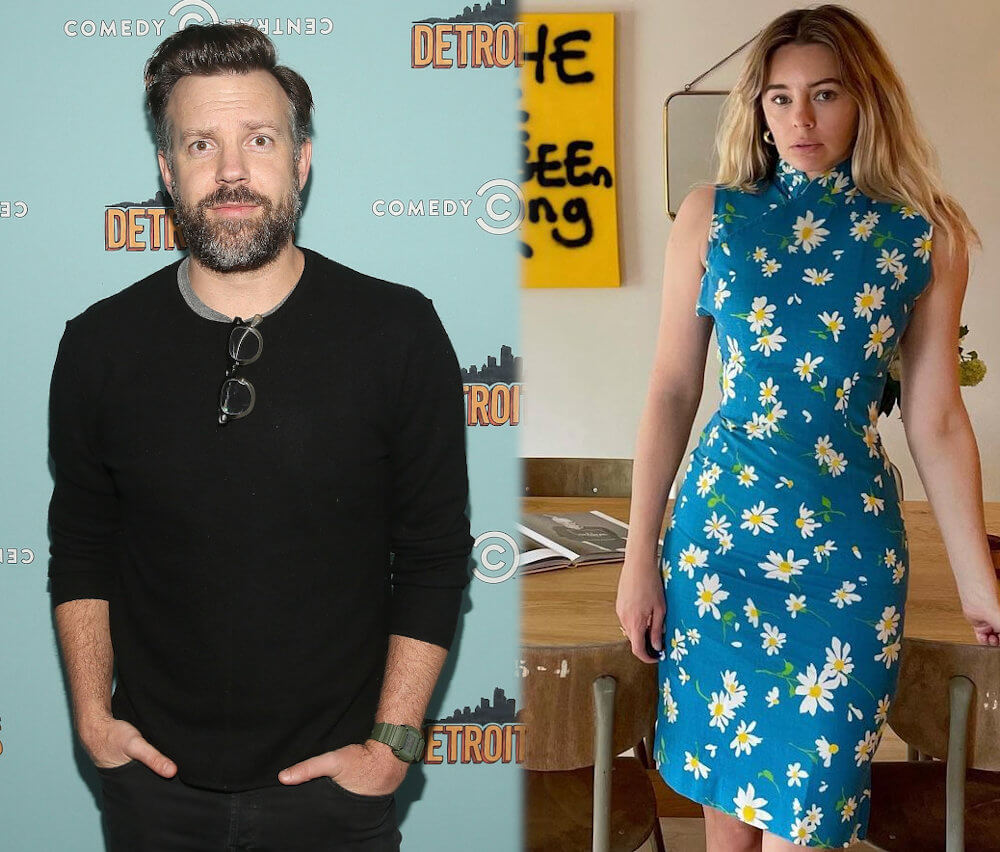 However, Keeley is focusing more on her modeling career. We can see her talented work posing topless for The Sun Magazine, FHM, and Zoo Weekly.
They work together in Ted Lasso, and the two looked perfectly good together. In addition, Jason and Keeley proudly share their PDA moments with the media recently. Well, Jason deserved that since his latest relationship with Olivia Wilde didn't end in a good term (in fact, there is a rumor that Jason has been cheated on!).
The pair were seen head over heels with each other in New York City last Sunday. They hold hands and hugs each other with big smiles on their faces. They both wear a casual outfit; Jason wore a blue shirt paired with shorts and blue shoes. Meanwhile, Keeley was looking adorable with a white blouse and shorts and a Gucci purse.
The media started to spark their dating news when Jason received his awards for Golden Globes held via Zoom. Their fans noticed that Jason and Keeley were in the same living room, which means that they've been hanging out together for quite some time.
Rumor has it. The two had been living together in London for quite some time. However, the two didn't say anything to confirm this rumor.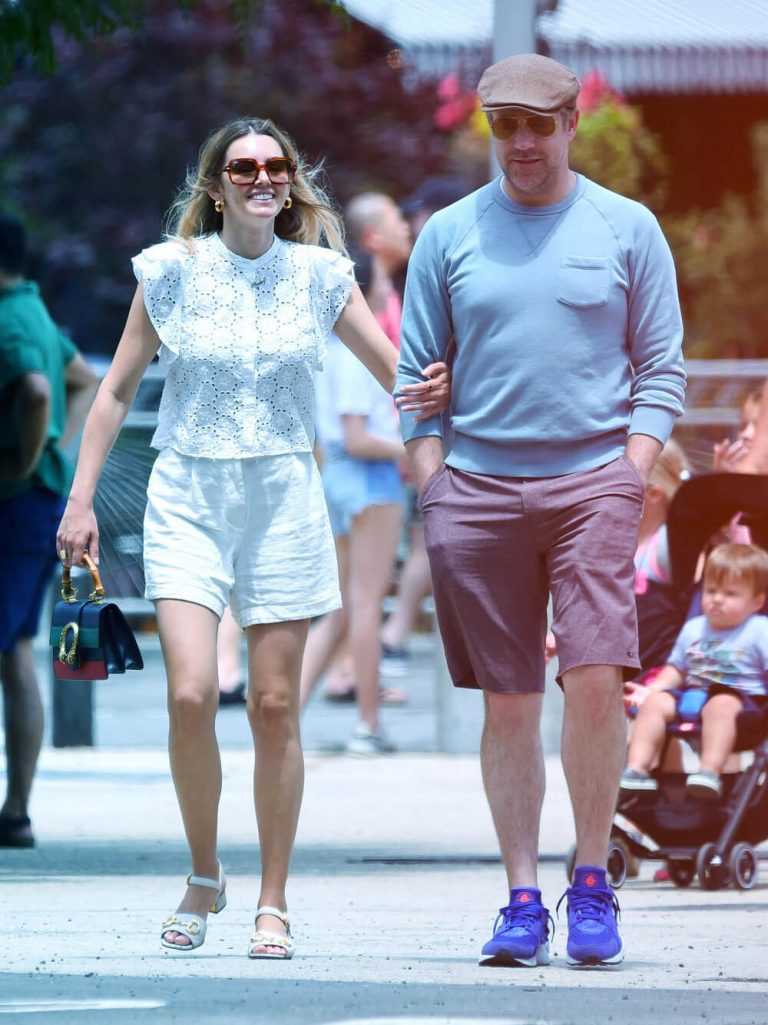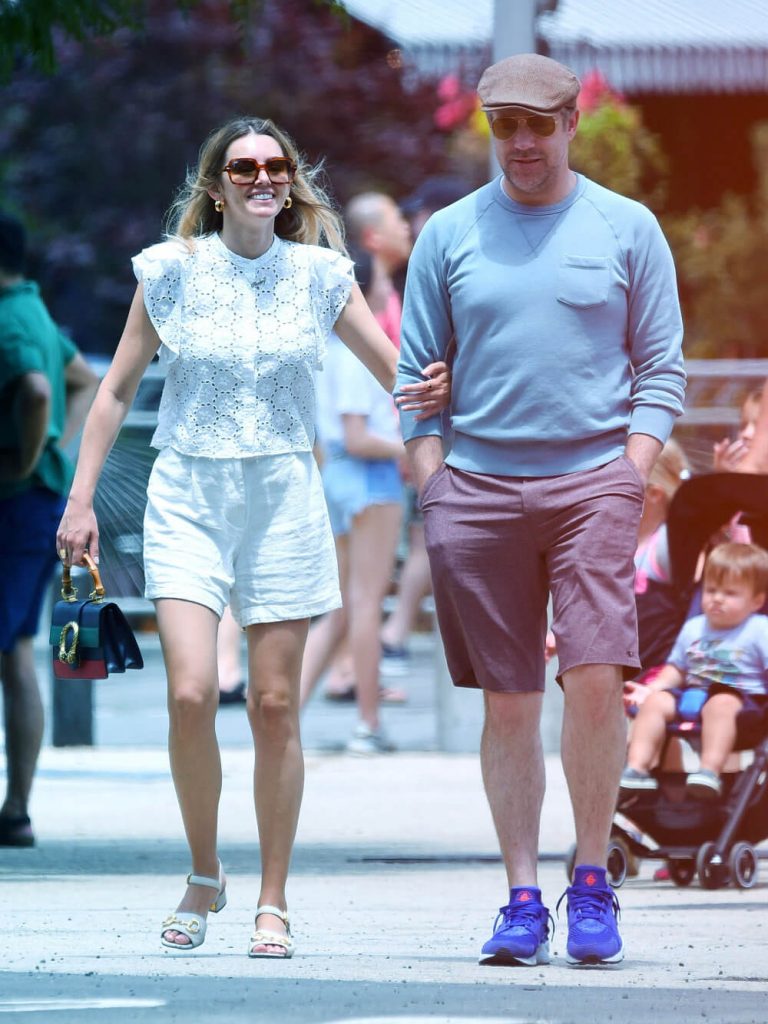 However, their relationship is still new and fresh since they said they were "not that serious" in March. The two were costars in Ted Lasso, which started in August 2020. Even though they've known each other for more than five years, they stated that they were just "really good friends" before starting dating in 2020.
Jason Sudeikis and Girlfriend Keeley Hazell's Unexpected Split
The two had been together for a little over six months, and things seemed to be going well.
However, it looks like the pair just couldn't make things work with their hectic schedules. A source close to the situation revealed that both Jason and Keeley are "no longer romantic" and that their relationship was never "serious."
We hope that Jason and Keeley can remain friends despite their split. They clearly have a lot of love and respect for each other.
Jason Sudeikis and Olivia Wilde
Jason's longest relationship is with Olivia Wilde, in which they were previously engaged for seven years! However, we might know that Olivia is currently romantically linked with Harry Styles. The news had spread that Olivia was with Harry when she was still together and Jason. So did Olivia cheat on Jason?
Jason Sudeikis and Olivia Wilde first met in 2011 and started dating not long after that. Their first encounter was at the season 36 wrap party of Saturday Night Live, and both just split for their former partners.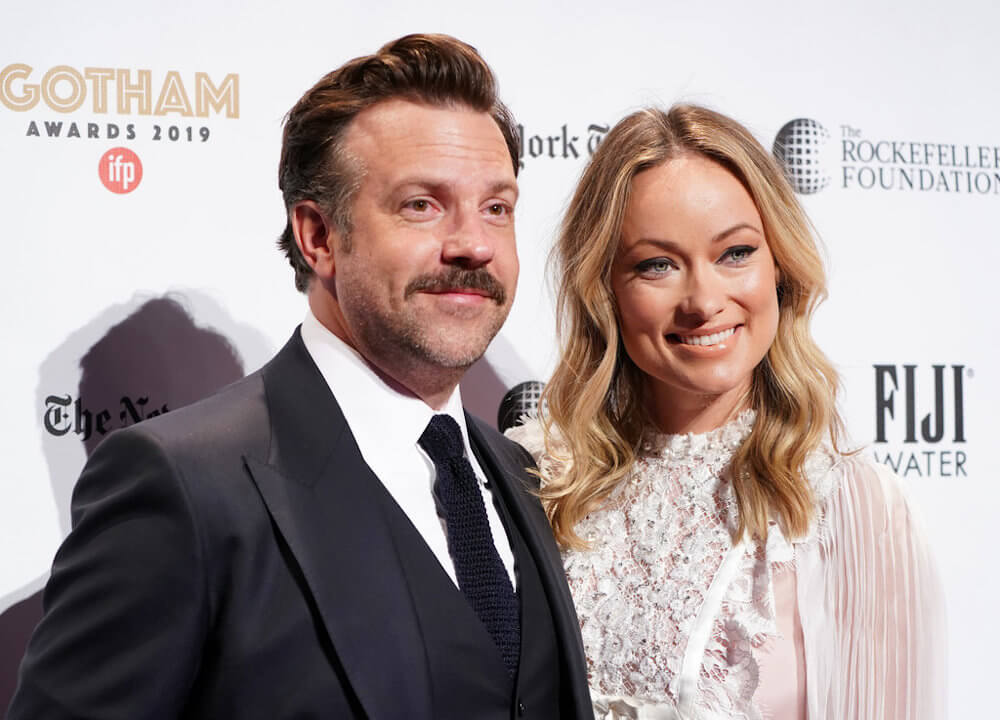 Olivia just ended her eight-year marriage with Tao Ruspoli, and Jason also just got divorced from Kay Cannon.
It seems like their chemistry for each other was too strong. In December 2012, they decided to get engaged but publicly shared with the media in 2013.
This couple is everyone's favorite. Two years after their engagement, in 2014, they had their first children, Otis. The two attended several red carpets events when Olivia was pregnant, and it caught people's attention. They even went to the Oscars together in 2014.
And then, in 2016, their daughter was born, and her name is Daisy.
Despite both working as an actor, seven years being together has made people believe that their relationship even gets stronger than ever. They kept the details of their relationship private but continuously shared their romantic moments on social media.
When they were asked about how they kept their relationship "fresh" despite having two kids and busy schedules, Olivia proudly answered that it was a "date night" that they still do even after years of being together.
"We prioritize date night. We go out and have a lot of fun. We were both social people when we met, and we didn't want to give that up when we became parents." She told Us Weekly in 2018.
Olivia Wilde was Cheating with Harry Styles: The Reason of Their Breakup?
They seemed happy and all for almost eight years, and we hardly hear any negative rumors about them. Unfortunately, they broke up in November 2020. Some sources gave various news regarding the reason for their split.
According to People, they already separated even at the beginning of 2020, based on mutual agreement. They will continue to put their children as their priorities. However, other sources tell that Olivia cheated on Jason with Harry Styles, resulting in them ending their engagement.
A source from Daily Mail said, "Jason and Olivia had been broken up for almost a year and her moving on from the relationship was no surprise." And they also added that even though Jason and Olivia remained good friends for the sake of their children, Jason was still devastated and haven't moved on for a long time after the split.
Meanwhile, Olivia and Harry were already seen hanging out together, captured by the paparazzi, and it was said to make Jason angry.
"Jason is devastated that Olivia went behind his back and started seeing Harry. To see them out and about publicly holding hands is difficult for him. But he's more upset than angry and desperately wants her back."
This sparked even more questions from their fans. However, as we could already expect, neither Jason nor Olivia said anything about the rumor, and they kept their focus on their children's well-being.
Whether or not the rumor is true, Olivia Wilde is currently going stronger with Harry Styles. Still, they tried their best to be out of the public's eyes. Olivia and Harry also work together for Olivia's movie, Don't Worry Darling.
It indeed gave Jason a hard time, but we're glad that the actor already enjoyed his time with Keeley Hazell!
Jason Sudeikis Had a Baby with Girlfriend January Jones?
Another hot actress that Jason had dated in the past is January Jones. She appeared in Mad Men, in which she got two Golden Globe Awards for Best Actress in 2015. The two were dating from July 2010 to the beginning of 2011.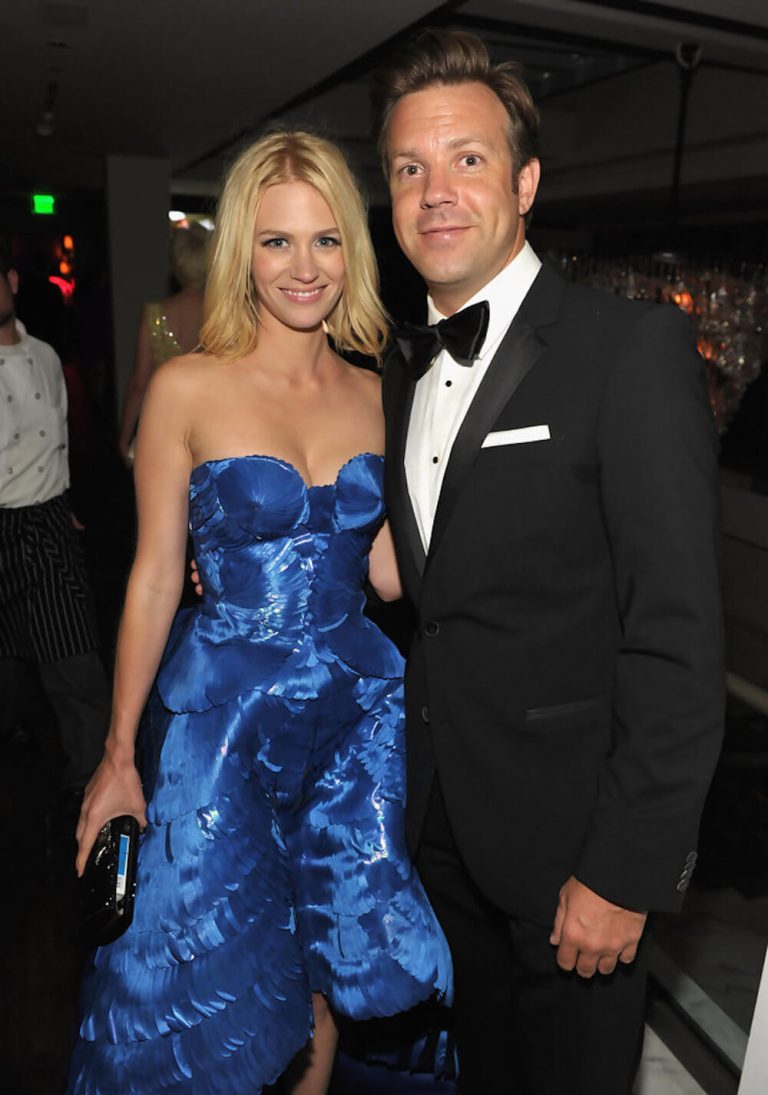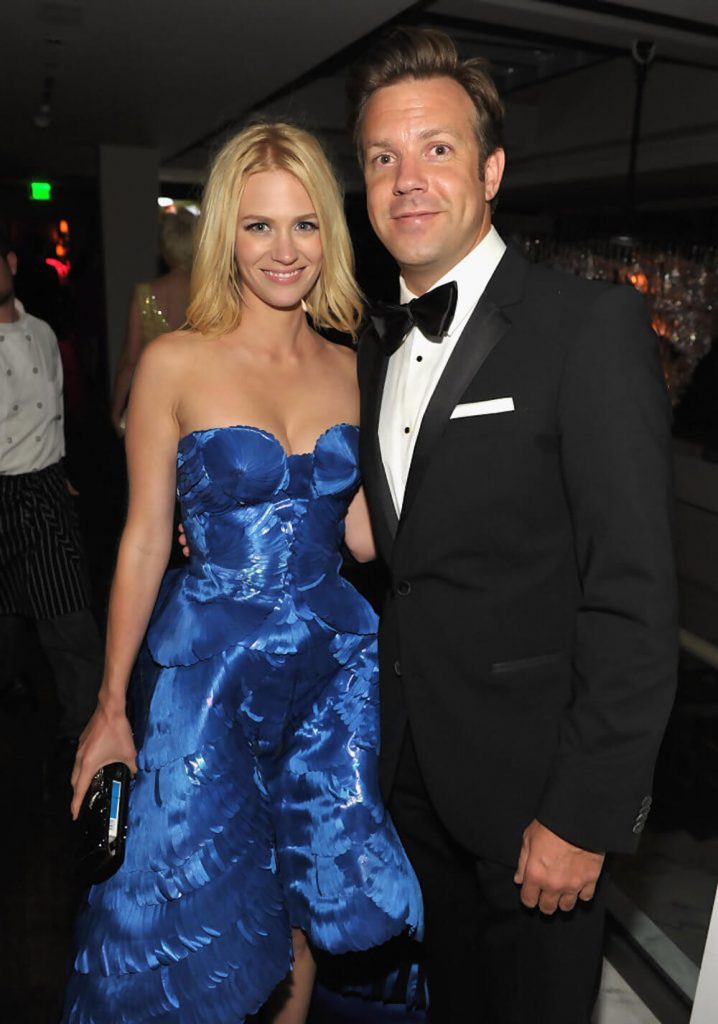 However, the news of their split coincided with January's pregnancy news. She had been talking about her pregnancy a lot but never mentioned who's the father of her baby. As a result, some speculation arose that Jason Sudeikis was the dad.
Several rumors claim January's baby daddy, and Jason Sudeikis isn't the only one, although Jason claimed he wasn't the father. However, he seemed not so sure when the Washington Post reporter asked him.
"No. I didn't have anything else to say."
January didn't seem to plan to reveal or talk about that further. Instead, she continued to raise the baby by herself.
Though January Jones didn't want to talk about her baby's father, she didn't mind disclosing the reason for her breakup with Jason. They only dated for around seven months, and they separated because of a long-distance relationship.
"The long-distance kind of petered us out," she explicitly said that in her interview with Daily News. She also added that when you dated a fellow actor, the relationship is hardly working out. One of them had to make sacrifices, but neither she nor Jason chose to prioritize their careers and broke up instead.
On Marriage and All the Lessons: Jason Sudeikis and His Wife, Kay Cannon
Jason seemed like he didn't have a problem with committing to a relationship. Not only engaged with Olivia for seven years, but he also had married once, and it was with an actress and producer, Kay Cannon, for six years.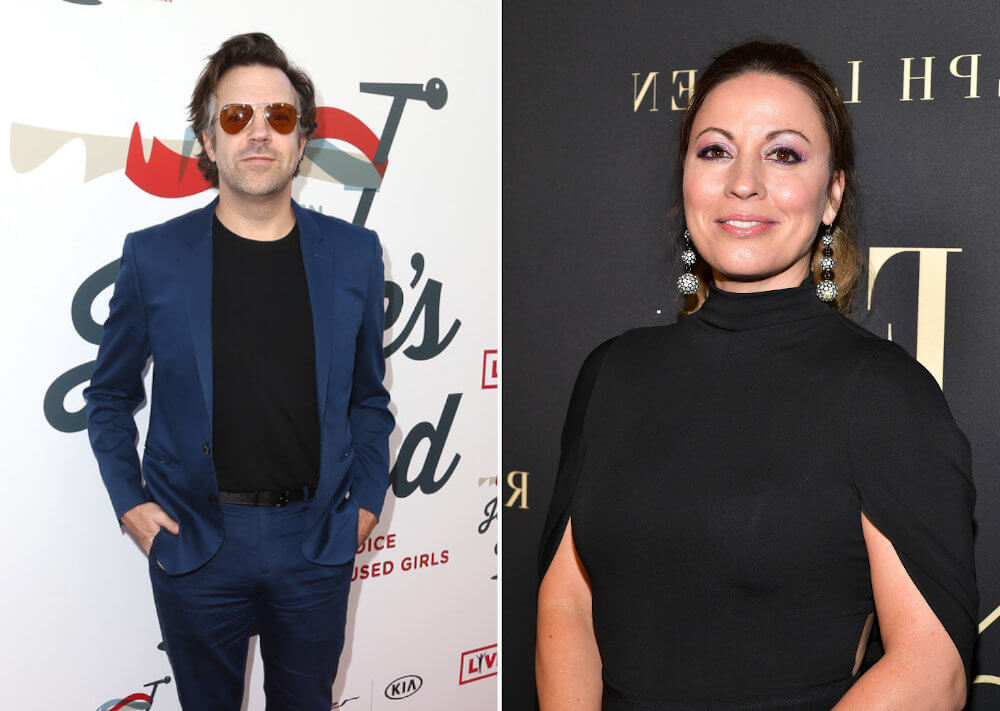 They started dating in 1999 and got married in 2004. At that time, both Jason and Kay's careers were at their peak. They didn't have any children.
There isn't much information that we can dig from them other than they separated before they officially divorced. Some sources said they were no longer together in 2008 but divorced two years later in March 2010.
However, Jason didn't see this as something heartbreaking for him. Instead, he openly shared his views on marriage and described it as something that made him who he is today.
"I have to accept the fact that I'll never know it (relationship) all. But I wouldn't be where I am today without that relationship. Each experience I go through – marriage, my public life, my personal life – I'm learning as I go."
The couple didn't disclose the reason behind their split, but they remained good friends until now.