Top 11 Mackenzie Davis Quotes & Sayings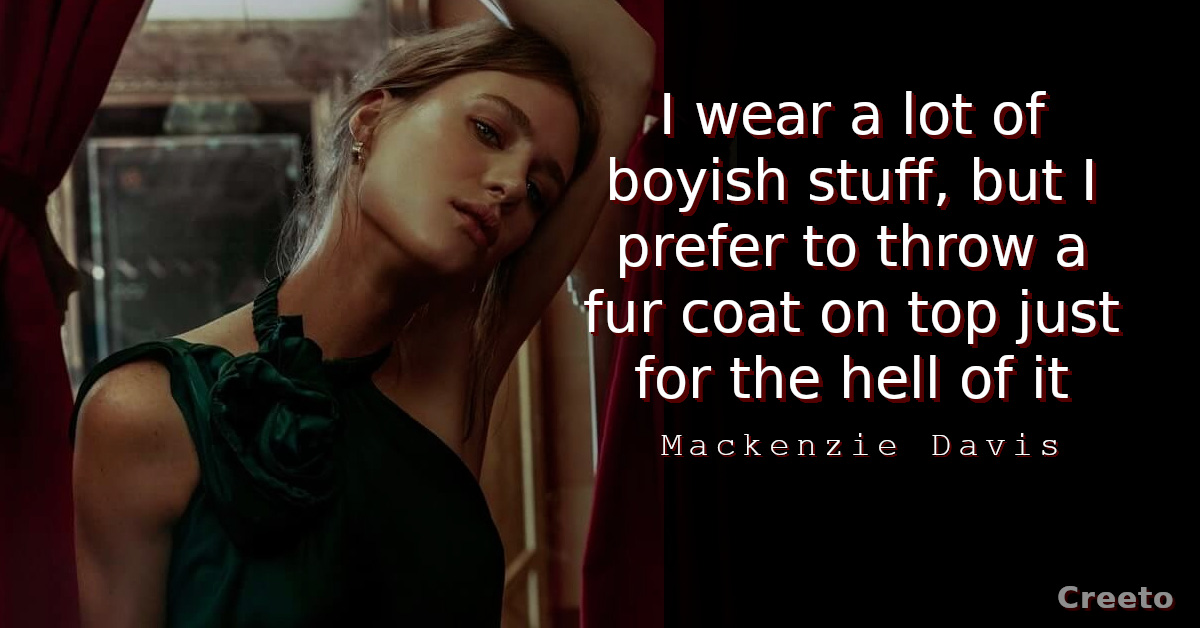 Mackenzie Davis was born on the 1st of April 1987 in Vancouver, British Columbia, Canada and discovered passion for acting at an early age.
She is best known for her starring role as computer programmer Cameron Howe in the TV series Halt and Catch Fire.
In 2019, she gained huge fame from the role of Grace in Terminator: Dark Fate. In this article, we have shared some powerful collection of Mackenzie Davis best quotes and sayings.
I wear a lot of boyish stuff, but I prefer to throw a fur coat on top just for the hell of it.

My good friend once said, "You guys think you're the stars in your own movie."

Our relationships with our computers are almost sexual, they're so close. They're just such a huge part of our lives.

I'm always surprised when actors say they don't like sex scenes. It's like a freebie. It's fun to make out with someone. So yes, thumbs up on that.

How you choose to present yourself to the world shows what's meaningful to you – and what you want others to think is meaningful to you.

I've just sort of jumped into relationships and moved in with people way too soon.

Feminism is rooted in racial rights and gender rights, and all of those things intersect, and to say that that's not something you can stand behind – it confuses me. I think it's a really great word.

I'm getting rid of this idea that you want people to like you. I'm making decisions on what feels right to me. To act in a more carnal way. That's my challenge.

I'm probably less volatile and tempestuous than a lot of Aries, but I think I'm probably quite loud and outgoing and passionate. Maybe a bit difficult or stubborn.

I think Julianne Moore is the most radiantly beautiful human being and isn't messing with nature too much. She seems like a woman who treats her body like a temple. I cannot relate to that!

You can make a beautiful, airtight world that's fascinating to look at, but it's not interesting unless you have a character that's trying to achieve something under the circumstances of that world. It's harder to play a wacky girlfriend whose journey you just don't understand.