Who is Chris Hemsworth Wife Elsa Pataky?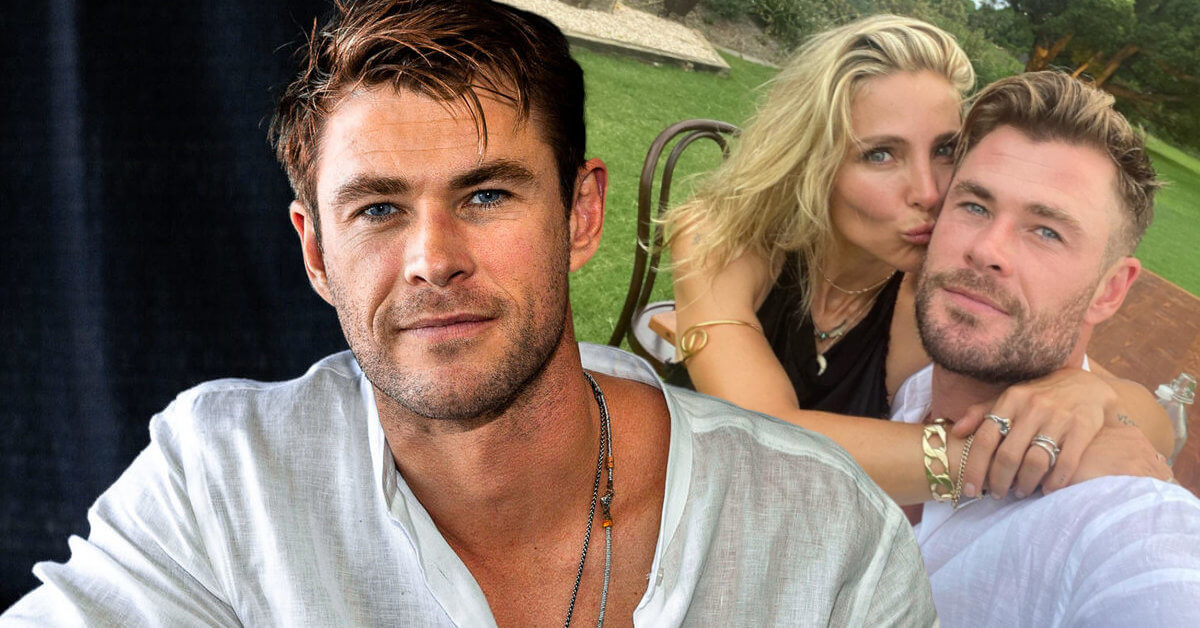 While Thor has Jane Foster by his side, it's always interesting to find out who the beautiful ladies managed to catch the eye of the actor, Chris Hemsworth.
Chris Hemsworth has been extremely happily married to his wife, fellow actress Elsa Pataky, for more than a decade, but fans couldn't help but wonder if there was any other lady before Elsa.
I mean, it's Chris Hemsworth we're talking about! Surely he has his fair share of fangirls even before making it big in Hollywood?
Chris Hemsworth and his wife Elsa Pataky
At the beginning of their relationship, Chris Hemsworth and Elsa Pataky surprised many people with how fast their relationship got.
Chris and Elsa met for the first time in early 2010 and made their red carpet debut as a couple in a LACMA event held in September of the same year.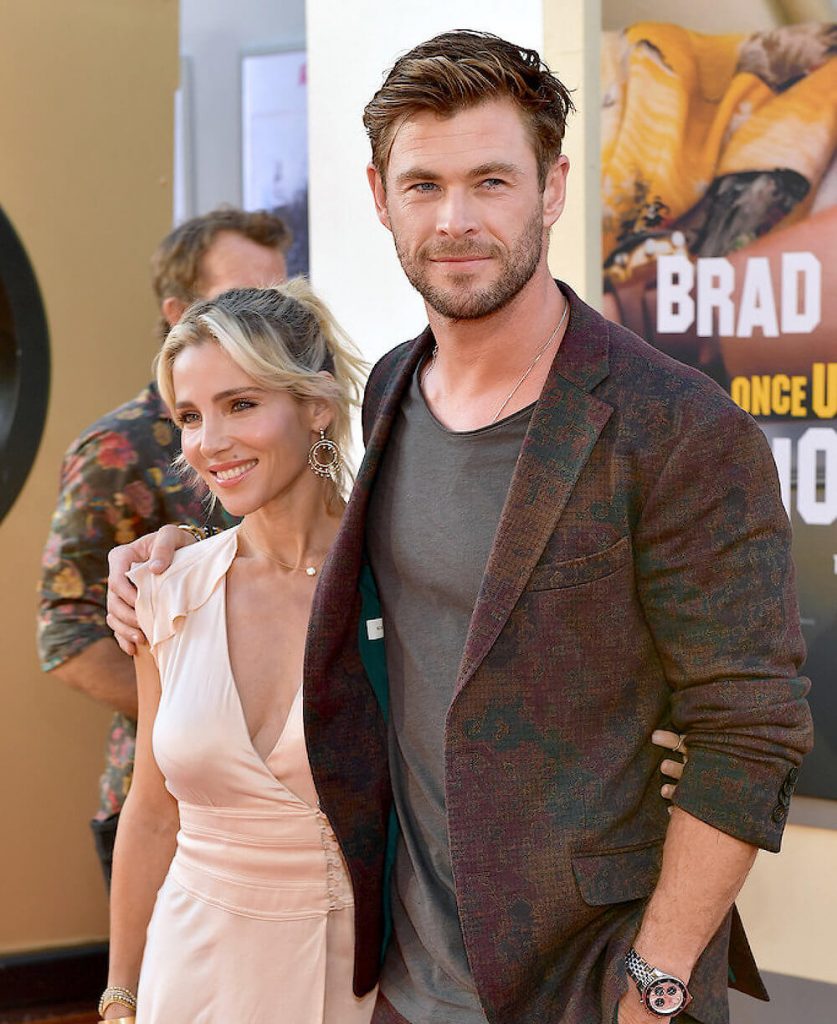 "From the first time we met, we just made sense," Chris recalled in an interview with Elle. "She's outgoing, and she has a sense of humor and a passionate attitude toward life," he added.
But, let's be honest, no one expected it to mean get down on one knee and get married, but it was it. Chris Hemsworth and Elsa Pataky got married in December 2010, only months after they went public with their relationship.
"There was no great plan to any of it," Chris revealed in an interview with Good Morning Britain. "It did happen quickly and it just felt right," he gushed.
While Chris also couldn't deny that "there probably should have been some planning," he remembered the spontaneous idea came when they both were on vacation with their families in Australia and thought it was "a good opportunity with everyone together."
The couple's sudden escalation in relationships made many people begin to wait for the inevitable doom, which was understandable. In Hollywood, it's common to get married and file for divorce in less than a year!
Fortunately, Chris and Elsa prove their love is stronger than people's judgment. In 2012, they welcomed the birth of their first child, a daughter named India.
Eighteen months later, they announced that they were expecting yet another child. Except, it wasn't a child; they were children! Chris and Elsa welcomed twin boys named Tristan and Sasha.
When asked about his thoughts on parenthood, Chris said it "brings out the child in all of us."
"It reminds you of the fascination you had with things and how you can spend hours just being with someone," Chris shared with Parade. "It's amazing," he concluded.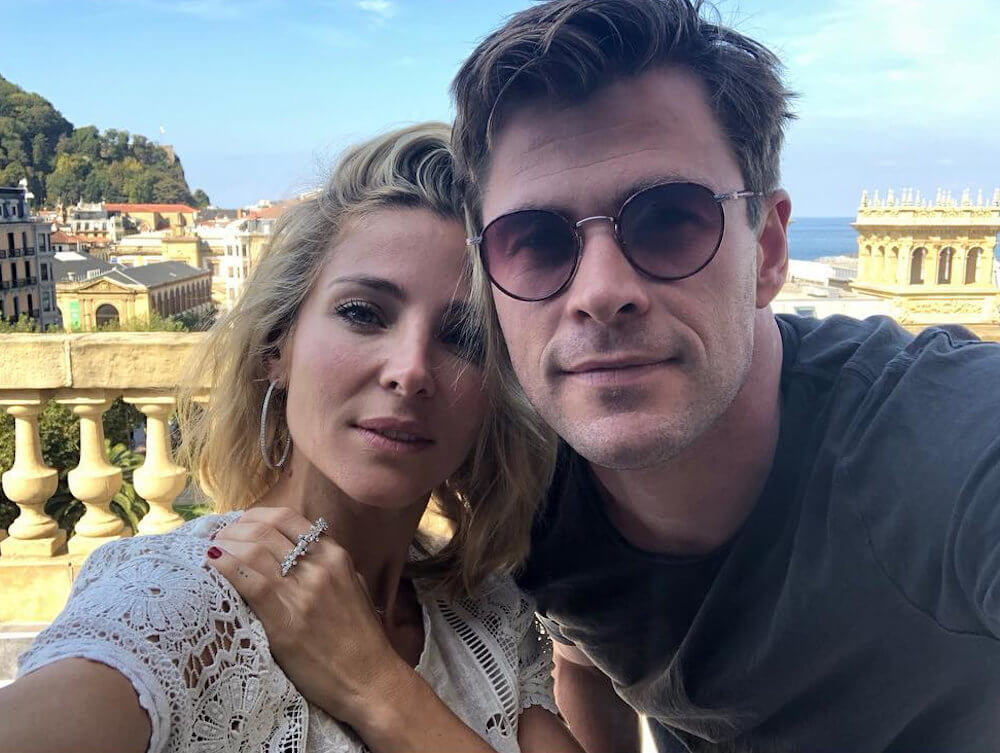 In 2015, Chris Hemsworth made the ultimate decision to move his family to Byron Bay, Australia, claiming that the place is "more relaxed than L.A." and that it's a "more conducive" place to raise their children.
"Me and my wife just felt it was right for the family that we moved back to Australia," he told.
Chris also gushed about his wife quite often. In an interview with The Who, Chris considered Elsa as some who "keeps me sane." Chris also said that watching Elsa tending and raising their children makes him "fall even more in love with her."
Staying true to his words, in 2016, he repeated the same sentiment, admitting that his love for Elsa "continues to grow" and that each week, he "finds something different" that makes him love her more and more.
However, leading a happy, healthy, loving marriage doesn't make you immune to weird headlines and gossip tabloids! Welcome to Hollywood!
In late 2016, rumors began circulating that Chris and Elsa were having some troubles in their marriage and were currently living apart. This rumor started after Elsa flew to her hometown in Spain with their children, while Chris stayed behind in Australia… for filming purposes.
Feeling cheeky about the rumors, Chris took to his Instagram account and posted a picture of him and Elsa in a yacht, along with the caption, "Looking for a new wife according to @womansdayaus and other misleading outlets! Honey, you still love me right?!"
Elsa later responded to the caption by commenting, "Ahora y siempre! Always and forever!!"
Chris once again expressed his gratitude and adoration to his wife in an interview in October 2017.
"My wife and I fell in love, had kids, didn't really see each other for a few years, then fell back in love," Chris shared. "In terms of work, she's certainly given up more than I have," he added.
He also revealed his desire to "step back and be at home with the kids more," but as an actor who's currently at the height of his career, Chris feels responsible to "set up for longevity" before taking a break from acting.
In June 2019, Chris Hemsworth announced that he would finally take a break from acting and focus more on his family.
"I just want to be at home now with my kids," he confessed in an interview with Daily Telegraph. "They are still young, and they are more aware when I leave more than before," he added.
Still with the same sentiment, Chris also admitted in an interview with GQ Australia a year later that he still wants to make movies, but "that can also wait."
"Now what's more important is my kids," he stated. "And I'd hate to look back in 20 years and go, 'Right, let's get to work as a parent,' and I've missed it all," he continued.
While he always gushed about Elsa Pataky, his wife doesn't share the same sentiment, especially if it's about Chris Hemsworth's physique!
"She's just sick of it," Chris laughed it off while sharing the story with The Kyle and Jackie O Show. "It's not nearly as exciting for her at all," he continued.
Elsa once had addressed the issue of her husband's incredible physique in the 2015 edition of Women's Health U.K, when she shared that she thinks "sexy is the inside of someone." She also admitted that while she thinks her husband is "beautiful and fit," she will never tell him because "he will get too cocky."
Imagine not getting excited about Chris Hemsworth stripping scenes?! But we assume it's acceptable, considering who knows how many times Elsa has to see Chris stripping around their house?
Ever the loving and devoted husband, Chris paid tribute to Elsa with a picture of her carrying their three children, in which, for once, the children's faces are visible to celebrate the 2021 Mother's Day.
"Happy Mother's Day to all the brilliant, hardworking, kid-carrying, bar-raising, husband-putting-up-with-ing women out there!!" he wrote. "We salute you," he added.
Well, Chris Hemsworth and Elsa Pataky's love story is one for the history books, for sure!
Chris Hemsworth's Past Romance with Isabel Lucas
While the world seems to compare Chris Hemsworth and Elsa' Pataky's happy marriage with his brother, Liam's, it doesn't mean that the older Hemsworth never experienced a painful breakup.
Before making it big in Hollywood, Chris dated fellow Australians and former castmate Isabel Lucas.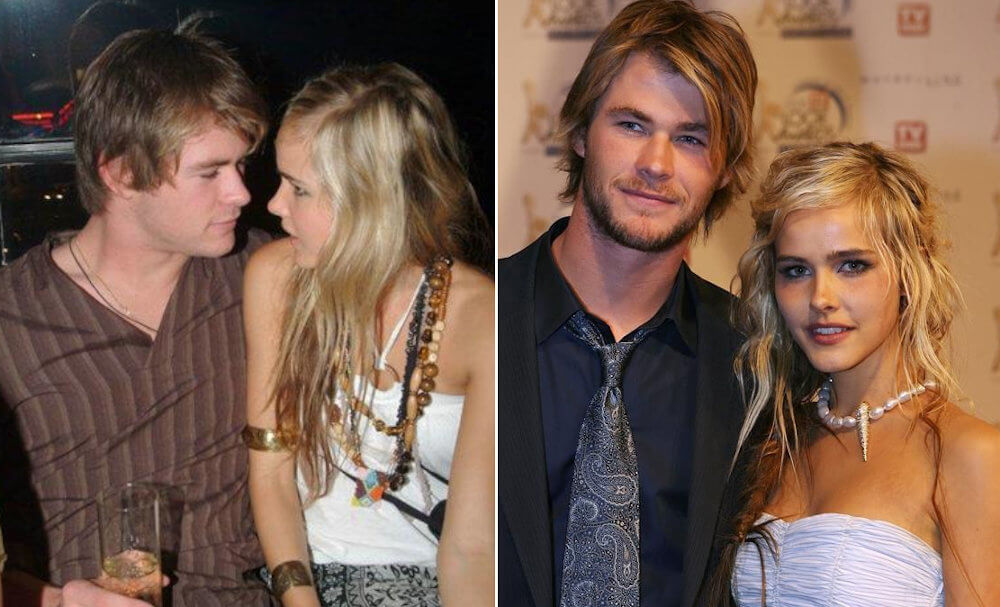 The former couple met for the first time on the Australian TV series Home and Away set, where they both were cast in. They dated for three years, from 2005 to 2008. Years after their breakup, Chris and Isabel were reunited in the movie Red Dawn released in 2012.
Despite the breakup, it seems that there's no bad blood between the old flames, as they were spotted catching up with each other in a coffee shop in Byron Bay in 2019.
Chris, at that time, was grabbing a coffee with his younger brother Liam as company, while Isabel was hanging out with a friend. Chris and Isabel were later engaged in a friendly conversation while Liam went inside to buy their orders. The Hemsworths and Isabel also caught up after Liam returned with the coffee before parting ways.
Following the accidental meet-up, the Australian tabloids were having a field day. Many reported that Elsa Pataky was furious after learning that Chris Hemsworth met his ex and was engaged in a flirty conversation.
I mean, as flirty as you can get with a man who kept a distance, crossed his arms, and flaunted his wedding ring, but go off, I guess?
While the claim was completely unproven and unreasonable, the tabloids shifted their target to the newly-single Liam Hemsworth.
Tabloids reported that after scoring the big brother, Isabel Lucas was dating the youngest Hemsworth. Both parties were quick to deny those claims.
Isabel Lucas herself is far more than just Chris Hemsworth's ex. She has established a name and a career on her own. She has starred in many projects, including Transformers: Revenge of the Fallen and MacGyver.
And while Chris has settled down with Elsa after their breakup, Isabel doesn't seem to have found the one yet!
However, she had long moved on and dated other people, such as Adrien Grenier, Jared Leto, and Angus Stone.