Who is Jared Leto Girlfriend? Is He Married?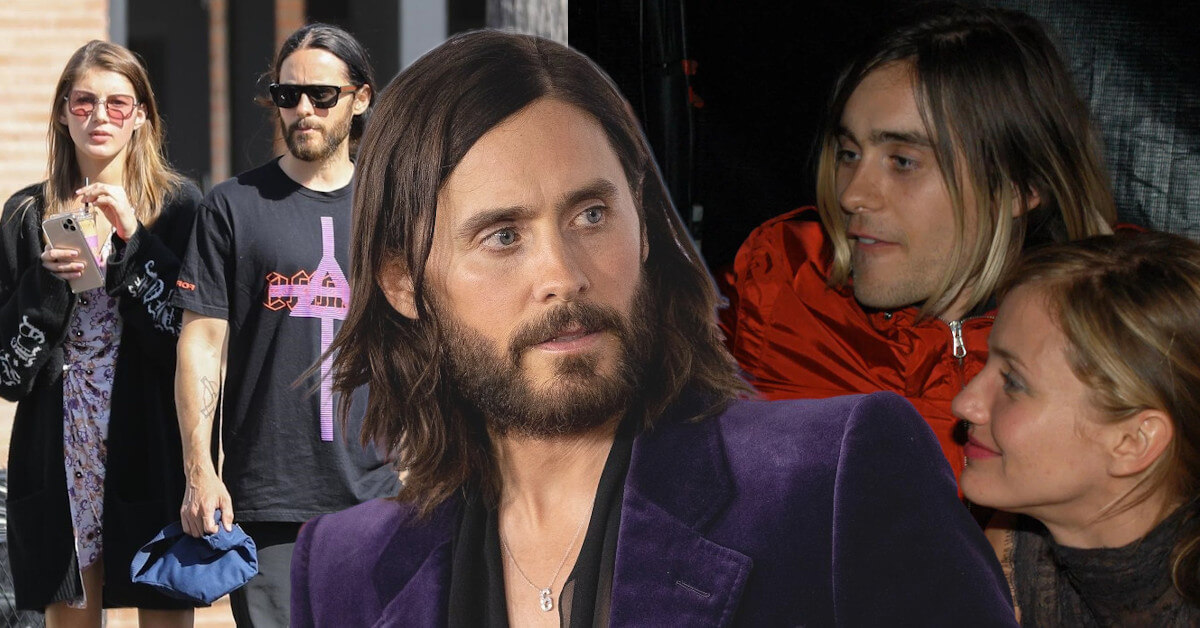 These days, there is a rumor about Jared Leto being closer than ever with a model named Valery Kaufman. Jared and Valery were initially friends, and they didn't go anywhere just by themselves. They were going with groups of people. As sources spotted them hiking together, people guessed they were more than friends.
But then, it seemed that their relationship had turned into something romantic. Let us see the development of the pair's relationship over the years now.
The Relationship with Valery Kaufman
Valery Kaufman is a model who has been friends with Jared Leto since 2015. The two were first seen together in New York City back in 2015. After that rumor, they continued to "date" together. Valery and Jared were once spotted grabbing lunch in 2017 and going to the gym together in 2018.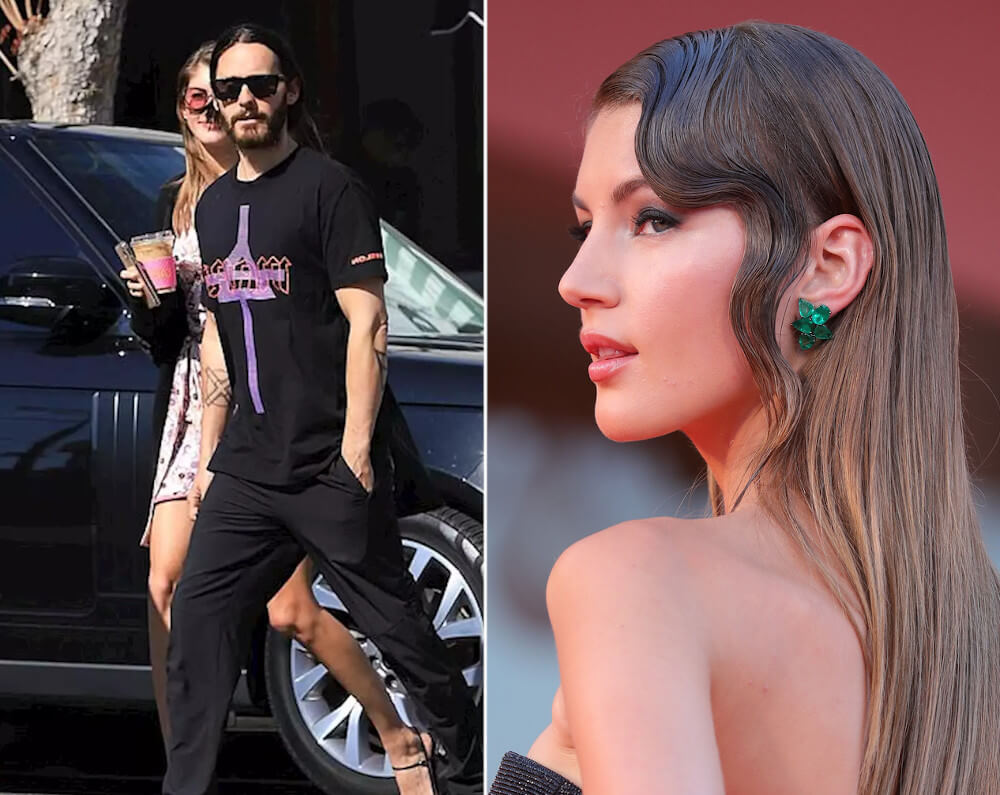 The news about the two keeps growing daily. The relationship keeps developing because Jared Leto and Valery Kaufman were also seen together in 2020. Jared and Valery reportedly hiked together in Malibu in June. Then three months later, they went to a rock climbing gym. Even in the middle of the pandemic, the two continued their activity.
Although Jared always tries to keep his personal life private, it doesn't mean people don't know about their relationship.
However, some people suppose that Jared keeps his love life private because he tries to message young people through Twitter's direct messages. But the natural and apparent reason for this is that both Jared and Valery want privacy. Furthermore, they do not want to be hounded by the media.
And Jared also mentioned this reason. In an interview held in 2016 with Rolling Stone, he said, "Even if I was in a relationship, or perhaps if I had kids, I don't know if I would share that information publicly."
After knowing that, it is safe to say that Jared and Valery continued to be friends without any romantic sparks between them.
Jared Leto and Chloe Bartoli, His Wardrobe Stylist
Around 2013, Jared Leto was reportedly together with Chloe Bartoli. This news was made after she was seen out with Jared, just the day after he won his Oscar back in 2014. 
Previously, Chloe Bartoli was the one who flirted with Scott Disick. But then, the news changed. It reported that the celebrity stylist dated Jared Leto. A writer for InTouch said that it seemed like the celeb stylist has a type since both Jared and Scott have dark complexions and blue eyes. 
The public knew the relationship between Jared and Chloe since the stylist shared their selfie via Instagram post. She captioned the post, "Beautiful day in the desert @jaredleto."
Chloe was quite expressive on social media. After the first post mentioned above, the brunette beauty uploaded another picture to her Instagram stories with Jared. This story was posted early on Thursday, December 27, 2018.
She didn't mention the location, though. The pair wore oversize sunglasses, and Jared stuck his tongue out.
Quite different from Leto, who had kept the stylist off of his Instagram. But who would not realize the relationship between the two if the public had already seen all of Chloe's Instagram posts or stories?
The Connection Between Jared Leto and Miley Cyrus
As Jared Leto is quite famous for his dating history with several girls, we couldn't miss Hannah Montana—or Miley Cyrus. A source told that Jared and Miley had been hooking up since she stayed at his house in Los Angeles in early February 2014.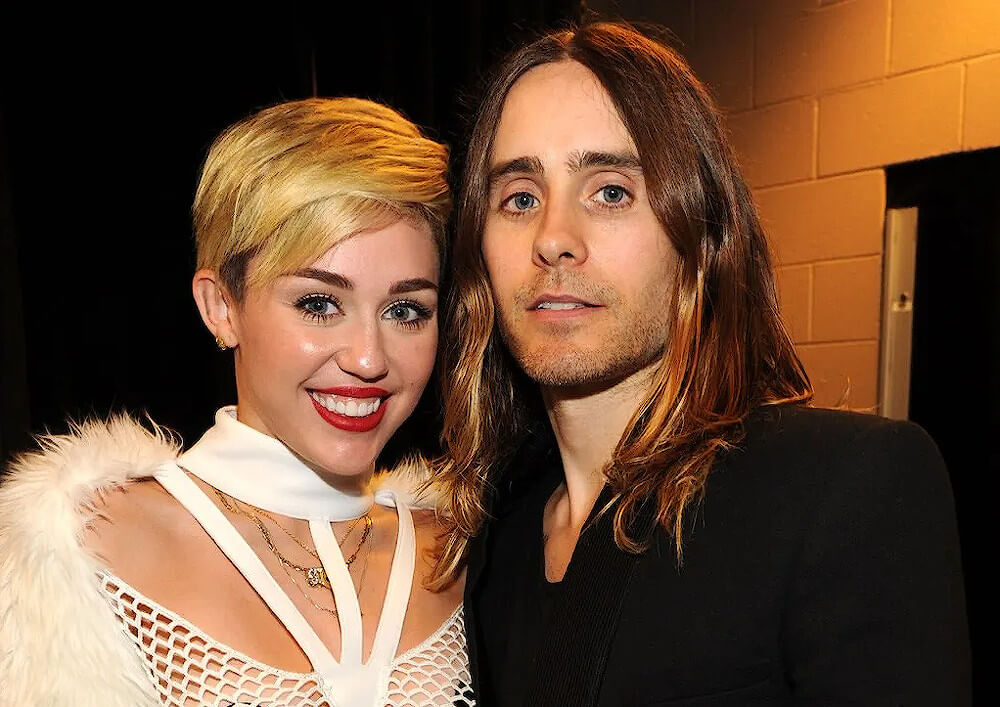 But it turned out that the relationship was nothing serious, and they didn't even date. So their relationship just happened in 2014.
This sleepover plan occurred just weeks after a photograph of the two at Clive Davis' pre-Grammys bash was released on January 25. In addition, according to a second source, Miley Cyrus and Jared Leto had known each other for a while, so it was just natural.
"They like to have a good time, as they love to talk about art and music." A source said. This "something in common" might be why their bond has deepened, and it looked like they were more than friends.
However, another source said that Jared didn't do girlfriends since he didn't like too many commitments. Fortunately, Miley Cyrus seemed okay with it since she wanted to have fun. She added, "I'm like, not trying to jump into a relationship."
Their friendship was bound to happen since they also had something in common. Jared and Miley's passions for music and art made them closer than ever. Just look at Miley's incredible voice! And we could also see how passionate Jared Leto is about 30 Seconds to Mars, his famous rock band.
Relationship Between Jared Leto and Ashley Olsen
As for Jared Leto and Ashley Olsen's relationship, the romantic relationship was just a rumor, so we didn't know whether they were dating or not. In 2005 they were spotted on a date in Los Angeles, and three years after, they were seen holding hands and making out at the Art of Elysium Gala.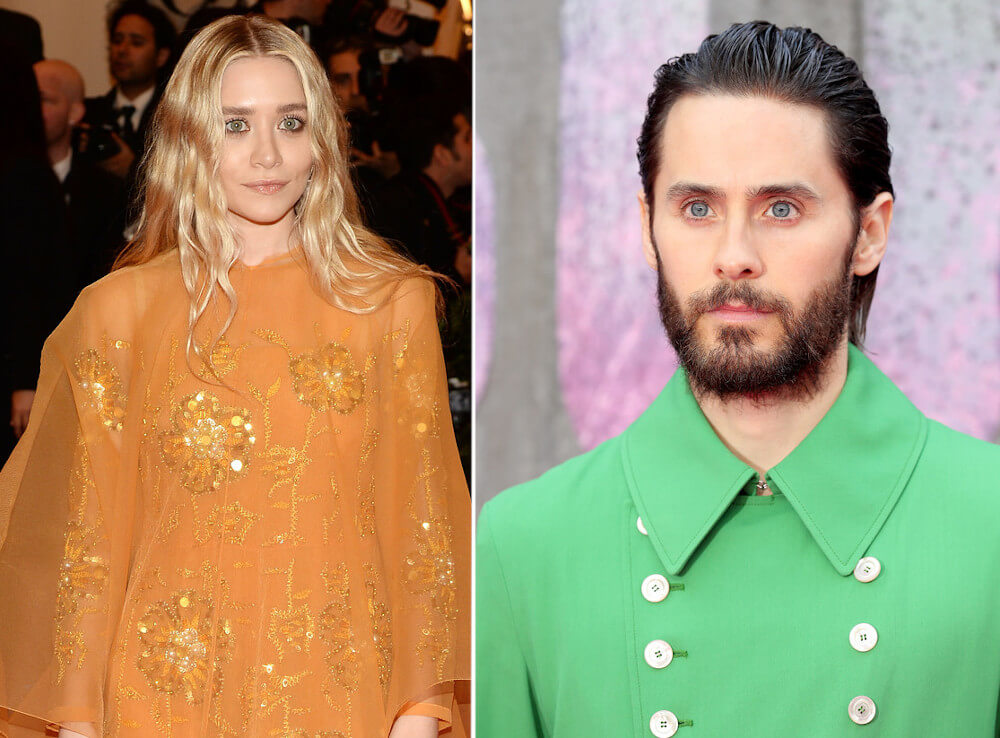 Then news about them enjoying a flirtatious meal came. The two had a dinner date at the Polo Lounge in Beverly Hills. Jared couldn't sit still when he was around Ashley. He was caught playing with Ashley's hair and playfully touched her arm. Even after the two finished the meal, Ashley hugged Jared, and Jared put her head on his lap.
Perhaps at the time, the two were very in love. And if we think about it, Jared did not mind being with a woman in public. Quite different from his statement, which was mentioned previously above.
When Did Jared Leto Date Scarlett Johansson?
Besides Valery and Cameron, Jared Leto also dated Scarlett Johansson back in 2004. They have a 13-year age gap, so fans didn't try to hope much about their relationship. Because of this, people guessed they wouldn't be together long.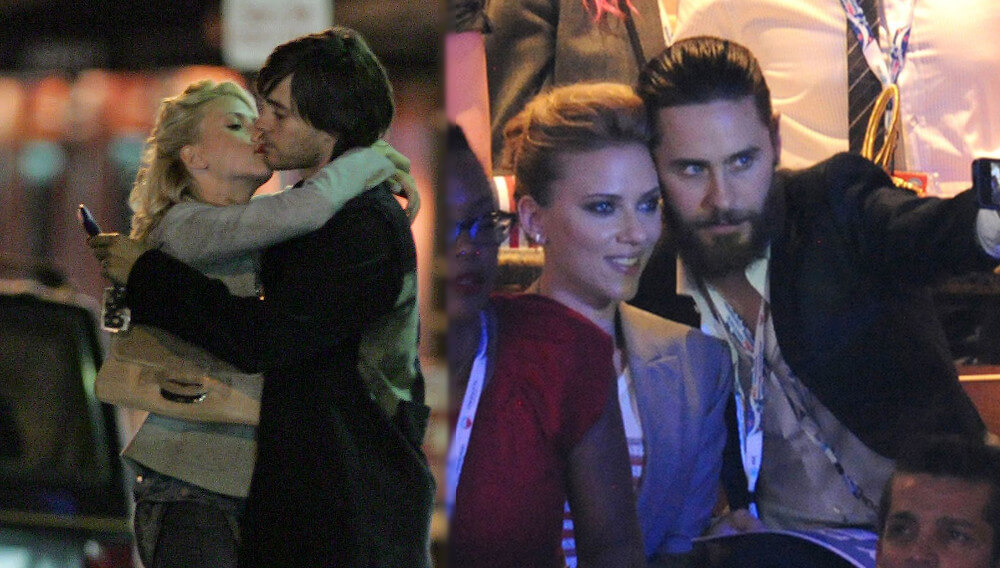 There was also a paparazzi shot when Scarlett passionately kissed Jared, but Jared looked over her shoulder and down at his cell phone.
Others also speculated that Scarlett once referred to Jared when she had an interview in 2016. She recalled her moments, "Long ago; I had someone in my life who was unfortunately forever unavailable. That might be when you're like, 'I've lost myself.
Why am I standing outside this bar at 1:30 in the morning, texting while my friends are inside? Or taking a taxi to see him at some ungodly hour? This isn't me.'" Then she continued, "That is the moment you've got to cut it off, or it will keep coming back, suck your blood."
They had a romantic relationship in 2004 when they were spotted cozy together in New York City and Los Angeles. Then they ended their relationship a year later and eventually reunited in 2012. They were spotted holding hands and snapping selfies at Democratic National Convention.
At the time, they looked very friendly, whispering to each other, and even Scarlett looked delighted to see Jared as she kept smiling at him. There seemed to be no awkwardness or tension between them as they kept talking.
Well, it seemed like Scarlett was very fond of him back then. Jared was one of her best memories.
Did Jared Leto Date Cameron Diaz?
Jared Leto and Cameron Diaz reportedly dated in 2000 after meeting for the first time in 1999. When Cameron ended the romance with Edward Norton, she began dating Jared Leto. Then, the relationship between Cameron and Jaren ended in 2003.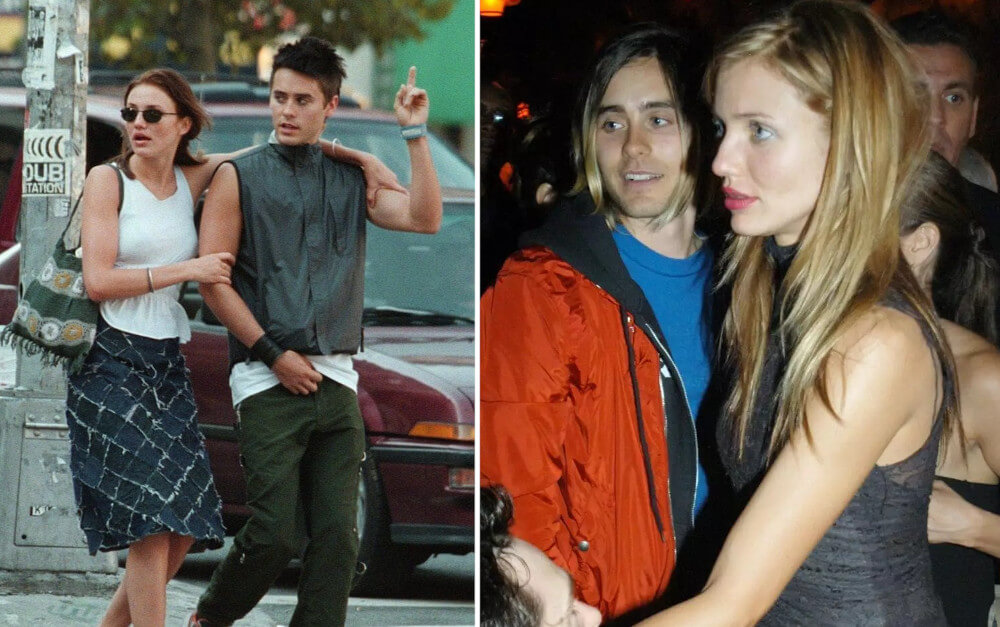 Although neither Cameron Diaz nor Jared Leto rarely talked about each other publicly, Cameron was very open about her perspective on dating. Cameron said that she did believe in honesty and communication. She also said that people should treat others the way they want, and love should be conditional.
However, Jared Leto admitted that he was too obsessed with his ambitions and goals, so many people thought that was why he wasn't very nice to her. He could be jealous of Cameron's popularity. Jealousy toward someone better than us could be inevitable as we pursue the best. Indeed, work is work.
This jealousy could also be why Jared never visited the set during filming, and Cameron always attended crew parties alone.
Furthermore, Jared admitted that marriage was out of the question. He said, "I don't believe in settling down. This term implies that the current path I'm walking on isn't valid. It is not always about living your life the way people have lived before you."