Who is Tia Mowry Husband Cory Hardrict? The Way They Were
After 15 years of marriage, Tia Mowry and Cory Hardrict finalized their divorce in 2023.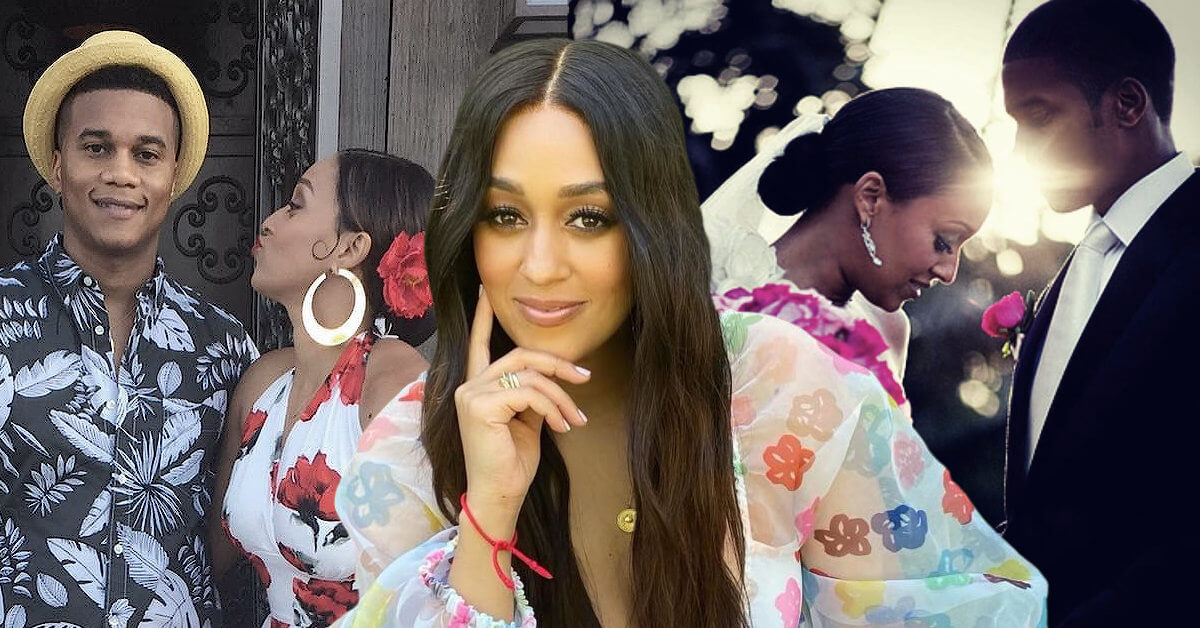 We all probably know Tia Mowry just as an actress. Still, she also works as a producer, entrepreneur, and best-selling author. Her performance in the 90s sitcom Sister has given her immense recognition. Since then, she continued to appear in several movies, including Seventeen Again, The Hot Chick, and Indivisible.
Her career as an author also rises rapidly. She had written eleven books in total, and her best-selling books are the Twintuition series. Apart from that, Tia usually writes self-help books for young mothers, and she wrote them from her experience. How cool is that?
So, being successful at showbiz and already writing best-selling books, what other amazing things that Tia has? Well, wait until you guys know more about her marriage and life stories; Tia wins a lot in life!
15 Years of Marriage: Tia Mowry and Cory Hardrict Officially Divorced
The couple announced their separation in October 2022. After several months of finalizing their divorce settlement terms, Tia Mowry and Cory Hardrict have officially reached an agreement in 2023.
Despite the end of their marriage, both Tia Mowry and Cory Hardrict remain focused on co-parenting their children and ensuring their well-being.
Tia Mowry Stayed with Her Husband, Cory Hardrict, during His Hardest Time
Tia Mowry has been married to the love of her life since 2008, and she is a mother of two. Her married life with Cory Hardrict is not talked about that much by everyone, but it indeed has its appeal.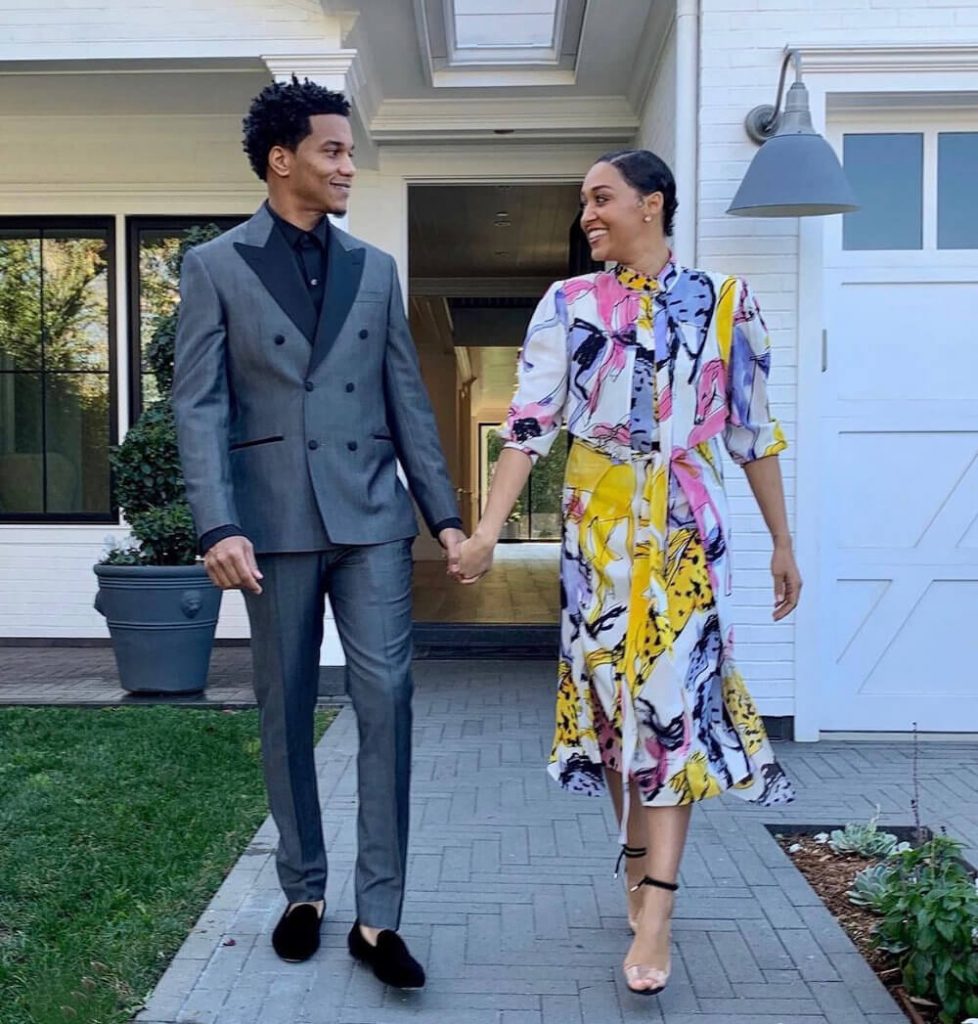 Cory Hardrict is also an actor, already famous since the late 90s, just like his wife. His movies include American Sniper, 211, and Transcendence. However, Cory prefers to have a more low-key life.
The couple first met in 1990 on the set of Hollywood Horror. However, the movie was aired in 2005. At first, Tia and Cory were best friends, and the romance hadn't sparked between them. 
We don't know precisely when Cory and Tia began dating, though, but it didn't take a long time after their first encounter. Finally, after years of being together, the pair got married in 2008. Their wedding ceremony was held in Santa Barbara, California.
Cory got melancholic when he reminisced about the old days when he and Tia first met. Tia had already got her prominent role in Sister, Sister at that time. Meanwhile, Cory was still figuring out his life and wasn't in a good place back then.
"I had odd jobs. I worked at K-Mart, graveyard shift, security. That's when I was just grinding, man. I met my wife during those days. She was with me. She was just coming out of Sister, Sister. Still, they had everything, man, and I didn't have anything," recalled Cory in his interview with Global Grind.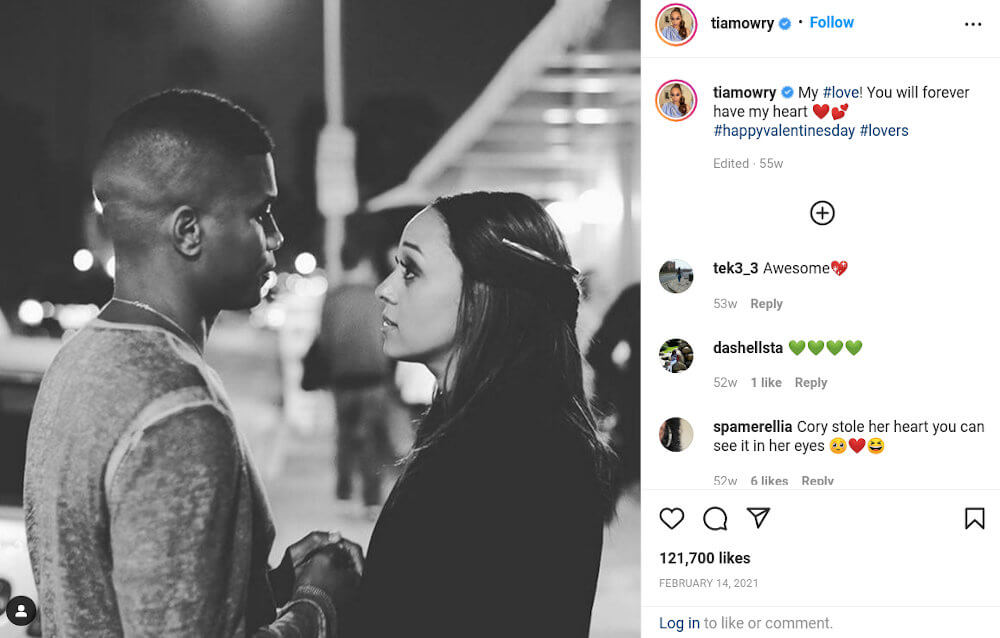 Cory also continued about how he lived in a tiny apartment, slept in the corner, and didn't even have any furniture for nearly two years. Tia stayed with him despite everything, and that's the moment that Cory will never forget.
Tia Mowry & Cory Hardrict Never Rushed Things
During Cory's harvest time, Tia's presence isn't the only one that strengthens their love. From the late 90s to 2008, when they were still dating, Tia admitted that she preferred to live her romantic life in a rather conventional way; by making Cory wait before they got physical.
"We weren't physical, we didn't do anything for a while to make sure this was something special, and this was something real. We didn't even go on dates with just Cory and me. There were other people around," Tia opened up during a press junket for her movie Baggage Claim. 
It didn't make Cory chicken out. Quite the contrary, it does prove that Tia is someone special for him because he was willing to wait for all of that and actually stick by her side.
When Tia was asked when she finally let her guards down, she revealed that her mom's advice reassured her. After looking at how excellent Cory was, her mom advised her to "give him a chance." Since then, Tia finally had her first kiss with Cory. And as she described it in her interview with People, it was "all very sweet."
Tia Knew Cory Was "The One" Because He's Always Been Patient with Her
But, before she even heard her mom's advice, Tia knew from the start that Cory was "the one." She could see it in himself. When she first met Cory, Tia had just gotten out of a horrible relationship. And she revealed that story in her Q&A that she uploaded on her YouTube Channel, "Tia Mowry's Quick Fix."
"My husband, he just had loads of patience with me. He was just right there for me and held my hand. He never forced himself to kiss me or anything like that. And we were just friends for the whole year," Tia stated.
And the moment when she said that, Cory just looked at her like admiring her. Do you guys believe they are already married for more than ten years? Because it sure looks like a new couple still enjoying their honeymoon phase.
Tia continued by saying that Cory was the one who helped her believe in herself, even though at that time, she doubted herself a lot. Tia couldn't hold her tears when she said that and started crying, while Cory rubbed her back and said, "don't cry."
And if you guys look at the comment section, it got even more wholesome because many people adore them as well.
Some Secrets from Their Awesome Marriage
The romance didn't stop there, though. Throughout years of being together, Cory and Tia have lots of secrets for a successful marriage to share with the world. One of them is equality; both of them believe that there is no such thing as a "husband" and "wife" particular role.
"And If I'm being really honest with you – and we've been doing this for years – we don't focus on specific gender roles," stated the Sister, Sister star on People the TV Show!
Tia Mowry and Cory Hardrict also teach their kids to think the same. According to them, it's all about a team effort to get the result everyone wants instead of focusing on men and women's responsibilities.
"We've got a loving household. We try to teach our kids if you have equality in the house, that can bleed over into the world, and that's what makes the world a better place," Cory continued, supporting his wife's previous statement. 
The gender equality that they constantly nurture in their home plays a significant contribution to the success of their marriage. They are just really amazing.
Tia shares that lovely little routine on her Instagram. In one of her posts, she uploaded a picture of Cory and her doing the dishes, with a caption that goes,
"Here's a little behind-the-scenes you don't normally see! You all know how much I love to cook, but the cleanup – not so much. Early on in our relationship, Cory and I made sure to show appreciation for one another by helping with household chores equally. And with marriage and two beautiful kids, we've kept this up."
Also, faith and spiritual things helped them maintain a peaceful and loving household. In Tia's Q&A, both of them admitted that. Even though they weren't "super, super religious," they still believe in the power of believing things that are bigger than themselves. They kept it simple, but it was proven to be powerful for them.
Tia Mowry and Cory Hardrict Had Always Wanted to Become Parents, but the Journey Was Tough
We all already got a little deeper into how they managed to have a successful marriage. And also, don't forget about their heartwarming stories before they got married. But, what about the details of their children? Also, besides equality, what other values that Tia and Cory share with their kids?
Around three years after they tied the knot, Tia and Cory had their first son, Cree. Seven years later, they had Cairo, and the family now consists of four. Apart from always teaching equality, Tia also teaches them compassion and empathy.
She never hesitated to share on her Instagram about how loving and caring she is towards her kids. She looks like the kind of mother who always is there for her kids, which is super lovely.
Tia admitted that she'd always wanted to be a mother. And even though her dreams eventually came true, she had to deal with a challenging situation in the past, where she had endometriosis.
Before welcoming Cree, Tia had to undergo two surgeries and survive with an anti-inflammation diet. That condition never ceases to dim Tia and Cory's desire to be parents. She was about to lose hope if it wasn't for Cory.
"I think it's really important that someone is there encouraging you, rooting you on, saying you're not alone, helping you feel stronger and more powerful," Tia spoke to Women's Health. And when they finally welcomed Cree without any serious problems, they couldn't bear the joy.
Well, after what they've been through together, they ultimately divorced in 2023.