Who is Millie Bobby Brown Boyfriend? Is She Dating Anyone?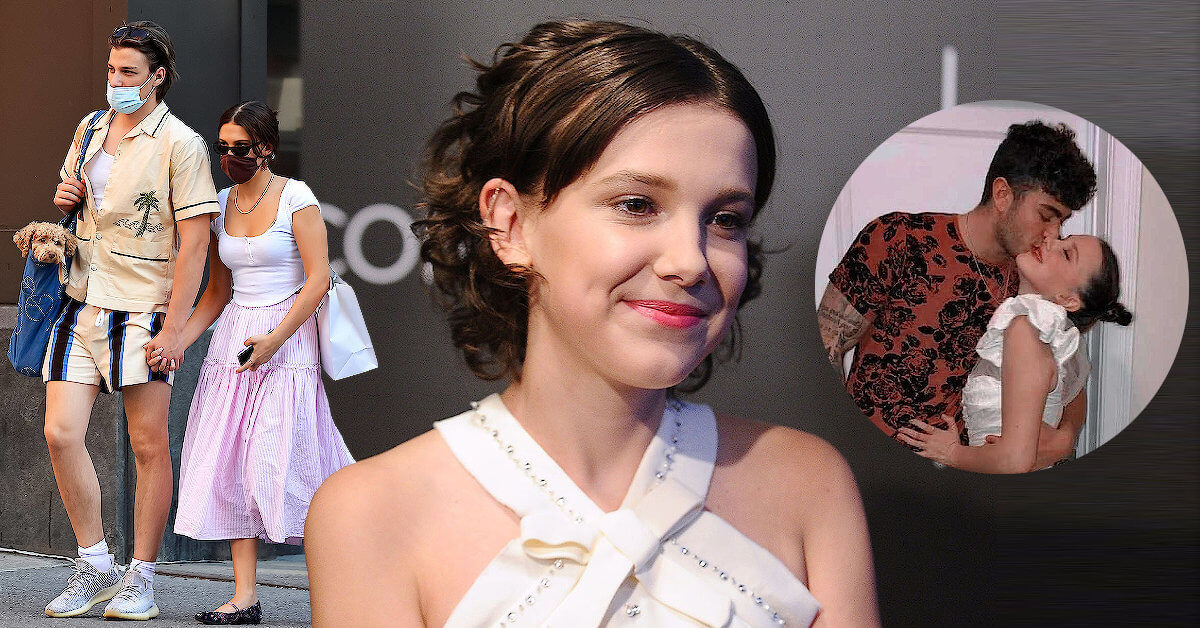 Young, pretty, and talented actress, who doesn't know Millie Bobby Brown? At such a young age, she has already been featured in the Time 100 list of the world's most influential people! She is best known for her role in the hit TV series Stranger Things.
Besides her career as an actress, she was also a UNICEF Goodwill Ambassador, a role she was chosen for in 2018. If she could accomplish so much in her career, what about her love life?
Millie Bobby Brown's Boyfriend, Jake Bongiovi
Millie Bobby Brown and her boyfriend, Jake Bongiovi, made an exciting announcement in April 2023 – they are engaged!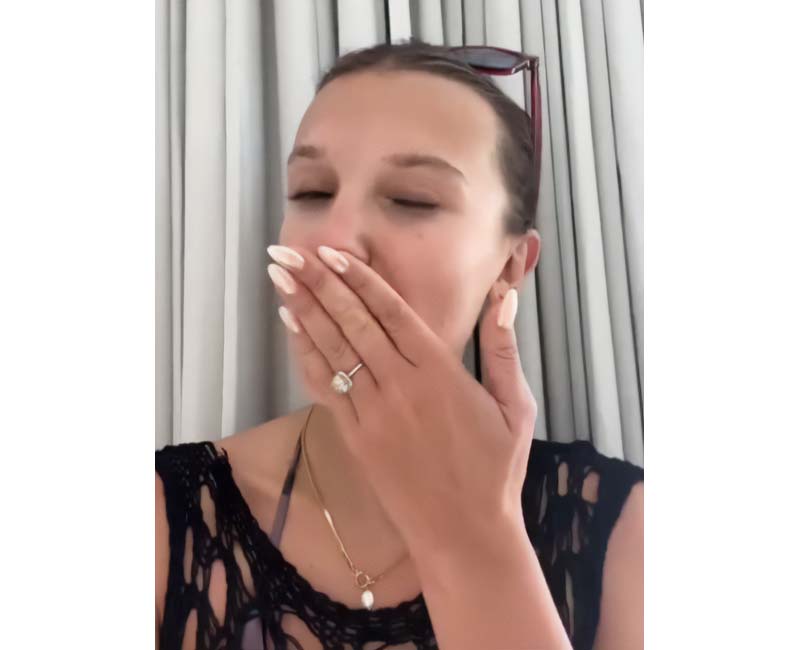 It turns out that Millie's love life is as dazzling as her career! She is currently dating Bon Jovi's son, Jake Bongiovi, and the two had shared many cute moments on their Instagram.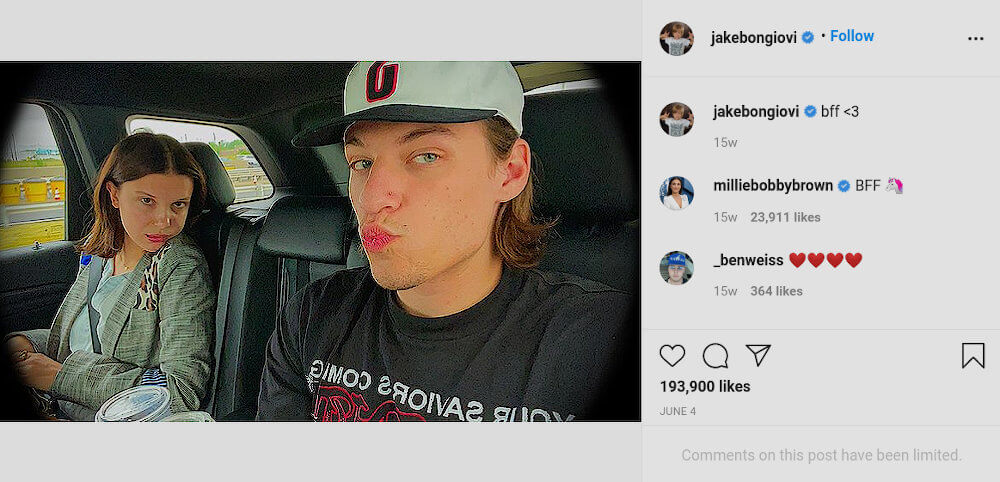 People started to speculate that Jake and Millie were into each other. They had been playfully commenting on each other's Instagram posts. Not long after, the two were seen holding hands in New York City last spring while carrying Millie's dog in a tote bag.
Millie and Jake made their relationship public on June 2021, and the two have seemed inseparable ever since. Though their relationship is quite new, people cannot stop rooting for them.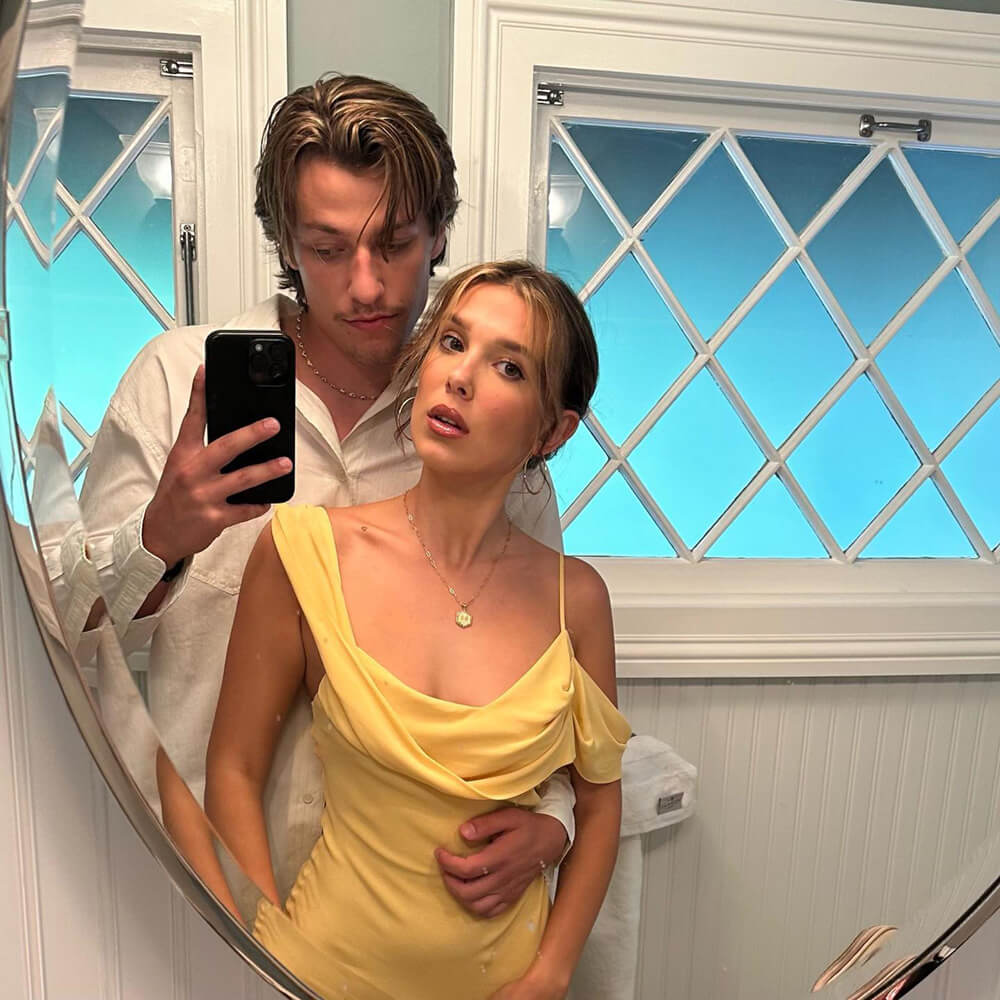 Well, Jake and Millie are the real definitions of a power couple. Jake isn't only known for his father, he is a prominent athlete, and he put a lot of attention on his surroundings.
Jake is a football player in college and high school. Also, Jake used to lead a student protest in Pennington High School. He helped the student walk out to protest the school shooting in Florida a while ago. His confidence and bravery were later praised by his dad, Bon Jovi, on his Twitter account.

"COULDN'T BE more proud of the youth of these UNITED STATES – Change starts with you," tweeted Bon Jovi on March 14, 2018.
Don't forget the fact that he's super cute! With his long blonde hair and eyes, he never fails to dazzle many girls, which is depicted through his 1.4M followers on Instagram. 
Well, a bold and brave young man with the youngest UNICEF Goodwill Ambassador and an actress? I dare you guys to name a better couple than them!
Though the relationship is still new, we hope that this power couple will last long!
Millie Bobby Brown and Jason Robinson
Apart from Millie's fairy tale life with Jake, she also had some famous and hot ex-boyfriends. Before dating Jake, Millie was in a relationship for ten months with Jason Robinson.
Jason Robinson is the son of famous England rugby star Jason Robinson (yes, their names are identical).
It seems like Millie never likes to explicitly announce her relationship. But, she still gives hints through some of her social media.
Millie and Jason's relationship also started with people's speculation for months. However, the two kept their whole relationship low-key and just implicitly announced the relationship with a Snapchat story.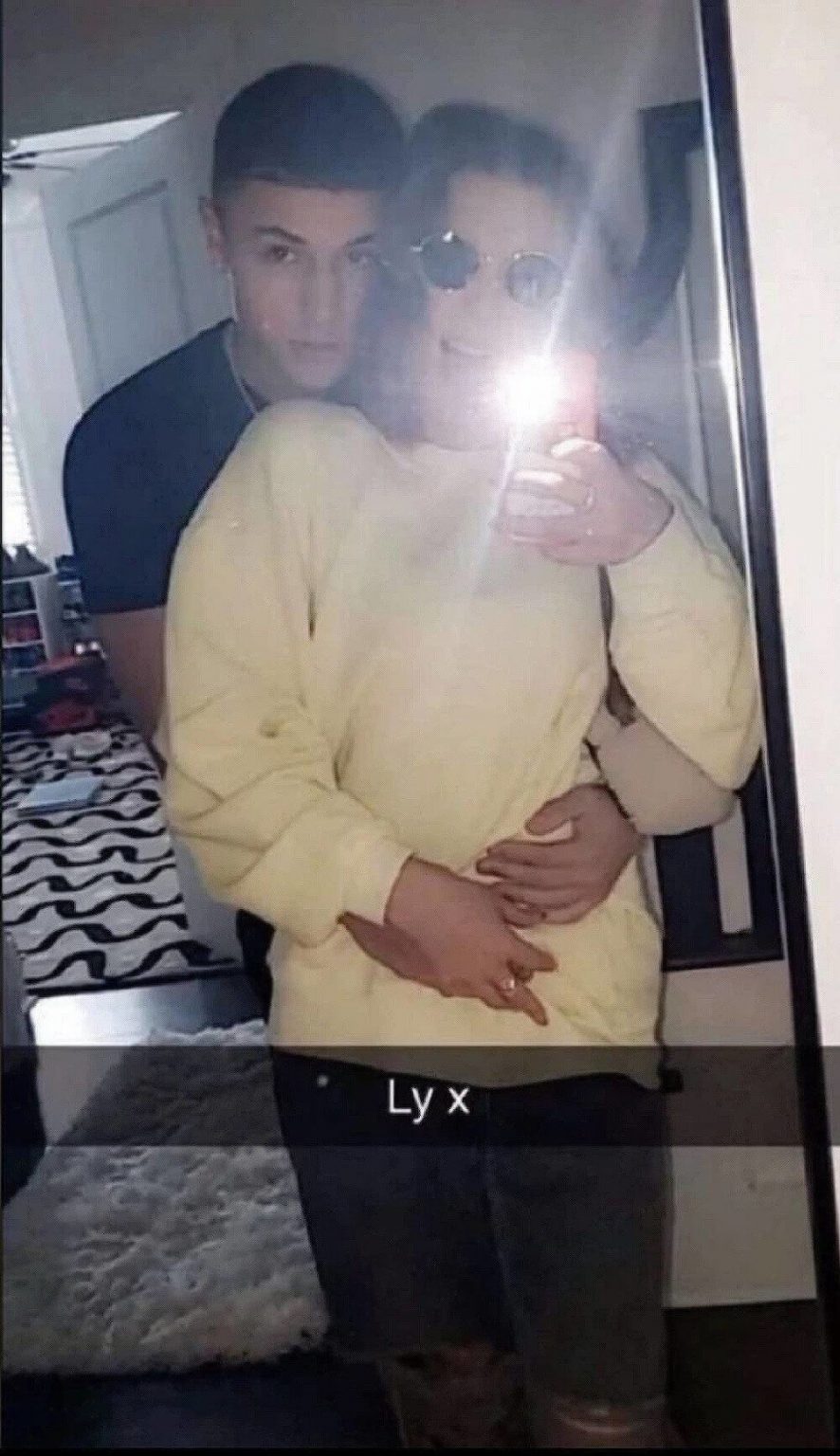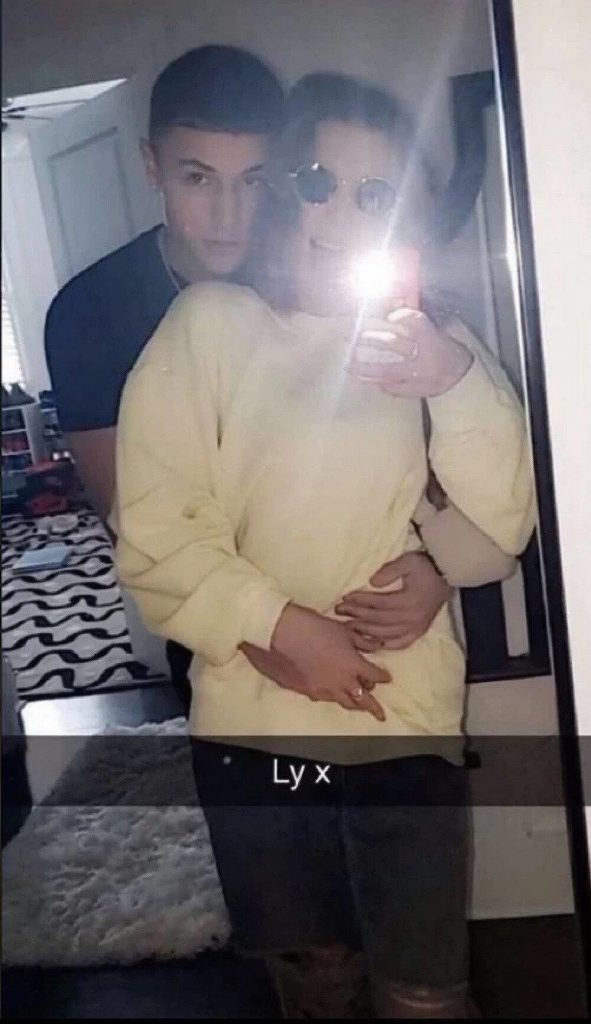 The story was the photo of their mirror selfie, and Jason was hugging her from behind. Millie also put the caption "Ly," which means: Love you.
They also spent time together quite a lot. They went on vacation together in the Maldives last year with some of their friends, too. They seemed to have a good time, and Millie even described it as her "trip of a lifetime."
Millie Bobby Brown and Jason Robinson Unfollowed Each Other in Instagram After They Split
The couple seems to shower each other with love. Unfortunately, their relationship didn't stay long. They only dated for around ten months.
There was never any official statement whether they started dating or when they call it quits. Still, fans seemed to notice the two stop interacting on social media. They even unfollowed each other on Instagram! What?! Is there any bad blood between them that we need to know?!
Not only unfollowing each other on Instagram, but they also deleted some of the photos that captured their moments. This makes people wonder about what happened between them. Some speculated that they were no longer friends, and their breakup wasn't based on good terms.
According to some sources, the long-distance situation is the main reason for their split. Since they were still teenagers, it is indeed hard not to meet when they miss each other. Millie spent her time a lot in the States filming. Meanwhile, Jason stayed in the UK.
Not only distance but also time difference was challenging for them. It made the whole situation more difficult than before, especially after Millie got many roles in huge series like Stranger Things and Enola Holmes.
"Millie has become a huge star overnight, and Joseph's rugby career is really on the rise, so perhaps it just wasn't the time for them to have a romance. Of course, they're both still very young, so no doubt there's lots ahead for both of them," stated one of the reliable sources. They also added,
"They were very full-on and happy to show it on social media, but it seems as though things have just run their course."
But, we would never know the truth since neither Millie nor Jason wanted to reveal the truth. So, whether or not the long-distance relationship was their main reason is remained a mystery for all of us.
Millie Bobby Brown and Romeo James Beckham
The list of famous men didn't stop there, guys. Millie was also dating Victoria Beckham's second eldest son, Romeo James Beckham.
In March 2019, the source close to Beckham's family told The Sun that "Romeo and Millie are hanging out. It's early days, but they make a very sweet couple."
And thank God for social media; Millie and Romeo made it obvious since the two were publicly interacting on their Instagram. Well, as teenagers being teenagers, of course, they wanted to spend lots of time interacting with someone they like on social media.
In September 2019, Millie posted an Instagram story with her goofy selfie, saying, "happy birthday @romeobeckham love you, bro," with lots of love emoticons in the end. So what do you guys think? Did it look like a mere friendly gesture, or do you believe the romance had sparked between them?"
Not only Millie gave love emoticons; Romeo also commented on one of Millie's posts with red hearts emoticon. That picture showed Millie in a fabulous stripe dress, and she wrote a caption, "these nights got me in my feels," followed by a black heart emoticon.
Some sources also stated that even Victoria Beckham had approved her son to date, Millie. So she was really happy about the relationship.
Millie and Romeo's First Encounter: Millie Would Like to See "Something Like Romeo Beckham"
Millie Bobby Brown and Romeo James Beckham first met in 2016, when Millie gave an award alongside David Beckham in UNICEF's 70th-anniversary event. And Millie, of course, as its ambassador, got lots of spotlight at the gala.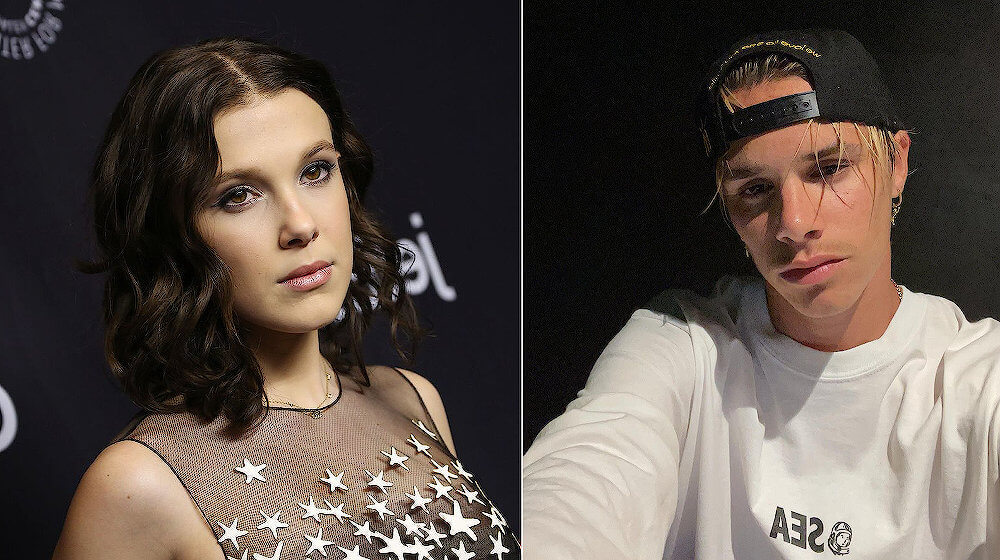 Millie was looking cute with a classy and adorable long white dress. On the stage, David Beckham asked Millie about what she would like to see for her character Eleven on Stranger Things, and Millie answered, "I don't know. Something with Romeo Beckham." And was it the first time their romance sparked? We're not sure, but Romeo was captivated by her since the first time they met. Well, who wasn't?!
Unlike Jason Robinson and Jake Bongiovi, Millie and Romeo never really took photos together and posted pics that "looks like a couple." Instead, their interaction was merely commenting on each other posts on social media and giving lots of heart emoticons.
Millie Bobby Brown's First Public Relationship with Jacob Sartorius
It seems like Millie had a thing for a spotlight stealer kind of man. Not only dating rock star's son and rugby player, but Millie also dated a YouTube superstar and musician, Jacob Sartorius, in 2018. Jacob is Millie's first public relationship and the first famous guy that dated her.
Millie Bobby Brown and Jacob Sartorius were dating for nearly one and a half years, but their breakup wasn't amicable either.
Just like how things ended with Jason, Millie blocked Jacob from her Twitter and Instagram after uploading many of their sweet words and pictures together. One of them was Millie's wish for Jacob for Valentine's Day on Twitter.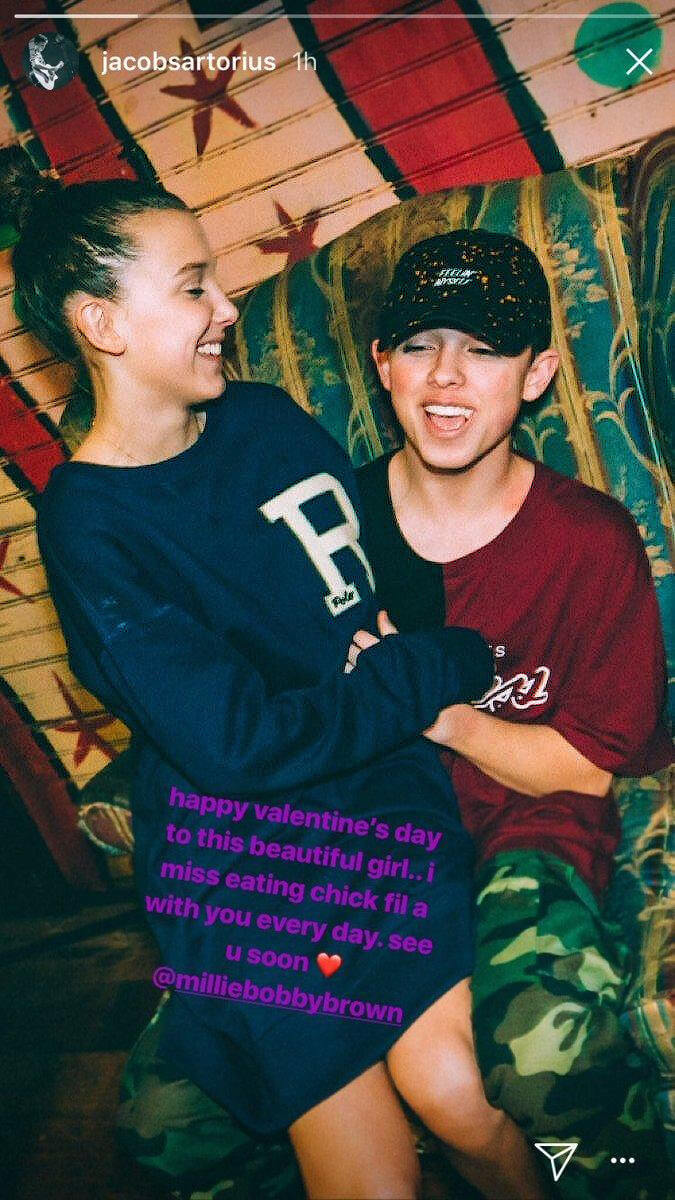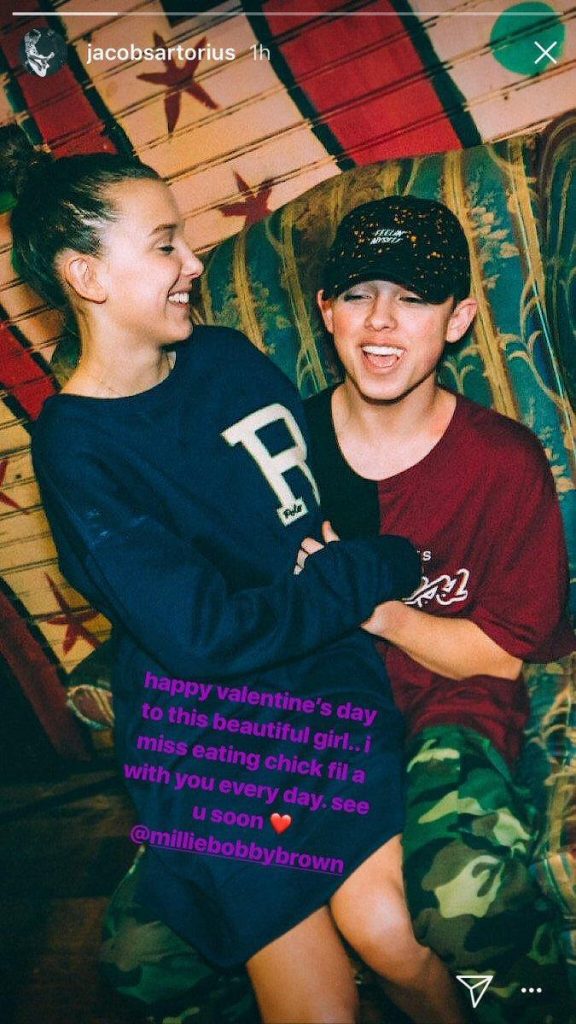 "Happy Valentine's J @JacobSatorius," and it was followed by a cute picture of them cuddling together. Jacob then replied with, "Happy Valentine's. See you soon." The tweets got more than five thousand retweets and nearly 50 thousand likes!
Not only that, but Millie also shared her selfie with Jacob, in which she was leaning onto his neck and wrote three big red heart emoticons.
The pair were reportedly breaking up around January 2019. The reason for the breakup was unknown. But, Millie never needed a long time to recover and moved on to another guy. Good for her!