Inside Stranger Things Star Finn Wolfhard's Dating History
Phew, stealing hearts here and there, right, Finn?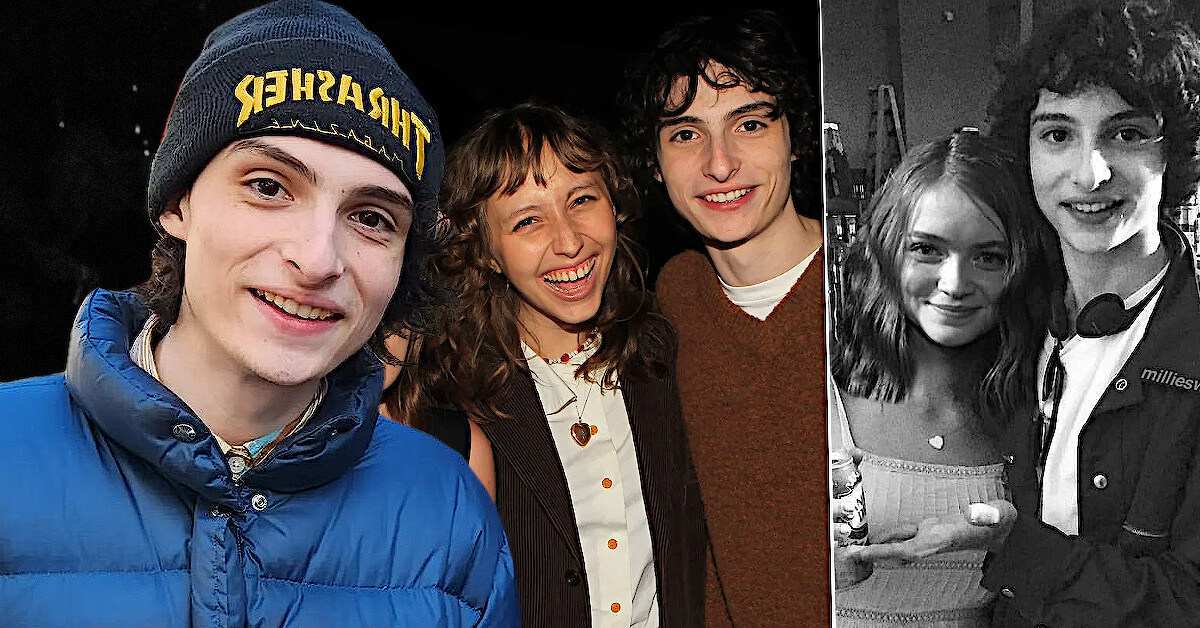 Finn Wolfhard is undoubtedly one of the most popular rising stars in Hollywood! Became an overnight sensation thanks to his role as Mike Wheeler in the Netflix hit series Stranger Things, Finn Wolfhard joined the likes of Timothee Chalamet and Noah Schnapp as the new generation's heartthrob.
With his soaring popularity among teenage fans, Finn Wolfhard has his own "One Direction era," meaning obsessive young fans who are highly invested in his personal life, especially about who he is dating right now!
Who is Finn Wolfhard's Current Girlfriend?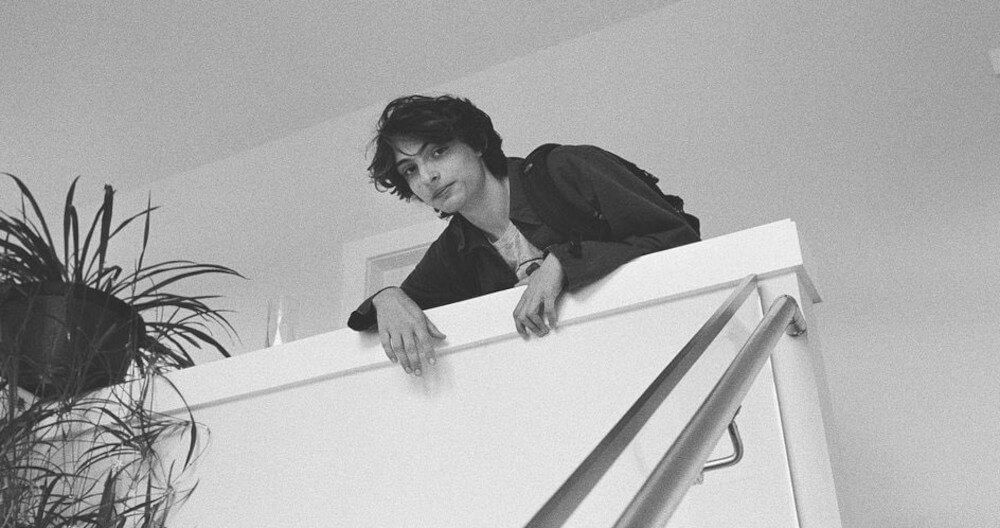 Being under the spotlight since a very young age, Finn Wolfhard almost has no time to experience innocent, young love. For a rising star like him, relationships seem to be a public affair between him, his lover, and his fans!
Finn is notoriously private about his personal life, yet he isn't safe from prying eyes. Some eagle-eyed fans still managed to get information about his romantic relationship and even forced him to go public with it!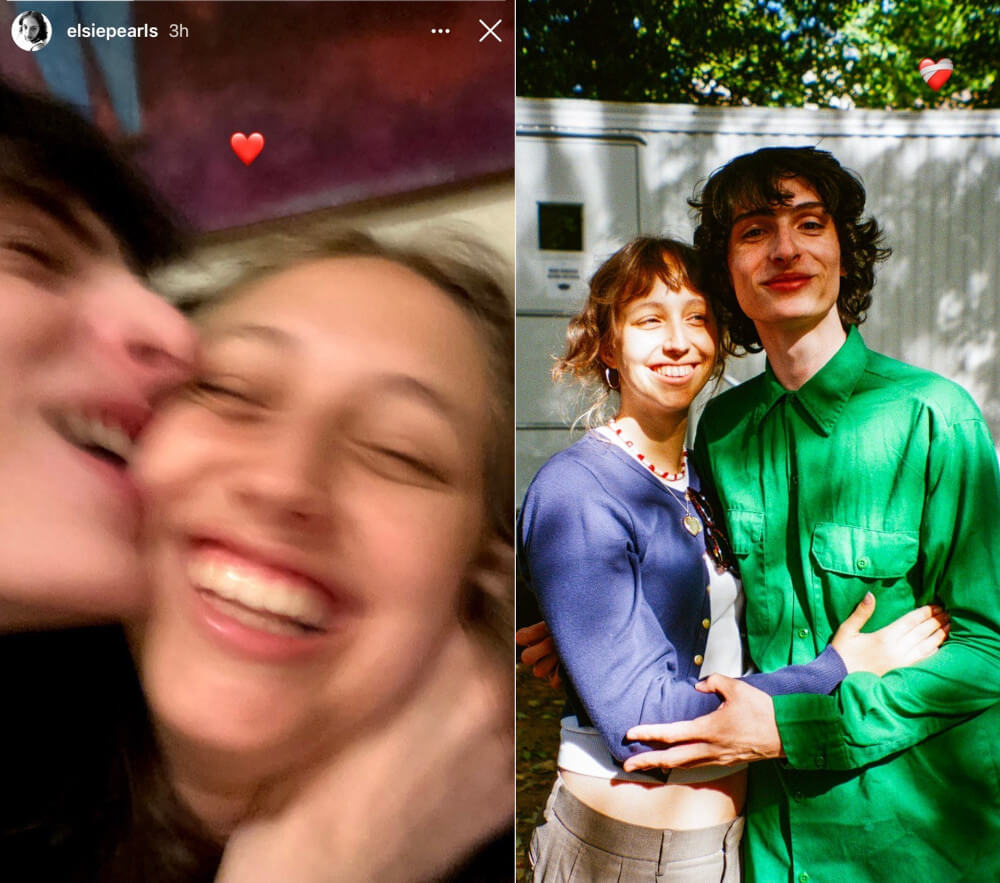 In an interview with The Washington Post, the young Canadian actor shared that rumors of him dating a fellow actor, Elsie Richter, began to spread. His fans later forced him to go Instagram-official with Elsie, or else they threatened to leak Elsie's address.
Man, talking about obsessive fans!
Via Elsie's Instagram account, the young couple confirmed their relationship in an adorable yet blurry snap of them, posted on Elsie's Instagram story.
Considering that their relationship was announced under threats from several toxic fans, it's completely understandable that Finn and Elsie didn't share too many pictures or videos of them on their social media!
However, Finn Wolfhard and Elsie have broken up after being together for over a year. Sources say that the split was due to Elsie allegedly cheating on Finn, which led him to end the relationship.
Did Millie Bobby Brown Turn Into Finn Wolfhard's Off-Screen Girlfriend?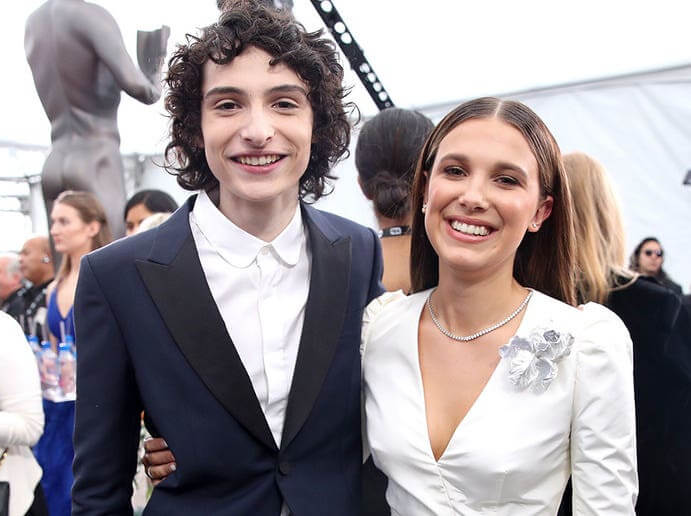 All Stranger Things fans surely know one of the most shipped couples in the series, Mileven! With Finn Wolfhard and Millie Bobby Brown being talented actors with perfect chemistry, it's easy to suspect whether their romantic attraction goes beyond their camera.
As if the rumors weren't big enough, their Stranger Things co-star, Noah Schnapp, tagged Finn and Millie on an Instagram post that wrote, "Tag two people that want to hook up with each other to make things awkward."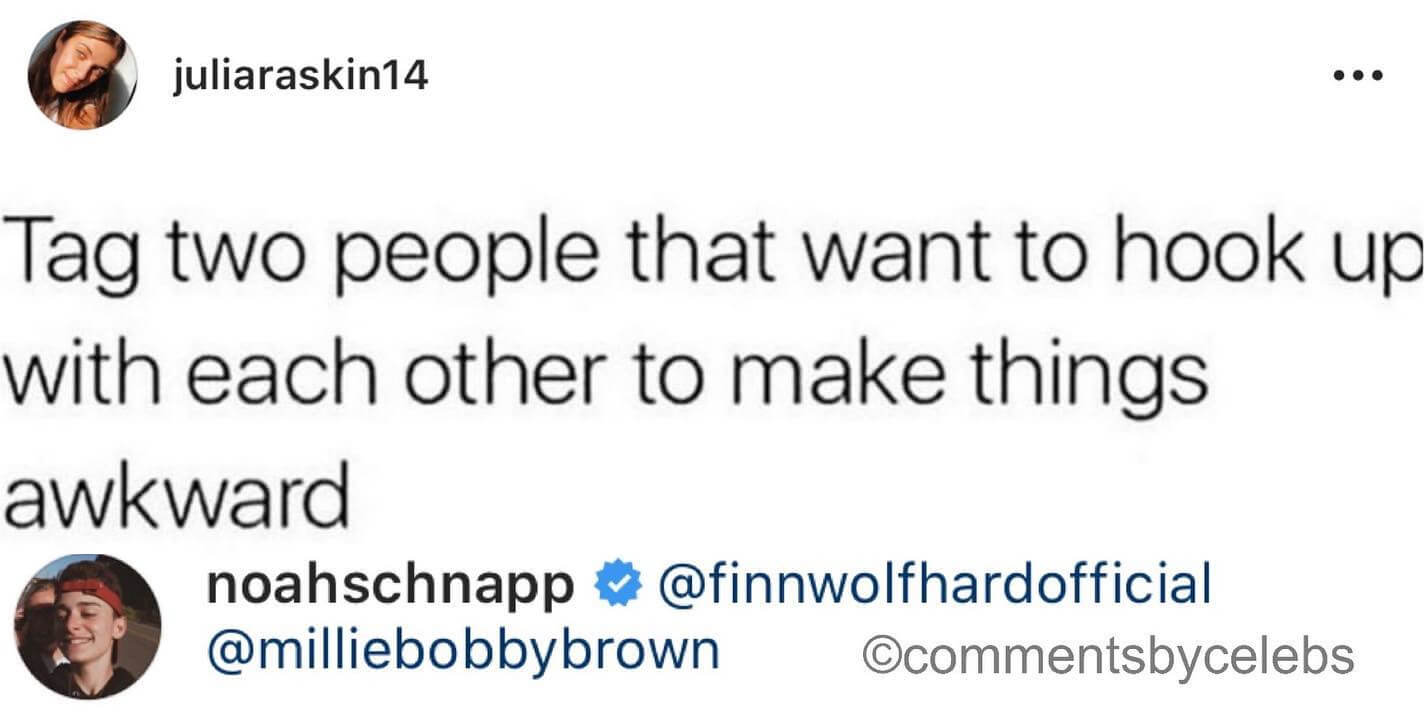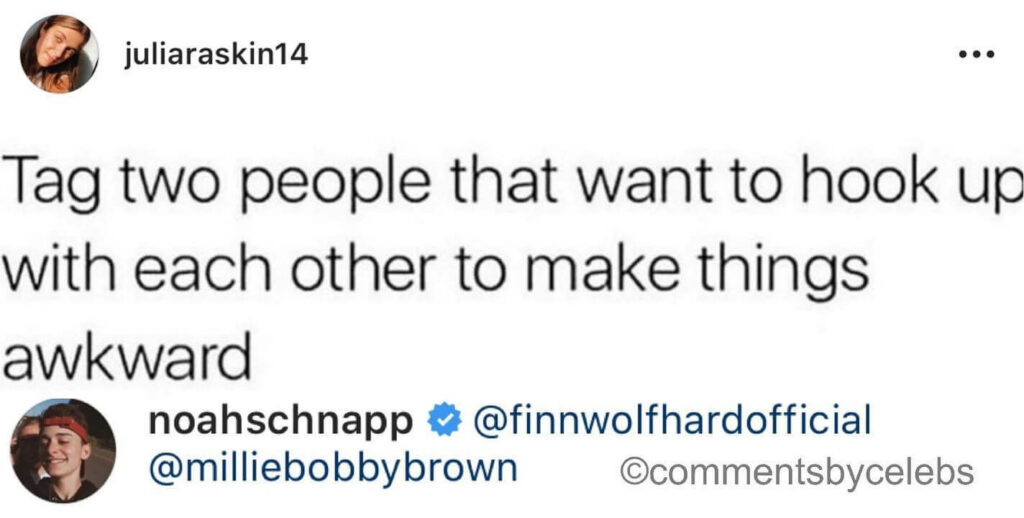 While it could be an inside joke among them, it further fueled the dating rumors, sending fans into chaos. However, shortly after Noah tagged them, Millie was spotted cozying up with rugby player Joseph Robinson, thus ending the dating rumors between her and Finn.
Well, it seems fair to say that they're just best pals!
Is Sadie Sink Used to Be Finn Wolfhard's Girlfriend?
Millie Bobby Brown isn't the only castmate involved in dating rumors with Finn Wolfhard. Another Stranger Things co-star, Sadie Sink, was also rumored to be dating the young actor!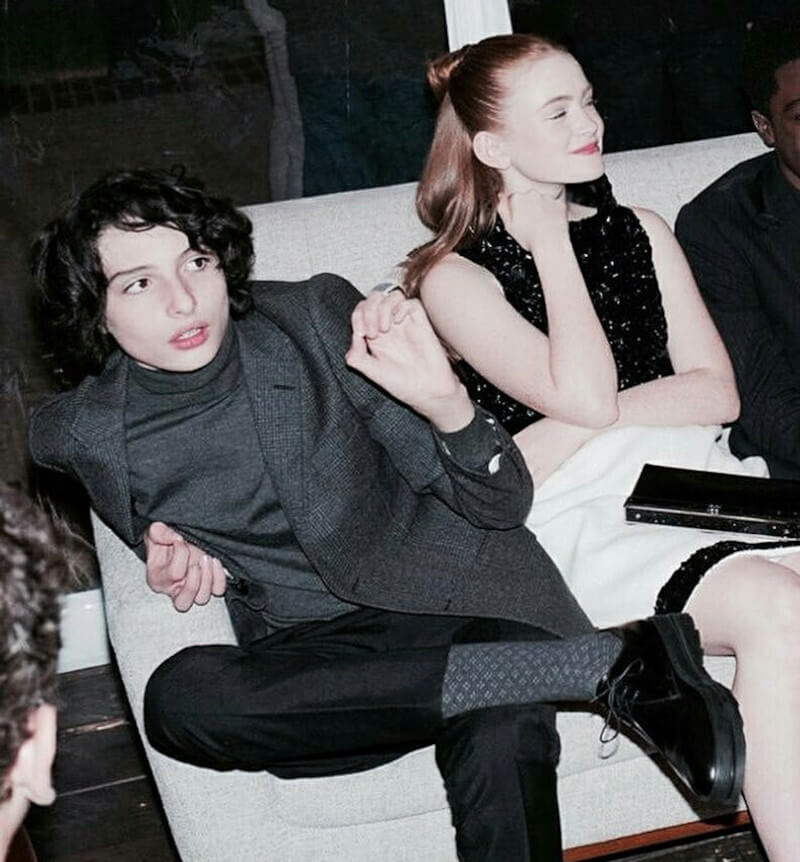 The rumors began to spread after several TikTok accounts shared a video claiming that Finn and Sadie are, or at least used to date.
However, the rumors turned out to be completely unfounded, considering that Finn and his girlfriend Elsie were spotted hanging out with several friends only months prior.
Did Finn Wolfhard and Jack Dylan Grazer Use to Date?
Following the success of the 2017 movie adaptation of the classic horror novel It, the actors quickly gained superstardom, Finn Wolfhard and Jack Dylan Grazer included.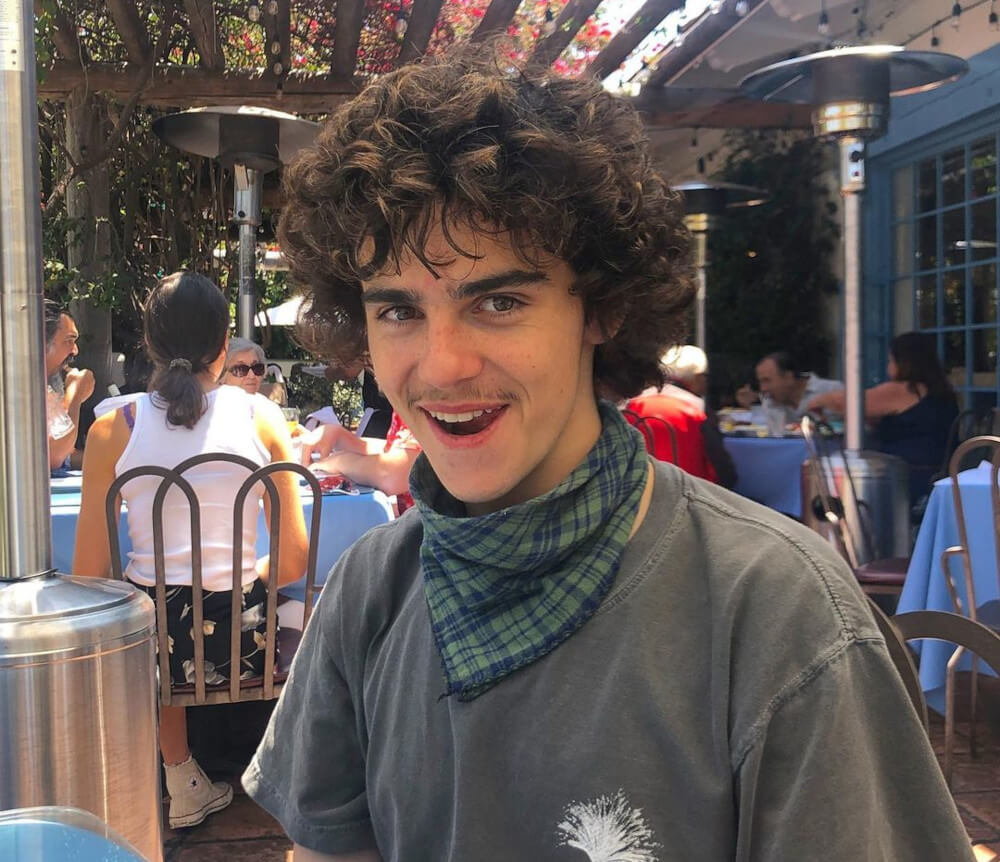 With them having a tight-knitted friendship with other casts, fans once believed that the bond between Finn and Jack was even stronger than a mere friendship.
Immediately becoming fans' favorite non-canon couple, rumors started to surface that the two young actors were dating at some point. However, Jack was quick to shut down these rumors.
"I don't have a gay relationship with Finn," Jack stated in a live stream. "It's kind of annoying," he added.
His exasperation is understandable because jokes like that always seem funny initially, but they become old and tiring soon, right?
Although their dating rumors were untrue, one thing for sure is that Finn and Jack are still the best of friends!