Who is James Norton Girlfriend? Is He Married?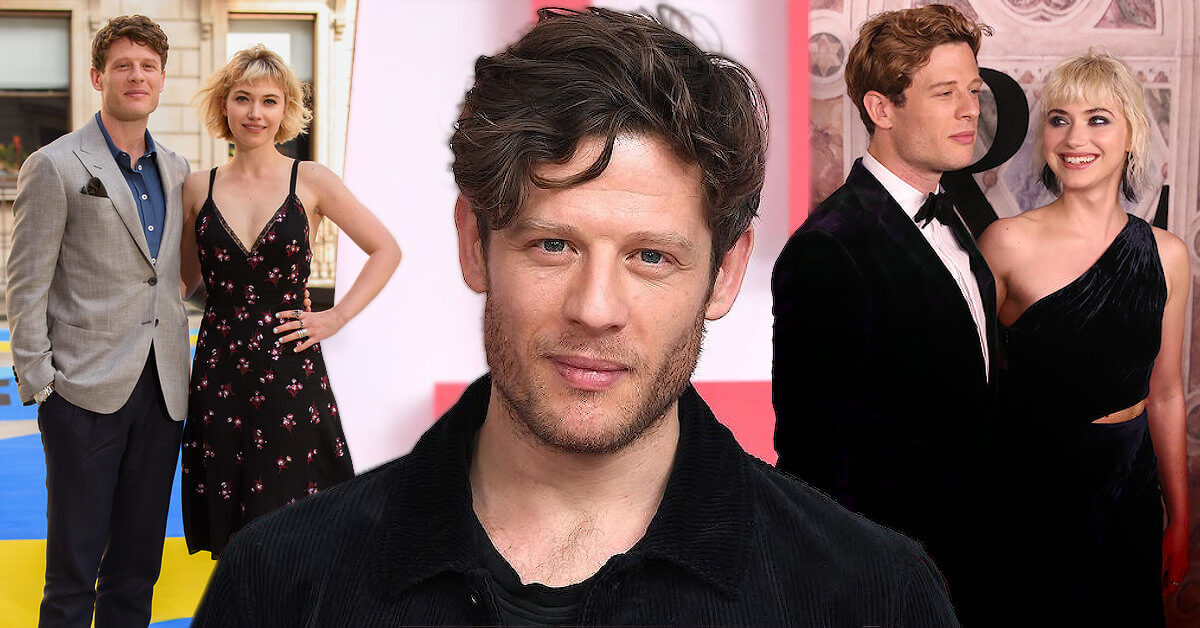 If you are a fan of the scary sci-fi series Black Mirror, you must be familiar with James Norton. He starred as Ryan Pound in the Nosedive episode.
Other than Black Mirror, James had appeared in Little Women and Nowhere Special. His bad-boy and witty charisma had made him stand out among many actors, and of course, around women. This has been proven since he won the 2017 GLAMOUR Man of the Year award.
Surprisingly, he isn't the kind of guy who has many rumors about girlfriends or cheating scandals. Here's the more in-depth insight about all of James Norton's ex-lovers.
Is James Norton Dating Anyone?
First thing first, James Norton is not a married man! But he's not single either. He is currently dating an actress, Imogen Poots. We can see her appearance in Vivarium and Need for Speed.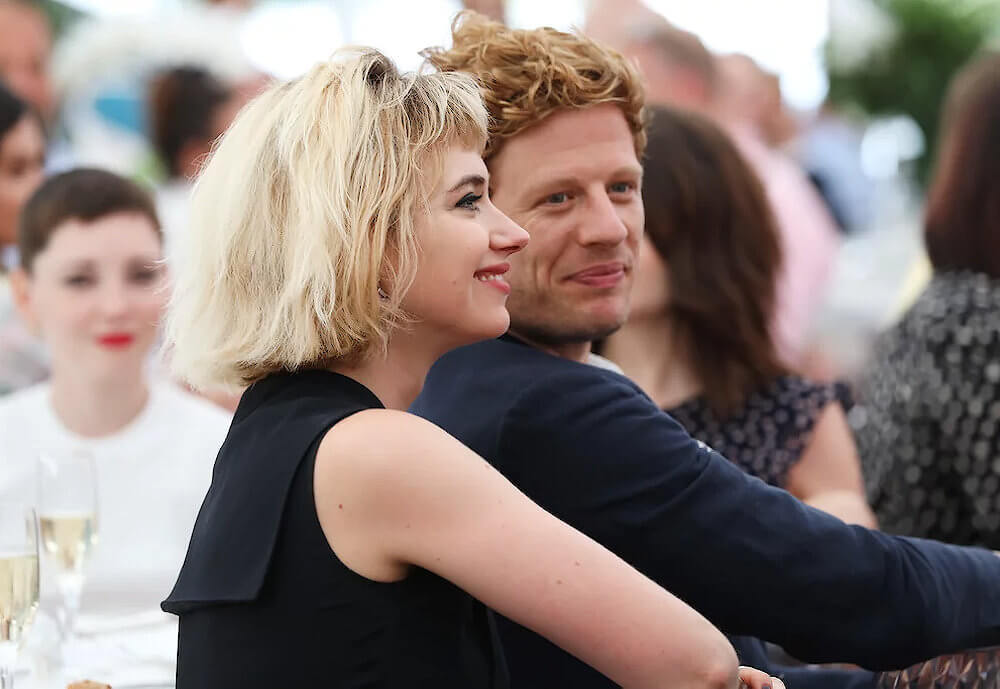 Before digging deeper into James' relationship, let's briefly talk about James' childhood and personal life.
James Norton's Early Life and Career
James Norton was originally from Lambeth, London. But, he spent most of his time growing up near Howardian Hills in North Yorkshire.
Being an actor has always been James' dream and passion. He said himself in one of his interviews that he loved acting and performing from a young age. And also, he described his childhood as "happy" and "idyllic." However, James also revealed that there was a time when he was bullied at school. That happened when he attended an all-boys school.
To pursue his acting career seriously, he went to the Royal Academy of Dramatic Art. However, he didn't go straight away to pursue acting (he went to Cambridge University to study theology) and graduated with First Class Honors. Our lovely James is a brilliant man!
James' studies focused on Hinduism and Buddhism, and he enjoyed that very much, apart from acting. But, during his college year, he was very involved in the Marlowe Society theatre club at Cambridge. Since then, he became more assured of pursuing acting and then went to the Royal Academy of Dramatic Art.
He started his first debut in 2007, and we can see that James is still present until now. There was a rumor that James would be the next Bond, replacing Daniel Craig. But, there isn't any confirmation about that yet. But, if that happens for real, his name is going to be way bigger than before!
Is Imogen Poots James Norton's Wife?
When it comes to dating life, James has pretty good records so far. James Norton and Imogen Poots have been dating since 2018.
They reportedly hit it off right away after they worked together in the West End production of Belleville at the Donmar Warehouse in 2017. Their chemistry and attraction towards each other were instant, and they didn't waste any time being a couple.
Their relationship seems pretty serious already, but they are not married. James likes to put his relationship details out of the spotlight. But, we still can see some of Imogen's photos on his Instagram over the years.
In 2019, James posted a picture with a black-and-white effect that captured a candid shot of Imogen. The picture was taken when the two had a vacation together in Copenhagen, Denmark.
"Trying my hand with some film cause I'm a dirty Luddite," wrote James as a caption.
Distance Has Never Been a Problem for James and Imogen
Imogen also gave her opinion about her relationship when she had an interview with ES Magazine months ago.
"I've never known something to fall apart because of distance," told the Vivarium actress. She also added that being away from James hadn't had any impact on their relationships. Well, that's quite amazing.
So many celebrity couples parted ways because they couldn't find the right time to be together or were always going through a long-distance relationship. It must've been super interesting how Imogen and James handle that distance.
"I find work to be my happy place, in a way. Because it's all I've ever known: packing up a bag and moving on. That restlessness that's inherent in you is very addictive," she added. The actress also boldly stated that she wanted to keep "exploring the world." I hope she does that with James, and the couple continues to date for a long time.
Imogen and James' positive approach towards the distance in their relationship has been proven to work until today! They have been a couple for three years, and they are going stronger than ever.
A reliable source that is very close to them stating that they are "very happy with their current relationship status."
They Already Moved in Together, and Their Relationship Looks Pretty Serious!
Though they admitted that distance has never been a problem, the two decided to take a big step into a more serious phase. James and Imogen had moved in together in April 2020. Some paparazzi caught them cycling around their neighborhood, and they seemed to be at their happiest phase.
And in the middle of their busy schedules, the two still manage to find time to have a quality moment together. We can see from James' Instagram page that he loves to share some moments that he spends together with his lovely girlfriend.
Be it a work-related trip or pure vacation time, and they never missed being with each other. Last year, they attended the Venice Film Festival in Italy. In the picture, James was wearing rather formal clothes, with a black suit and black pants. Meanwhile, Imogen was seen wearing a classy dotted-grey dress, and they enjoyed drinking beers together. What a lovely couple, indeed.
Even after these three years, we hardly hear any negative news or even rumors about this couple. They never wanted to make their relationship secret. Still, the two never revealed too many unimportant details about their lives either. That is something that many celebrities in our era couldn't seem to understand: that sharing every little thing about their lives on social media would never do them any good.
On Breaking Up with Ex-girlfriend Jessie Buckley: "It Was Acrimonious."
Before dating Imogen Poots, James was linked to an Irish actress, Jessie Buckley. She played in Dolittle and HBO series Chernobyl.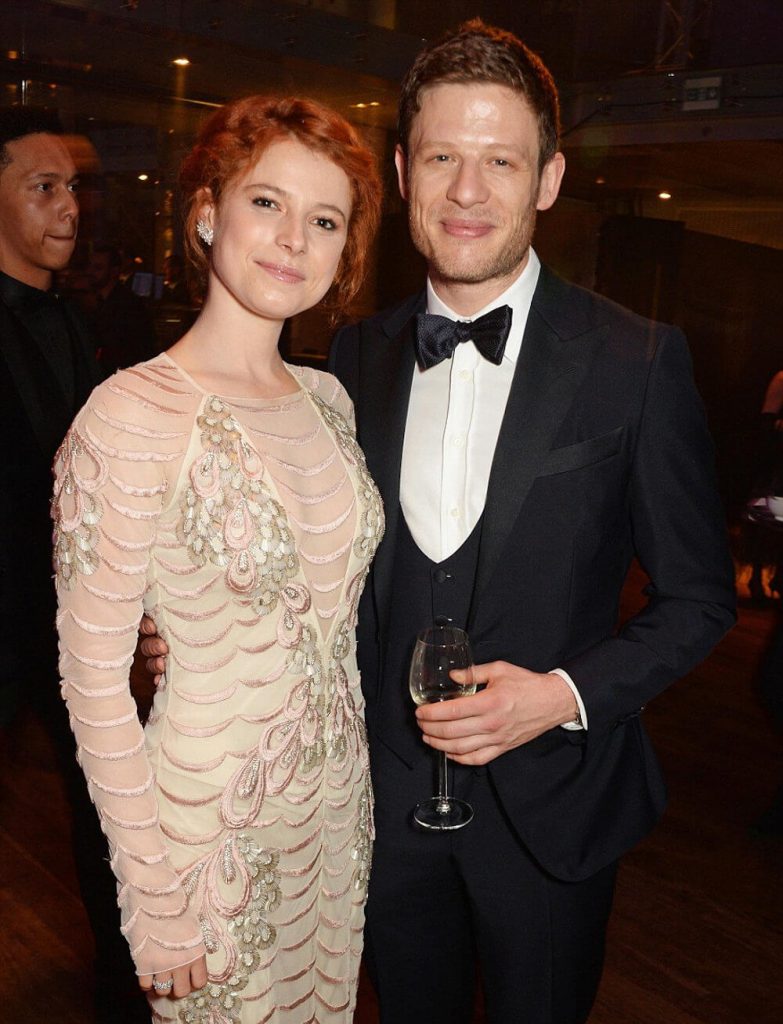 The two worked together in the series War and Peace, and their romance on-screen seems just perfect, even too good to be true. Fans were also delighted to know that Jessie and James were dating in real life at that time, just like a dream come true for their fans.
There wasn't much information that we could get from them, though. Especially because they kept it under the wraps during their time to be lovers, but just recently, in 2018, Jessie spoke up to the media about her breakup with James.
What's the trigger of Jessie's revelation? Well, one scene of James kissing Imogen Poots is enough to make her talk. Jessie described her split with James as "acrimonious." They might look lovely in photos, but what happened between them?
"We have broken up, yes. It was acrimonious, but it's a tough job to have a relationship, and he is a great man, and we are great friends. That's it. How diplomatic can I sound?" She answered that in her interview with The Times. Well, after that acrimonious breakup, Jessie still speaks nicely about James.
She then added, "If you are away for a year filming, you are just not physically around at points." So, does that mean the split was because they were away and couldn't be around each other? But, last time we heard, James had never been bothered with distance in a relationship; at least that's his stance when he was with Imogen Poots.
She didn't continue further to talk about other reasons, though. So they might've had some arguments about other things, and distance was just one of the factors. Who knows?
Jessie and James' relationship stayed for two years. Still, there wasn't any clear information about when they started or ended their relationship. Throughout their time as a couple, James was doing his usual stuff: keeping the details of his relationship low-key and rarely making it to the media's headline. But still, many people paid attention to them, and after Jessie discussed the break up a bit, many people made more speculations.
However, neither Jessie nor Jamie clarified anything, so we should let them move on with their lives for good. One thing for sure, the two remain good friends until now.
Jessie Didn't Start a New Relationship After the Breakup
Unlike James, Jessie didn't jump to a new relationship right away after the split. She isn't linked to anyone after the split. Maybe she still cannot get over the previous relationship, or she wants to focus on her career. It's hard to tell which one since she is reluctant to talk more about that in her interviews.
However, she continues to shine. Currently, Jessie is starring in Romeo & Juliet, alongside Josh O'Connor in an empty National Theatre.
Jessie is excited about her part. She said that the play has "the world's greatest love scene," and they couldn't even touch it due to the pandemic restrictions. However, it didn't stop her from giving her best performance and gave her a one-of-a-lifetime experience.