Who Is Dan Levy Boyfriend? Is He Dating Anyone?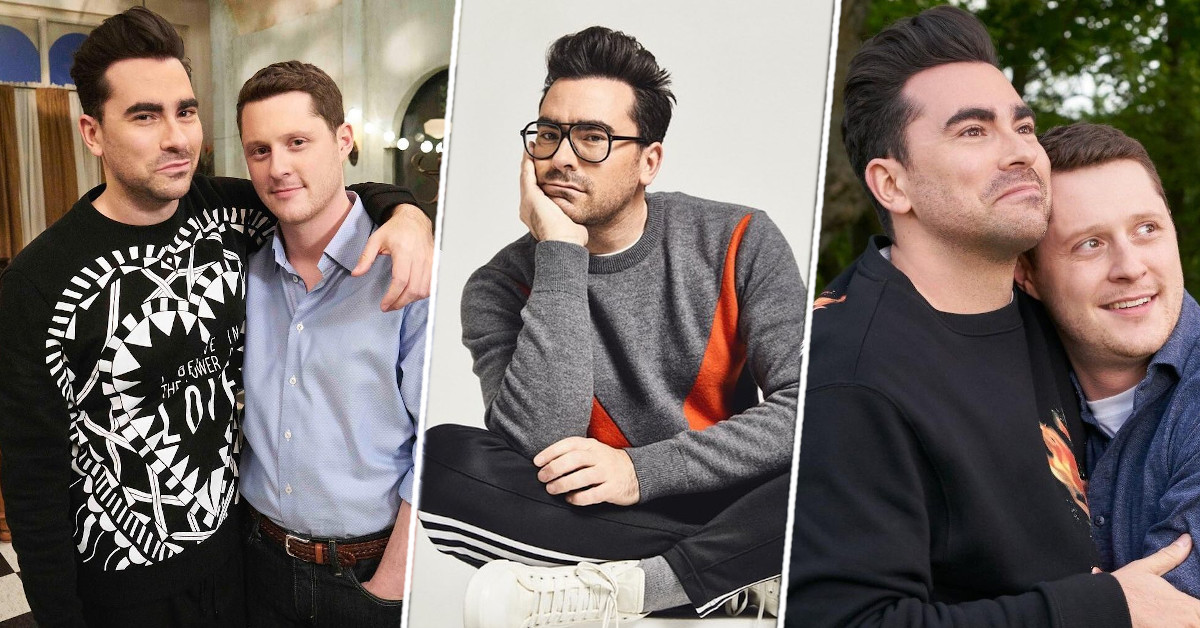 Dan Levy is an actor, comedian, producer, director, and writer born in Canada. He rose to prominence after he became a TV host on MTV Canada. Later on, he got his international recognition after starring as David rose in Schitt's Creek from t to 2020.
For his role in Schitt's Creek, he's not only acting there but also producing, writing, and directing in the series, which led him to win Primetime Emmy Award.
What else can we know from this multi talented man? Let's find out!
It Is Very Hard to Know Anything about Dan Levy's Personal Life and Relationship
It is no surprise that his fans have been dying to know a little bit more about Dan's personal life, especially relationships. Unfortunately, throughout Dan's career, we hardly hear any news about the person that he's dating or his thoughts about relationships in his life.
That information is incredibly hard to get, remembering how private he is. Dan's fame isn't something that is just "usual," especially after he was featured as Sexiest Man Alive in 2020 by PEOPLE Magazine. His professional life is enough to make us adore him and realize how talented he is, let alone his handsome and sexy looks.
Dan Levy is currently single; he's been single for quite a long time. However, his role in Schitt's Creek leads a lot of rumors to spread around Dan's personal life and sexuality.
In the series, Dan enjoyed one of the most epic same-sex marriages of all time. But, of course, his fans love that.
But, if we look at Dan's real life, he's never been married. He used to be ready to have a boyfriend, though, but we couldn't see him making it to reality.
"I'm single right now," opened up the actor to Out Magazine back in 2015. "I hope that I can find someone when it's all done or when things are a little bit more smooth." So, does it mean that Dan wants to be in a relationship, but he just could not at that moment?
He went on, "When the time comes, and all the stars are aligned, someone else will come in, and hopefully, we'll call it a day in the love life department." Well, we all are waiting for that moment to finally happen, Dan!
Dan Levy and Noah Reid: Are They More than "Just Friends?"
Some of his fans had speculated that Dan had a thing with his co star in Schitt's Creek, Noah Reid. It wasn't hard to ship them the second we watched them on the screen because their chemistry towards each other is beyond strong.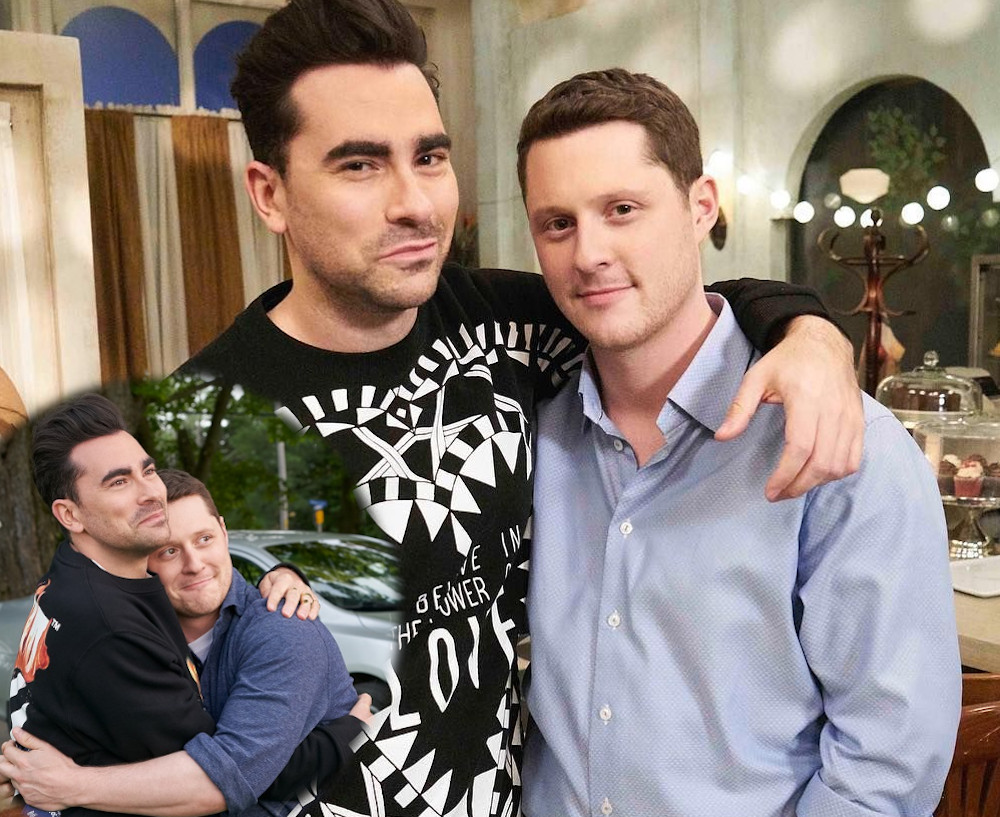 Dan and Noah became business partners in the series, which soon developed feelings toward each other. Their great chemistry wasn't a romantic one but rather a strong bond in their friendship. Dan and Noah are best friends in real life, and they never let the world miss that.
We can see that the two often complimented each other in their interviews. They were always comfortable teasing and playing with each other when the camera was around. Dan and Noah are just the sweetest!
Dan Has a Special Company During His Quarantine Times: Who's This Lucky Guy?
More and more people are curious about the truth of Dan's personal life. Of course, it would be hard for anyone to spend time alone without their lovers during this quarantine time, right? But, it seems like Dan has found the right company!
Unfortunately, it wasn't his new boyfriend; it was his dog, Raymond. Dan shared his picture hugging Redmond, with a smile beaming on his face.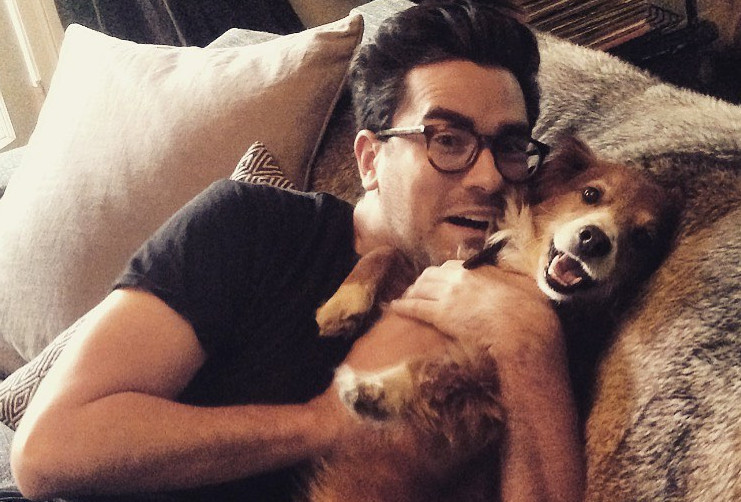 "I adopted Redmond when he was four yrs old. Finding him was the greatest thing that ever happened to me. If you are looking for a pet, first make sure you've thought it through and have the means to care for them properly, then PLEASE consider adopting. #ClearTheShelters," he tweeted on his main account, @danjlevy.
"This is the first time that he and I have been together for a very long extended time. So it's been a very nice thing to do to reconnect with my dog," he added in his interview in April last year.
Even though we know that Dan wasn't lonely during his quarantine time, his fans expected him to have a new boyfriend and bring that good news to the world. But we are still happy knowing he is happy, right?
Coming Out as Gay When He Was 18: Dan's Family and Fans Response After He Came Out
Dan Levy is the kind of actor who takes pride in his sexuality; he came out as gay when he was still eighteen, and Dan was never afraid it would affect his career. People still love him for the way he is, and his career is ever-increasing. Because, why would anyone not like him, right? It would be a silly thing to do.
Dan came out to his dad, his mother, and his co-star, Eugene Levy, when all of them were enjoying lunch together. The topic was first brought up by his mother, Deborah, who asked him directly whether or not he was into men. And then, out of Dan's expectation, his dad revealed that the family has always known since a long time ago.
"We knew for the longest time. We were waiting, and then mom couldn't wait any longer," Dan impersonated what his dad told him at that time.
And Dan also opened up about how welcoming and accepting his family is. Not only that, but he also showed his gratitude to his fans for accepting him the way he is and keeping supporting him no matter what happened.
---
RELATED CONTENT
Dan Levy Bio, Age, Height, Weight
---