Who Is Lee Ji-eun (IU) Boyfriend? All The Mysteries of Her Relationships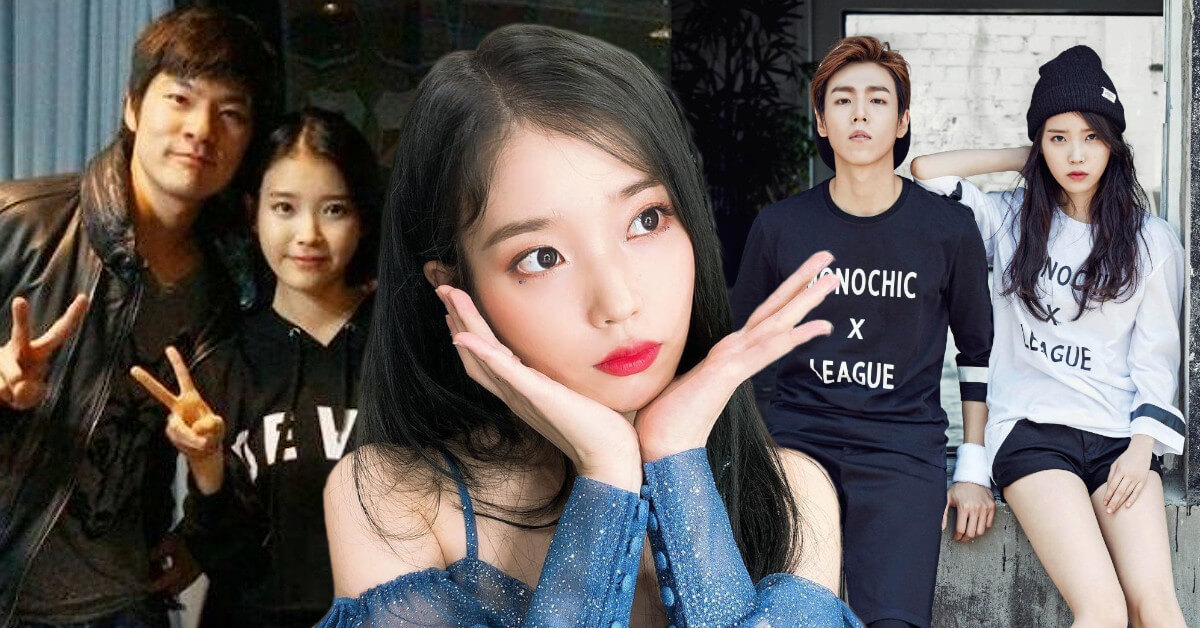 With her sweet personality, beautiful looks, and many talents, it's no wonder that Lee Ji-eun is the beloved of many! Professionally known as IU, many singers and actors have professed their love and adoration for her.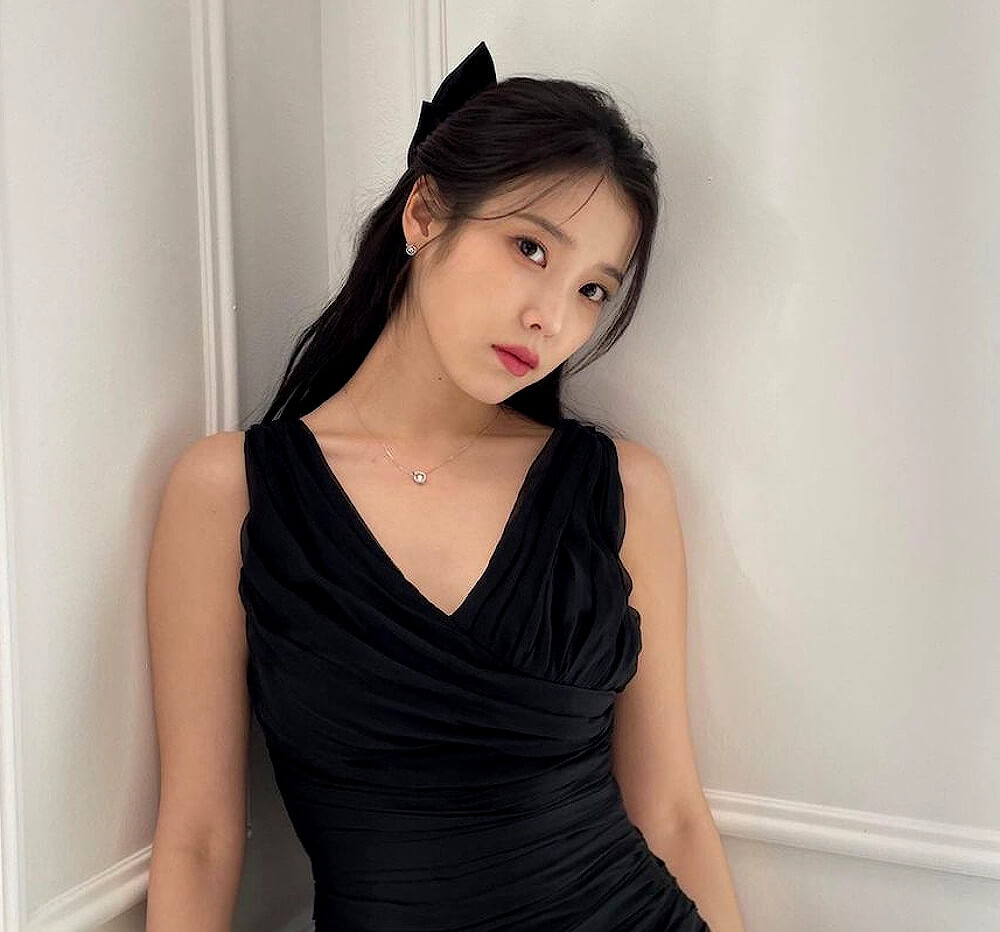 Like how it is with other A-list K-Pop stars, it's always intriguing to know about the relationships IU had. While she only publicly dated her last ex, IU had several dating rumors, which still left fans curious even until this day!
How Long Did Lee Ji-eun (IU) and Her Boyfriend Jang Ki Ha Date?
In 2015, many fans worldwide were sent into chaos after IU confirmed her relationship with fellow singer, actor, and radio host, Jang Ki Ha. Fans became even more surprised after knowing that the couple has an age gap of eleven years!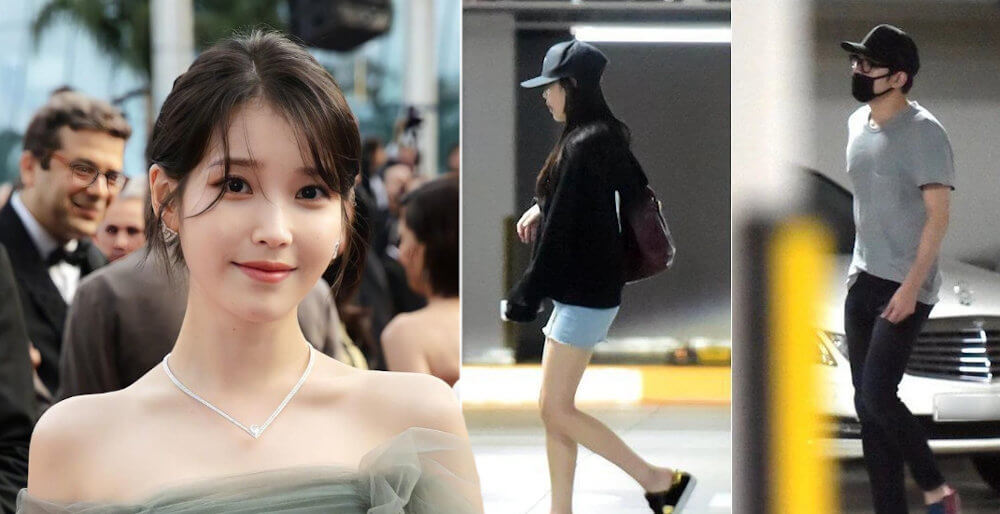 IU and and her boyfriend, Jang Ki Ha first met when she guested on Jang Ki Ha's radio show. They seemed to fall for each other at first sight as they began dating shortly after!
However, it wasn't until 2015 that Dispatch released several pictures of one of their outings which forced IU and Jang Ki Ha to open up.
"We've been dating for close to two years now," IU wrote in her official statement following the dating confirmation. "We're in a normal relationship, where we're fine, we fight, we feel sorry, and we feel thankful," she added.
IU also took this opportunity to gush about her boyfriend, stating that Jang Ki Ha is "a boyfriend I have a lot to learn from and am really thankful for."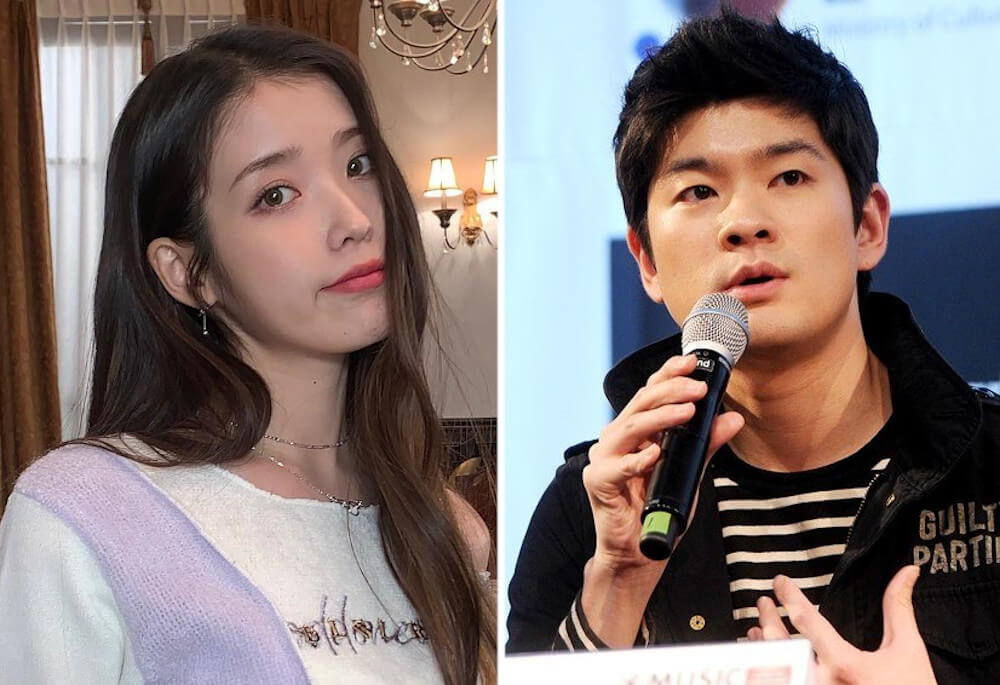 Meanwhile, although Jang Ki Ha didn't give a written statement, he briefly spoke about his and IU's relationships on several occasions.
"There are people who worry for us, but we are doing well," he stated during his appearance on the radio show Good Morning FM with Noh Hong Chul.
Jang Ki Ha also once shared that there are "lots" of things that he liked about IU and that he "often express" it because it's "not enough to mention it in one event."
Jang Ki Ha is extremely whipped for IU, but who doesn't?
Besides Jang Ki Ha, who admitted that he visited IU on her drama filming set several times to show support, IU also cheered for her boyfriend in the more or less same way! She was spotted among the crowd of the audience watching Jang Ki Ha and his band's concert.
Unfortunately, their romance didn't last as both IU and Jang Ki Ha confirmed that they separated in 2017.
"The two recently broke up and have decided to remain in a good Junior and Senior relationship," both representatives stated.
Are IU and Lee Hyun Woo Dating Each Other?
In 2013, IU and Lee Hyun Woo were spotted watching a late-night movie together. While both fans knew they were old friends, many speculated that they had become lovers.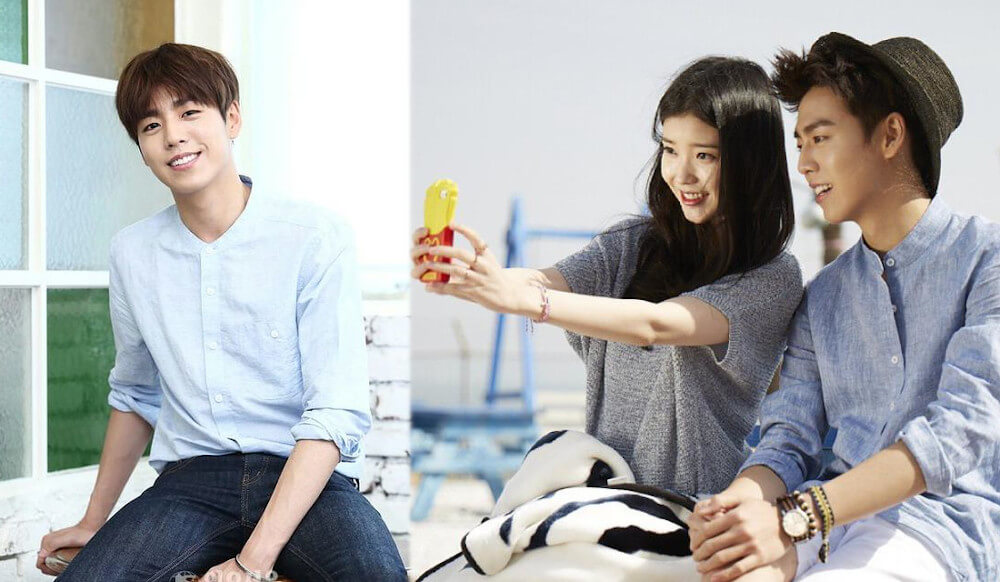 With no confirmation nor denial from both parties, the rumors began to fizzle out, although several fans were convinced that the pair remained to date in secret. It wasn't until two years later that Lee Hyun Woo himself publicly denied the rumors.
"We went with our managers as well," he stated in an episode of Happy Together. "When I was on my way home, I kept getting phone calls. My agency told me that there were articles being posted online," he continued.
Lee Hyun Woo later stated that he even went on to ask IU about what they should do, and she assured him, saying that "it's nothing to worry about."
Later, IU and Lee Hyun Woo trolled the rumors in an interview.
"Isn't it the first time after we were caught by the paparazzi?" Lee Hyun Woo joked, to which IU replied, "The paparazzi must be really skilled at taking photos."
Lee Hyun Woo also jokingly complained to IU that he "was attacked" by many of her fans. Male fans, specifically.
Now that's a huge friend's energy!
Behind IU's Dating Scandal with Super Junior's Eunhyuk
If you think IU's dating rumor with Lee Hyun Woo was surprising, you should prepare for this one.
Yep, in 2012, fans in Korea and worldwide were shocked as a picture began to circulate out of nowhere, showing a selfie of IU and Super Junior's Eunhyuk, presumably taken in bed! In the photo, IU, wearing pink pajamas, was the one who held the camera. Meanwhile, Eunhyuk was seen shirtless and leaning on her shoulder.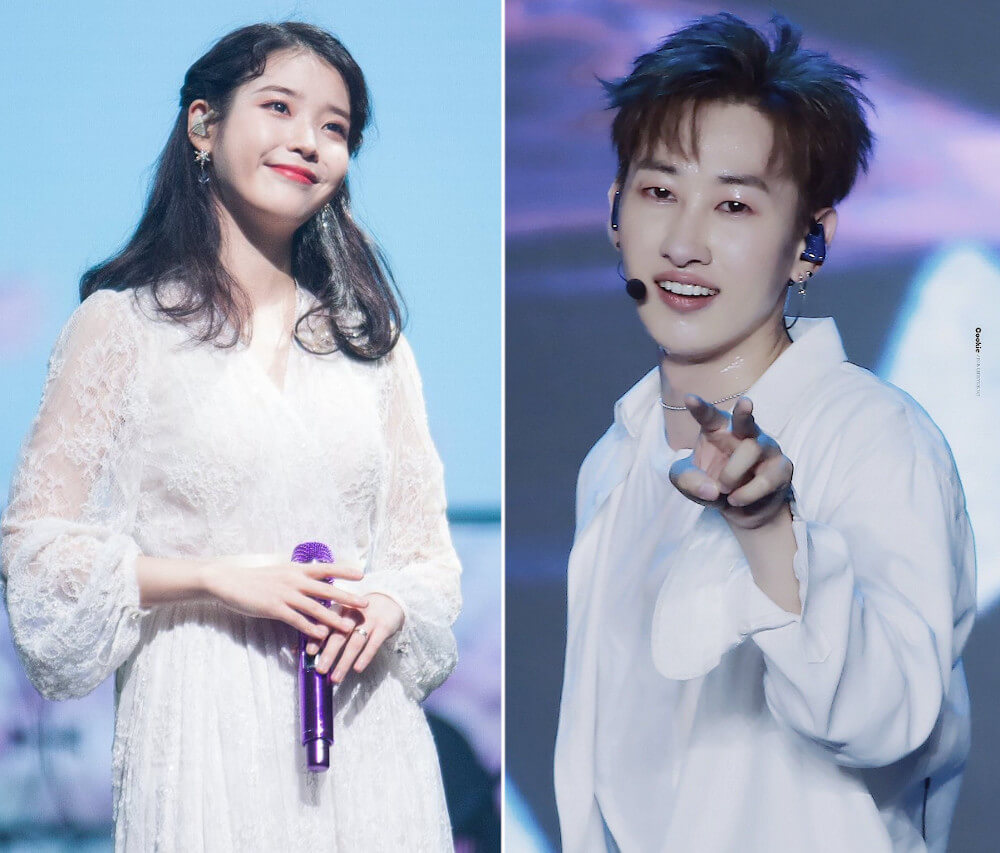 Curious fans started to trace the source of the photo and found out that it was posted by IU herself on her yfrog account, an Instagram-like social media platform. IU indeed deleted the post immediately, but the damage was done.
Shortly after the chaos, IU's label released a statement, citing that Eunhyuk visited IU at her home when she was down with a fever. Meanwhile, both Eunhyuk and his label remained tight-lipped about this scandal.
IU later addressed this issue when she guested in Incarnation, publicly apologizing to both parties' fans.
"I did upload it by mistake. And to be honest, I couldn't even blame anyone because I was the one who uploaded it," IU said. "I also thought a lot about it, should I go out and apologize to everyone and clear up all the misunderstandings, or should I just stay quiet?" she added.
She also apologized profusely, saying sorry multiple times while answering the question. IU also admitted that while Eunhyuk reached out to her and asked how she felt after the blow-up, she thought that she "don't have the right to be not okay," still feeling burdened and guilty of her mistake.
However, many fans were still curious whether IU and Eunhyuk dated since neither confirmed or denied the dating rumors!
When Did IU Start Dating 2 PM's Wooyoung?
In the early 2010s, the K-Pop musical drama Dream High was The Thing. With a star-studded cast ensemble to hit songs and a fun plot, the drama had successfully catapulted its cast members to the top of popularity, IU and 2 PM's Wooyoung included.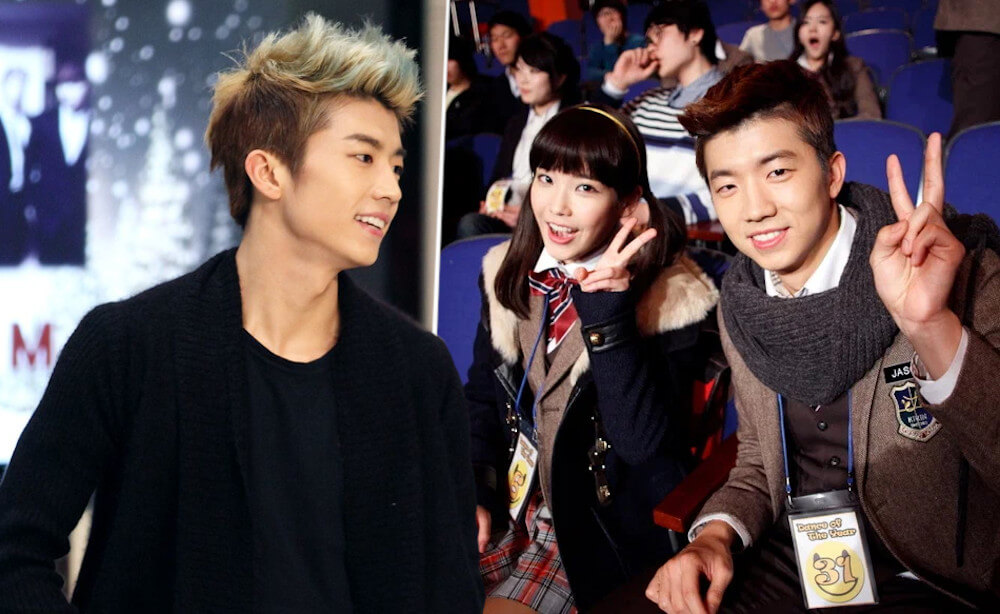 The couple portrayed the role of high school lovers, and their chemistry was utterly adorable that fans began shipping them in real life!
However, Wooyoung later admitted that he and IU didn't hit it off immediately! In fact, they were highly awkward with each other, so they decided to try to have a meal together, along with their managers.
"We went to ear rib eye, which as you know, is very expensive," Wooyoung recalled in Night by Night. "But IU insisted on buying," he added.
Very expensive it was! The total bill came out to be a whopping $600, and IU joked to him that if he paid for that day's meal, he "will be an amazing person" to her.
Wooyoung took it as a real challenge and split the bill between him and his manager. It wasn't until later that IU admitted that she was only joking and that she intended to treat him to the meal.
IU and Wooyoung maintained a good relationship even after the filming concluded. They were seen exchanging banter on Twitter along with 2 PM's Taecyeon, Wooyoung's bandmate, and castmate in Dream High.
Although it's unclear whether IU and Wooyoung dated, her hate comments should be a major turn-off! Korean fans can be that scary most of the time!