Who is Griffin Gluck Girlfriend? Is He Dating Anyone?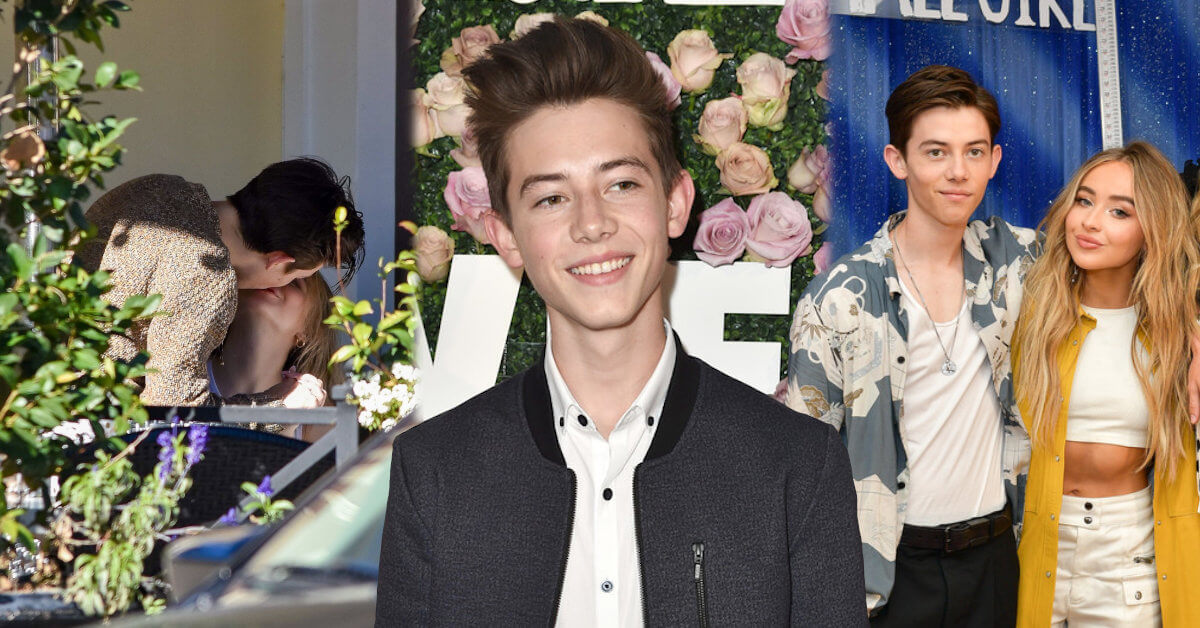 He's young, handsome, and talented. At the age of 19, he has gained popularity and is estimated to worth around 1 million USD. Yep, this is the one and only Griffin Gluck. He is best known for his roles as Mason Warner in Grey's Anatomy, Private Practice, and Sam Ecklund in the Netflix mockumentary series, American Vandal.
The young actor has impressed critics and audience alike with his superb acting skills, which probably shouldn't be surprising, considering he was born in a family with active involvement with the film industry.
The acknowledgment for his acting earned him the" Best Performance in a Feature Film – Supporting Young Actor" nomination at the 33rd Young Artist Award for his role as Michael, the son of Adam Sandler and Jennifer Anniston in the movie "Just Go with It."
With the popularity and the wealth he possessed, it's not surprising that Griffin Gluck had his fair share of girlfriends! Let's take a closer look at his personal life, shall we?
On Racist, Homophobic, and Transphobic Posts: Girlfriend Comes to the Rescue!
Before we go through his romantic relationships and ex-girlfriends, we feel obliged to inform you about the scandalous "past" of young Griffin.
Griffin Gluck caused quite a stir in early 2020 after several screenshots of him liking Instagram posts that screamed racist, homophobic, and transphobic sentiments began circulating all over the internet. Several people also found an old Instagram comment where he used the racial slur "n-word." Whoops, not a pretty thing to put in the portfolio, Griffin!
Despite the public outrage, it seems like the man himself doesn't feel the urge (or maybe the courage?) to apologize for his mistakes. His girlfriend at that time, Sabrina Carpenter, apologized on his behalf instead.
"I realized there's simply no way to have the truth be perceived the way you want… but I am so sorry that someone I have associated with had done things in the past to make you question my character in the present. I didn't know them at that time. That is not who I know them to be now," she wrote in an Instagram post.
Sabrina closed her apology with, "I am a little tired of walking on eggshells, and I miss talking to the fans. It just recently felt less like talking/listening to each other and more just attacking/assuming. So that's where I had to step back for health reasons. Not to ignore or avoid but simply to process."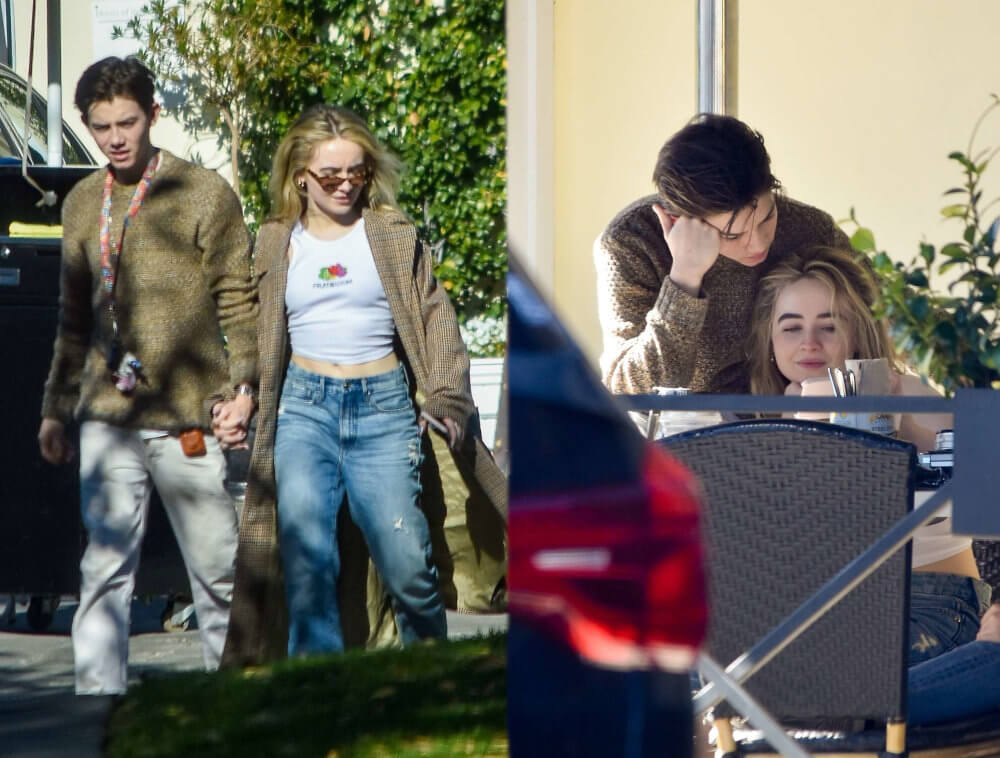 Wow, such a heroic stance was taken by THE Sabrina Carpenter, no? This might make us wonder just how Griffin acts toward his girlfriends which made them willing to shield him from the understandable public outcry. So, let's dive in!
Griffin Gluck and His (Currently) Single Life
After the split with then-girlfriend Sabrina Carpenter, Griffin has yet to announce his relationship status. There are also no pictures posted on his Instagram account after his 2020 Golden Globe after-party photos with ex Sabrina (which has not been deleted yet).
Looking at his Instagram account, it seems like he is currently living his best life based on several snaps of Griffin Gluck and some friends, an ordinary teenage life. Well, as normal as a teenager in Hollywood could be.
Griffin also doesn't fond of updating his Instagram feeds. The last picture he posted on the feed was a picture of himself on December 19, 2020. Since then, he mainly used the Instagram Story feature to give some heads up and update his fans on his whereabouts. Well, we all can agree that Instagram Story does feel more convenient than the feeds, yeah?
So, ladies, assuming the young heartthrob really are single, are you ready to shoot your shot? Or perhaps Griffin is still enjoying his single life because he has yet to move on? It's Sabrina Carpenter we're talking about; we get it, Griffin, we get it!
Griffin Gluck and Sabrina Carpenter: Netflix, Chill, and Romance?
Griffin Gluck and girlfriend Sabrina Carpenter first met on the set of the Netflix movie "Tall Girl" back in 2019, where they both cast in and started dating in October 2019. Despite never addressed their relationship status directly, fans were convinced that the pair was dating courtesy of dozens of adorable snaps they posted on social media.
It seems like the former couple enjoyed playing around and had fun dressing up in matching denim outfits as Britney Spears and Justin Timberlake for Halloween that year! Griffin posted the picture on his Instagram account and captioned it, "Britney and Justin but make it spooky (before the pouring rain)."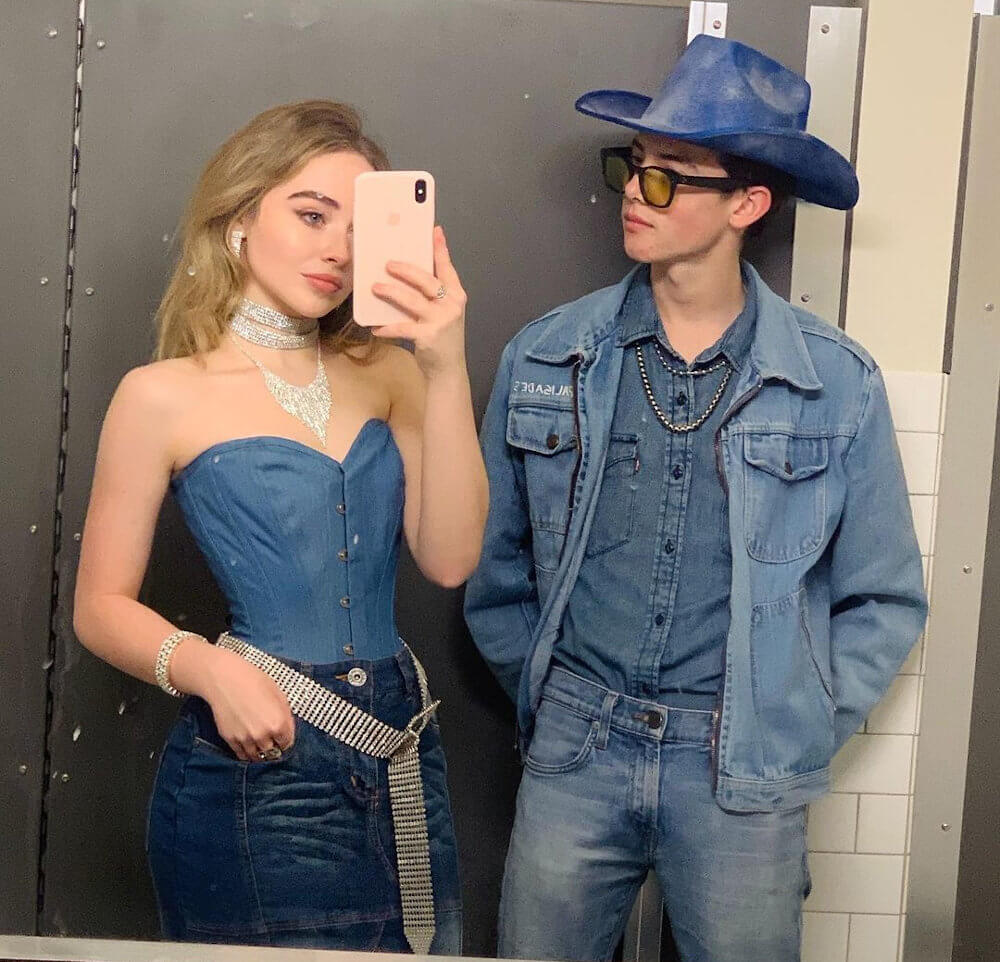 Griffin and Sabrina also attended the 2020 Golden Globe After Party together. He even posted a picture with Sabrina in (again) matching ensembles, black ones, this time. Griffin credited Sabrina's older sister, Sarah Carpenter, for the photos, as he wrote that he "actually didn't have any pictures from the Globes After Party." Getting cozy with the in-laws, we see!
However, the highlight of their relationship was probably when Sabrina came forward and defended Griffin's actions of liking several racists, homophobic, and transphobic posts on Instagram.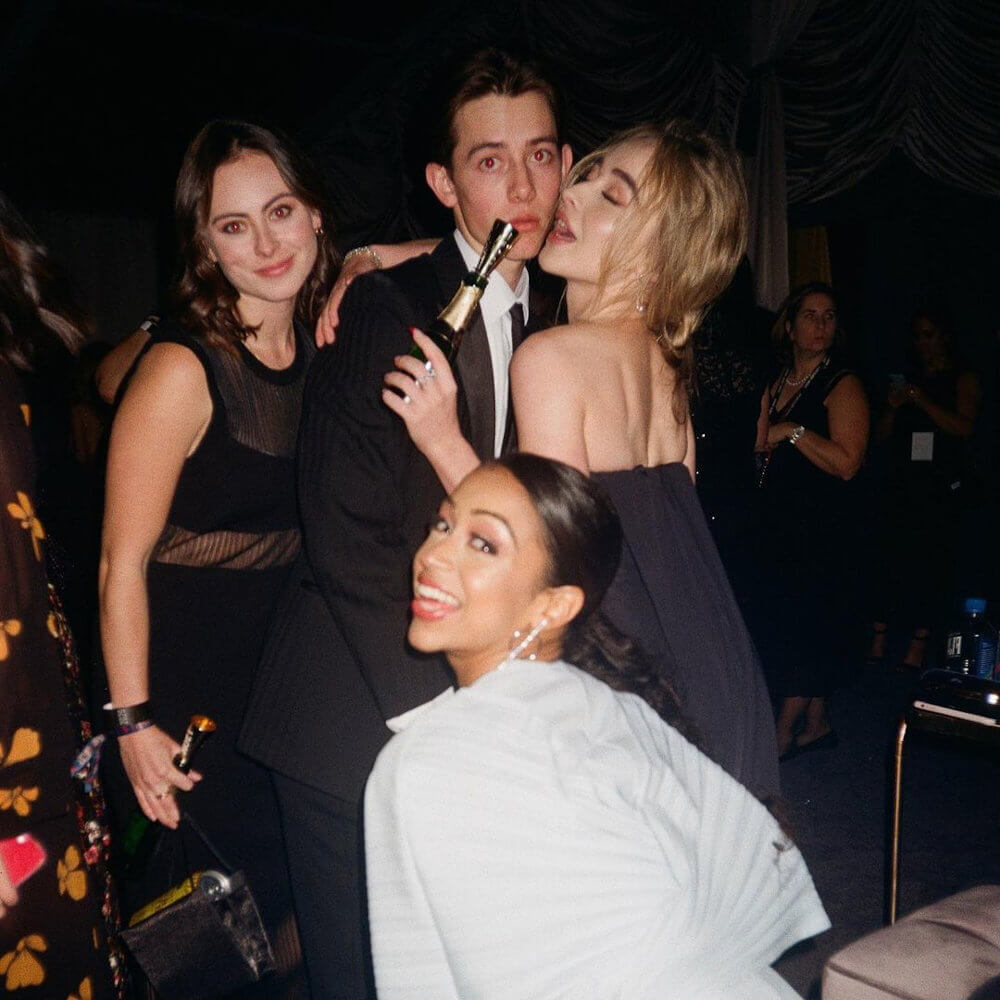 The singer and actress took on Instagram to post a pretty long text post, stated that she is "not in support of those past actions," and while she understands that people "were hurt or confused," she hopes people "know none of us will ever grow if we don't allow others a chance to grow."
Many fans felt it unfair that Sabrina had to be the one who apologizes for things that her boyfriend did. Meanwhile, Griffin, the boyfriend himself, stayed tight-lipped during the whole ordeal. Sure, why bother to apologize when you have a lovely girlfriend to do that in your stead, right, Griffin?
After the whole apology fiasco, Griffin and Sabrina were still together and strong – at least for a few months.
Prior to the pandemic and quarantine, Sabrina was seen attending the premiere of Griffin's movie "Big Time Adolescence" in New York City on March 5, 2020. Though they walked the red carpet separately, Just Jared later reported that the pair got cozy and "were seen mingling with his co-stars" at the after-parties, such as Machine Gun Kelly, Thomas Barbusca, and Brielle Barbusca. Time to meet the friends, we suppose!
Unfortunately, they didn't last longer than that. A reliable source for Sabrina confirmed to Bustle that the pair split in August 2020. The reason that led them to part ways is still unknown today, as neither side has spoken regarding this matter.
Sabrina herself candidly addressed her love life in a conversation with the magazine "Interview" on May 2021, several months after the split. In the interview, she said that love is "the most beautiful thing in the world and the most painful thing in the world at the same time."
She also stated her hope that "whoever I marry is a fan. And I hope that I'm the biggest fan of the person that I marry."
Flood of tears coming through! However, it seems like it's safe to assume that quarantine hasn't been really kind to Griffin and Sabrina's relationship!
Natalie Jones: The Private Old Flame (Which Few Actually Know About)
Way before Griffin dated Sabrina Carpenter. The lad was dating Natalie Jones. Griffin and Natalie kept their relationship really private, so private to the point that other than the name of his ex-girlfriend, there is no additional information available.
The most we know is that Griffin and Natalie lasted for quite a long time! The young former couple dated sometime around 2016 to early 2018. The pair even attended the premiere of Marvel's "Doctor Strange" in December 2016 and walked the red carpet together (which also has yet to be deleted)!
Griffin also posted a video of him and girlfriend Natalie posing on the red carpet and captioned it with "An absolute gem." Aw, Infinity Stones-worth gem, Griffin?
No other sightings of Natalie left on his Instagram page, though (or if he ever posted any). Fans later assumed that the pair most likely broke up in early 2018 after Griffin posted a picture of himself covering half of his face with a stack of the card in February 2018. He also wrote "single," which caused quite a stir (and some excitement, too) among his fans.
No reason that caused the breakup was disclosed, but probably it was because the intimate relationship couldn't be that private anymore? It's Hollywood, after all! Where (and when) could you really keep your "private life" private once you have got into the spotlight, yeah?