Sienna Miller Has Had A Bunch of Ex-Boyfriends, But No One Was Worthy Enough to Be Her Husband
The actress had dated a bunch of Hollywood-eligible bachelors, from Orlando Bloom to Jude Law.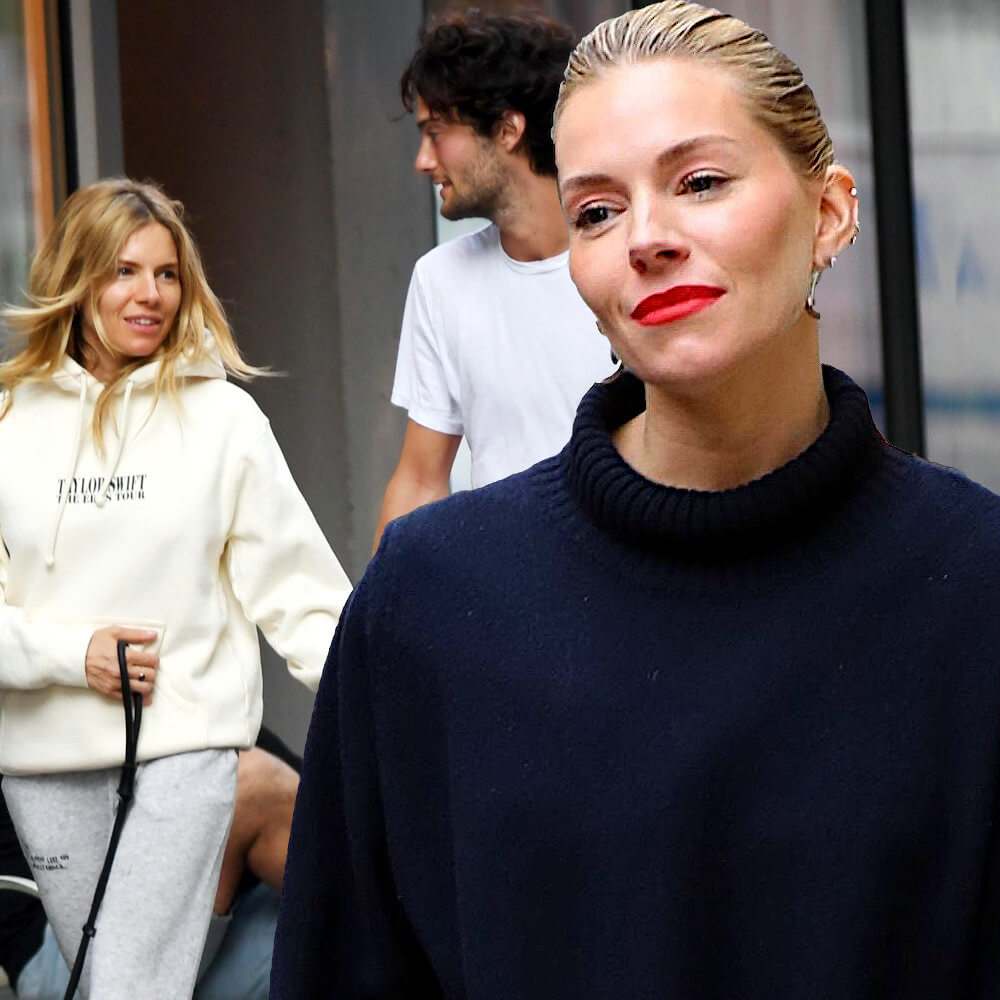 Sienna Miller has also been engaged to multiple of them and has children from two baby daddies.
However, her relationships mainly reached the point of engagement, as the blonde has yet to find The One worthy enough to be her husband!
Are Sienna Miller and Oli Green Still Together?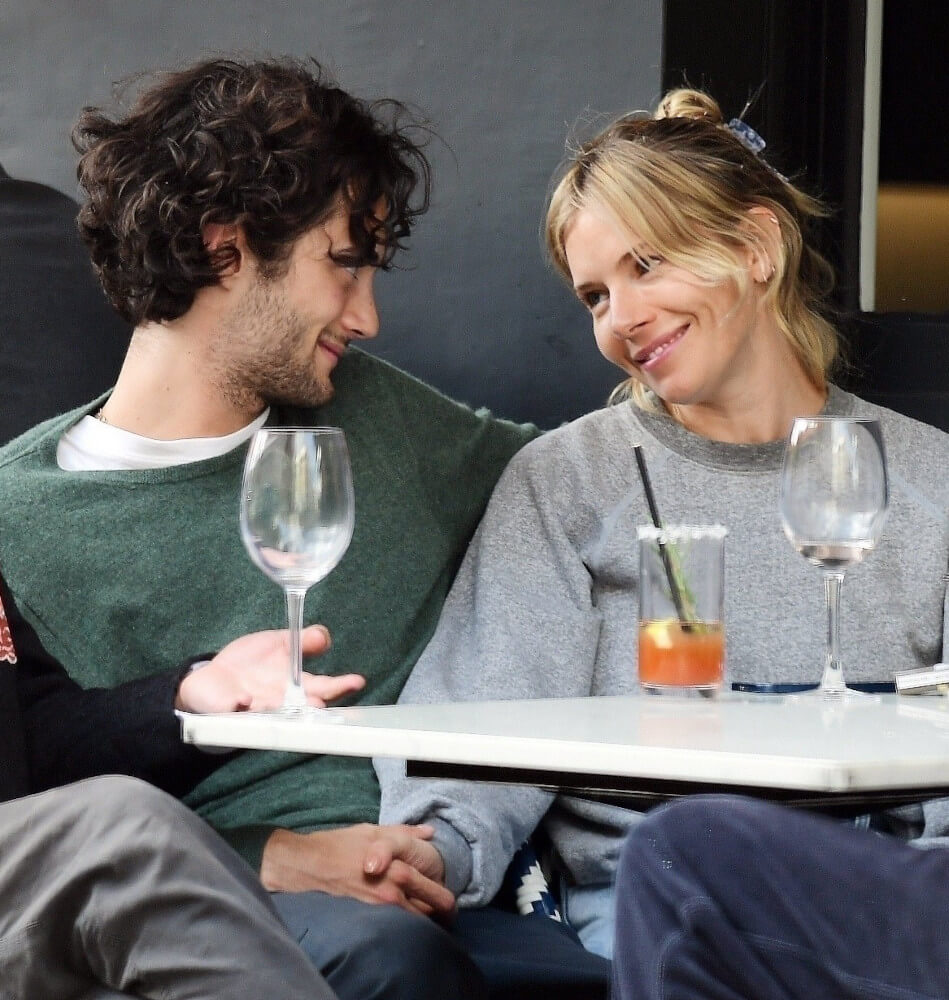 Sienna Miller and Oli Green were romantically linked in early 2022 after the pair were pictured getting cozy while exploring New York's streets. Although they were often seen flaunting PDAs the whole month, it wasn't until March 2022 that Sienna and Oli made their relationship red carpet official.
The couple has been confident in showing PDAs during vacation and casual dates, including That One Moment when they shared a heated kiss in front of Alexa Chung and Tom Sturridge, who also happened to be Sienna's ex!
In summer 2023, the actress was pictured with an early baby bump while donning a two-piece bikini during her holiday at St. Tropez.
A month later, she confirmed the pregnancy rumors, flaunting her bare pregnant belly at Vogue World red carpet in London.
How Long Did Sienna Miller Date Her Hotel Tycoon Beau?
Only months after Sienna Miller called off the engagement with Lucas Zwirner, the actress was spotted holding hands with her long-time friend, Archie Keswick. While it's normal for friends to link arms and whatnot, Sienna and Archie's touches didn't seem innocent!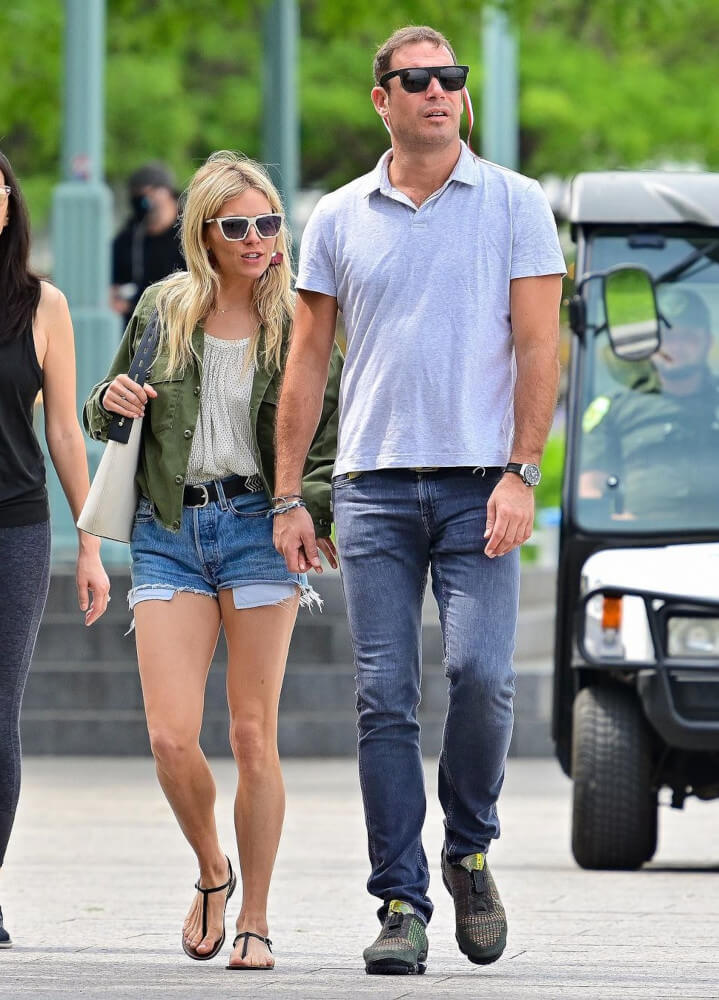 The couple also pictured cozying up to each other while watching the 7th day of Wimbledon in 2021, ignoring the concept of personal space, unlike regular friends.
Furthermore, Archie seems to be jealous, as Evoke reported that he donated more than $11,000 to a charity auction to secure a prize to have lunch with Sienna!
Did Sienna Miller Get Engaged to Lucas Zwirner?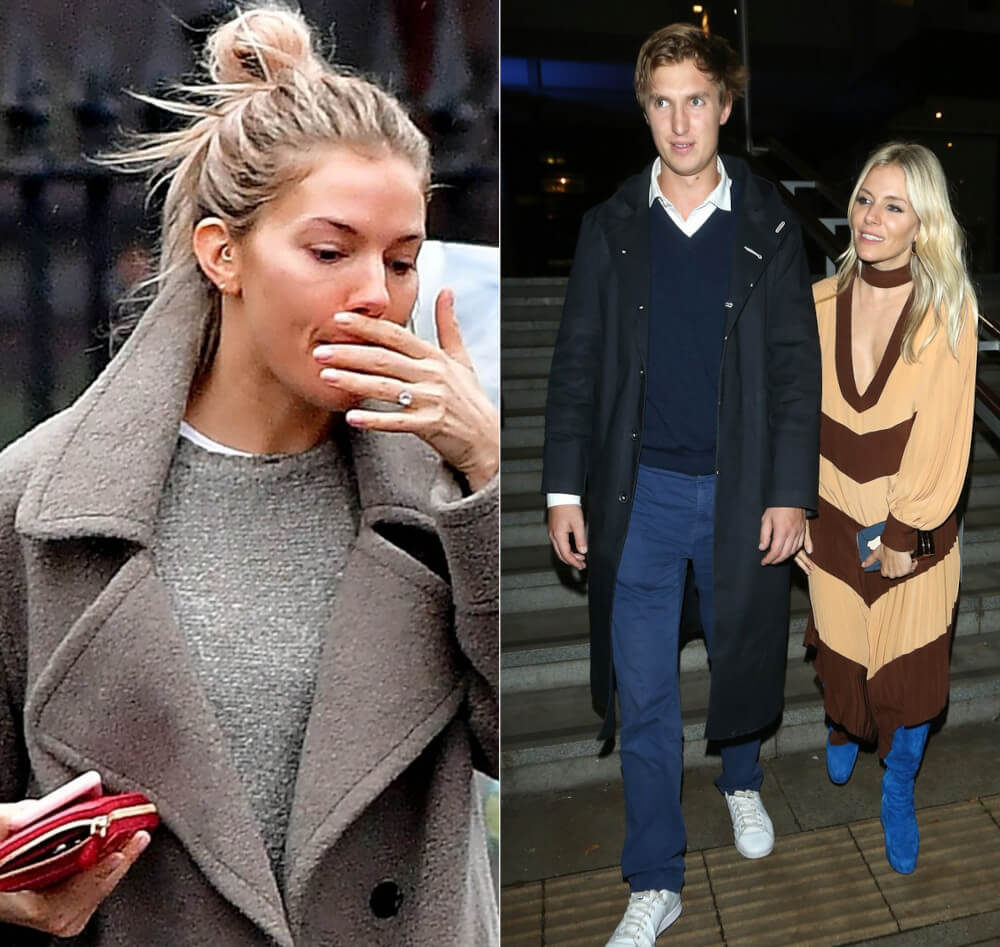 Sienna Miller may have no problem attracting A-list actors, but that doesn't mean her type is solely actors! The Brit was once engaged to Lucas Zwirner, an art collector and an art gallery heir, in 2020 after dating for approximately a year.
According to The Sun, the couple met "through mutual friends" in early 2019 and hit it off immediately. Almost a year later, Sienna and Lucas reportedly got engaged after she was spotted wearing a massive diamond ring on her wedding finger during the Sundance Film Festival.
Unfortunately, the couple decided to call off the engagement and part ways, and until their last moments, neither Sienna nor Lucas ever addressed the engagement rumors.
The Truth Behind Sienna Miller's Engagement Rumors to Bennett Miller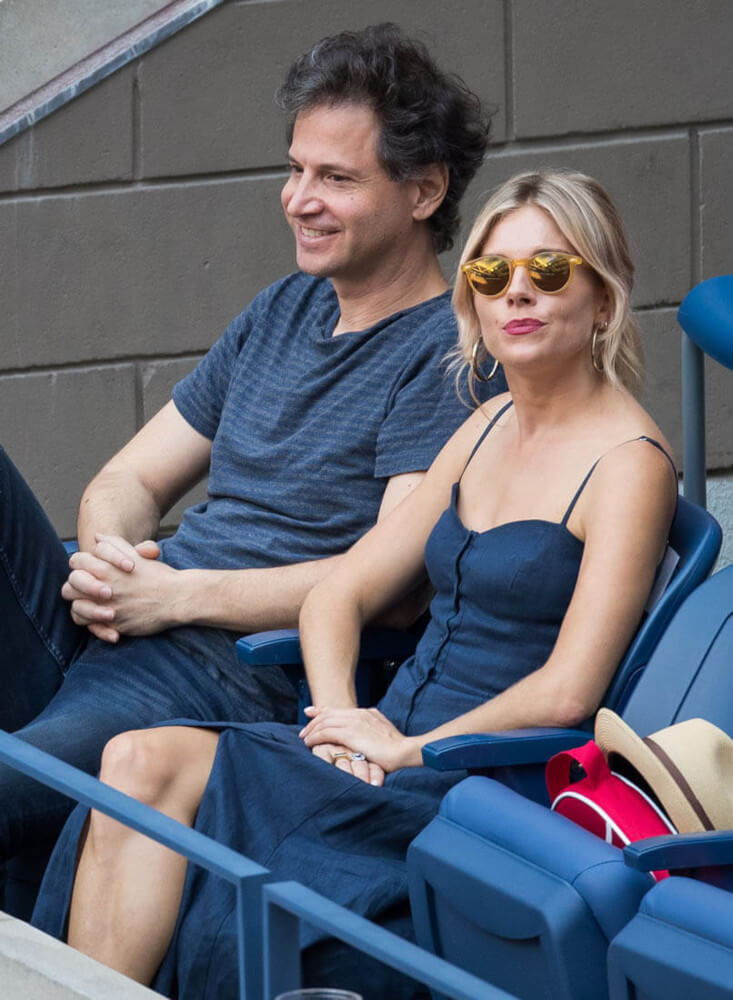 In 2016, Sienna Miller started dating director Bennett Miller after meeting on the set of Foxcatcher. The couple has often been seen attending multiple sports matches while flaunting PDAs here and there, and many people believed Bennett was the perfect person for Sienna!
Based on the same surname, I guess?
Therefore, it's no wonder fans were delighted when they saw Sienna donning a giant diamond ring on her left hand when leaving the theater post-show in 2017. Engagement rumors began to swirl, and, fortunately, the actress quickly stopped the fire from spreading wider.
"Sienna's not engaged," an inside source told The Sun. "She just forgot to take her prop off after leaving the show last night," the source added, claiming that the ring was only a prop for her character in the play Cat on A Hot Tin Roof.
Sienna Miller's Relationship with Her Baby Daddy Was As Close As It Gets to A Husband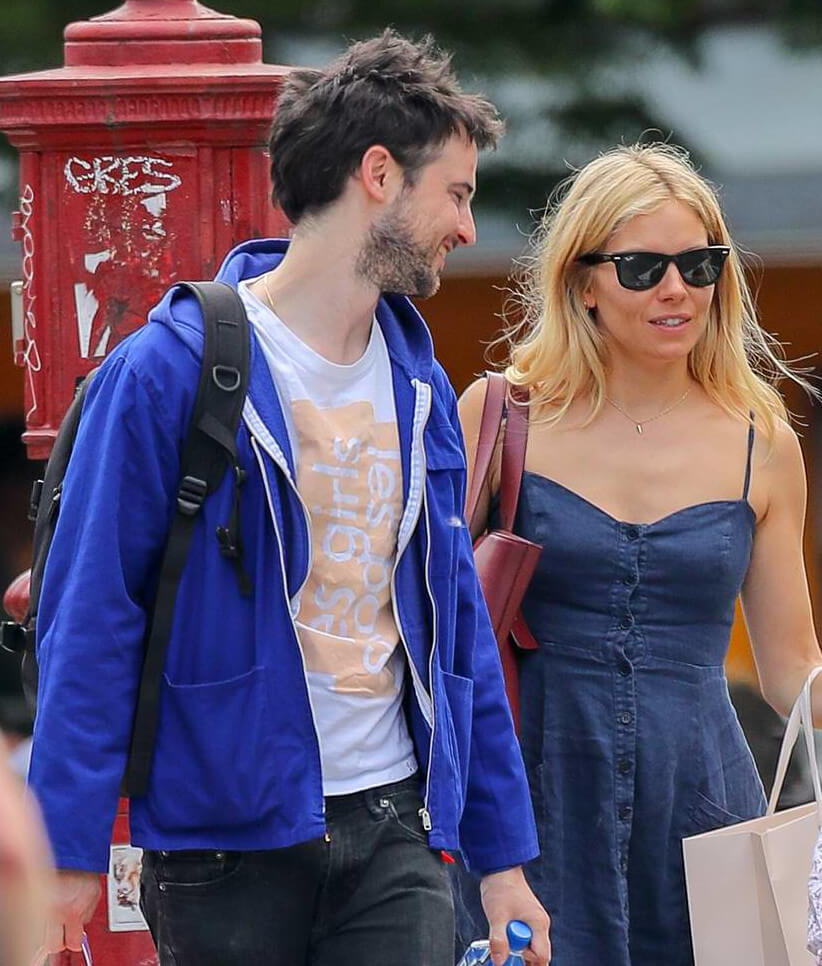 Sienna Miller and Tom Sturridge started dating in 2011 and got engaged sometime later. This was also Sienna's first relationship in which she felt ready to have a child.
Yep, Sienna and Tom welcomed their baby girl, Marlowe, in 2012. Unfortunately, their romance fizzled out rather quickly despite sharing a daughter. Sienna and Tom announced their separation in 2015, three years after Marlowe was born. But Sienna wouldn't let their romantic fallout deprive Marlowe of a healthy, loving childhood.
"We do bedtime every day," the actress shared her co-parenting dynamics with Tom. "Fortunately, we really love each other and are best friends, and so that works," she continued.
Did Sienna Miller Date George Barker?
Regarding lovers, Sienna Miller has had her fill of men from a wide range of occupations. According to Glamour, Sienna had a brief fling with George Barker, a DJ known by his stage name Slinky Wizard.
"Sienna and George are still a pretty casual thing," a source claimed. "It's early days, but things are looking great," the source continued, stating that "they're both really happy."
However, there were no further sightings of the alleged couple, and it seems like the Ibiza getaway that "has been discussed" didn't come to fruition as the budding chemistry fizzled out in an instant.
How Sienna Miller Turned from the Cheated to the Cheater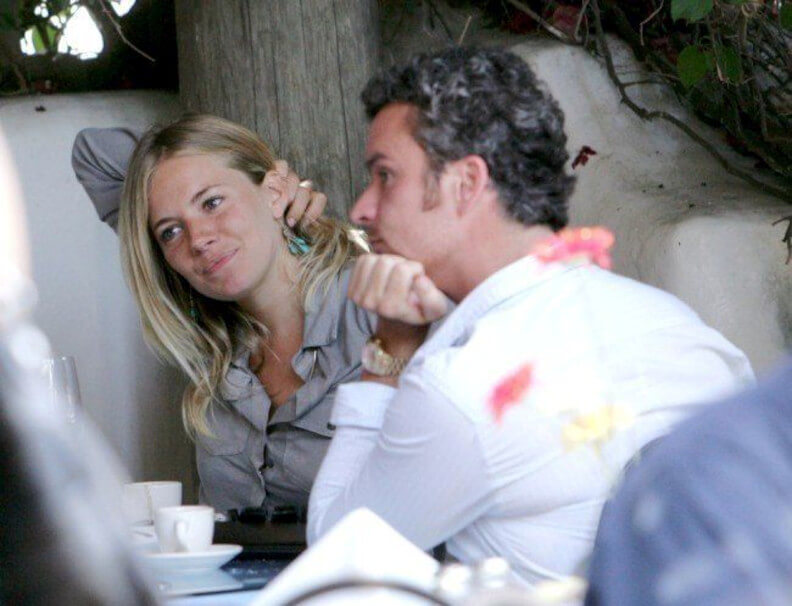 One of (if not the most) Sienna Miller's most famous relationship was with Jude Law, and it was because the actor publicly cheated on her with his children's nanny. Having experienced the traumatic experience herself, you probably believe that Sienna wouldn't wish the same experience upon her worst enemies.
Well, you thought wrong! Despite having been cheated on once, Sienna had no problems being the cheater, proven by her public affair with Balthazar Getty, who at that time was married. 
In an interview with British GQ, Sienna indeed regretted the affair and would definitely turn back time if she "could go back and be more responsible," but what's done is done, right?
Sienna Miller Dump Rhys Ifans Through Phone?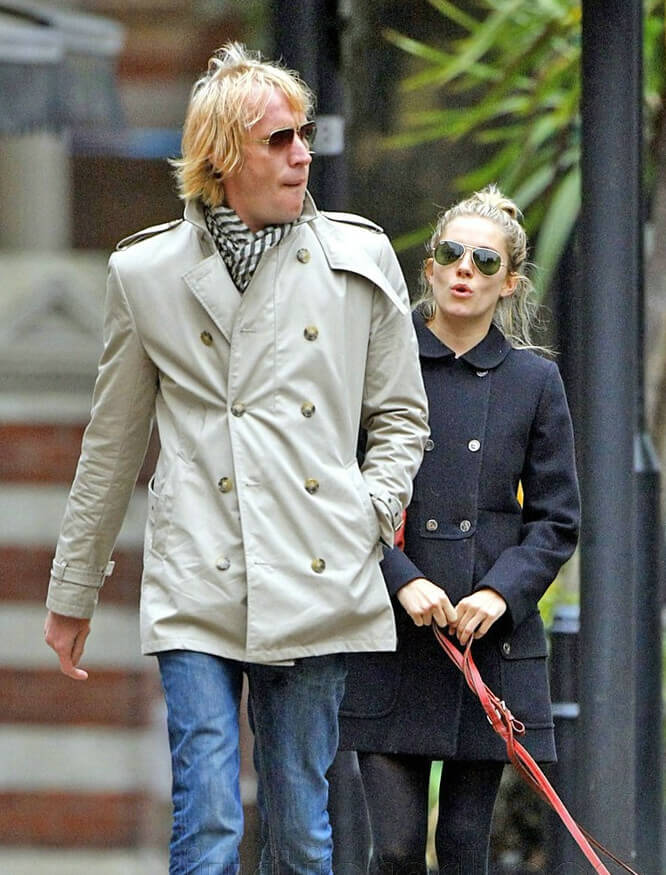 Yep, Joe Jonas wasn't the only one, ladies! Sienna Miller also opted for a phone call to end her year-long relationship with Rhys Ifans in 2008.
The reason behind their split was the long-distance relationship the couple had to endure as Sienna was filming for her movie in Prague.
It was reported that Rhys couldn't help but get increasingly jealous and suspicious of Sienna's relationship with her ex, Matthew Rhys.
Yes, what a recipe for disaster.
Although she's the one who dumped Rhys, the actress admitted to Mirror that the whole fiasco "has been hard work" that left her "absolutely knackered."
The Reason Behind Sienna Miller and Matthew Rhys' Relationship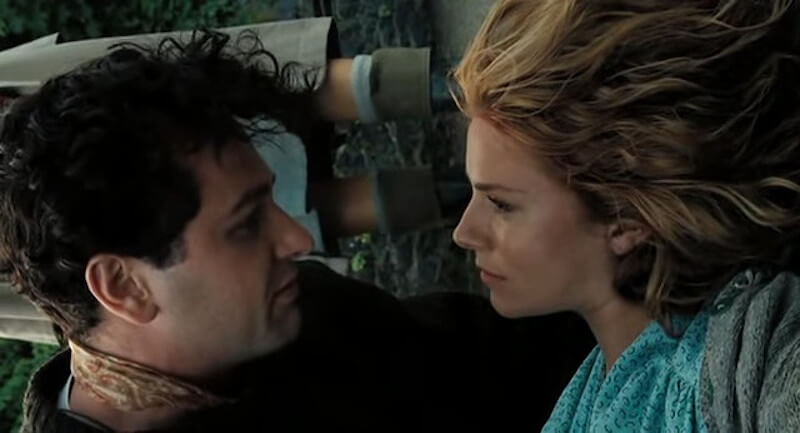 Before dating Rhys Ifans, Sienna Miller dated someone with a similar name, Matthew Rhys. The old flame met on The Edge of Love set, where they portrayed an on-screen husband and wife caught in a love triangle with the husband's first love.
It was ironic when, two years later, Sienna broke up with Rhys Ifans because of an alleged love triangle with Matthew!
While Sienna never addressed her relationship with Matthew and its subsequent fallout, Matthew didn't hold back in recalling their whirlwind romance.
"Sienna is so fun loving, a real free spirit," the actor told Daily Mail. "But, unfortunately, classic things came between us, like distance," Matthew added.
How Orland Bloom Became Sienna Miller's Rebound After the Cheating Scandal
In the early 2000s, Orlando Bloom was one of Hollywood's heartthrob, thanks to his performances in The Lord of the Rings trilogy and the historical movie Troy. For Sienna Miller, he's the perfect guy to rebound and get her revenge on her cheating fiancé (who was also the Hollywood It guy).
Sienna and Orlando were pictured sharing a heated kiss at a polo event held by Cartier International in 2005, shortly after Jude Law's affair was made public. 
Did Sienna Miller Two-Timed Daniel Craig and Jude Law?
Jude Law, understandably, received lots of backlash after cheating with his children's nanny. However, it turns out that Sienna probably isn't the goody-two-shoes everyone had been thinking of!
According to Vanity Fair, while dating in 2005, Jude found a voicemail that Sienna sent to Daniel Craig, where Sienna allegedly said "I love you" to the Bond actor. Years later, the actress admitted that the affair has "burnt a lot of bridges" for her and her acting career.
Who Is Sienna Miller's Most Famous Ex-Boyfriend?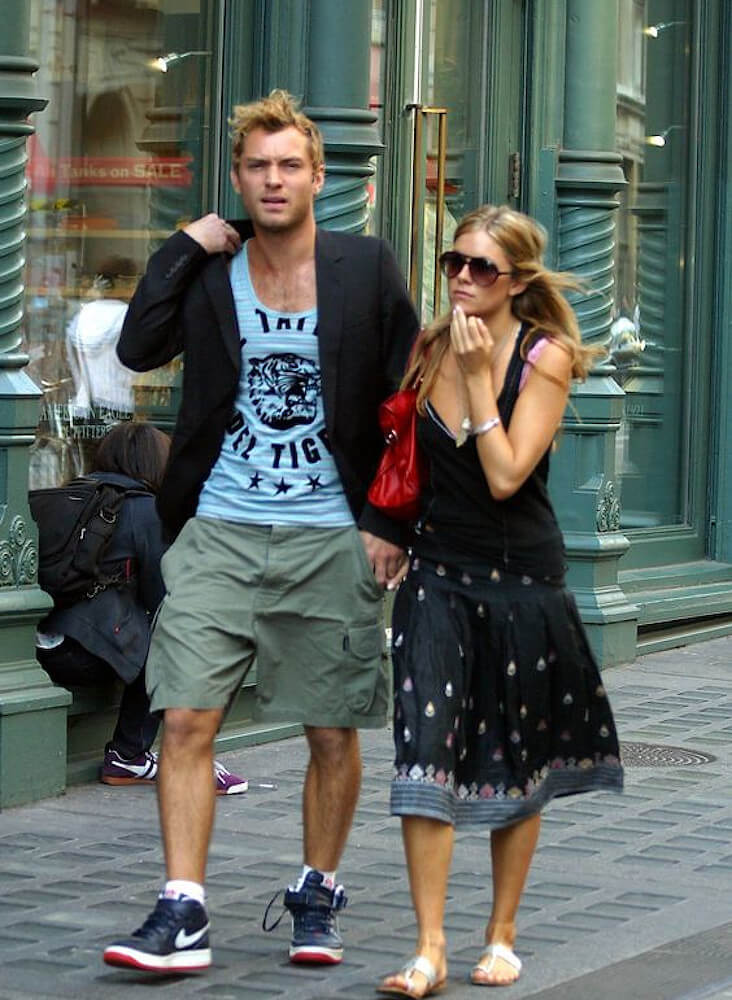 Long before her romantic adventure with many lovers, Sienna Miller seemed to have the perfect fairytale relationship with the Hollywood hunk Jude Law. The couple met on the set of Alfie in 2003 and started dating shortly after. In 2004, they got engaged, and the press endlessly reported about the upcoming perfect nuptial.
Unfortunately, everything crashed after Sienna caught Jude cheating on her with his children's nanny. Jude indeed issued a public apology to Sienna, but that didn't help the actress process the pain, claiming that she would never want anyone to experience "that level of public heartbreak."
Sienna and Jude called off their engagement in 2006 before eventually reconciling three years later. However, old wounds seemed still there, as they broke up for good in 2011.