Selena Gomez 15 Tattoos and Meanings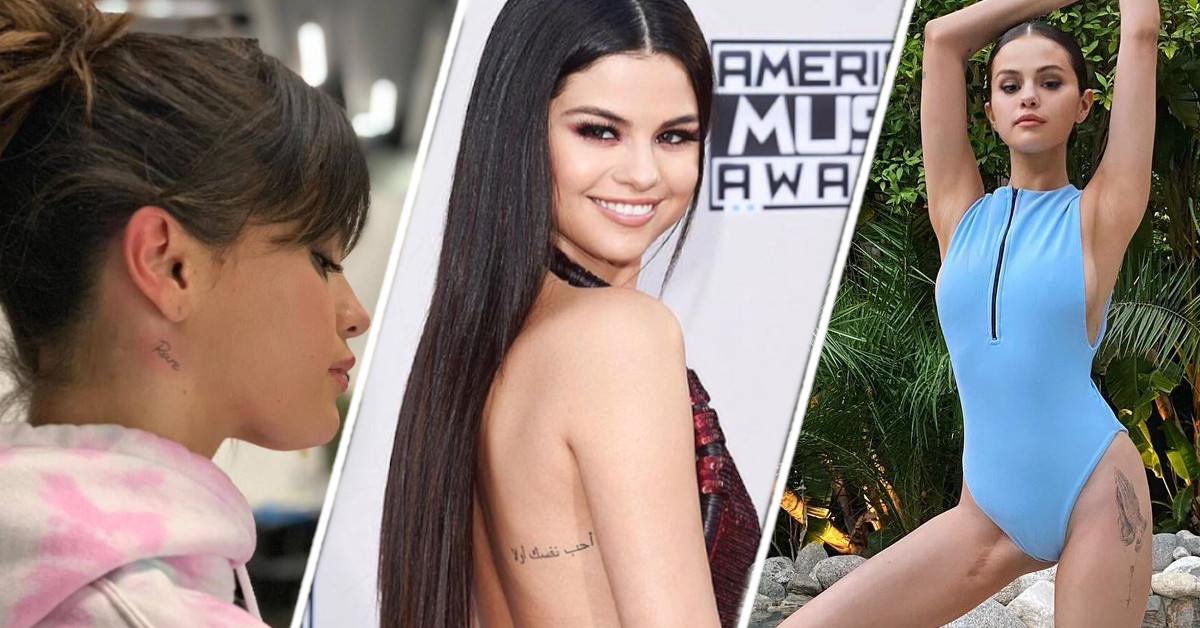 Selena Gomez is an American singer and actress known for her starring role as Alex Russo on Disney Channel's Wizards of Waverly Place. She began her acting career with Barney and Friends at age seven.
Selena Gomez Tattoos
Over the years, Selena has debuted a number of new tattoos, each with special meanings. As of 2023, she boasted a collection of 15 tattoos. Let us take a look at the ones she has and the meanings they hold.
Rare Tattoo
She has a tattoo, on the right side of her neck. It's a tribute to her latest album "Rare."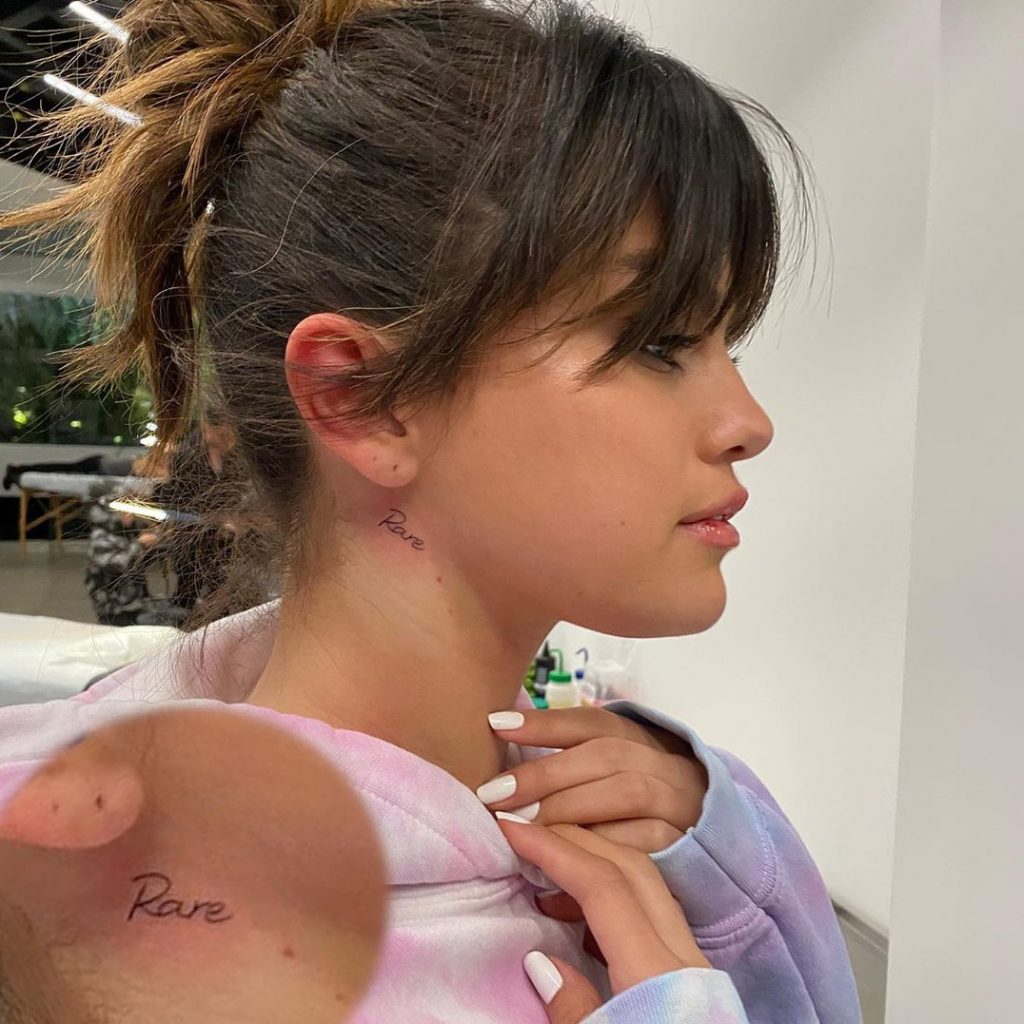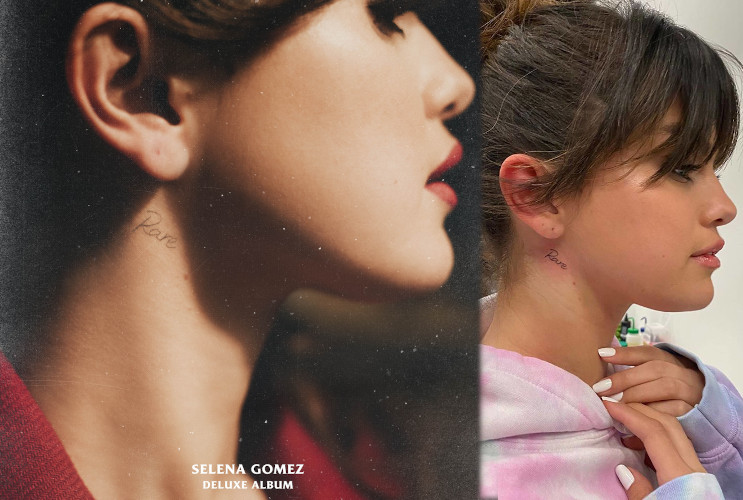 Pair of hands in prayer holding a rosary
Her "rare" tattoo comes less than two months after she got a thigh tattoo of a pair of giant hands in prayer holding a rosary, referencing her lifestyle, culture, and upbringing.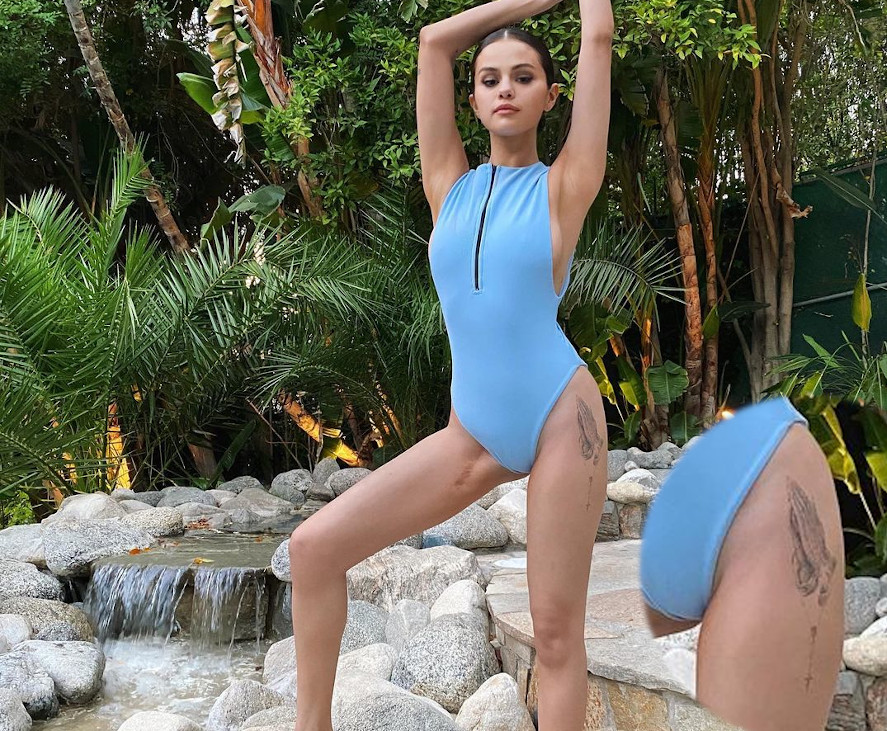 Music Note On Wrist
She has a simple music note tattoo on her right wrist. This was her first tattoo in 2012. "I was named after a singer," she told Access Hollywood.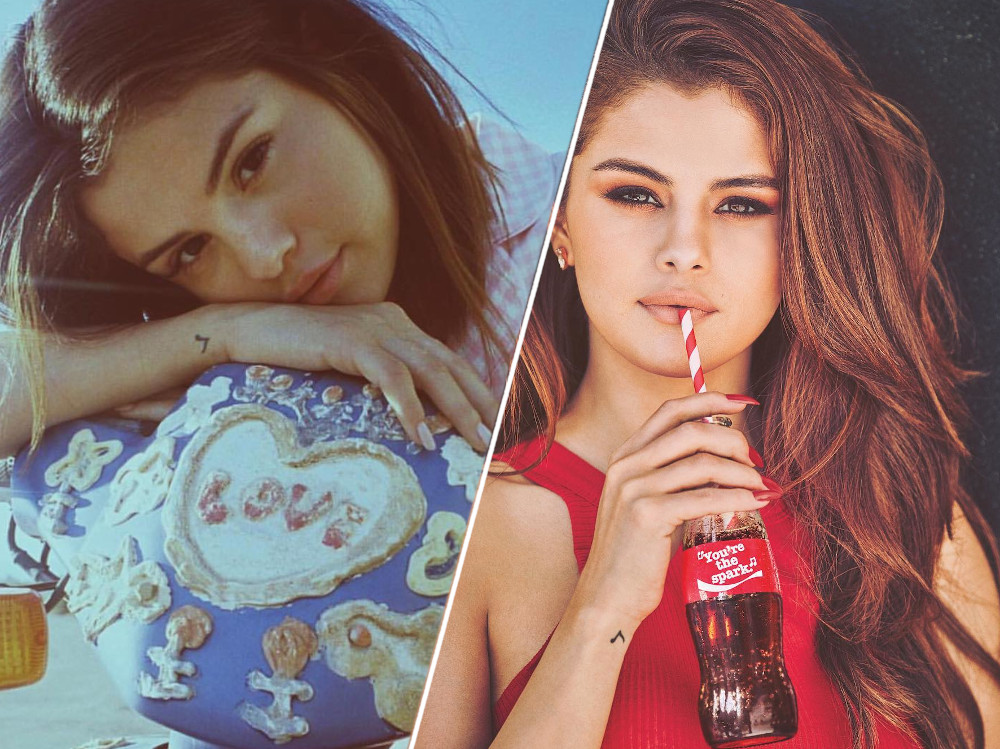 "Everybody thought that it was a heart for some reason, but music is a big influence in my life. I was named after a singer, I'm a singer and, a lot of other personal reasons. So, that's what I got."
Arabic Line On Back
The brunette beauty has a short, Arabic tattoo on her back, under her right shoulder, that translates "love yourself first."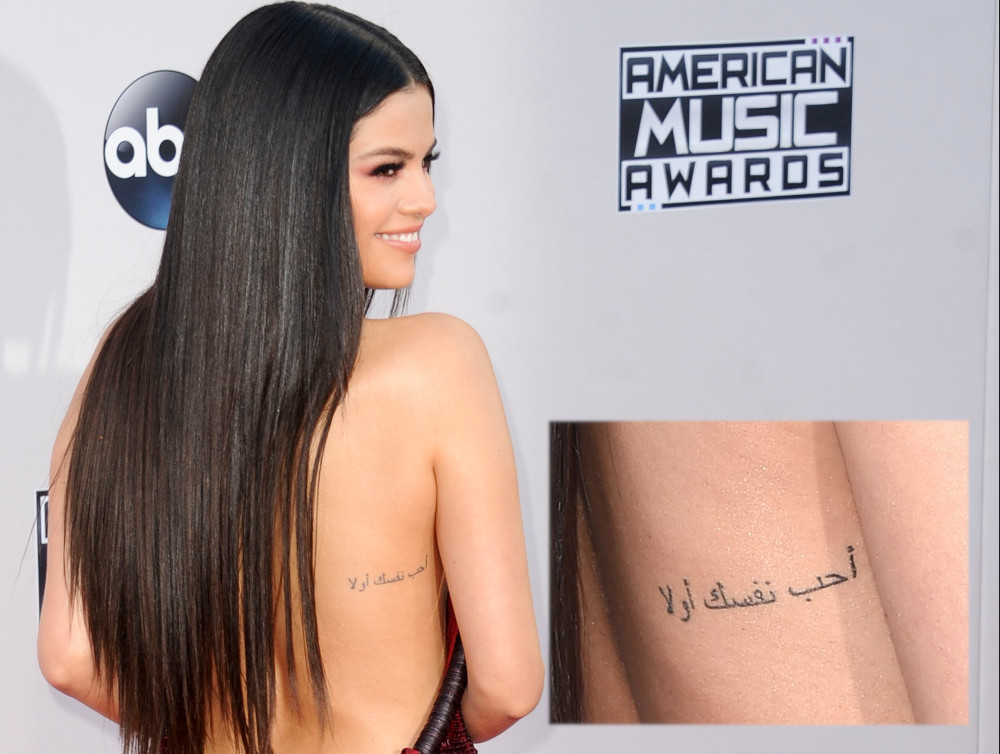 Hip Tattoo
Selena Gomez is open about how close she is to her faith. She says "I can do all the things through Christ who strengthens me."
She has tattoo on her right hip, which is a phrase from The Philippians 4:13 verse of the Bible stating "God Strengthens Me."
Roman Numerals On Her Neck
She has a tattoo on the back of her neck in Roman Numerals that reads LXXVI, which is 1976 in Roman numerals.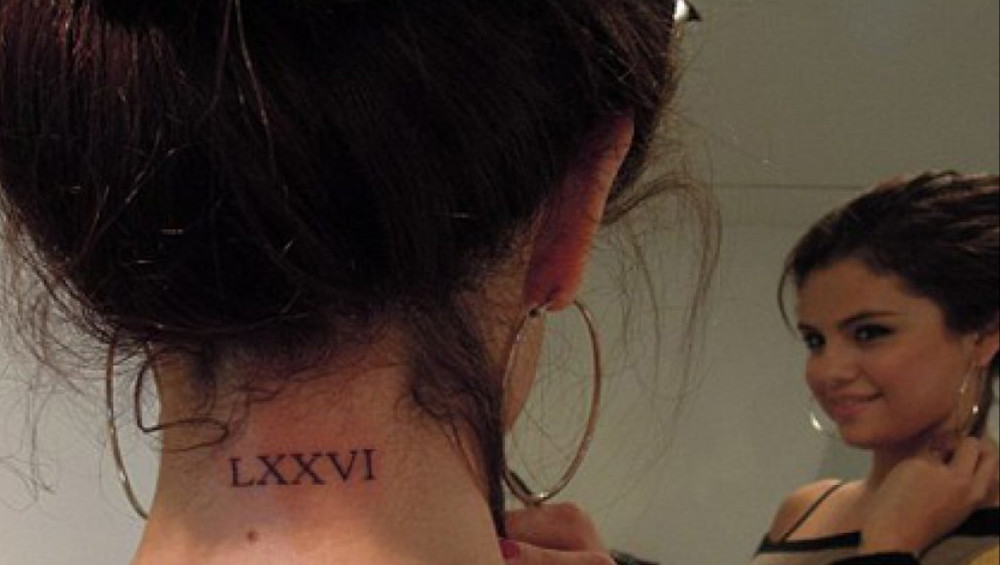 Her tattooist Keith McCurdy, who designed the tattoo, told that it "was a tribute to a family member who she said means a lot to her. Selena was nervous it might have been painful, so she held her best friend's hand the whole time. But she did a great job."
Sunshine Tattoo
The word Sunshine on her foot is thought to be a tribute to her grandmother as she was the one who raised her when her parents parted ways. She once called her sunshine on Twitter.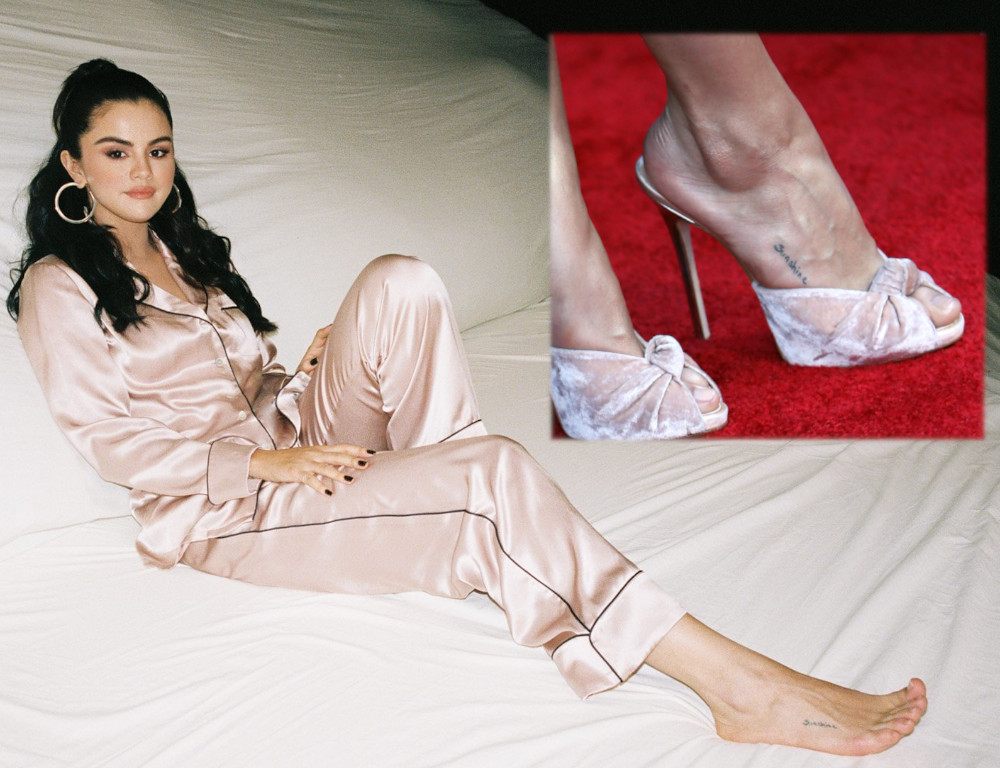 The letter G Behind Her Ear
Behind her ear, Selena has a lowercase g for her half-sister, Gracie Teefey, who was born on June 12, 2013.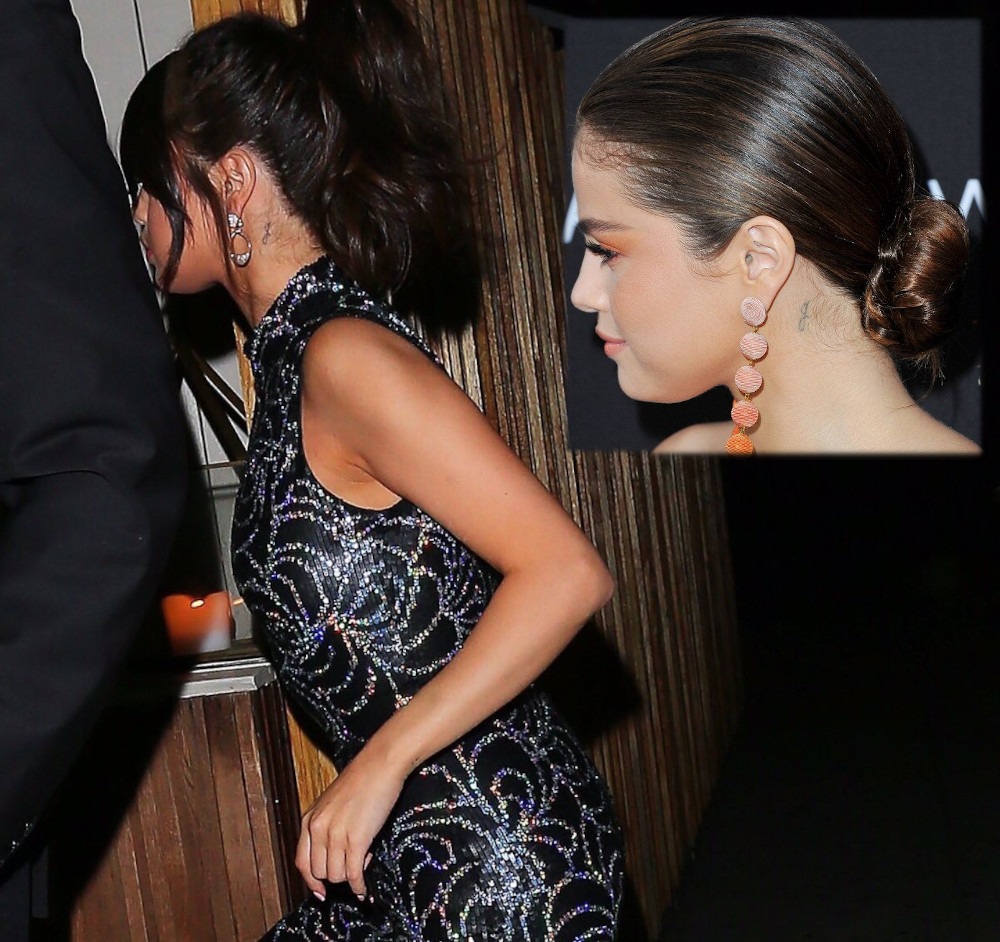 OM Sign (x31) On Hip
The singer has a tiny symbol inked on her hip that many believed depicts a variation of the spiritual OM sign.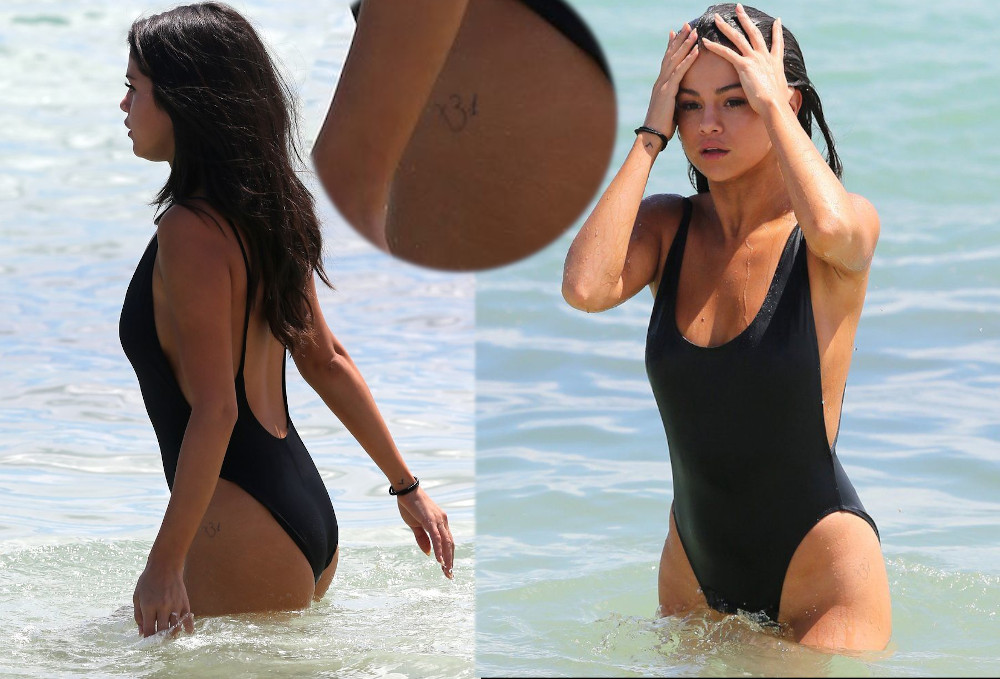 In 2016, she revealed that her tattoo, which appears to read x31 actually represents the date she met one of her best friends.
The Date of Her Kidney Transplant
In an interview, she revealed that the tattoo on the back of her right arm represents the date that she had the kidney transplant surgery in order to treat lupus that she was battling at the time.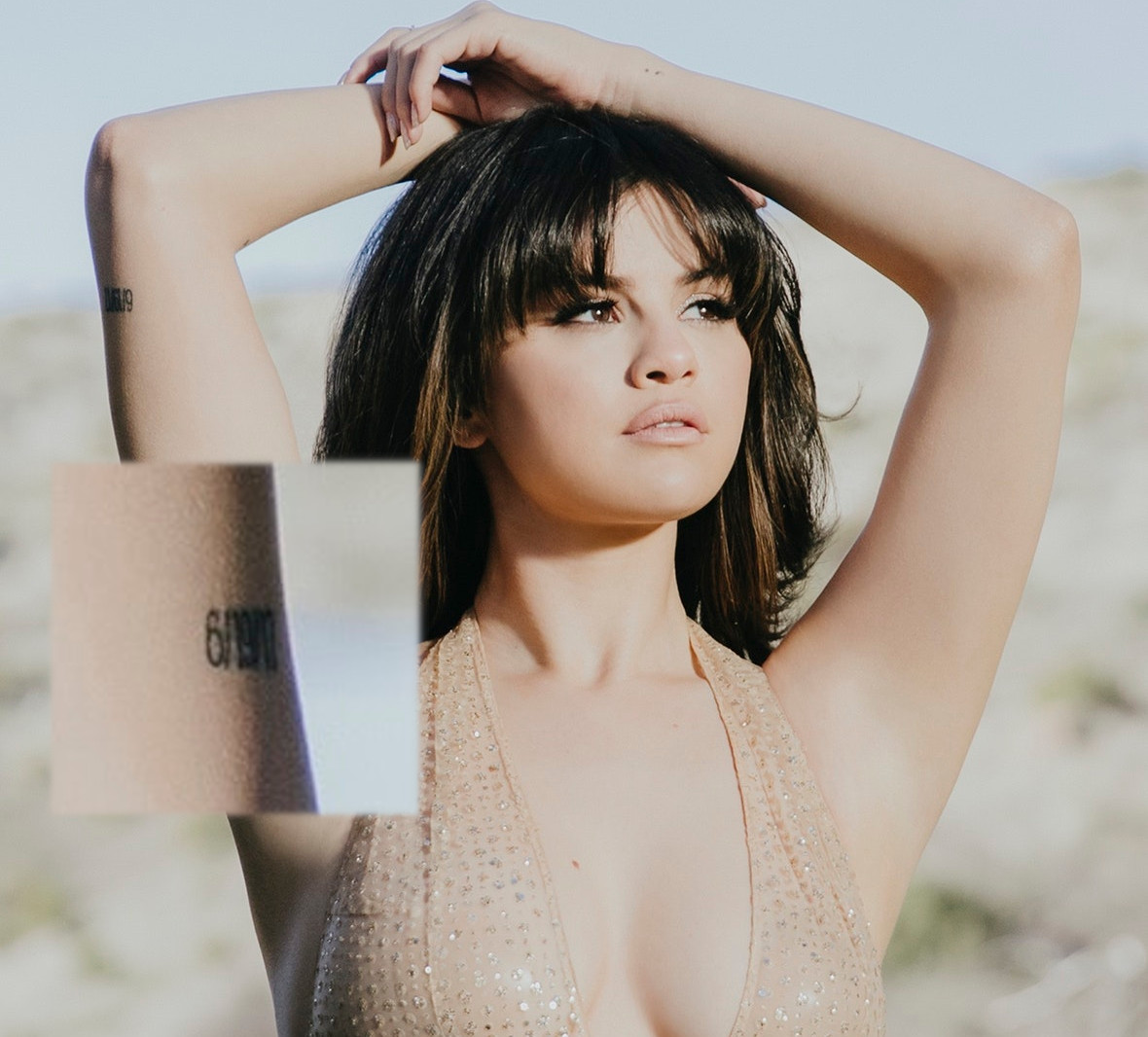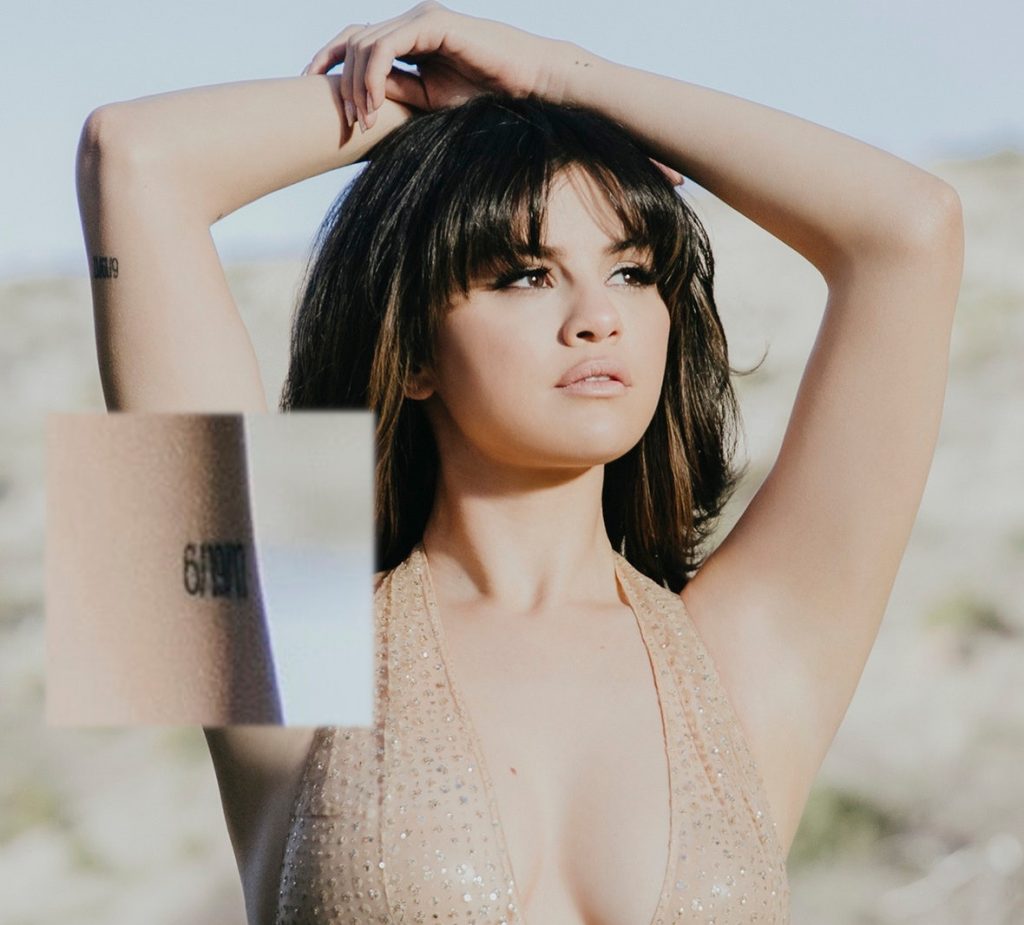 Selena Gomez has several matching tattoos with her friends
In 2019, the singers Gomez and Julia Michaels got matching arrow tattoos on their hands. Gomez posted a picture of the tattoos and wrote "My arrow points to you forever."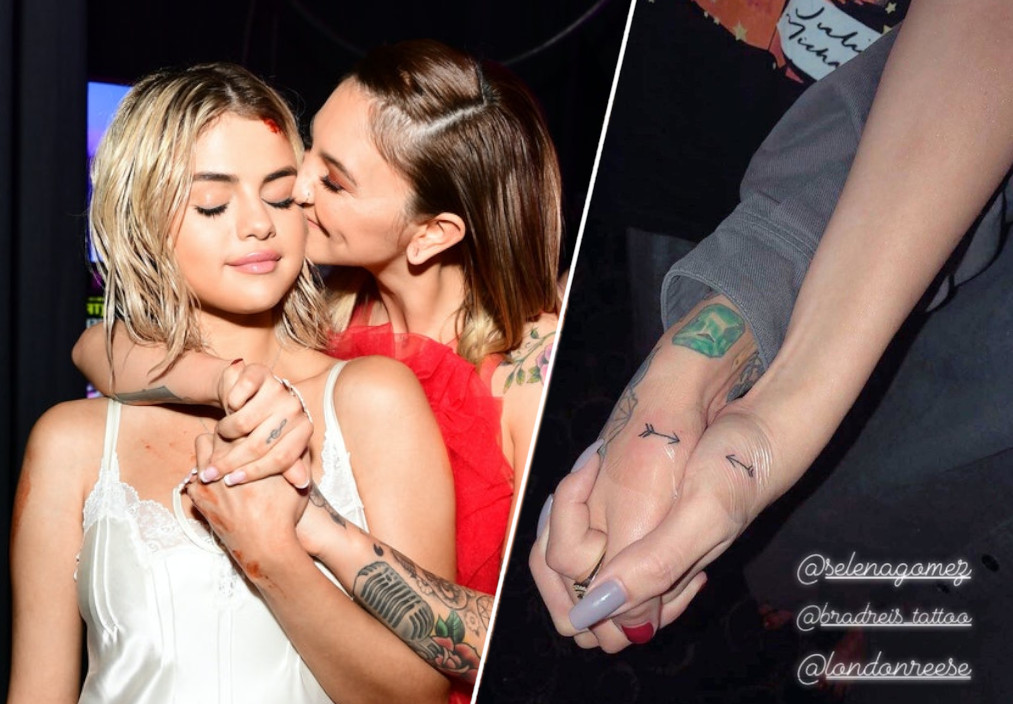 Semi-colon On Her Wrist
Selena Gomez and some of the 13 Reasons Why cast members have semicolon tattoos, which is a symbol of suicide prevention of a non-profit organization Project Semicolon.
According to the New York Daily News, she got the tattoo along with Alisha Boe and Tommy Dorfman.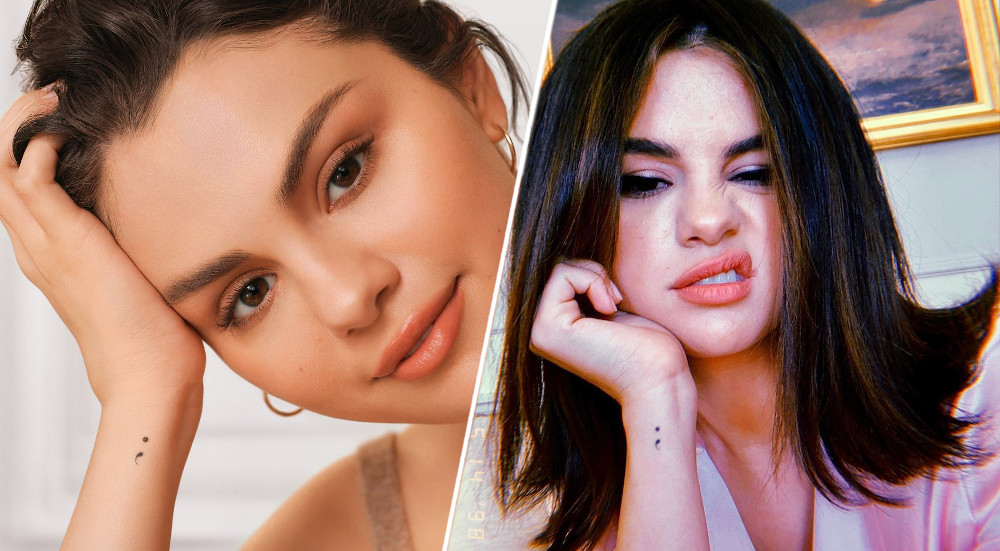 Number 1 On Rib-Cage
Selena got a number 1 tattoo with her close friend Courtney Lopez, posting a pic of their matching tattoos on Instagram.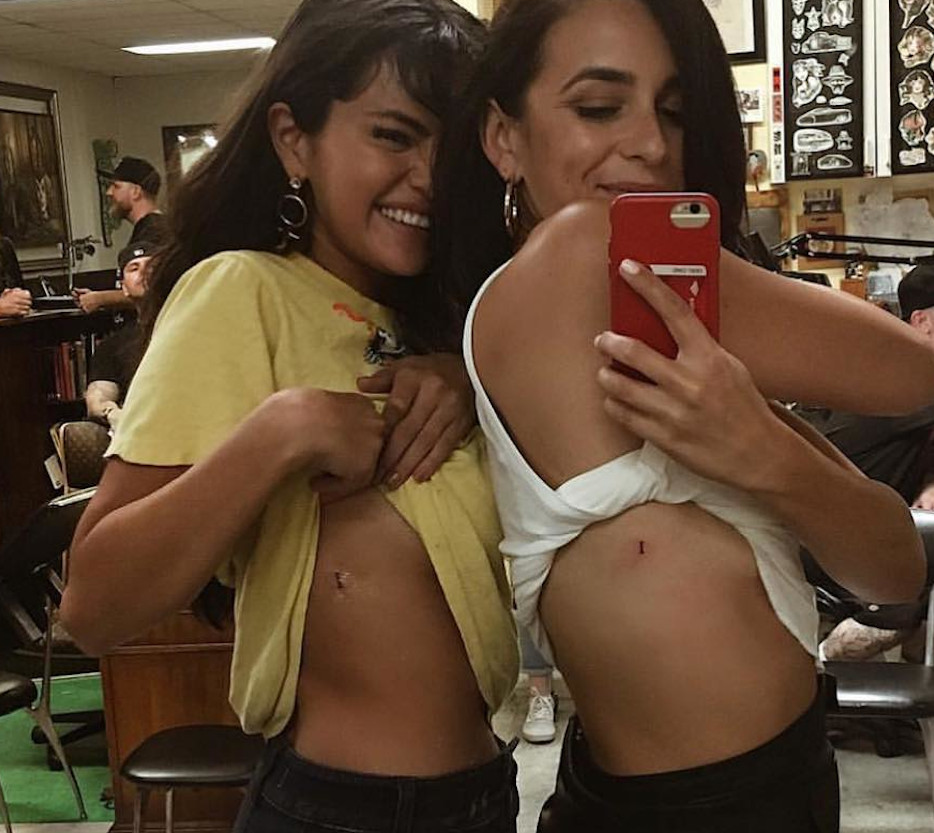 She wrote, "You are the definition of FEARFULLY and WONDERFULLY made baby."
Number 4 On Her Arm
Selena Gomez and her three closest friends all have matching tattoos. "Number 4, because you are my 4 for the rest of my life," she posted on Instagram in 2018.