Sarah Hyland 5 Tattoos and Meanings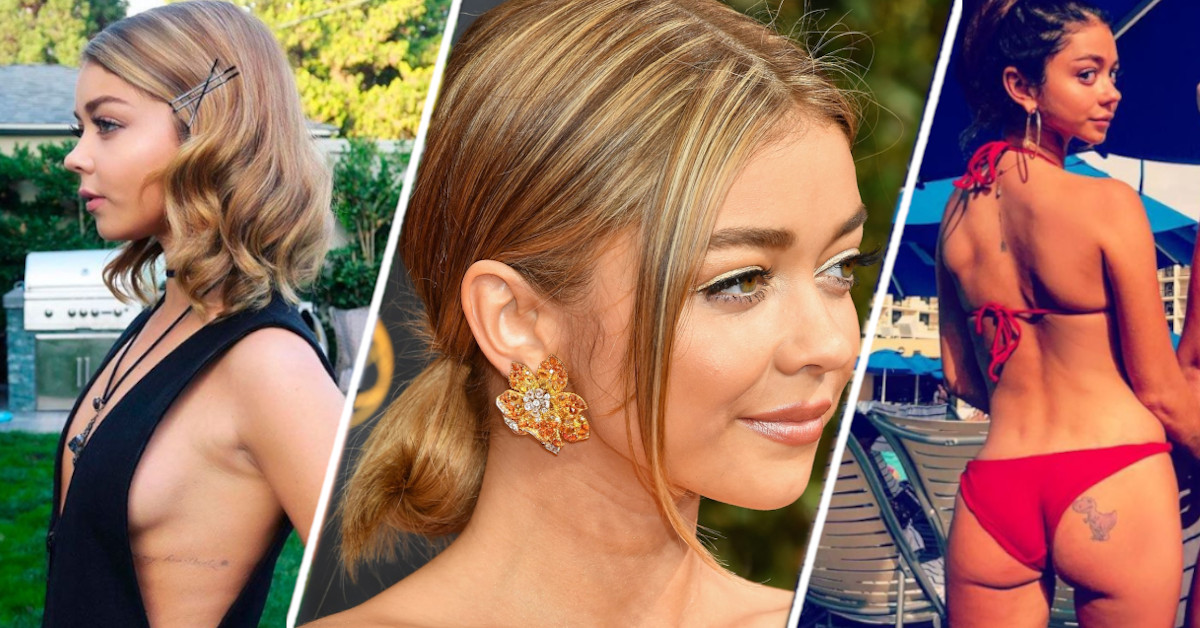 Sarah Hyland was born on November 24, 1990, in Manhattan, New York. She is an American actress best known for her performance as Haley Dunphy in the television series Modern Family.
Some of her major films are Struck by Lighting, Geek Charming, Scary Movie 5, Vampire Academy, Dirty Dancing, See You in Valhalla and much more. She has also lent her voice to several animated works.
Besides this, Sarah Hyland also has a lot of interesting tattoos on her body. Let's read further to know more about her tattoos and their meanings.
Humming Bird Tattoo Behind Her Ear
According to Daily Mail, she has a hummingbird tattoo on the backside of her right ear to represent a combination of playfulness and endurance. The tattoo is done by Dr. Woo in November 2014.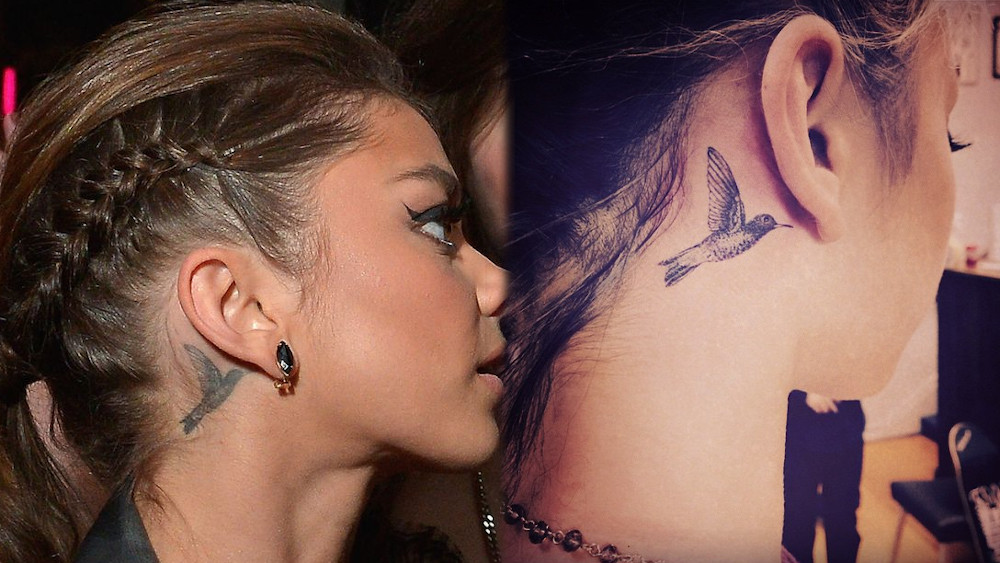 She wrote "The hummingbird, though it be but little, can travel great distances. It is a carrier of joy and lightness of being. Independent and resilient; the hummingbird lifts negative energy from your life and shows you the perfect combination of playfulness and endurance.
Thank you, Dr. Woo, for giving me this little guy to always remind me that (and whisper sweet nothings into my ear)".
An Arrow on her Back
Sarah also has an arrow tattoo on her spine, and three of her best friends got similar markings at the same time. This tattoo is done by Max Hanson in March 2015 at Shamrock Social Club.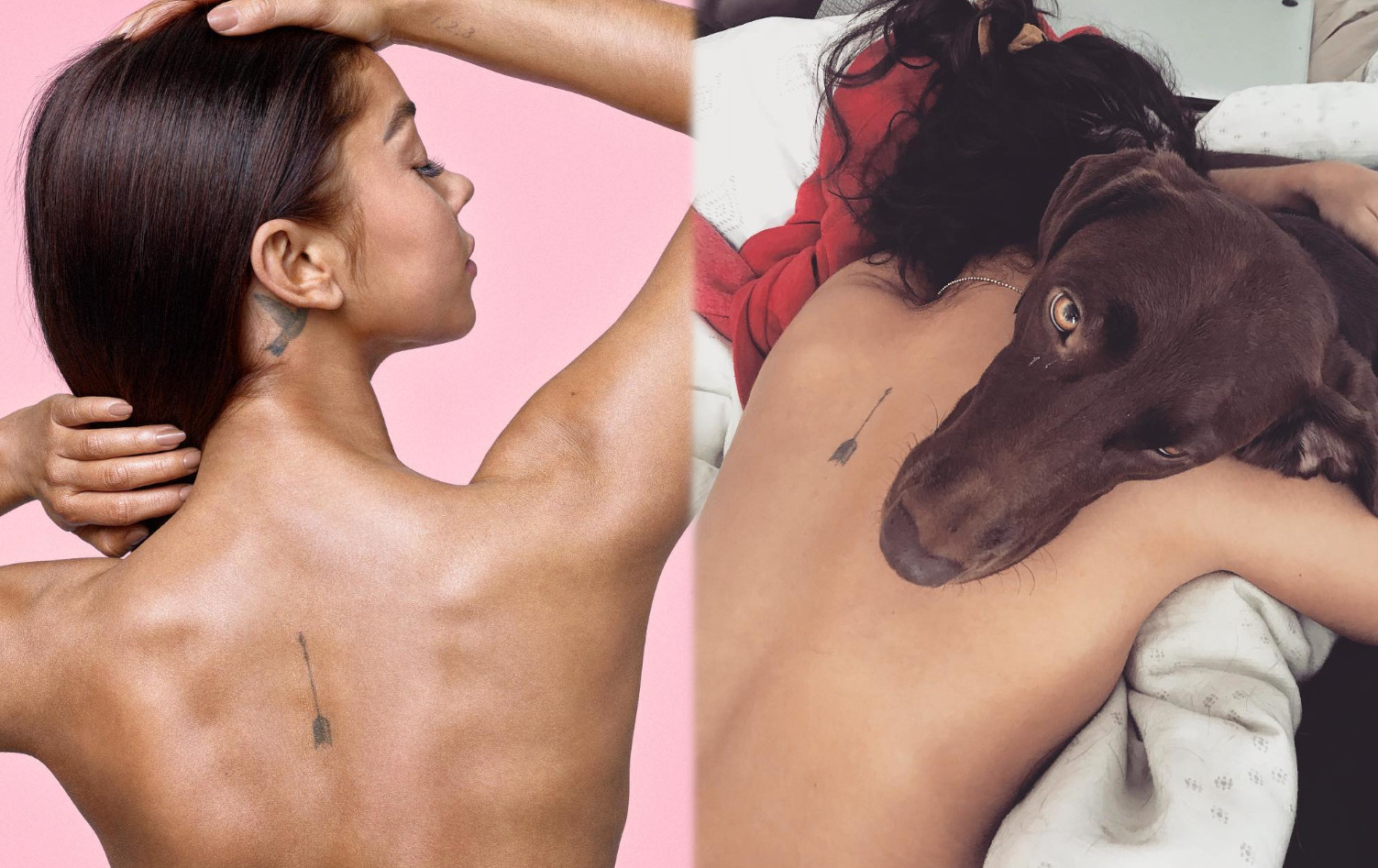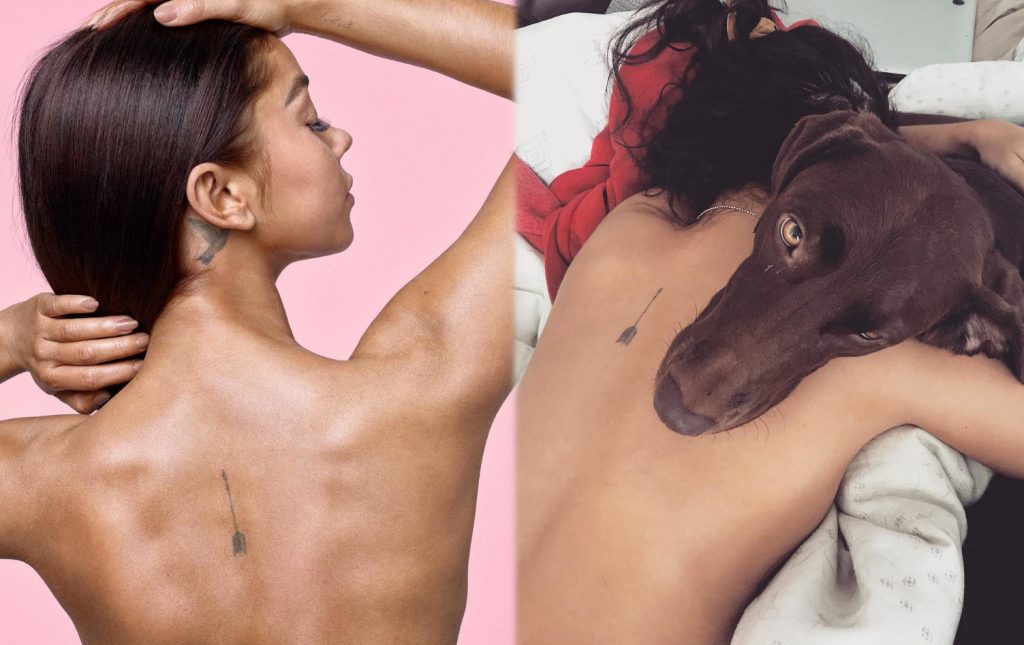 Clearly, if Hyland puts something on her body, it's because it means something to her.
The Butt Tattoo
In 2017, Sarah has inked her buttock with a dinosaur T-Rex along with her friend. She was wearing a bikini and showing off her rear end.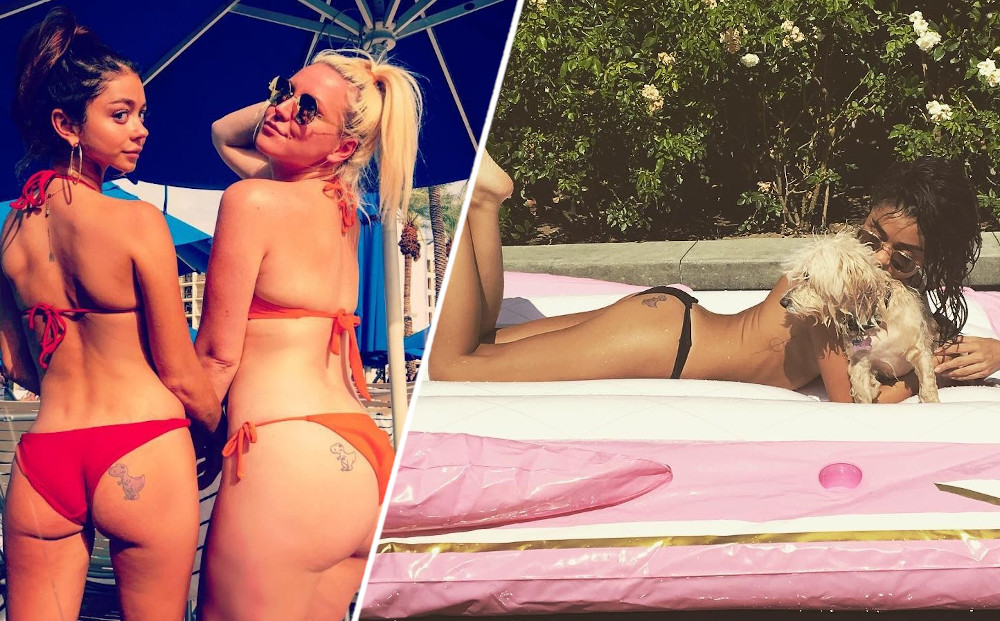 "We believe in dinosaurs," the star captioned the photo. Though we're still not sure what the T-Rex symbolizes for the pair, the reptile species was one of the baddest dinosaurs of its time.
Follow My Heartbeat Tattoo
The Modern Family actress got her left rib cage inked with the phrase "follow my heartbeat" in script font. The tattoo was done by Dr. Woo in April 2016. It's quite a beautiful phrase, but it has a deep meaning, too.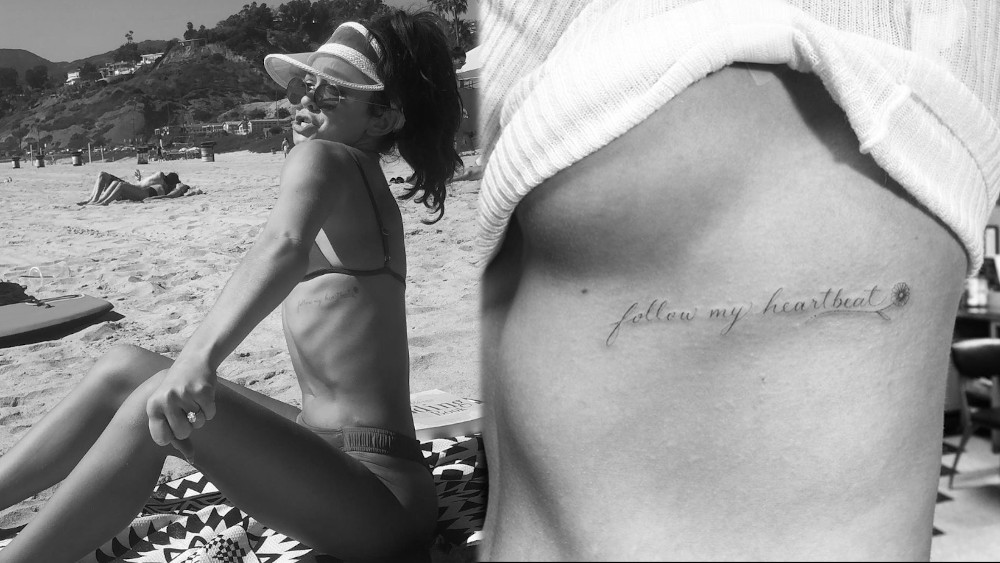 On her Instagram, she posted a picture with the caption, "Where do I go? Follow my heartbeat."
Rib cage Tattoo
The actress got her right ribcage inked with the tattoo that has a fine line going through the center of two overlapping circles. This tattoo symbolizes for the phrase "The best way out is always through" a quote by Robert Frost.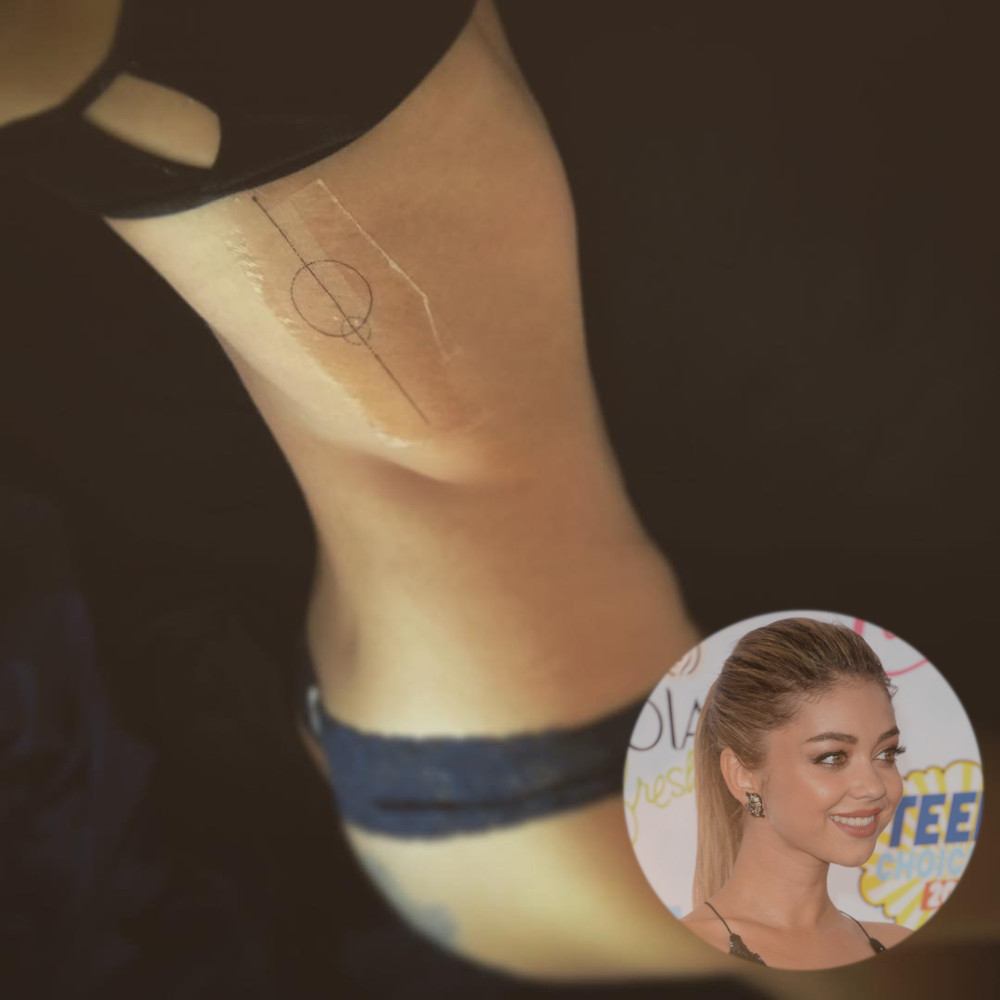 Sarah Hyland Tattoo Removal
Sarah Hyland shared a session from her tattoo laser removal process and is providing official evidence that tattoos can sometimes be a real pain in the butt. She added, "Oof…that hurt. Spicy".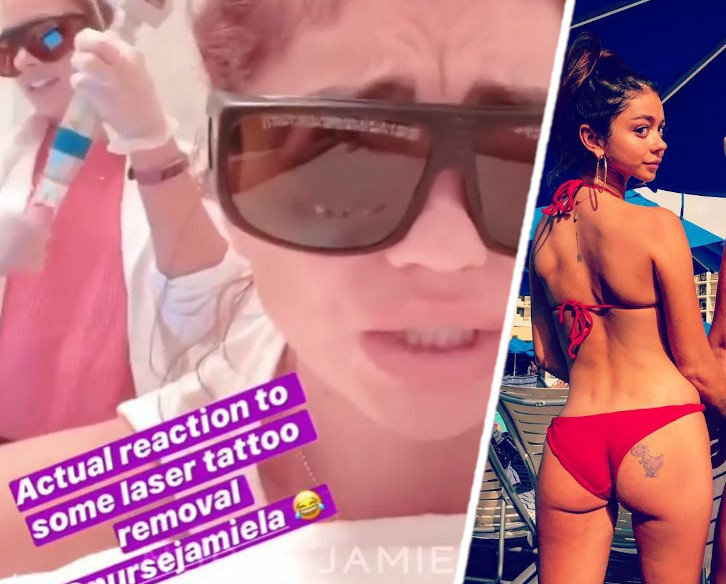 ---
RELATED CONTENT
Sarah Hyland Biography, Age, Height
---