Rosamund Pike Husband: All The Detail About Her Married Life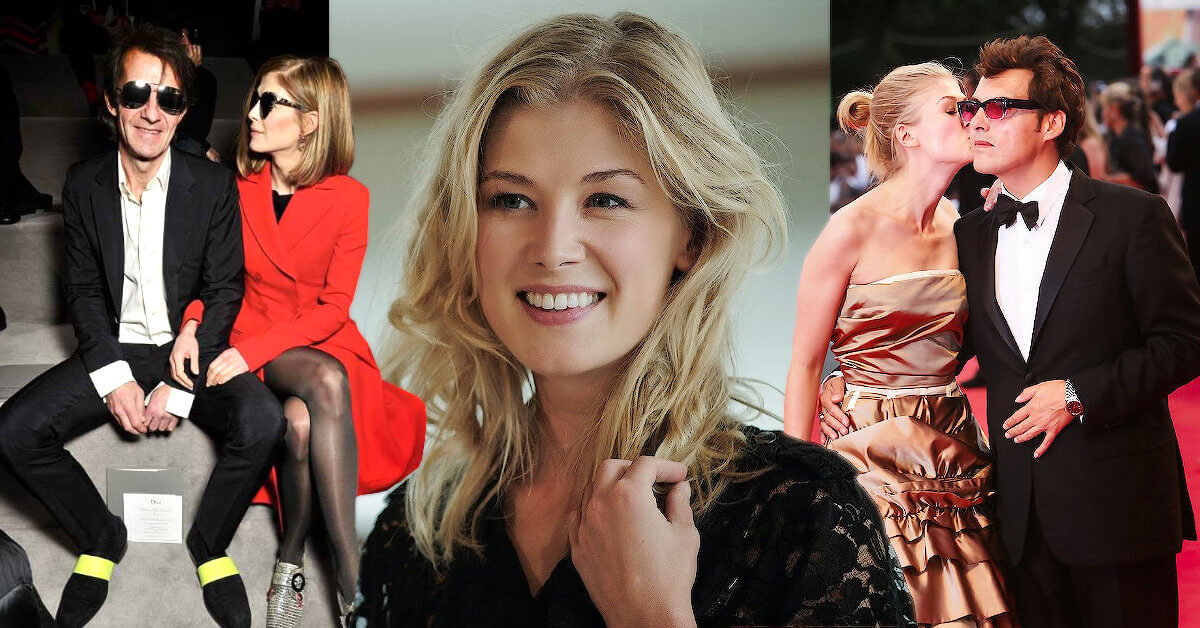 We bet that many of you know Gone Girl, a movie about an unhappily married young woman who goes missing and leaves her husband, accused of murder.
If you do, then you have likely seen the new Netflix original, I Care A Lot. The movie was starred by none other than Rosamund Pike. It was drawn from numerous real-life guardianship scams that target the wealth of older, vulnerable Americans.
However, Pike's in-movie relationships have left her fans interested in her real, personal life. Here, we will dig deeper about her, so make sure you keep on reading!
Rosamund Pike and Her Husband, Robie Uniacke
Rosamund Pike has been through quite a lot in the love department. In recent news, Pike is reported to be in a committed long-term relationship with Robie Uniacke.
From our research, Robie Uniacke is a mathematician and a businessman born in England in 1961. With this, Uniacke is predicted to be 18 years older than Pike herself. Both of them first met at a party in 2009, but they kept other information private.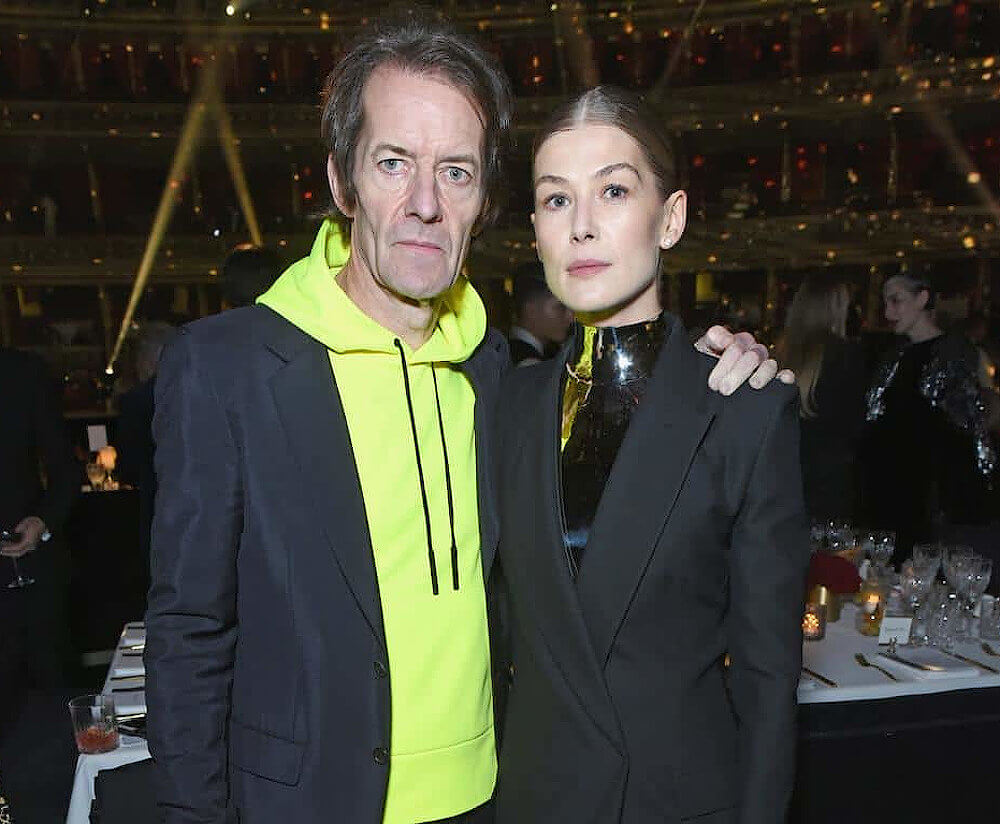 She was never a fan of revealing too much information about her relationship and personal life. However, many people started to get invested in her love life after seeing her slaying a lesbian role in I Care a Lot.
Since then, many people have been wondering whether she is secretly into women in real life. And, it turned out that she's been happily living together with Robie Uniacke. Still, the two tried their best to put their relationship under the radar and off of too much media exposure.
The curiosity didn't stop there. Fans also desperately want to know about Robie's life and how the two sweethearts met for the first time. Maybe it was the best decision for them because we hardly hear or see the negative rumors about them.
Robie Uniacke began his business career before coming into the spotlight as a couple with Rosamund Pike. He had previously worked for several consultancy and finance companies before launching his Information & Technology (IT) company in 2010, Pale Fire Ltd.
However, the company went bankrupt and was run out of business in 2016, closing in the same year.
After a thorough investigation, it was found that Robie failed to pay taxes of around $250,000 to Her Majesty's Revenue and Customs (HMRC).
At the same time, Robie was also reported that he had occasionally taken the money in a large amount from the company's account number and used the money to fulfill his personal needs. He then admitted the accusations and was later fired as the company's board of directors.
Robin Uniacke's Love Life Before Dating Rosamund Pike
It is known that Robie started Dating Rosamund back in 2009 after the two met at a party. Their relationship has led Rosamund to give birth to their son, Solo Uniacke, in May 2012. Two years later, the couple welcomed their second son, Atom Uniacke, in 2014, and they decided to live together in England.
However, before dating Rosamund Pike, Robie was reportedly married to another actress, Emma Howards, known as the daughter of the Earl of Carlisle. They were married in 1983, but the marriage only lasted for six years, where they both divorced in 1989 – while at sometime during the year, Emma gave birth to their son, Robie Jonjo.
After his split up with Emma Howards, Robie Uniacke then met Rose Batstone, who works as an interior designer, before they decided to get married and have three children called Hector, Olive, and Florence. It is said that the marriage lasted for seven years before their split.
Rosamund Pike and Joe Wright
Rosamund Pike was also reported to have dated the film producer of Pride & Prejudice, Joe Wright. Like how the story goes in a typical Hollywood fashion, the couple met in 2005 on the set of the movie's adaptation, which Wright directed and Pike starred in.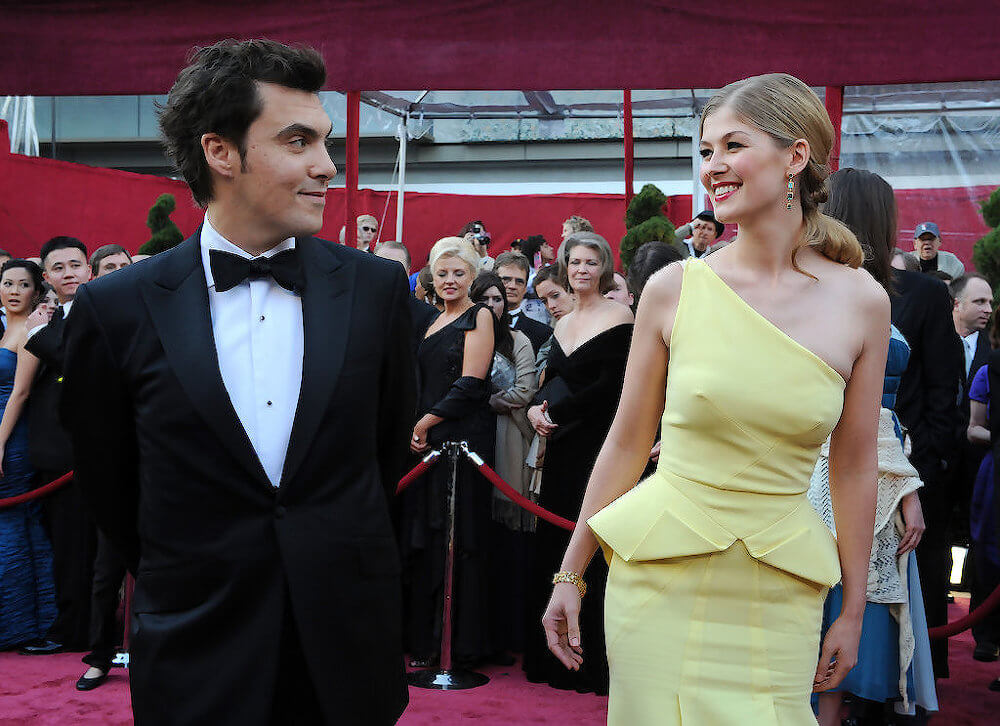 According to The Guardian, though they begin seeing each other tentatively during the shoot, Wright and Pike's relationship didn't get serious until the movie ended.
Interestingly, the movie Wright directed was also starred by Pike's ex-lover, Simon Woods. In an interview, Wright explained how he didn't want to hire Simon Woods, but then he instantly knew that Woods was perfect for the role.
"Finally, I rang Ros and asked if she'd mind, and she said, 'Absolutely not.'" To his defense, both Rosamund Pike and Simon Woods haven't seen each other for two years, but they were all dancing together the next day. "It was lovely," explained Wright.
After two years, the director decided to propose Rosamund Pike in 2007, just two days ahead of the Venice Film Festival's film "Atonement." Wright told the media that he even turned down the dinner invitation with George Clooney to pop the question to Pike.
On many occasions, Wright was very extravagant in giving compliments to Rosamund Pike, her bride-to-be. However, in early 2008, Wright told The Guardian that he just properly loves her – and that she's so intelligent and uncompromising. "I feel I can do anything with her, go anywhere, do anything if we want to. The pipe dreams happen with her."
However, not long after that, the couple decided to break up in June 2008, less than a year since Wright proposed to her.
The media, such as The Daily Mail, maintain a rumor saying that Wright had called off the wedding after Pike sent out wedding invitations with an image of the couple together in a hot tub. Furthermore, Wright was rumored to be "spotted cavorting with a handful of girls at his local lap-dancing club."
In her response, Rosamund Pike stated that she had no idea why Joe called off the wedding. "He was never clear about it, part of what makes it confusing."
Dating A TV Famous Face, Jamie Theakston
One of Britain's most famous TV faces, Jamie Theakston, is on our list as an ex-boyfriend of the beautiful Rosamund Pike. To start, Jamie grew up in Sussex, born on 21 December 1970.
He attended public school at Brighton Hove and Sussex Sixth Form College. He also presented traffic reports on a London radio station before landing a job on Children's BBC.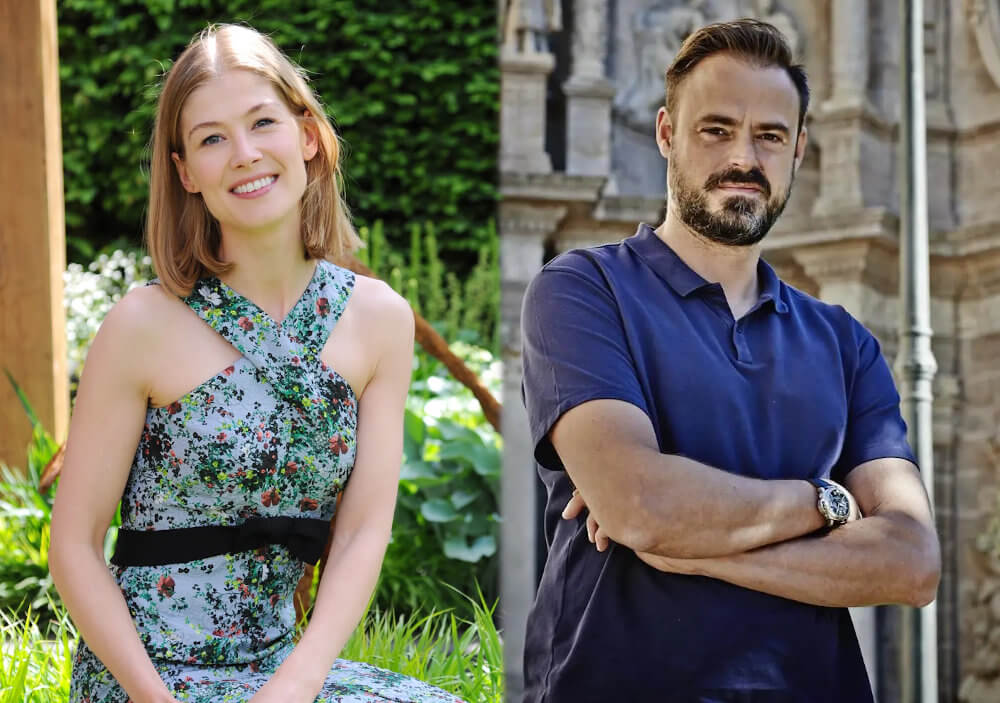 He was previously infamous for his long list of ex-lovers, ranging from top supermodels to actresses. In 2003, after his broken heart caused by splitting up with actress Joely Richardson, Jamie was dating Rosamund.
The couple was initially introduced by a mutual friend, and since then, Jamie has been seeing Pike in her plays a few times.
However, they were taking things very slowly and informally, with the worry that if there's too much fuss about them dating, it might spoil things due to Jamie's bad luck in the relationship area.
First Love that Turned Out Gay: Rosamund Pike and Simon Woods
Simon Woods was reportedly to become Rosamund's first love. He was a student at Eton, but he and Rosamund met and fell in love at Oxford. Both of them were studying in the university, majoring in English Literature.
Woods was much envied by fellow undergraduate students on the campus to win the heart of one of the most stunning girls at Oxford, and they were inseparable for almost two years.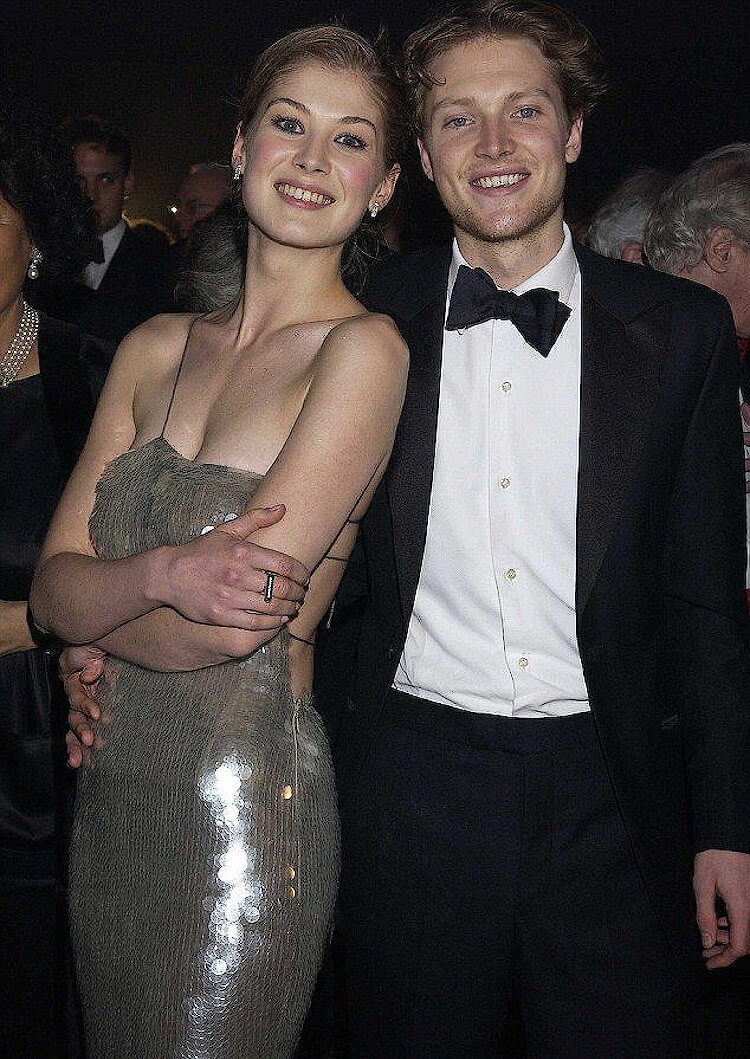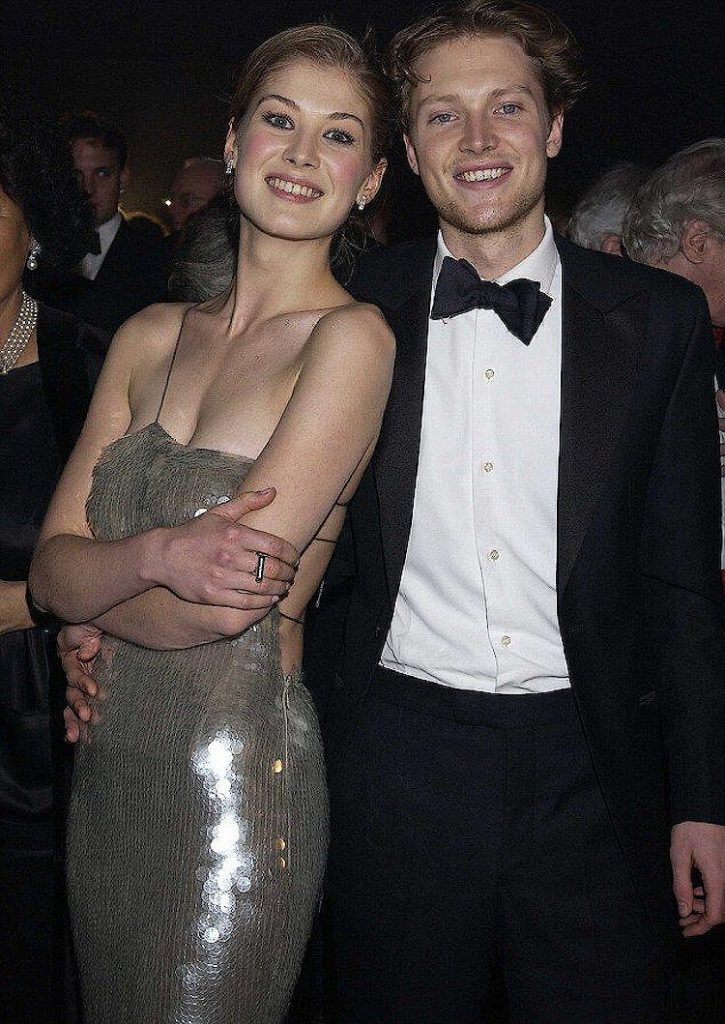 But here's the plot twist: unknown to the Gone Girl actress, Simon has a secret he's been hiding – he was beginning to doubt his sexuality. Eventually, he took the courage to tell her.
However, he didn't reveal how long he had been hiding the secret about his sexuality. And, Instead of marrying, they parted ways. Eventually, when Simon fell in love again, it was with a man. Nine years post-break-up with Rosamund, Simon and his partner, Burberry's creative director Christopher Bailey, married in a civil ceremony at the Chelsea register office. Well, at least he was finally brave to embrace her love life.
Rosamund and Simon's relationship didn't end even after they broke up. The two remained dear friends and have always been supportive of each other. Moreover, Pike and Simon have had the momentum to meet again as lovers, as the actors cast as Jane Bennet and Charles Bingley in Jane Austen's award-winning film, Pride and Prejudice.