Who is Dave Bautista Wife? His Married Life and Dating History
Being one of those WWE stars-turned-actors, Dave Bautista sure commands attention and respect from others with his built and bulky figure!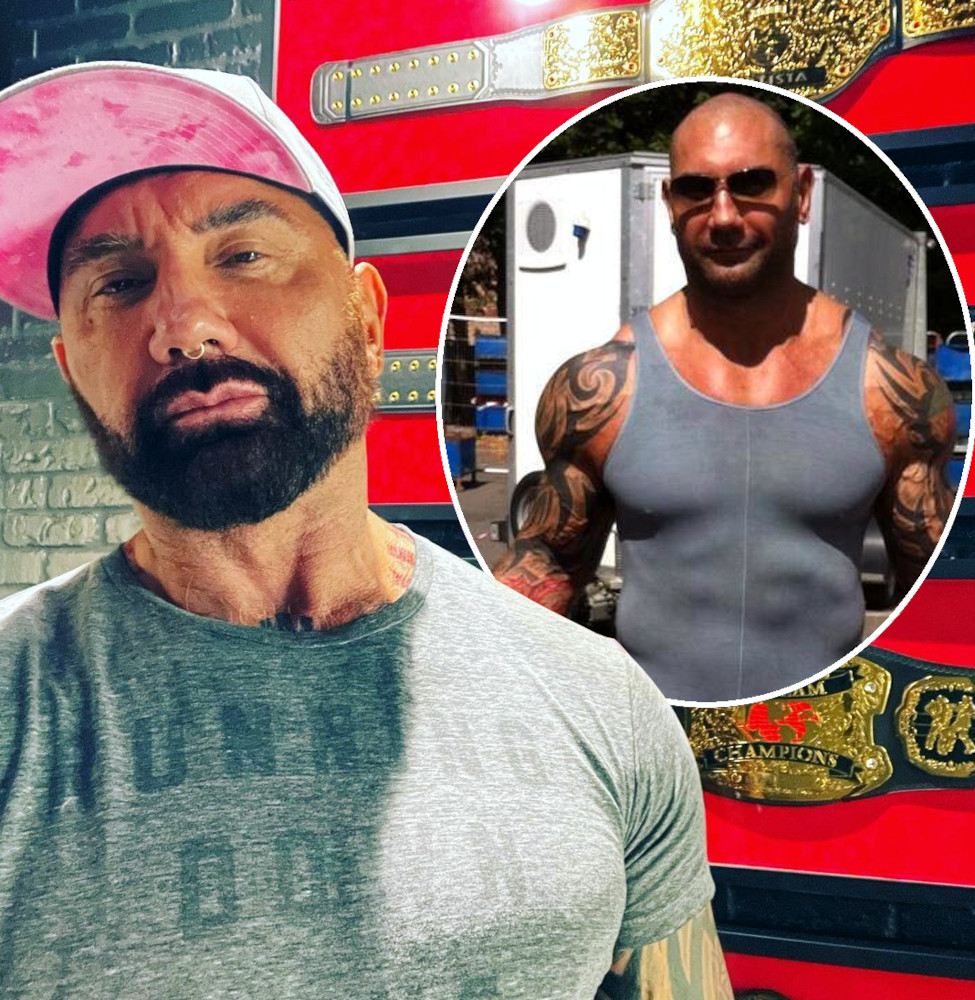 Dave Bautista attracts many ladies with his successful career in both WWE and acting. He's known to have married three different ladies and dated many other gorgeous women!
Who Is Dave Bautista's Current Girlfriend?
In a Men's Health interview last 2021, Dave Bautista admitted that his skyrocketing popularity as a wrestling champion brought some changes into his personal life.
Claiming that "he'd never felt comfortable talking to women," Dave was taken aback by the sudden surge of women who expressed their interest in him.
In the same interview, Dave shared that he has been seeing someone for the past two years, shortly after his third divorce was finalized in 2019. A source stated that the person Dave's been seeing "just gets him" and "understands the business and the limitations it brings."
Dave and the source refused to reveal the name of his new significant other, probably in an attempt to protect the blooming romance from the public's prying eyes!
This news seemed to confirm fans' suspicions about the existence of Dave's new beau, as the actor was spotted enjoying a vacation in Sydney with a group of friends. What piqued fans' interest, though, was his touchy behavior with a certain mystery brunette.
How Long Did Dave Bautista Date Ex-Girlfriend Dana Brooke?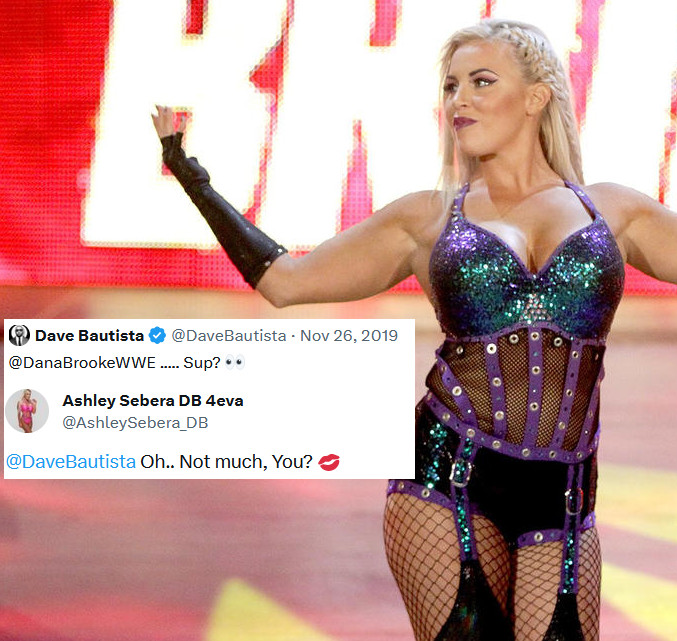 Shortly after he divorced Sarah Jade, Dave Bautista was caught flirting with fellow WWE champion Dana Brooke on Twitter.
This interaction drove fans wild, and they started to speculate about a possible romance between the two stars.
It wasn't until months later that Dana gave the details we all needed on her relationship with Dave. She shared with Forbes that they "went out," but things, unfortunately, didn't work out as their "times are very limited."
When Did Dave Bautista Divorced Ex-Spouse Sarah Jade?
In 2015, Dave Bautista married Sarah Jade in an intimate outdoor ceremony, per an E! News report. The groom later celebrated the wedding by posting a picture on his Twitter, showing the couple walking down the aisle with big smiles adorning their faces.
The couple's 20 years age gap posed some doubts among fans, and they seem to be proven true as rumors of their separation began circulating in 2019. The pair remained mum and refused to address the rumors, but soon after, reports of them filing for divorce surfaced.
Until this day, neither Dave nor Sarah revealed the reason behind their separation. Sources claimed that the former flame was committed to remaining cordial and sharing joint custody of their adorable dogs.
Rosa Mendes Used to Be Dave Bautista's WWE Girlfriend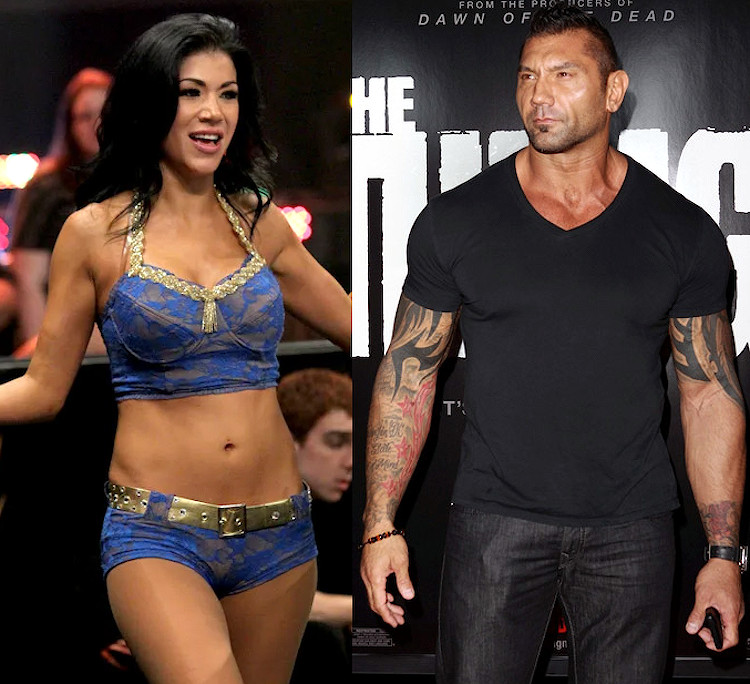 Dave Bautista has a thing for dating fellow wrestlers. Years before he went on a date with Dana Brooke, he reportedly dated Rosa Mendes for several months.
While he didn't reveal the reason for their breakup, Dave said in an interview with Diva Dirt that Rosa was "a great girl" and despite their separations, "they are still good friends."
Why Did Dave Bautista Break Up with Kelly Kelly?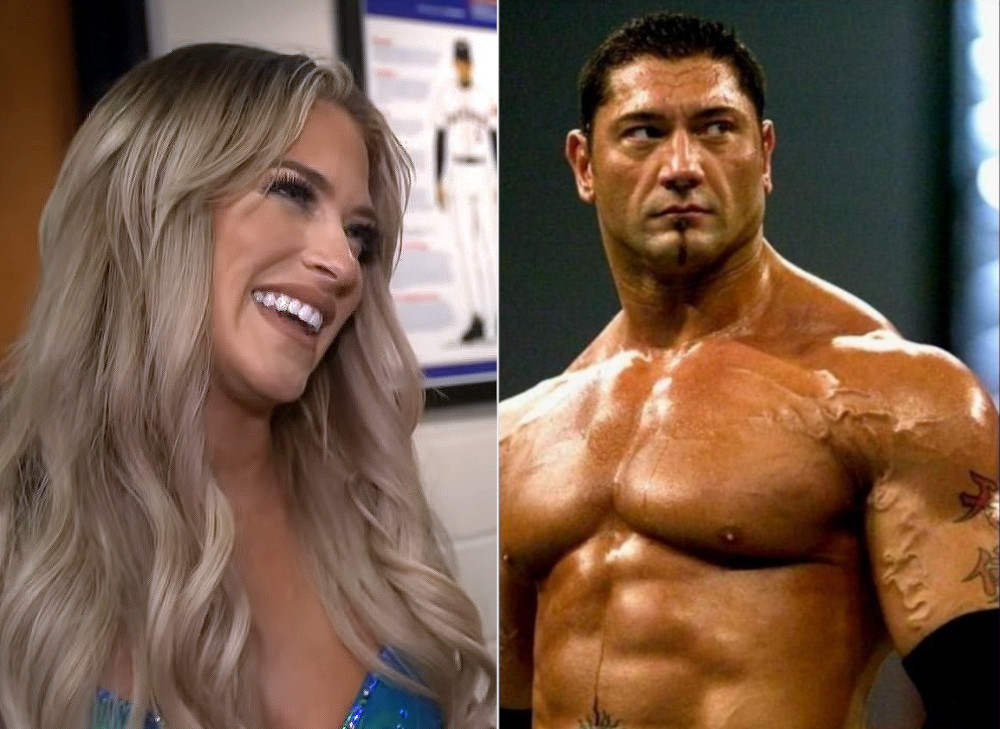 Trust me, 2000s era Dave Bautista was wild. It seemed like he jumped from one WWE lady to the next! The former professional wrestler revealed in 2008 that he dated Kelly Kelly for several months.
Dave, who was 39 years old at that time, began dating Kelly Kelly, who was 18 years old his junior. So, that means he dated Kelly when she was barely legal! No wonder their relationship caused so many people to raise their eyebrows!
Shortly after Dave and Kelly broke up, he spilled all the tea about their relationship. On the WJFK radio morning show, Dave admitted that their age gap was the main reason their relationship didn't work out. He also claimed that Kelly "was a little immature for a 21-year-old."
Well, perhaps you should date someone your age, Dave!
Meet Melina, Dave Bautista's Other WWE Girlfriend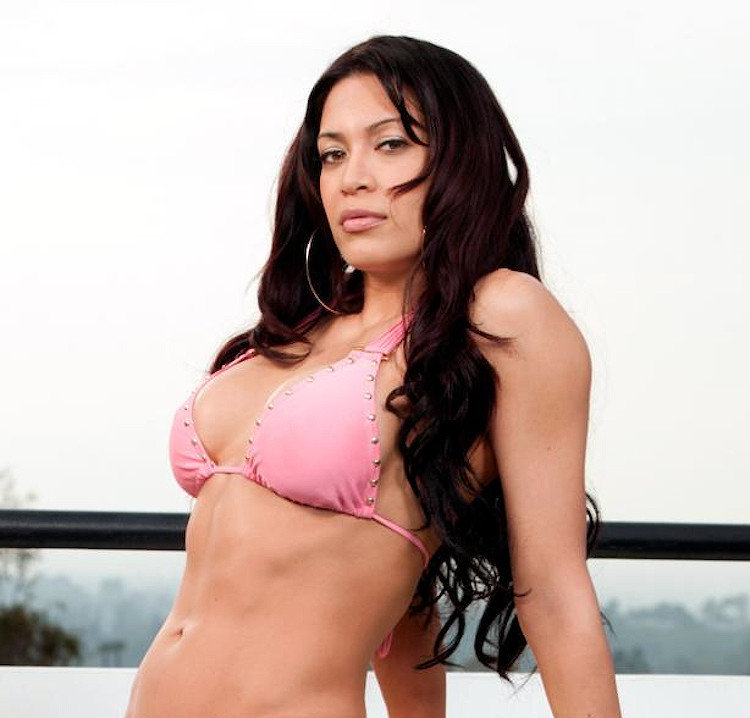 At this point, we're pretty sure that Dave Bautista saw WWE as an offline Tinder or something. He was romantically linked to another WWE champion, Melina. The public frowned upon this relationship because of the multiple cheating allegations.
While Dave shared that their romance began in 2007, several reports accused him of dating Melina since he was still married to his second wife. On the other hand, Melina was also accused of cheating on her then-boyfriend.
Dave quickly debunked these allegations, claiming that neither Melina nor he cheated on their previous partners. He claimed they had "split up and moved apart" with their respective lovers and then "started dating each other."
While it seemed sweet, Melina didn't share the same sentiment! The pro-wrestler even released a contradicting statement to Dave, claiming that they never dated and were just great friends.
Rebecca DiPietro Was Dave Bautista's First (Public) WWE Girlfriend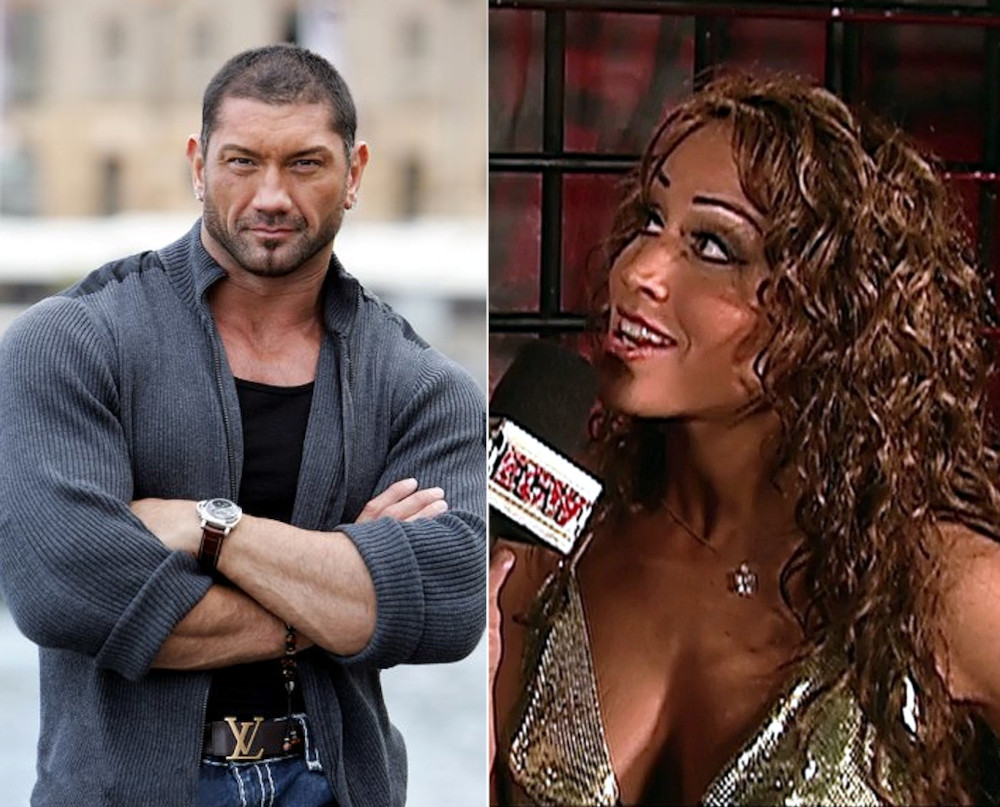 How long does Dave Bautista need to move on from a failed relationship, you ask? We say no longer than a month or two!
Shortly after his divorce from his second wife was finalized in 2006, Dave immediately began seeing Rebecca DiPietro, a former WWE superstar.
The former couple dated briefly for four months, according to The Sportster, before Dave once again moved on to another WWE star, Melina.
How Did Dave Bautista Meet His Ex-Spouse?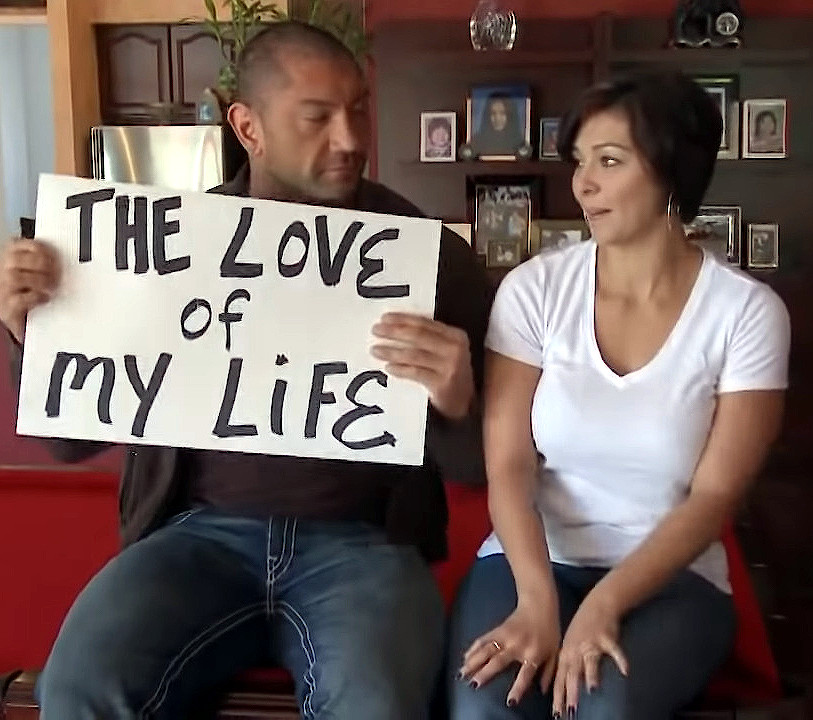 Dave Bautista's second wife, Angie Bautista, was the definition of "through the ups and downs." The pair got married in 1998, two years before Dave became a professional wrestler, and she had been there for Dave on his rise to stardom.
The couple shared a son, Oliver, whom they had through IVF because Angie had ovary cancer. The funny thing is that their son was born a year after Dave and Angie finalized their divorce!
Although they had divorced, Dave and Angie are still great friends. In 2010, Dave even produced a short movie about cancer as a form of support for his ex-wife. He also started the campaign Bautista vs. Cancer, which featured Angie.
Inside Dave Bautista's Marriage with His First Spouse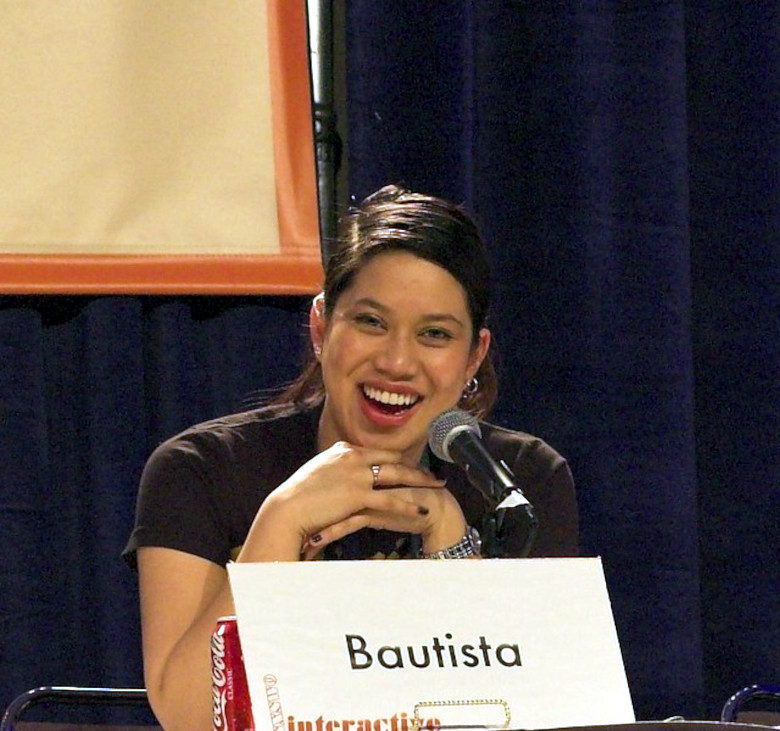 If you have never heard about Dave Bautista's first wife, that's probably because he got married for the first time before he became a household name, and his first wife is not a celebrity. Dave and Glenda got married in 1990.
Shortly after they made things official, Dave and Glenda had their first daughter later that year. In 1992, the couple welcomed their second daughter.
Unfortunately, the couple didn't last. They decided to part ways in 1998, just as Dave was about to build his wrestling career.
While Dave married Angie shortly after his divorce from Glenda and became one of Hollywood's A-listers, according to The List, Glenda reportedly works as a Senior Director in Ad Products at Hearst Publishing.