Who is John Cena Wife? His Married Life And Dating History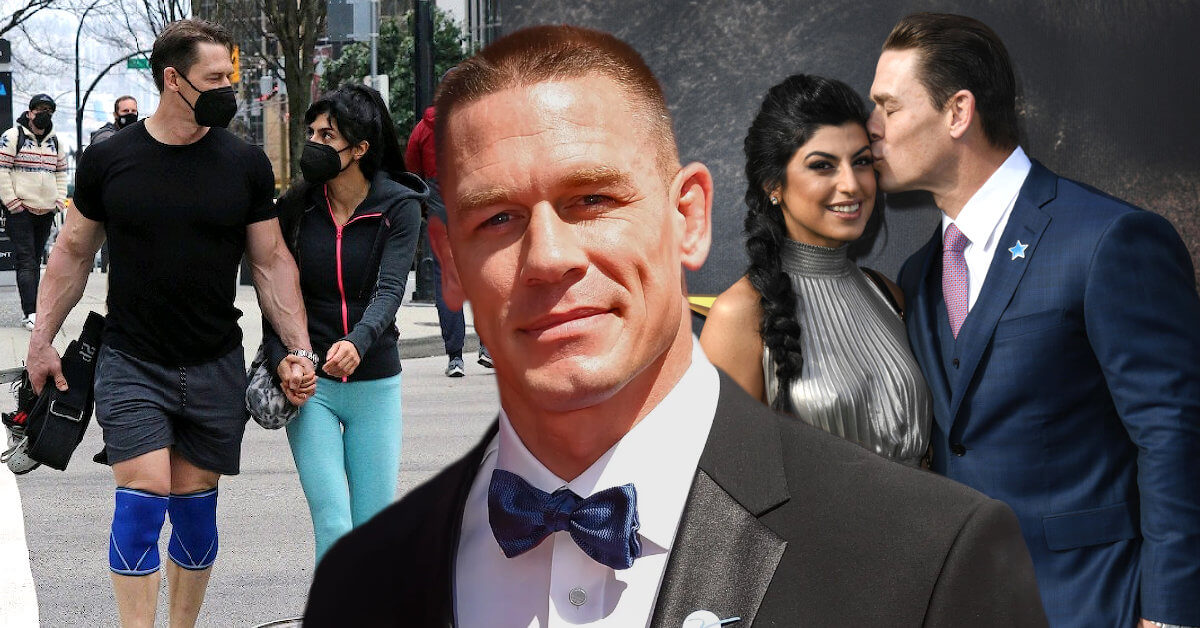 When you hear about John Cena, what's the first thing that comes to your mind? A professional wrestler? Or an actor? He's both of those. Not to mention that he's a rapper, too, with his single Basic Thugonomics. John Cena also showed off his talent at Royal Rumble in 2003. A multi talented guy indeed.
John has the best in both worlds; he succeeds as a wrestler and actor. John is considered one of the best wrestlers since he is tied with Ric Flair for the World Title record. John also played in several movies, including The Marine, Dolittle, and F9 as Jakob Toretto.
Does John Cena Have a Wife?
He's the guy that seems to have everything he wants in life as an athlete and actor, but what about his dating life? Is his luck also good when it comes to girls? You bet.
The perfectly-fit guy, unfortunately, is officially off the market. He married the love of his life, Shay Shariatzadeh, last October, and the ceremony took place in Tampa, Florida.
Only two months entering married life, Shay and John must've been living the best of their lives right now.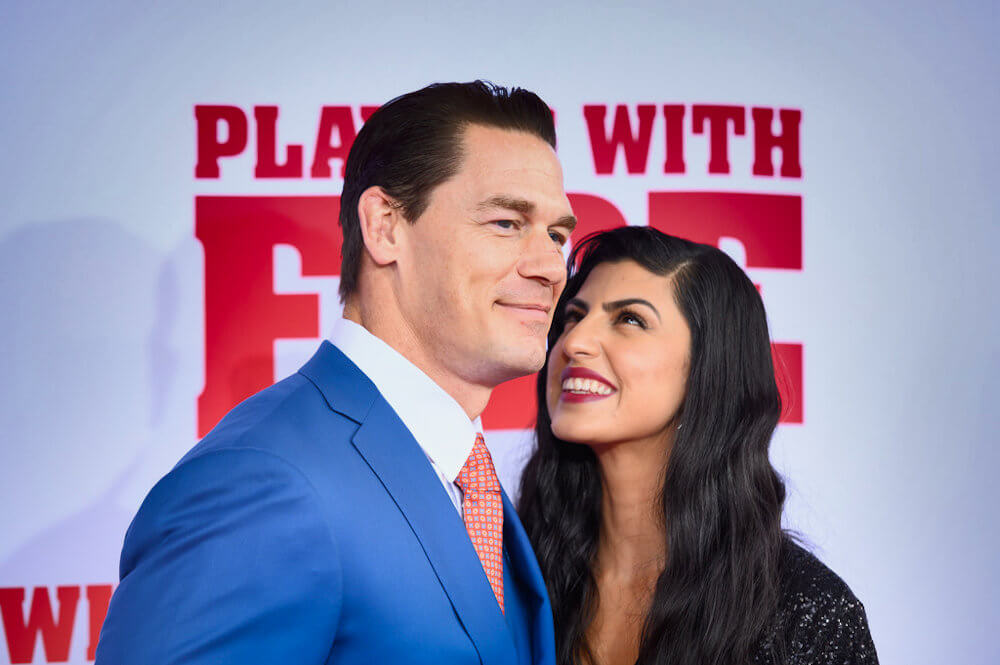 The couple caught everybody's attention when they attended the Dolittle film premiere. John and Shay shared some PDA moments at the premiere, and everybody just loved how they looked happy together. One of John's fellow wrestlers, Seth Rollins, even confirmed that John looked very happy with Shay.
"I have not seen him this happy in a long time. So that's cool," Seth told the US Magazine.
Shay Shariatzadeh is a Canadian engineer, but the two met on the movie set when filming Playing With Fire in Canada. That's why that movie would forever be memorable for John, he said.
"What's truly special about this one is that, no matter what projects I'm involved in in the future, this one will always have a special meaning because I got to film a special project and meet someone special," the F9 actor opened up in his interview with Entertainment Tonight.
It was also love at first sight because John immediately fell in love with his wife when he saw her.
John and Shay decided to take things slowly and live a more low-key life this time. John Cena's relationship has been the center of attention for quite some time, and now it's time for them to enjoy a rather quiet and peaceful life together.
Some people wonder what made him want to make his relationship with Shay more secretive than when he was with Nikki since he was very open and all about publishing things with Nikki.
As John explained himself, the reason is not that he loves Nikki more than he does Shay. Quite the contrary, he learned from his mistakes, and he wants to make this relationship work out. 
"Every experience in life is a chance for us to know who we are and who we are not," John explained in Today. "And just because I went down one avenue in life does not mean I'm going to repeat going down that avenue. I think if there is a learning experience for me and a takeaway for me, it's okay to be who you are, and it's okay to establish boundaries,"
Six Years Relationship with Nikki Bella
When John is still with Nikki Bella, everybody seems to know what's going on. From how they met, why they broke up, and all the details, John Cena and Nikki Bella were pretty open about everything (that's why John has decided not to do that again with Shay).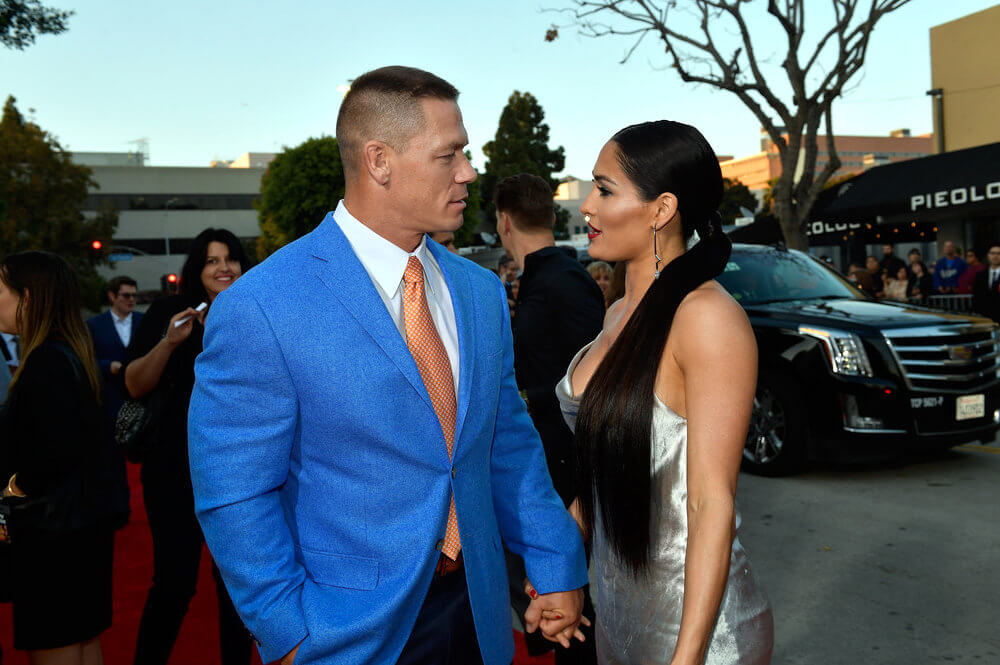 The couple builds something pretty strong, though. John and Nikki shared their lives for six years! What happened between them, and what's the possible reason that could break a relationship that already went on that long?
John and Nikki began dating in 2016, but they've been friends for so many years before becoming a couple. They both started as professional wrestlers, and both were signed to WWE. Nikki got the first rank in Pro Wrestling Illustrated by Female 50 in 2015. When we look at Nikki and John back then, we must've thought they were meant for each other.
It only took them a year after they began dating to finally live together. However, John's look on marriage was still unshakeable. Before he got engaged with Nikki and now becomes Shay's husband, he had a skeptical view about getting married and starting a family.
"I'm trying to be a realist. I've told you that I don't want to get married and I don't want to have kids. So I feel like this is a time-bomb over my head," the Suicide Squad star revealed in one of the Total Divas' episodes. Nikki's response to that was asking, "If you feel like you have a time-bomb in your head, are you really happy?" And witnessing John do what he said he didn't want to with another woman, that thing hurts differently.
Even though John did bend his knees and asked her to marry him eventually, that's not enough to make their relationship last. Of course, Nikki said "yes" because that's all she had wanted to do since the first year of their relationship. However, the couple unexpectedly split a month before their wedding ceremony.
"While this decision was a difficult one, we continue to have a great deal of love and respect for one another. We ask that you respect our privacy during this time in our lives," Nikki wrote a caption for one of her posts on Instagram, updating the whole world about the state of their relationship.
The couple had their moment of rekindling after the breakup, but it also didn't last long. In July 2018, the two were officially separated for good.
Nikki ended things first, saying that she never wanted John to regret having kids with her in the future since John made it pretty clear he never wanted to be a father. He hated the idea that much until the point where John did vasectomy. Even though John was about to reverse his vasectomy if that is what it takes to make her come back to him, she didn't want to force John to do something he didn't want just for love. I think Nikki made a wise decision here.
A Strictly Made Up Relationship with AJ Lee
Apart from Shay Shariatzadeh and Nikki Bella, John had several other relationships in the past. Quite a lot. Most of them are mostly wrestlers, too, and we're about to know who were the lucky girls who can make John, who doesn't believe in marriage and having kids, fall in love.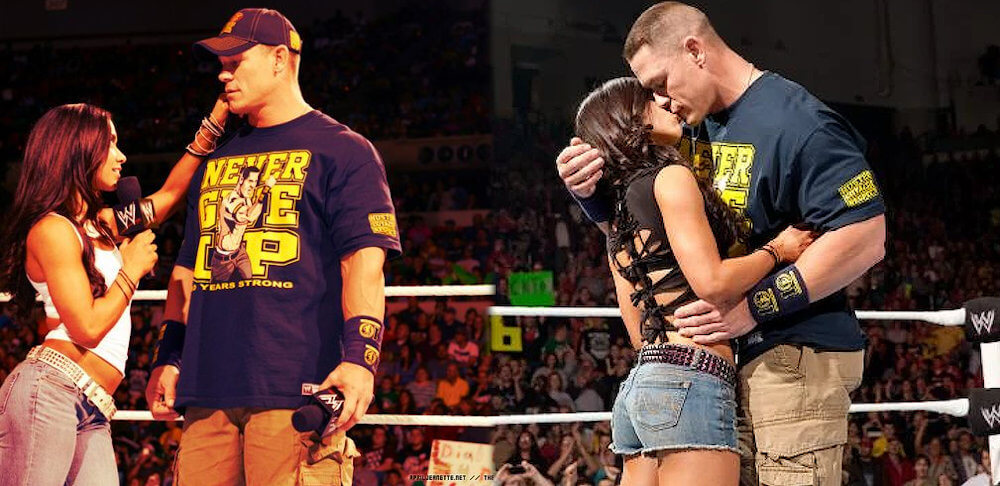 John was rumored to be dating AJ Lee in July 2012 when he asked Nikki on a date. The place and time when they met, of course, WWE.
AJ and John denied the rumor and then accepted that they were dating, only to twist the story and say that it was all fake and strictly for storyline purposes. Jeez, so much for having a real, genuine relationship these days.
It Turned Out John Used to Have a Wife in 2009: Meet Elizabeth Huberdeau
The next one is going to surprise y'all. We know that John had said multiple times (especially when he was with Nikki) that he didn't want to get married (even though he eventually does). But, little did we know that in 2009, long before he met Nikki, he got married to his high school sweetheart, Elizabeth Huberdeau.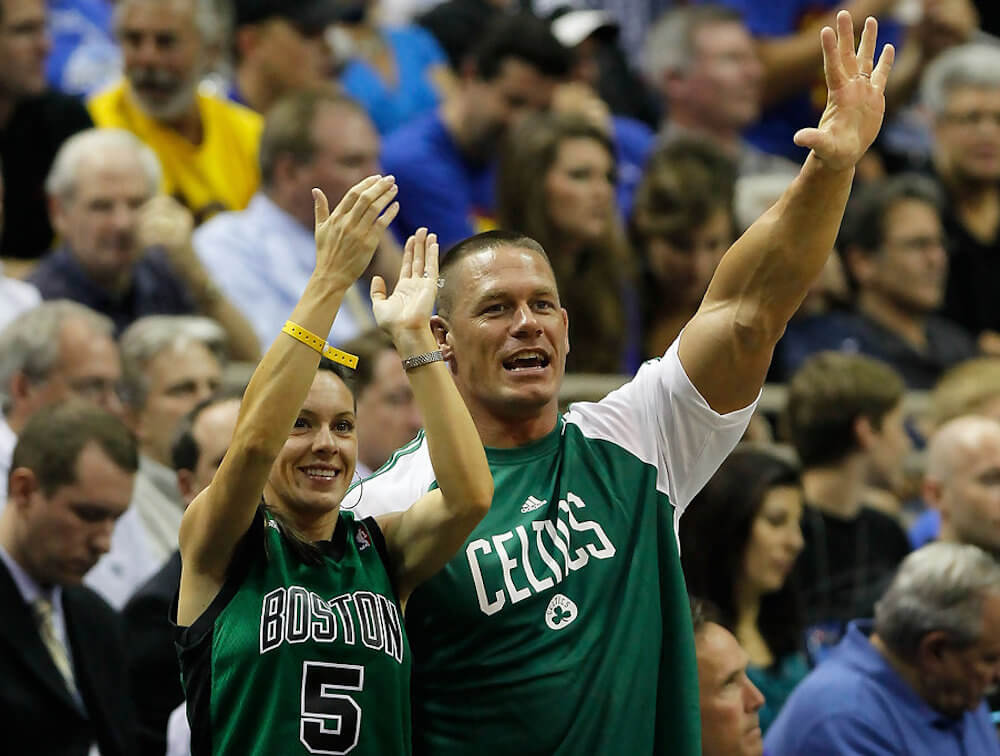 Elizabeth doesn't come from the same world as John. She works as an Estate agent, and the two met at high school. Ah, maybe John was still a naive young boy at that time.
John and Elizabeth managed to keep their married life low-key and far away from the spotlight. However, after only three years together, the couple called it quits without giving off any information about the reason behind their divorce.
John Was the Reason Behind Mickie James Leaving WWE?
Two years before he married Elizabeth, John was in a relationship with his fellow wrestler, Mickie James. This couple often shows their PDA moments, both off and on the camera. We know that John is pretty passionate with his girl, but this couple took it to another level.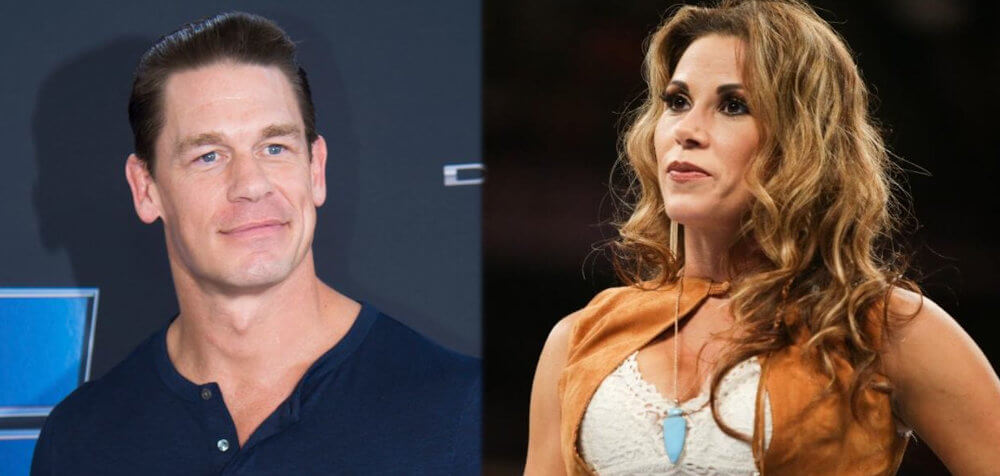 Mickie and John were together for about a year. After they broke up, Mickie decided to leave WWE in 2010. Rumor has it, Mickie's failed relationship with John was the reason behind her decision. Mickie never confirmed that rumor, though.
John Cena Dated Lisa Marie Varon
John's first public relationship (or should we call it an affair) was quite controversial. In 2002, Lisa Marie Varon opened up about her having a brief relationship with John when she was still married to Lee Varon.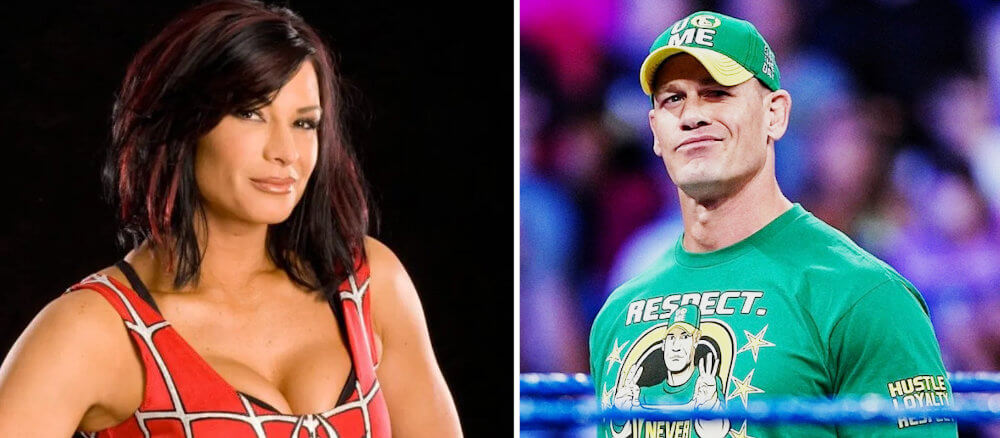 However, Lisa said that his relationship with John happened when she was in the middle of a break with her husband. A break, though, not divorce.
"We [Lisa and husband] have separated a few times. One of those times that we separated, I dated John for about a month. It was not in 2006 – 2007. It was 2002. I was married but separated. John was single."