Who is Sara Gilbert Wife? All About Her Marriage & Love Affairs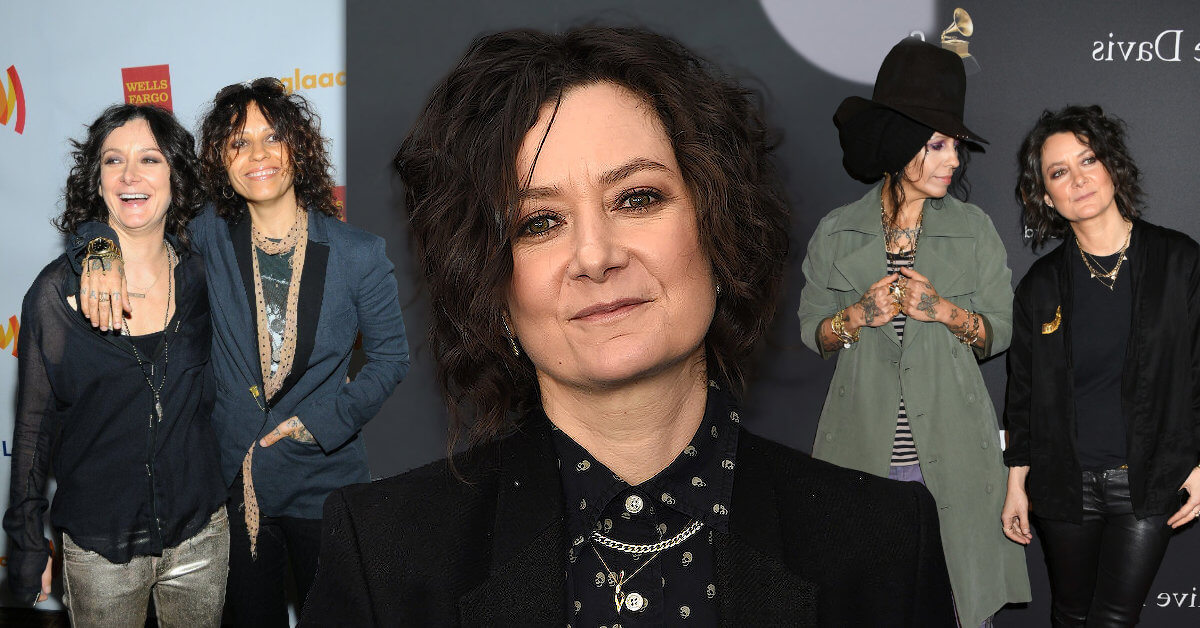 Sara Gilbert, the co-host of the show The Talk and appearing as Leslie Winkle on The Big Bang Theory, has an exciting story about her life. From her sexuality to her romantic life, people seem to can't get enough of her.
Her life doesn't only revolve around that, though. Looking at the fact that she received two nominations for the Primetime Emmy Award, we can tell that she's pretty talented, too.
In this article, we will focus more on talking about her wife and dating history! So, for you guys who have been wondering, this article is for you!
Realizing Her Sexuality While Having a Boyfriend
Sara Gilbert proudly admits that she is a lesbian. She made the revelation while she was promoting her show, The Talk, in 2010. The moment that made her realize her sexuality is quite funny!
She disclosed that the realization came when she was working on the ABC sitcom Roseanne. At that time, she began dating and making out with Johnny Galecki, and it was quite a frustrating moment for her.
"I thought he was super cute and had a total crush on him, and we started dating, and he would come over, and we would make out, and then I would start to get depressed," Gilbert stated.
She broke up with Galecki in 2001 and then dating a woman that is 18 years older than her. However, she didn't disclose her sexuality until 2010. She was afraid that her sexuality somehow would get in the way of her career. But, she said that it gets better over time, so she took a brave action to finally admit it.
"I want to live a true life," She said in her interview. "I have an amazing life, but there can still be a struggle with it, and that's ok. There can be a part of you that doesn't want to be different or feel scared. And that is more important than any of it."
Soon after that, Gilbert was dating Linda Perry, who then became her wife. Stay tuned to find out more!
Nearly Six Years Together with Wife, Linda Perry 
Sara Gilbert was married for nearly six years with Linda Perry, the lead singer of 4 Non-Blondes. They were married in March 2014 but had been together for three years before. Sadly, they got divorced in December 2019. However, the two were no longer living together two years before the divorce.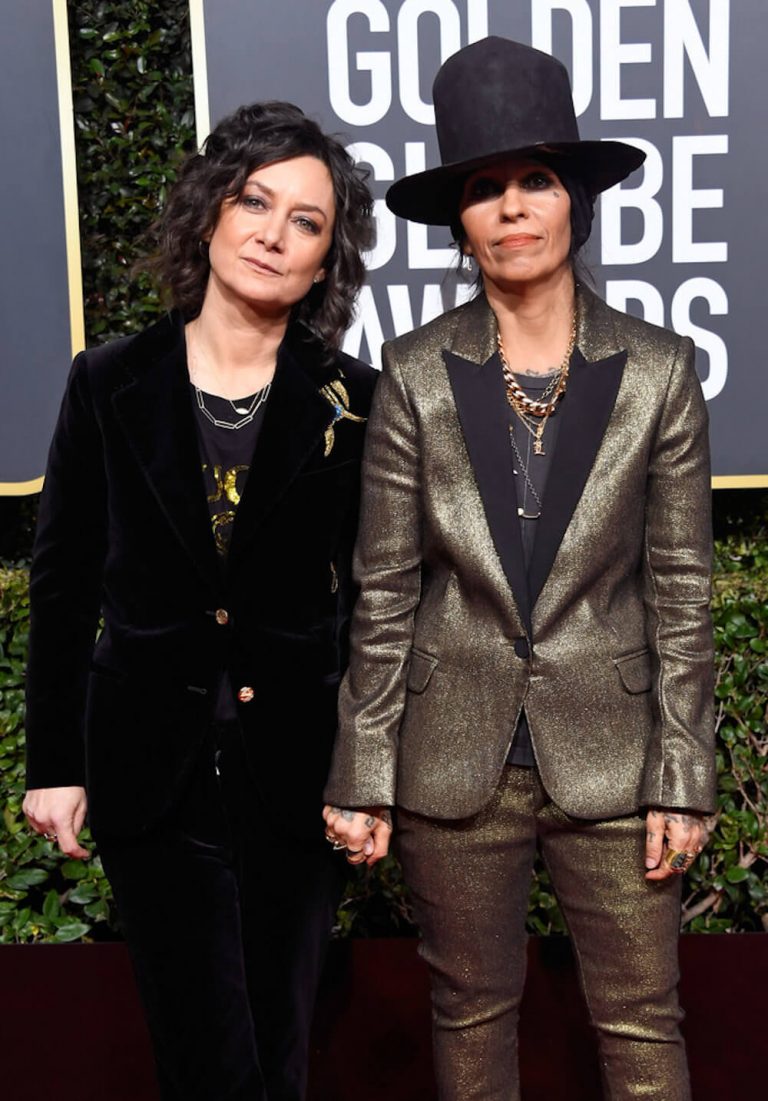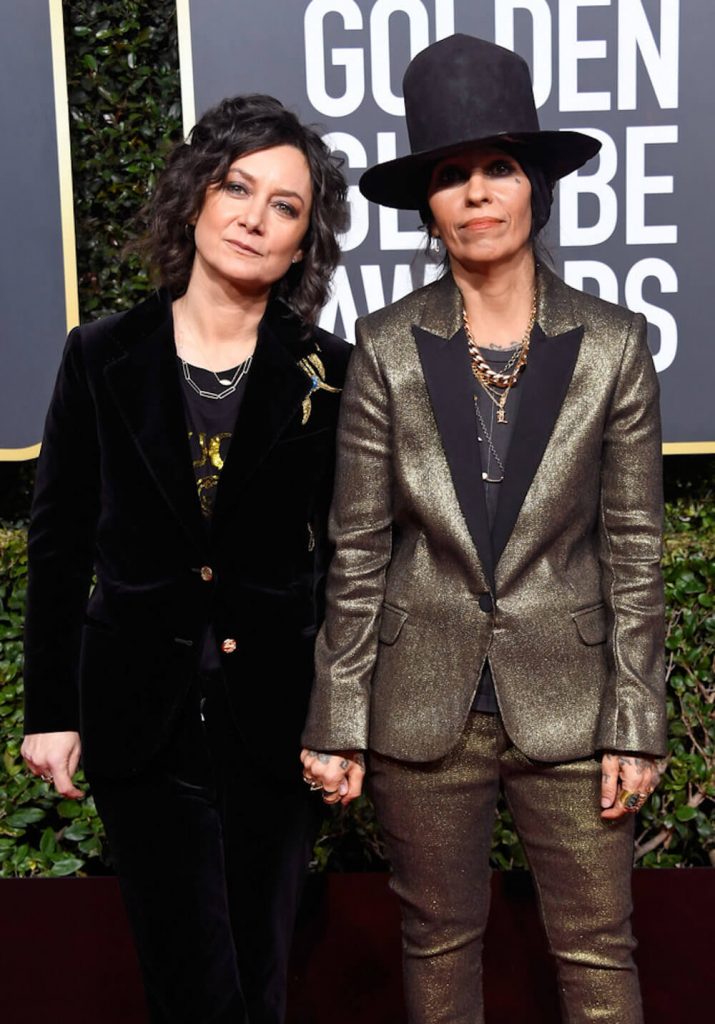 Before they got married, they tied the knot through engagement. Soon after California legalized same-sex marriage, Gilbert and Perry didn't waste any time moving into a more serious phase. Perry proposed to Gilbert, and she said yes right away. Gilbert described Perry's proposal as "the most amazing proposal ever."
Two years later, they married in Malibu, California, with an intimate wedding ceremony and only invited some friends and family.
However, Gilbert was the one who didn't want to get married. When she was still with Adler, she thought commitment and marriage weren't her things. But, she was glad that she felt different from Perry.
"It feels different than you expect," she stated. "You feel safer in a way, and you feel like you've committed, and it's not about, can I deal with this or not deal with it. Instead, it becomes, how will we deal with our relationship together." So Perry is a game-changer, right?!
It didn't stop until that. Gilbert and Perry then decided to have a kid together of their own. It shows how pretty much in love they were at that time, and that was very cute!
Sara Gilbert first announced that she and Perry were expecting a baby in her show, The Talk. And she couldn't be happier.
"I knew when we got married that Linda needed a baby. That even though we were a family – the four of us – she needed to follow a little soul from day one," stated Gilbert at the Family Equality Council in 2016.
Though they seemed the happiest married couple we've ever seen, their marriage didn't last long. After nearly six years together and having one kid, they split. The couple stated that their split was due to significant differences that they no longer can cooperate with.
Gilbert and Perry tried their best to still be the best parents for their kids. Both Gilbert and Perry already had kids from their previous relationships.
And the other sad thing is, the divorce coincided with Gilbert's time leaving The Talk. Some media stated that she wanted to focus more on being with her kids and recovered from the split.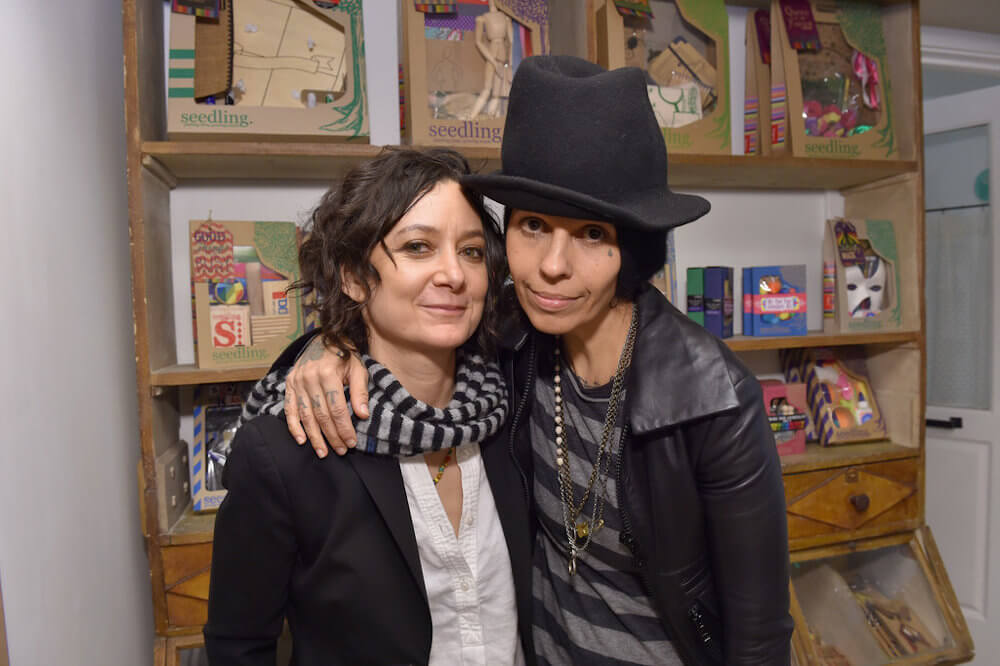 "I've decided that it's time for me to leave the show at the end of this season. I love it here, and as I said, this was extremely difficult," stated Gilbert when she announced her leaving.
However, even after the divorce, Perry said that she was still very much in love with Gilbert. Perry also insisted that their relationship had "evolved into something else."
The two remained good friends until now and continue to co-parent their children.
Breaking Up with Ali Adler: She Cannot Move on from Sara Gilbert 
Before marrying Linda Perry, Sara Gilbert had a relationship for ten years (yes, you read it right!) with Ali Adler. She's a Canadian-American producer and writer. She is best known for her work in Family Guy.
Adler and Gilbert started dating in 2001 and then publicly split in August 2011. It didn't take a long time for Gilbert to move on – and then end up getting married – and the rumor said it made Adler upset. Also, some media said it only took less than two months for Gilbert to spot hands with her new lover, Linda Perry. Is it possible that she saw Perry already, even before they broke up?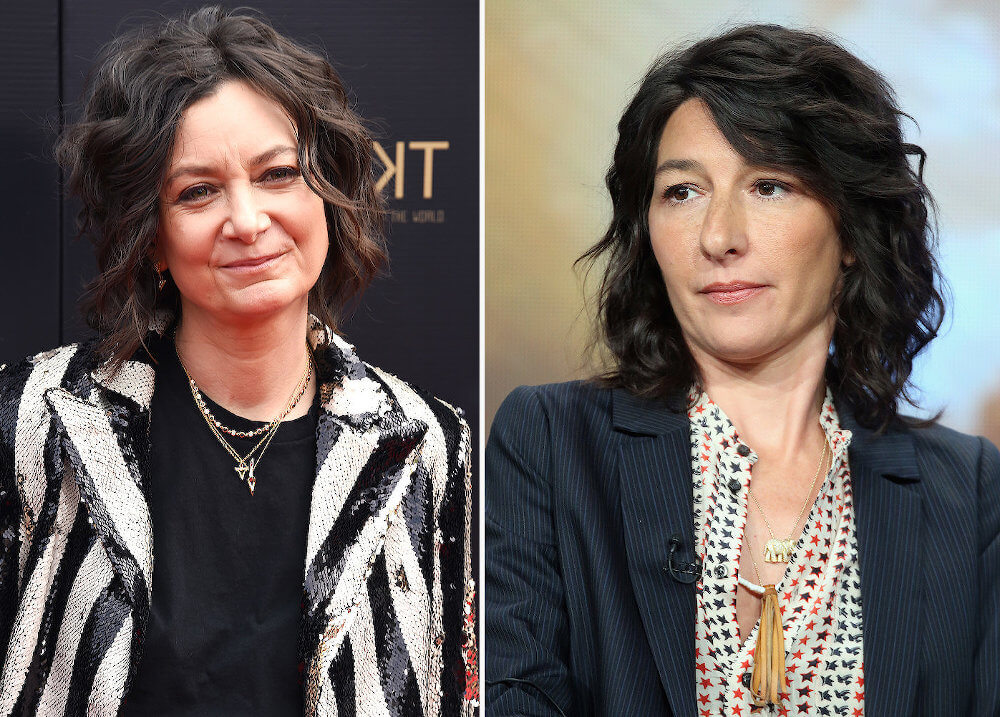 Some people thought that made sense. It was believed to be the main reason they split in the first place.
"It was hurtful for Allison to lose Sara to Linda. To see them splashed all over the news holding hands and being romantic," an insider told Radar.
Adler also wanted to get back to Gilbert, stating that Adler "would have liked to have worked on her relationship with Sara instead of just giving up."
It seemed like Gilbert was the one who wanted to end the relationship. Gilbert used commitment and marriage as an excuse to break up in the first place. But, now here she is, just getting divorced after nearly six years of marriage.
"I feel like I don't know if marriage is all it's cracked up to be. I've never been married, but I was in a long relationship. So it's emotional for me because we're not," told Gilbert in one of her interviews.
Well, I guess she changed along the way after she met Perry? We can never know. One thing for sure is Gilbert didn't seem to have issues when she was with Perry, and their marriage seemed fine until the news about their divorce came up.
Ten Years Together with Two Kids
Though Adler and Gilbert didn't get married, they have two children. Adler gave birth to their first son, Levi Hank, in 2004. Three years after that, in 2007, Gilbert gave birth to a baby girl named Sawyer Jane.
Both of them kept their relationship private, even though it sounds tough after they had two kids. But, they manage to ditch people's attention and just came out in 2010, a year after their split.
After a breakup, Gilbert and Adler shared their children's custody.
Hank and Jane were more close to Gilbert after the breakup, which was why Perry was involved with taking care of them. Not only that, in their little family, Gilbert and Perry decided to have one kid of their own. So, Gilbert has given birth to two girls and had been a great mom so far!
The Truth About Her Relationship with Tobey Maguire
Sara Gilbert is not only linked with women but men as well! In the mid-1990s, Gilbert was rumored to be dating a Spider-Man actor, Tobey Maguire. The rumor said that they dated from 1993 to 1996. Whether or not this was a real thing, Sara Gilbert and Tobey Maguire were close.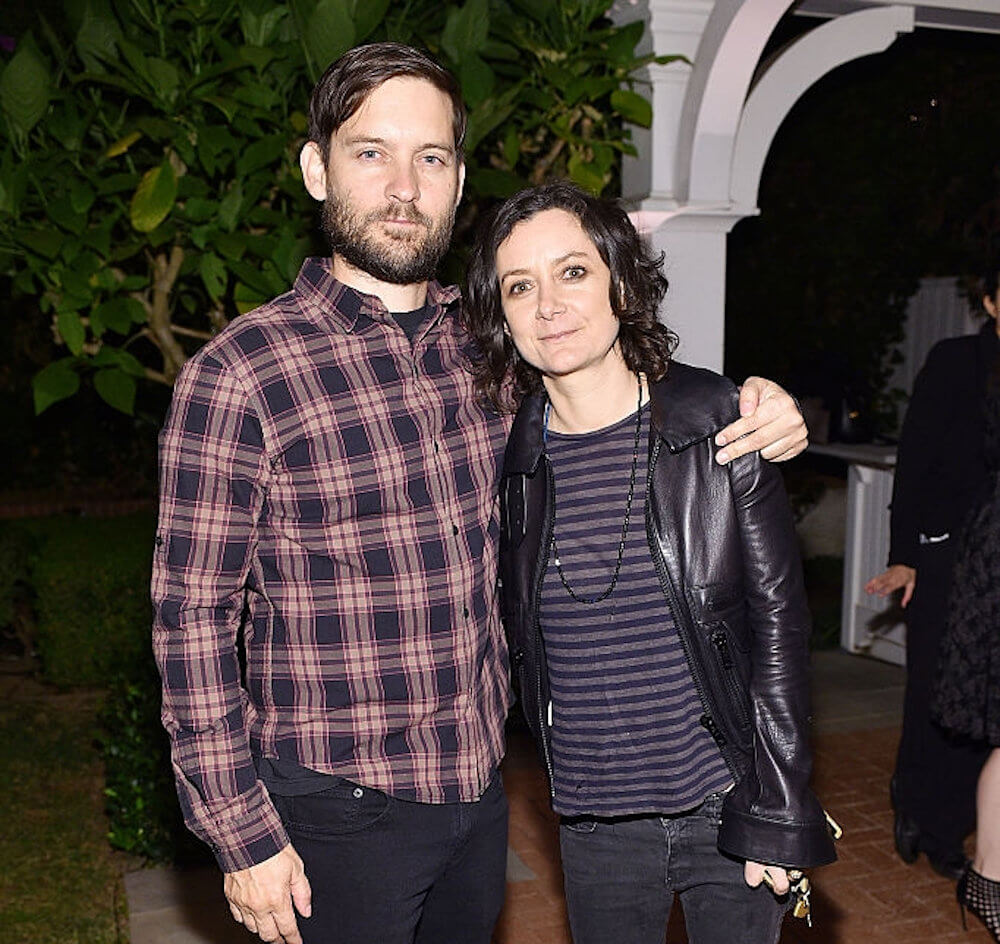 They didn't deny nor confirm the rumor, though. Besides, this happens a long time ago. However, as we had discussed earlier, Gilbert realized her sexuality after she dated and made out with Johnny Galecki in her early teenage years, even before she met Tobey.
So, she must've had realized that she's not into a man at all? So then she and Tobey weren't dating in real life, then.
Even though there wasn't any romantic spark between Gilbert and Maguire, they shared many life journeys. One of the examples was when Gilbert renovated her house back in 2005. She turned to Maguire's house for her, Adler, and their kids to stay.
Other than that, there aren't any pictures of them that can give us any clue that they were a couple back then. 
Guess they're just pretty good friends, and that's good!