Who is Lily Collins Boyfriend? Is She Married in 2023?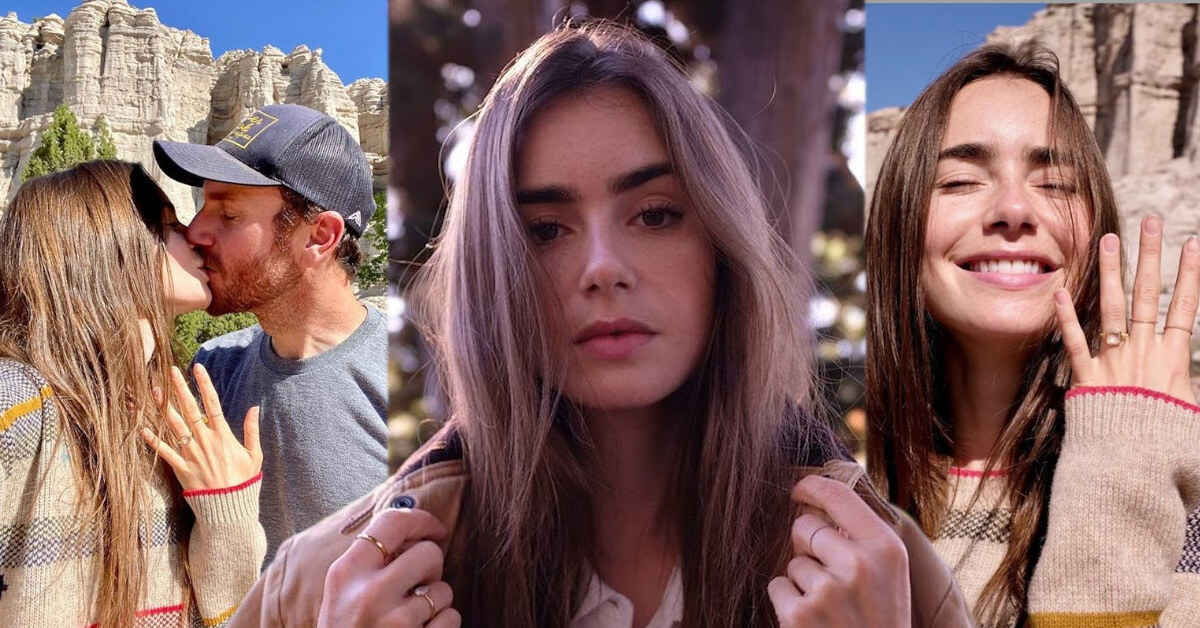 The British-American actress, model, and writer Lily Collins was born on the 18th of March 1989, in Guildford, Surrey, UK. Her first screen role was at the age of two in the BBC Growing Pains series.
Lily became famous for her lead roles in films such as the sci-fi horror action movie Priest, the psychological action thriller Abduction, and the fantastic Mirror Mirror.
Is Lily Collins Married?
The beautiful and talented actress, Lily Collins is currently married to director Charlie McDowell. As per her previous boyfriends, she dated a bunch of her film co-stars. Let's find out more about her husband, and dating history.
Lily Collins and Boyfriend Charlie McDowell
In late 2019, she began dating director Charlie McDowell, but we didn't know for sure until she posted an adorable Instagram photo with him on August 20, 2019.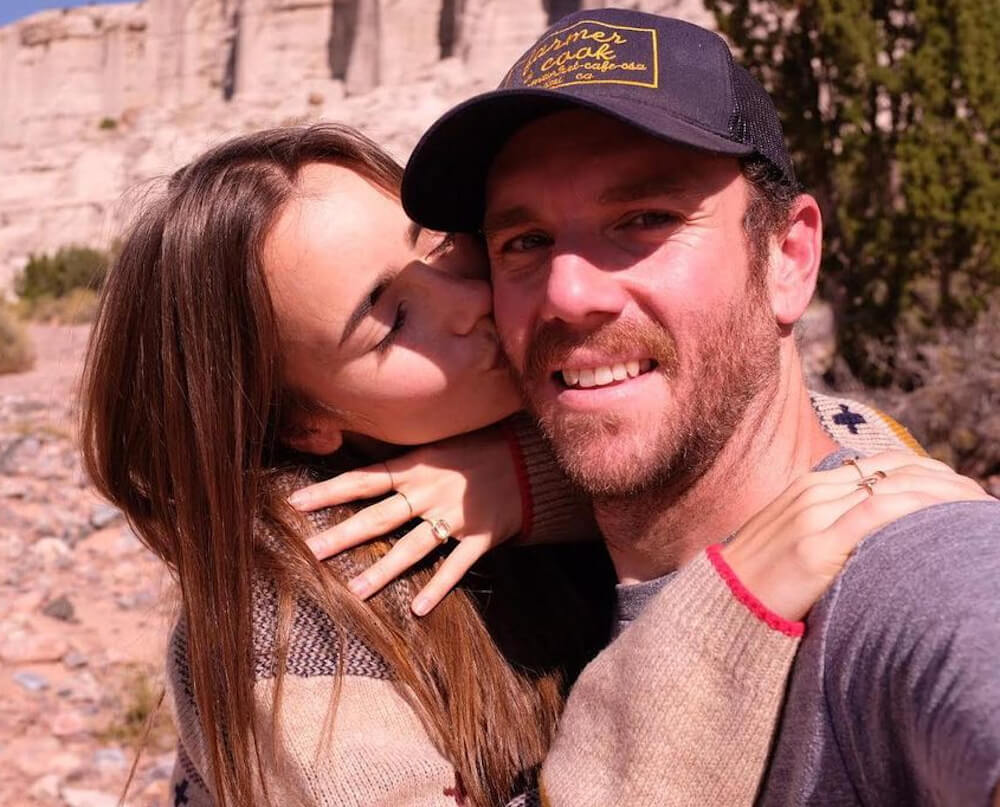 Later, the world went into lockdown due to the pandemic, forcing many, including them to stay home or quarantine together. The experience only brought the couple closer.
After more than a year together, the pair became engaged, with Lily Collins posting the news to her Instagram, captioning an image of her with an engagement ring, "I've been waiting my life for you and I can't wait to spend our life together…"
Emily in Paris star announced that she got married to her fiancé on September 7 with the cutest Instagram post.
She posted a first picture of their happy day and wrote caption:"I've never wanted to be someone's someone more than I do yours, and now I get to be your wife," she wrote. "On September 4th, 2021 we officially became each other's forever. I love you beyond @charliemcdowell…".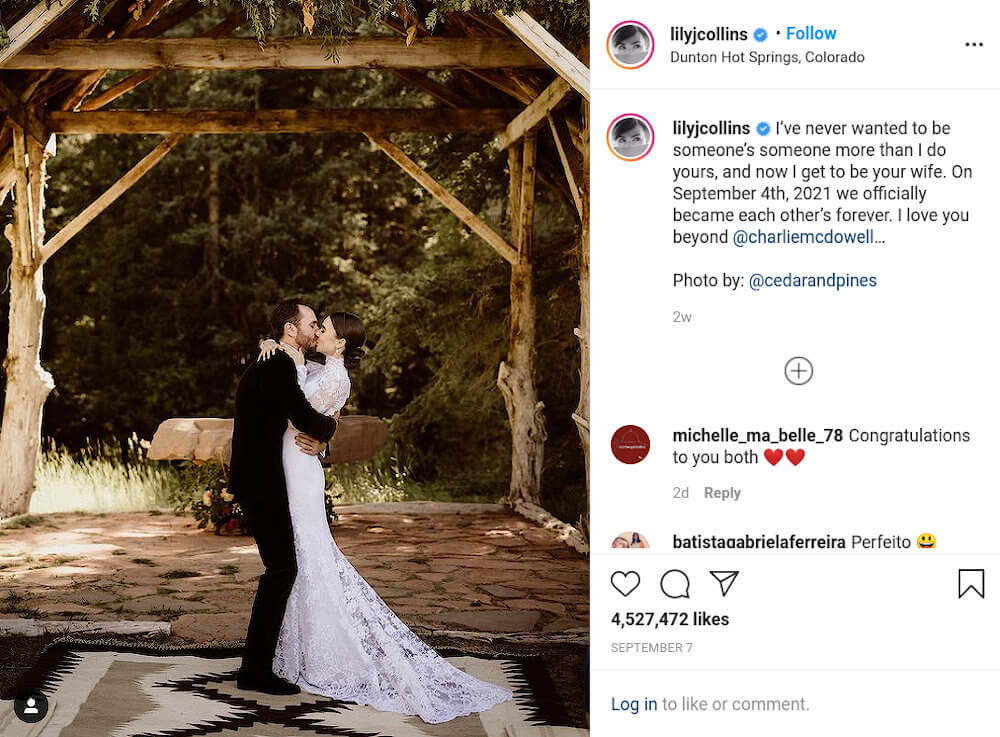 The ceremony was in the Relais & Châteaux resort of Dunton Hot Springs in Dolores, Colorado. The bride was wearing a gorgeous Victorian Era-inspired, long-sleeved and lace gown by Ralph Lauren.
All the pictures from the magical day looked like a fairytale, and the talented photographers who captured all the special moments were Nate and Megan Kantor.
Lily Collins Dating History: Nick Jonas
Lily Collins and Nick Jonas have been friends for a long time, but their relationship recently turned romantic, according to the source.
In early 2016, they both were seen on a couple of dates, including a super-cute night out at a bowling alley. Speaking about their romance for the first time, he told "We went out a couple of times. She is amazing".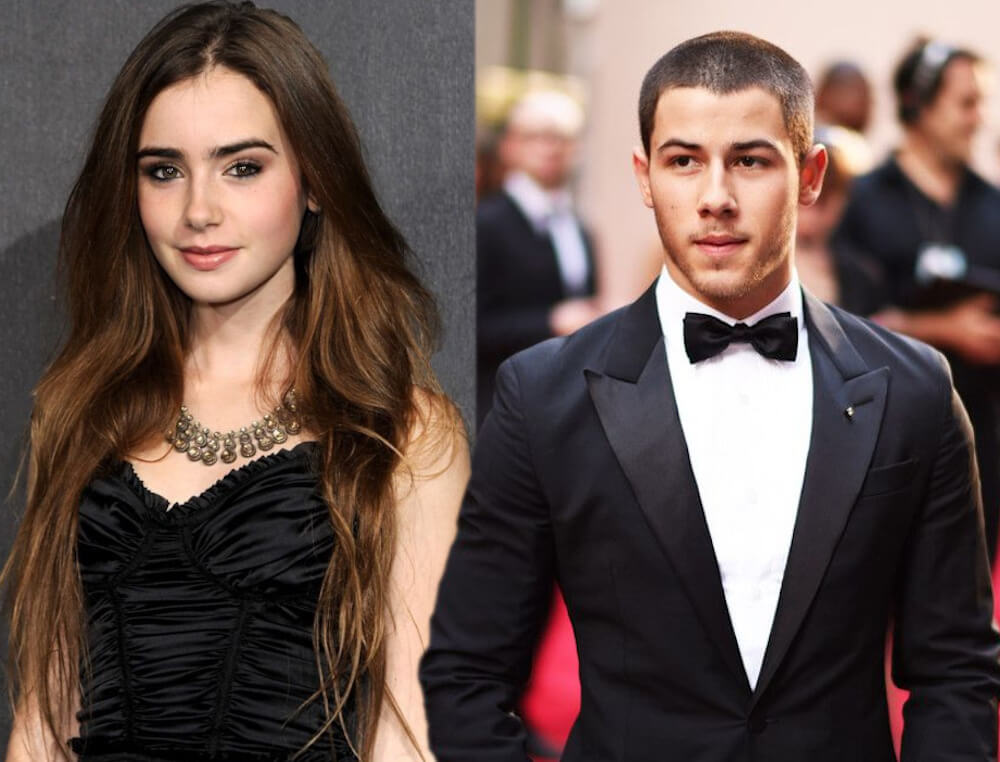 Sadly, the pair split later in the year.
Lily Collins and Matt Easton
During the year 2014, Lily Collins was officially in an open relationship with London-based photographer Matt Easton. It was uncovered by Daily Mail.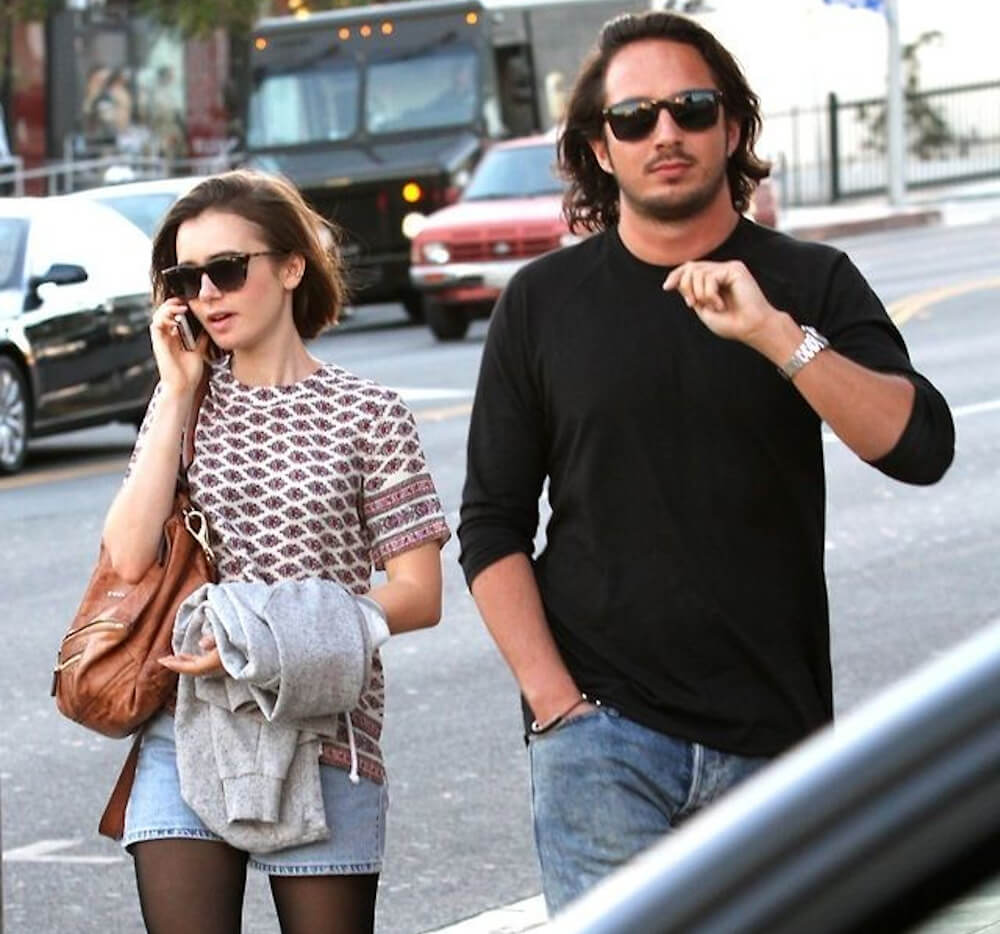 Lily Collins and Thomas Cocquerel
According to reports, the Mortal Instruments star Lily Collins started dating Australian actor Thomas Cocquerel in 2014 after they were introduced by a friend. Speaking at the Lancôme pre-Bafta party, she gushed: "He is gorgeous. And he is making me very happy."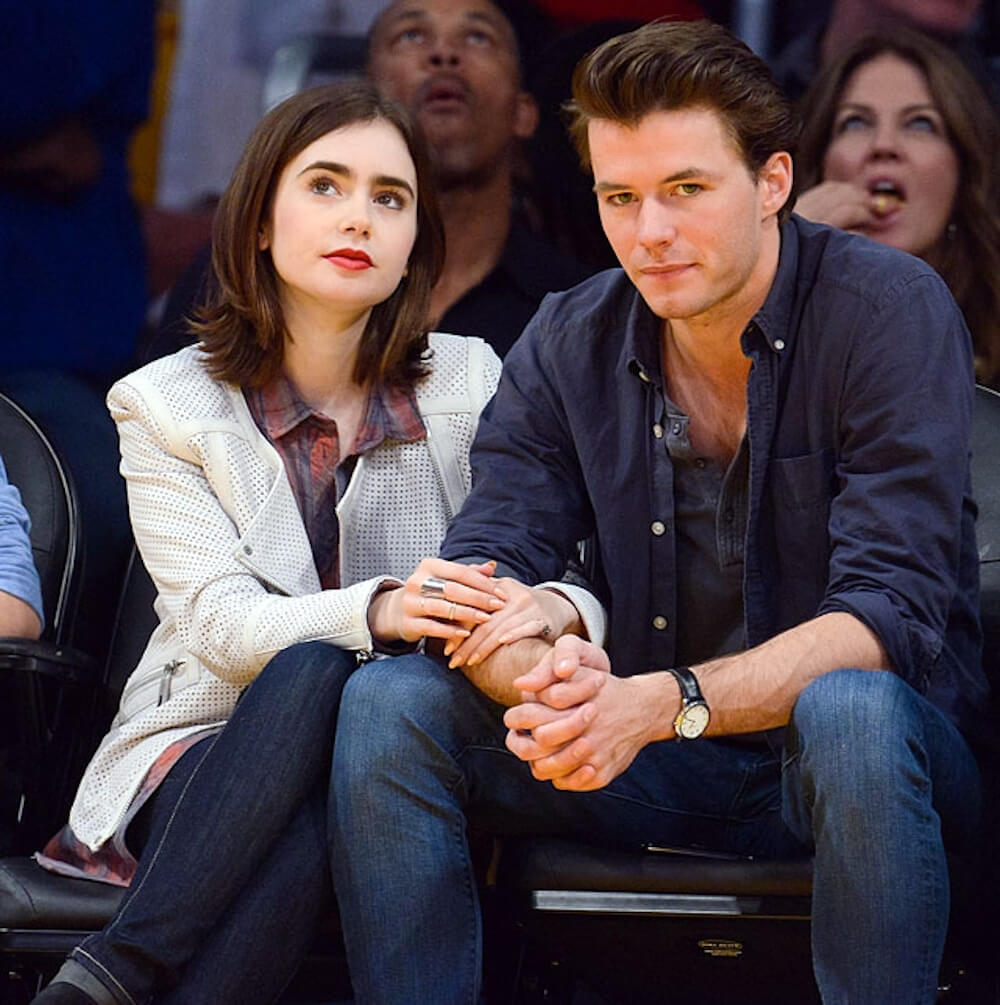 However, the two seemingly split within the same year.
Lily Collins and Jamie Campbell
Lily Collins previously dated her Mortal Instruments: City of Bones co-star Jamie Campbell Bower from June 2012 till August 2013.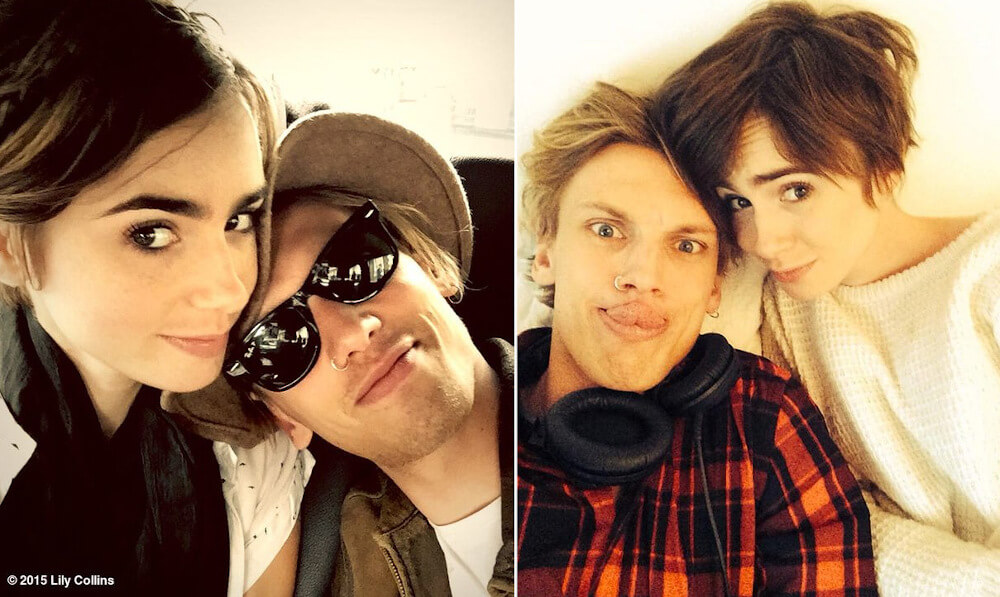 Due to some misunderstandings, they split a year later, but briefly reconciled in 2015.
Lily Collins and Zac Efron
In 2012, American on-screen character, Zac Efron became her boyfriend. Lily was unlucky this time too. A fan snapped a photo of them strolling through Disneyland hand in hand.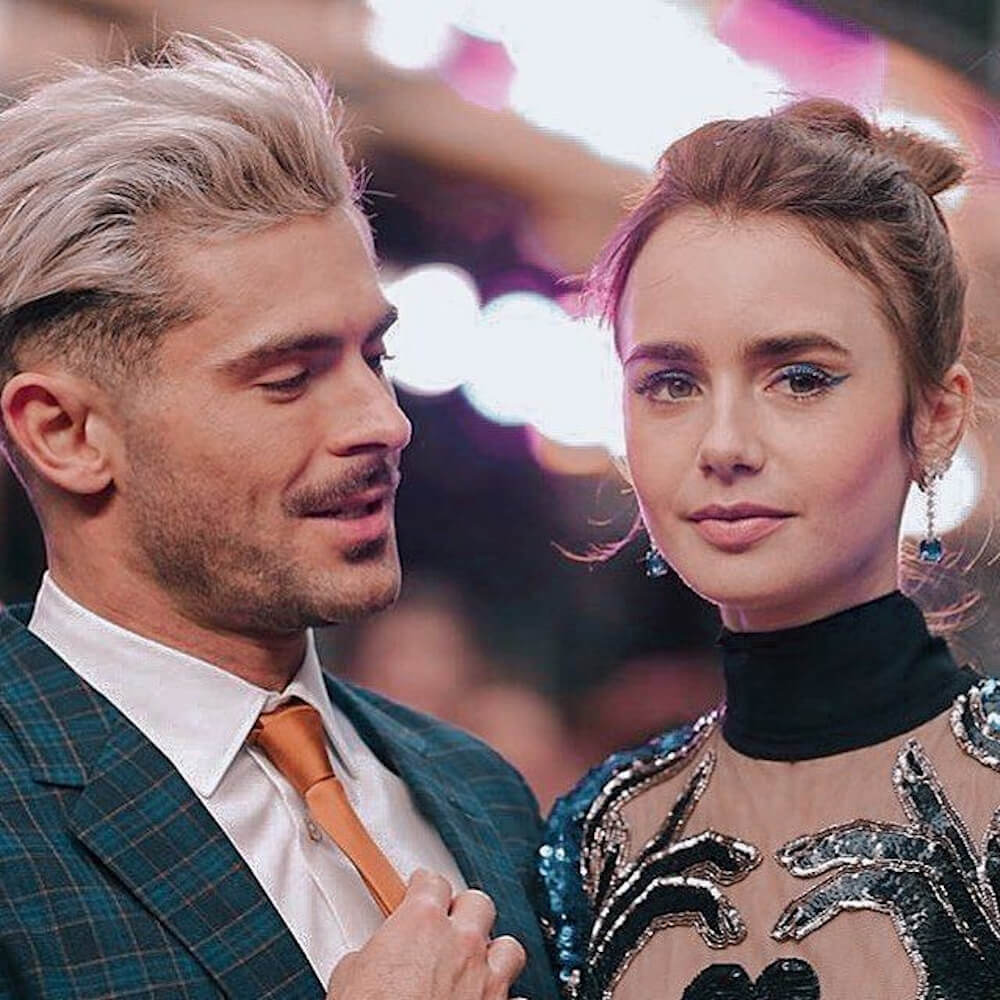 However, they split officially in December 2013 and maintain that they're just close friends.
Lily Collins and Taylor Lautner
Taylor Lautner and Lily Collins were said to be dating after they were spotted at lunch together at a football game in November 2010. Lily met Taylor when she was filming the movie Abduction in 2010.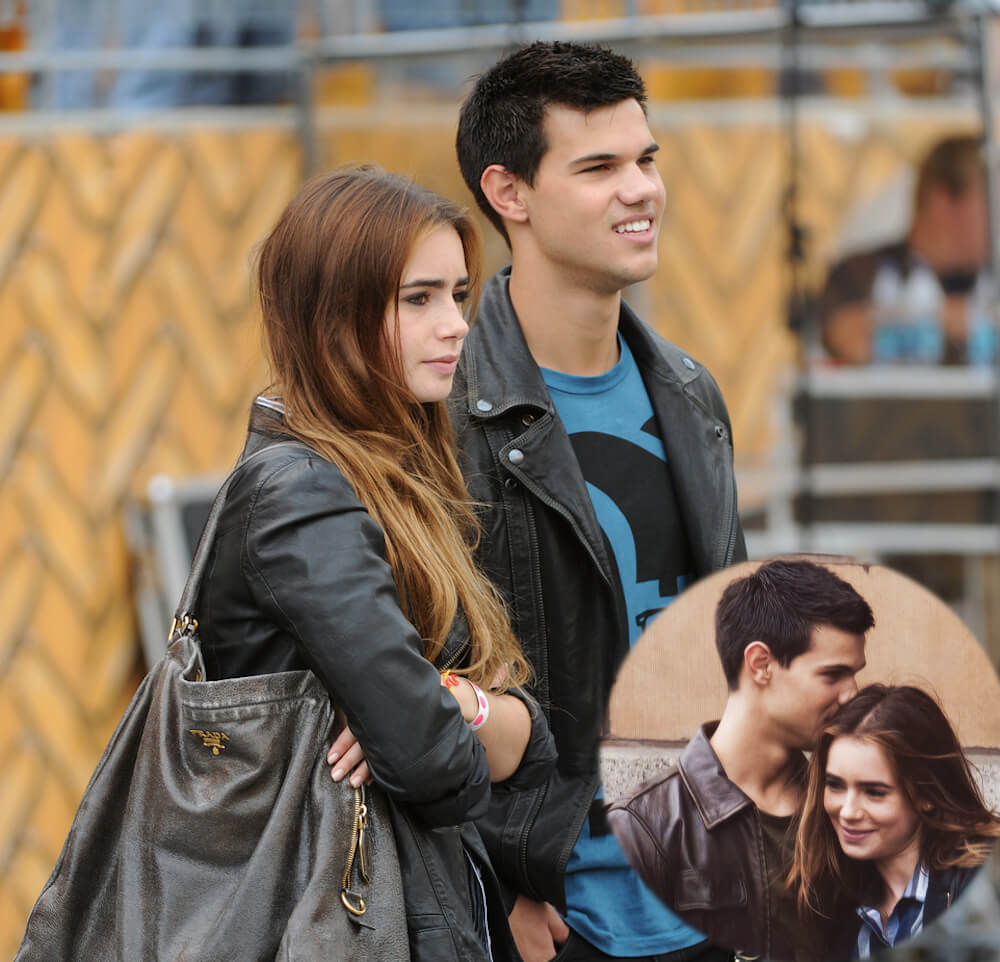 According to the source, their romance didn't last long – they split one week before Abduction premiered.
Lily Collins and Riley Harper
Her long list of boyfriends starts with the American double, Riley Harper in 2009. They initially met on the arrangement of motion picture Priest, where he was performing stunts.
Her first relationship ended with their separation in 2010.