Matt Damon Wife 2023: Inside His Love Life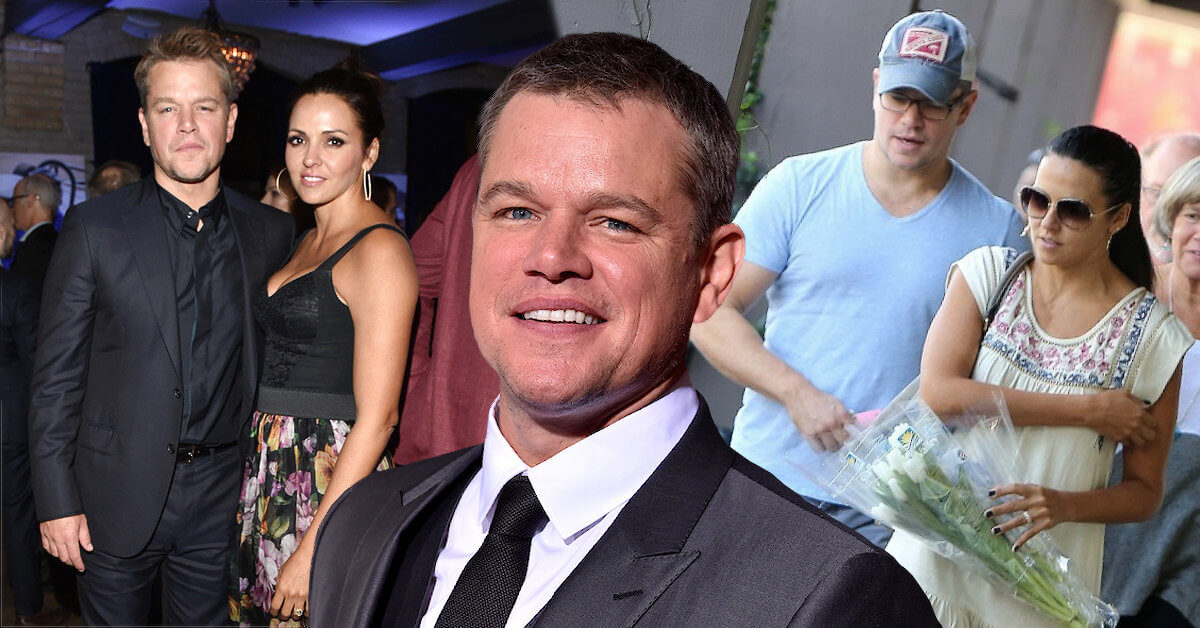 The Good Will Hunting and Saving Private Ryan star, Matt Damon, is a very successful actor, producer, and screenwriter. He is considered one of the highest-grossing actors of all time and featured among Forbes' most bankable stars.
Matt has always been serious about acting and even started to write his play when he was eighteen.
Though his career always comes first, Matt is also serious about relationships. He has been a married man since 2005 and a father of four. Stay tuned to get a deeper insight into Matt's all relationships.
Matt Damon's First Encounter with His Wife Was Epic
Matt Damon can pull any woman he wants, but he chooses to be loyal to his wife for nearly two decades. His wife is Luciana Barroso, whom he met when Luciana was working as a bartender in Miami.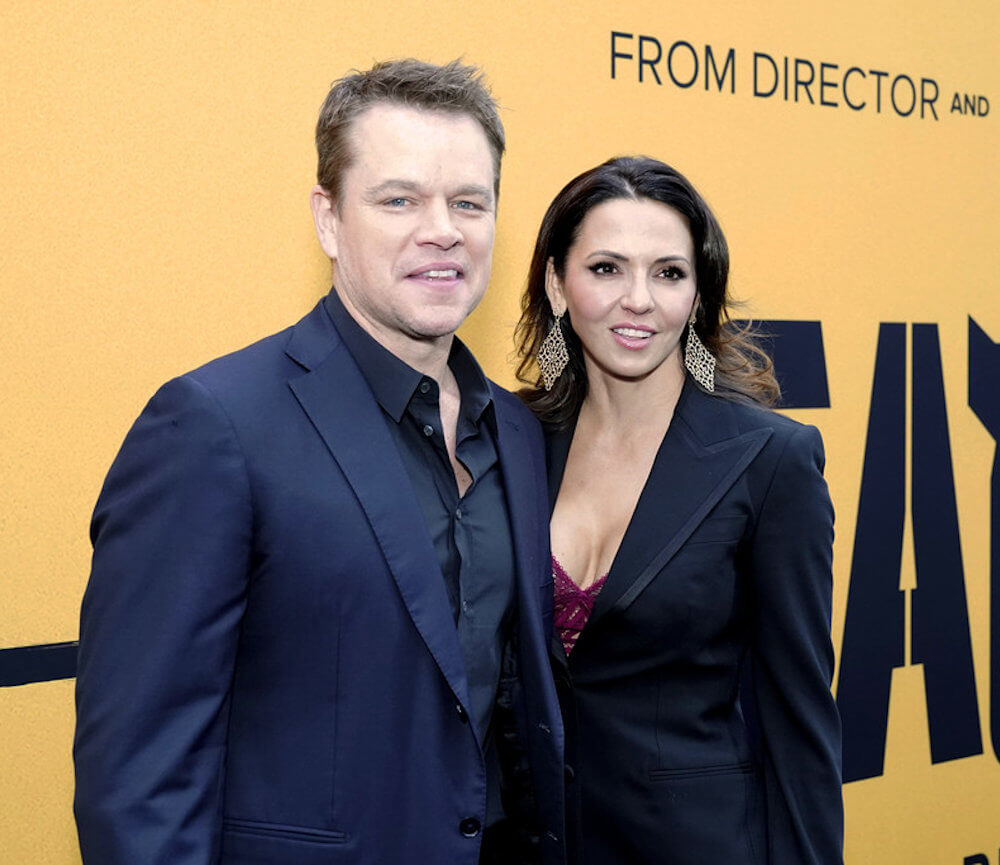 What makes everybody so jealous of her is how she met Matt. Their first encounter sounds like kind of Mr. and Mrs. Smith's storyline. It was just pure iconic.
"I worked as a bartender in South Beach. Matt was shooting a movie there, and the crew ended up in the bar one Saturday night," Luciana reminisced about the day she met Matt to Vogue Australia.
She also remembered that night when more people got crazy for Matt's photos and autographs. That was when he hid behind the bar wanting to hang out and have a drink.
She continued, "He says, 'oh, I saw you, and I wanted to talk to you." Isn't this, like every woman's dream? Luciana is one heck of a lucky girl!
"So I put him to work with me! I said: 'you know, if you're going to be back here, you can't just be standing there!' He had trained as a bartender for a film years before, so he started making drinks. And he made me a ton of money in tips that night because, of course, everyone wanted to go and see him".
Since that epic night at the bar, the rest is history. Matt liked Luciana even before he got the chance to talk to her. And they're still sticking to each other, raising four kids together for 16 years.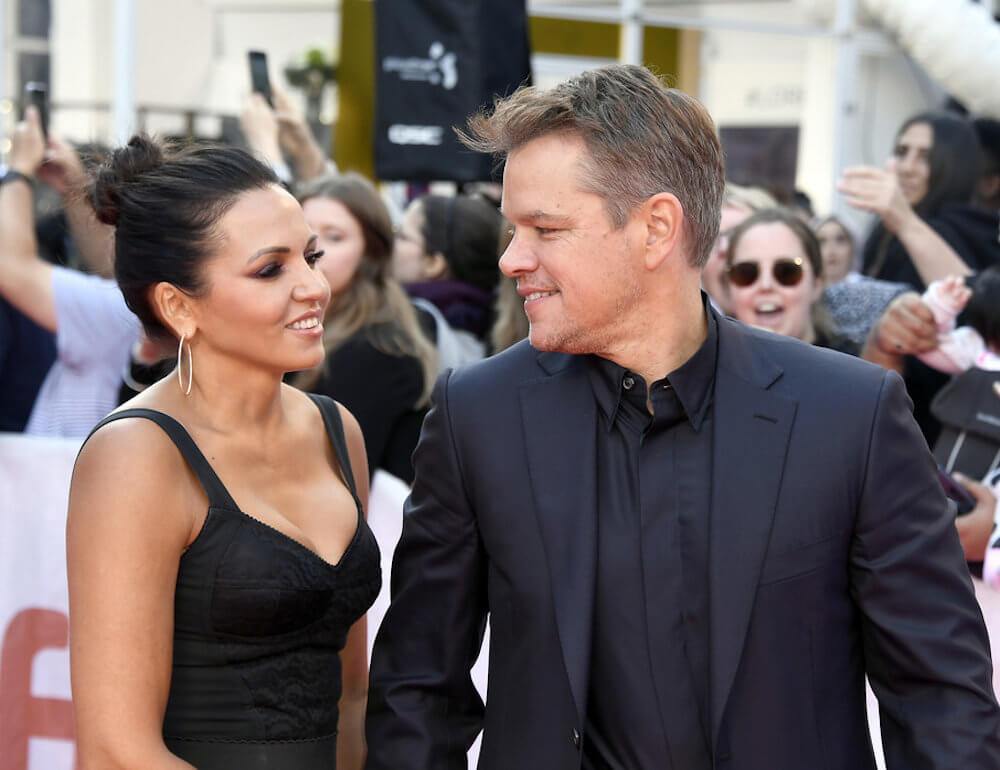 Though Matt and Luciana's first encounter might sound like a fairytale, who would've thought that Matt used to be a person who was skeptical about love and marriage, Matt used to date some women who were famous just like he was before. But, before meeting Luciana, he never thought that being a husband and a dad was designed for him.
So what was it that made Matt Damon fall to his knees for his wife?
"I remember thinking, in my early 30s, that I wouldn't get married," the Jason Bourne star admitted to The Hollywood Reporter in 2015. "I didn't think it was going to happen for me. My brother found his soulmate very young; he'd just turned 26 when they were married. He'd been married for ten years by the time I even met my wife. I guess that's not going to happen for me. And then it did."
So, falling in love with Luciana wasn't precisely his plan back then.
According to Luciana's interview with Vogue Australia, she revealed that Matt loved the fact that she was a hard-working single mom. It usually pushes men away because some aren't ready to keep up with such a big commitment and responsibility on dating her, but Matt was built differently.
Well, we know it when we feel it. Knowing someone like Matt who didn't think marriage was for him and ended up meeting the love of his life is just so refreshing to think about.
But, of course, it is very challenging to juggle lives between family and career. Especially since Matt is no ordinary actor; he is a big star. Matt shared one of the secrets that he's been doing with Luciana for years – and that's pretty much how they maintain a healthy family life until now.
"We have a two-week rule in our family, that's we're not apart for more than two weeks," Matt revealed on CBS Sunday Morning.
However, there were times when the filming process took a long time, and he had to be away for more than 14 days. Even though Matt survived it anyway, he said that being away from his family for more than two weeks was "really tough."
Five Women surround Matt in His Family
When it comes to maintaining his marriage and family, Matt loves to keep it private. He talks about his kids and how much he loves his wife, but he is wise enough not to reveal too many details to the public. Sometimes, sharing too much will only damage some celebrities' relationships.
Matt doesn't mind going out and about with the girls, though. He shared three daughters with Luciana, and before they got married, Luciana already had a daughter of her own from her previous marriage with Arbello Barroso.
Matt's daughters are Alexia, Isabella, Gia, and Stella. Matt expressed his gratitude for being surrounded by so many women in his family, and if there's one thing that Matt realized from it, it is the fact that girls are "smarter."
"I'm learning so much, not the least of which is how much smarter girls are. I operated under the assumption that we, guys, had a chance. But, I realized when I was completely wrapped around Stella's finger, and she knew it. If they can do that to us at a young age when they're fully grown, we don't stand a chance," The Martian actor gushed in his interview with Today.
Currently, Matt Damon is enjoying his quality time with his family while still being one of the biggest stars in Hollywood. No one can do it like him!
Was Matt Engaged in Odessa Whitmire?
Matt's life right now is well put together: he is an excellent father and a loving husband. But, as we've mentioned earlier, Matt was skeptical about marriage. He used to date some famous names in the past, but none were moving in a more serious direction.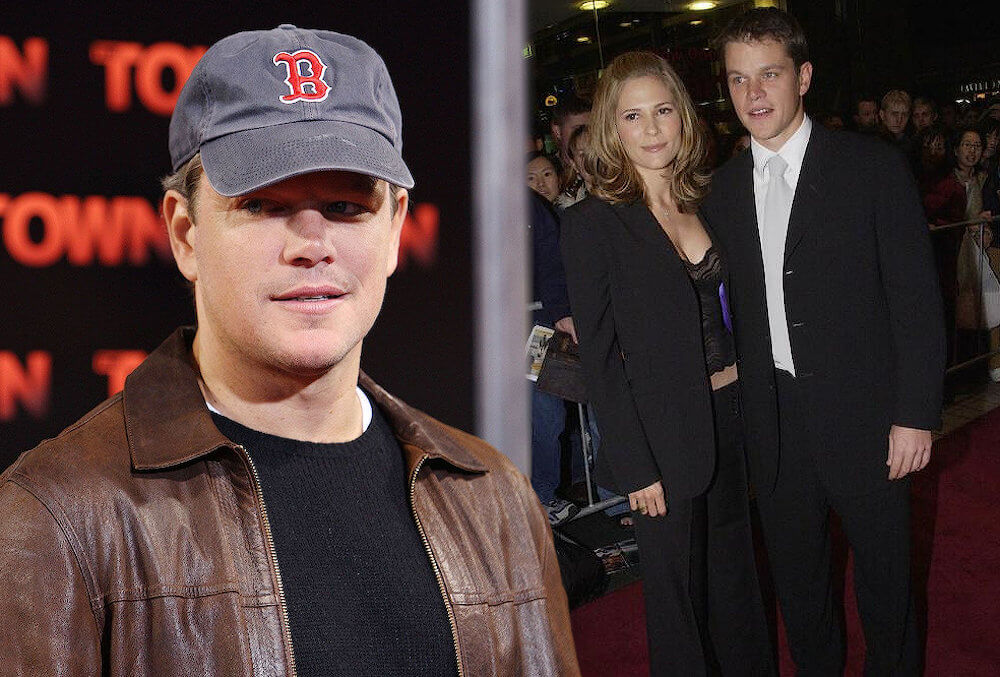 One of them was Ben Affleck's assistant, Odessa Whitmire. Matt and Odessa were dating for two years, from 2001 to 2003. An engagement rumor spread around during their relationships, but Matt's publicist explicitly denied the rumor.
"The rumor that he's getting engaged has been fabricated over the past couple of weeks, but it's not true," told his publicist to the Associated Press.
However, apart from the engagement rumor, we can't know more about Matt and Odessa's relationship. Of course, Matt met Odessa while working with Ben in their successful movie Good Will Hunting. But, Matt has always been a private person, so he didn't reveal much about his relationship.
Matt Damon and Winona Ryder
Another Matt's relationship that is too precious to be ignored is when he dated Johnny Depp's ex, Winona Ryder, from 1997 to 2000.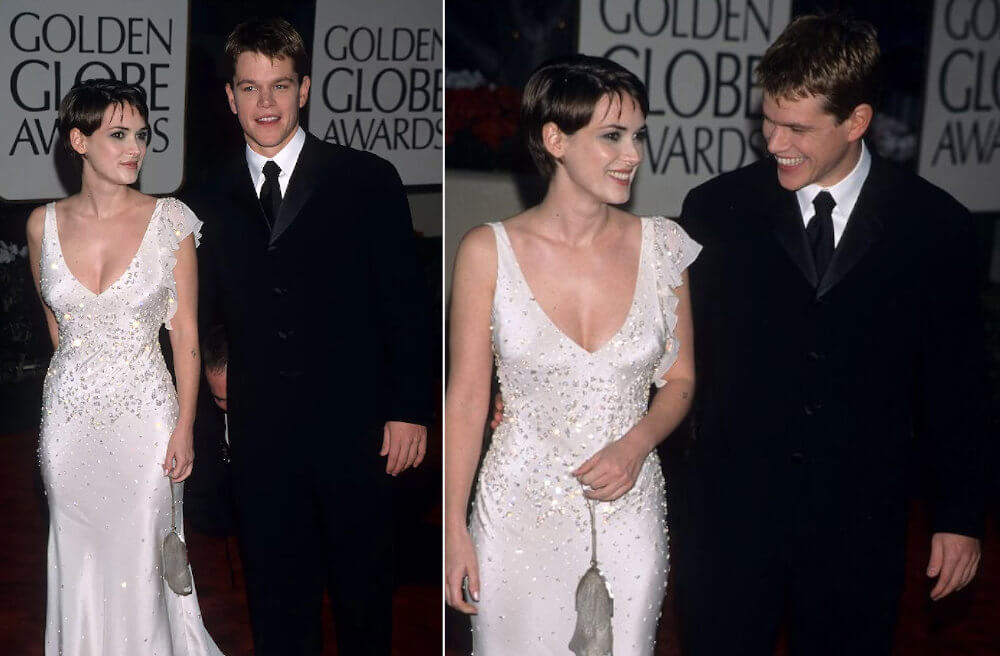 Even though there seemed to be no bad blood and drama in their relationship, some media stated that Matt Damon didn't want to date a fellow actor since he broke up with Winona.
"Matt couldn't be a greater, nicer guy. I'm really lucky that I'm on good terms with him," told The Age of Innocence star in 2009. It indicates that they broke up on good terms.
But, the most important question is: why exactly did Matt Damon and Winona Ryder split? The answer might correlate with the fact that they are both successful actors.
"Don't date a celebrity. I don't think I could fall in love with a celebrity right now because it would mean changing my lifestyle," Matt said during his 2004 interview with Playboy.
And Matt lived up to his word because since he broke up with Winona, he built his happy and peaceful life with Luciana, who isn't a celebrity.
A Not-So-Good Breakup with Minnie Driver
So, is Winona Ryder the only celebrity that Matt dated? Before that, Matt was also dating Minnie Driver, his co star in Good Will Hunting. Their relationship only lasted for a year, and by the time the movie was aired, they had already broken up.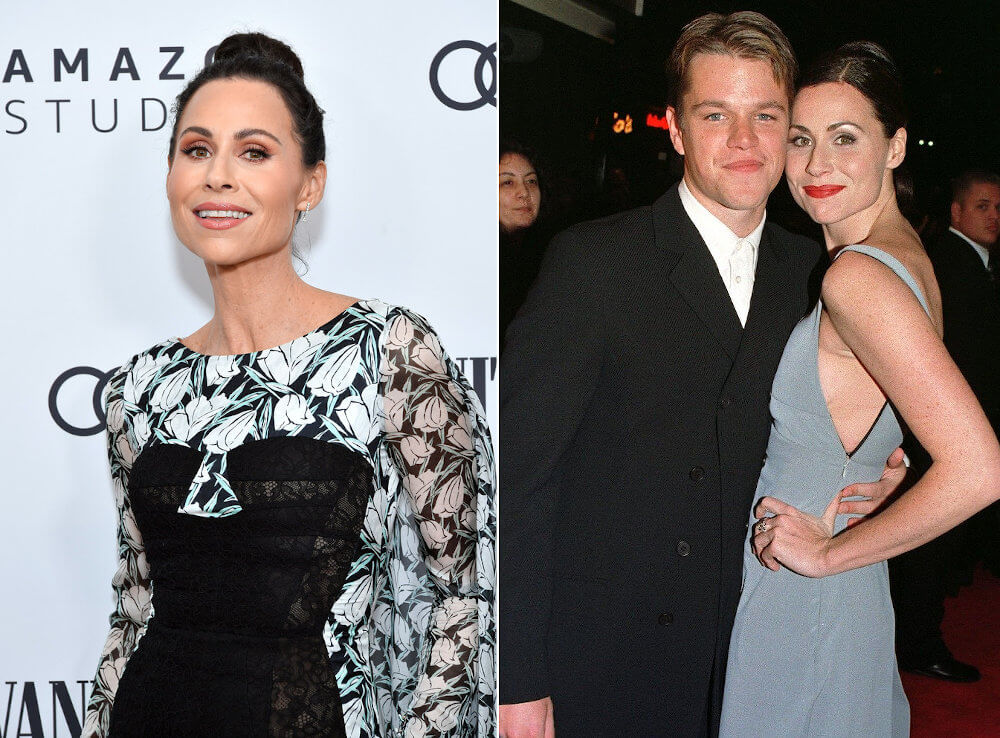 This time, the split wasn't in a good term. According to many media, Matt fell in love with Winona even when he was still with Minnie, which was the main reason behind their split. Matt and Minnie also didn't handle the breakup well, and both of them learned their lessons the hard way.
"I had to be the victim. It's horrendous breaking up with someone anyway, but to have it be so public and to be cast in a role in the tabloids that I would never play if they were paying me," Minnie stated in her 1998 interview.
Matt never confirmed or denied the real reason behind his split with Minnie. Still, it was obvious because Matt and Winona's relationship started to become the headlines everywhere in no time. From that, Matt just realized how much he values his privacy and peace. We're glad that Matt has learned from his mistakes.