Leo Woodall Girlfriend: Is He Dating Anyone?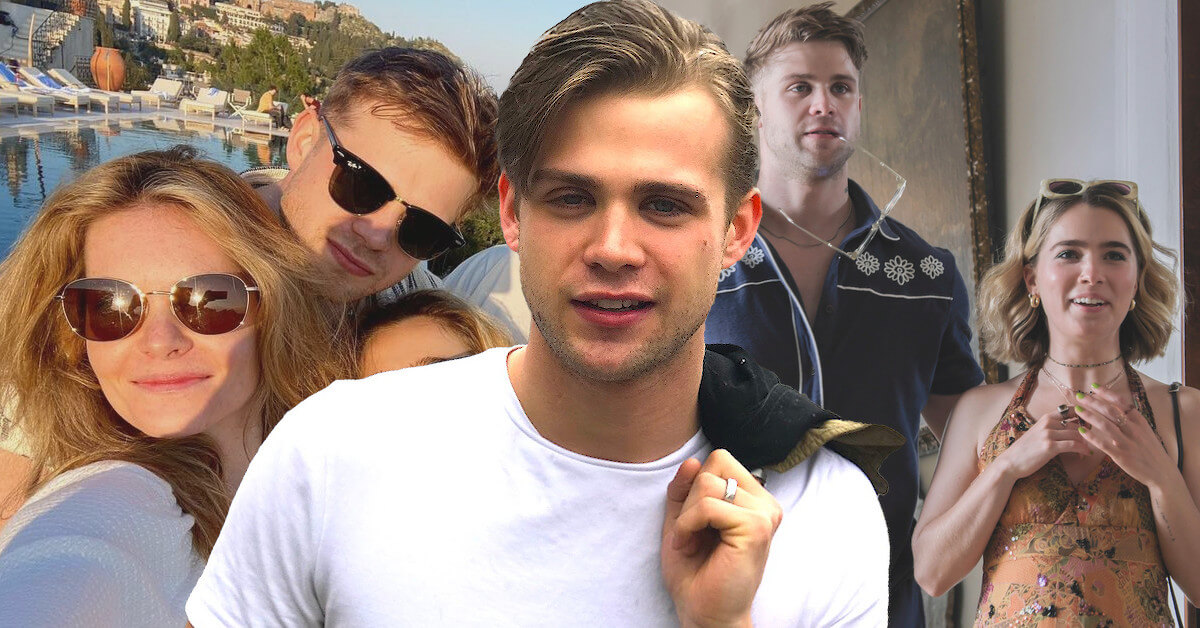 A British actor, Leo Woodall, recently sparked a rumor with his costar in The White Lotus, Meghann Fahy. The news about this pair made the public believe that Leo Woodall was not gay, different from what he portrayed in the series.
However, were there other actresses who were romantically related to Leo Woodall? Okay, let's discuss this matter thoroughly below.
Leo Woodall's Girlfriend: Could It Be Meghann Fahy?
The rumor that Leo Woodall and Meghann Fahy were dating was because the public saw them exchanging flirty comments through Instagram.
Leo once posted Instagram carousels on September 11, 2022; some contained his photos alongside Meghann Fahy.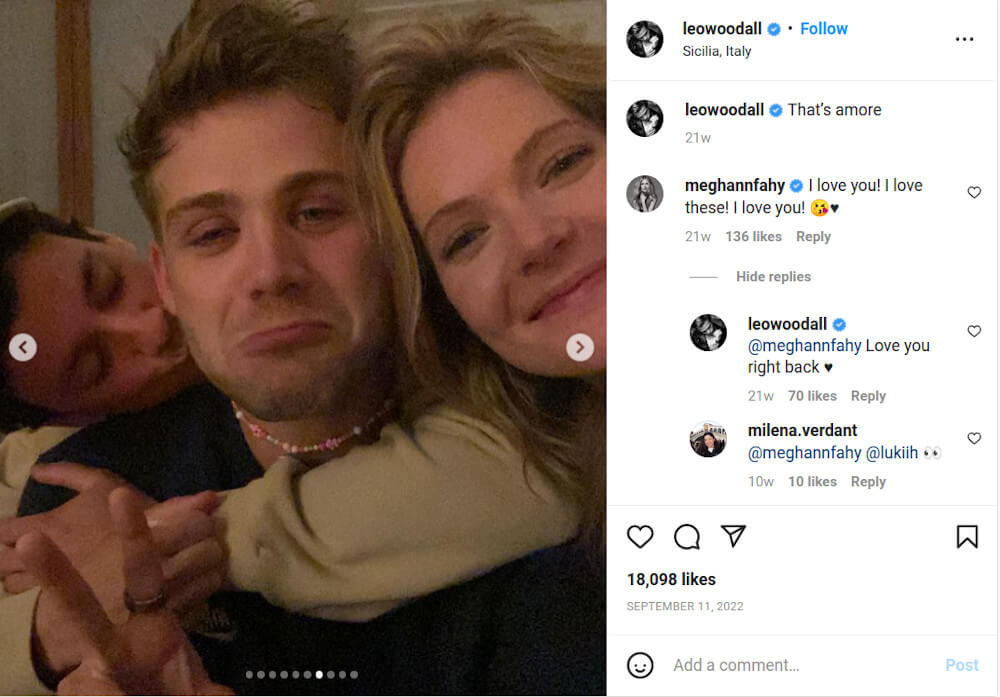 And Meghann Fahy commented on his Instagram post with flirty sentences. She wrote, "I love you! I love these! I love you!" along with kisses and heart emoticons.
As Leo Woodall replied to her comment by saying, "Love you right back," people seemed to think they became secret lovers.
Leo's Instagram post was not the only evidence that the two might be dating. It showed that Leo Woodall once commented on Meghann Fahy's Instagram post. The post showed Meghann, who elegantly posed for Elle, and she thanked them in her caption.
The caption said, "And thank you, @elleuk. I love the UK, and I love all of the Elles!"
Seeing this, Leo Woodall replied, "The UK loves you back." This comment made Meghann reply with a heart emoticon.
Who wouldn't suspect that the two had a thing if they kept exchanging comments like this?
Furthermore, the New Yorker posted news about Meghann Fahy buying two T-shirts for Leo Woodall and herself. Meghann Fahy bought these T-shirts because Leo and herself were Eminem's fans.
However, neither Meghann nor Leo hadn't made any announcement about their relationship. So, it is safe to say they are just friends now. Who knows that later the two could become a pair?
You might be curious about the relationship between Leo Woodall and Haley Lu Richardson as a costar in The White Lotus now. Let's uncover the truth below.
Leo Woodall's Girlfriend: The Relationship with Haley Lu Richardson
While people seemed to be preoccupied with the news about Leo Woodall and Meghann Fahy, there was something funny about the relationship between the actor and Haley Lu Richardson.
Haley Lu Richardson was one of Leo Woodall's love interests in The White Lotus.
Haley confessed that she unintentionally burped Leo's mouth during the kissing scene. She said this through her Instagram story. The actress captioned the Instagram story, saying, "You are effortless and so good! I am sorry I accidentally burped in your mouth during that kissing scene!"
Leo Woodall didn't mind that, as he didn't make any comment about it. Instead, if we look at their conversation in the sixth episode of The White Lotus Season 2, it seems that Leo Woodall and Haley Lu Richardson had great chemistry during filming.
It showed when Portia (Haley) casually asked Jack (Leo) whether he had any goals. In that scene, Leo Woodall said his excellent quote while talking with Haley Lu Richardson.
Leo said, "I think you just got to live every day as it comes. Like, that's what I do. Who knows if we're even going to be here tomorrow?"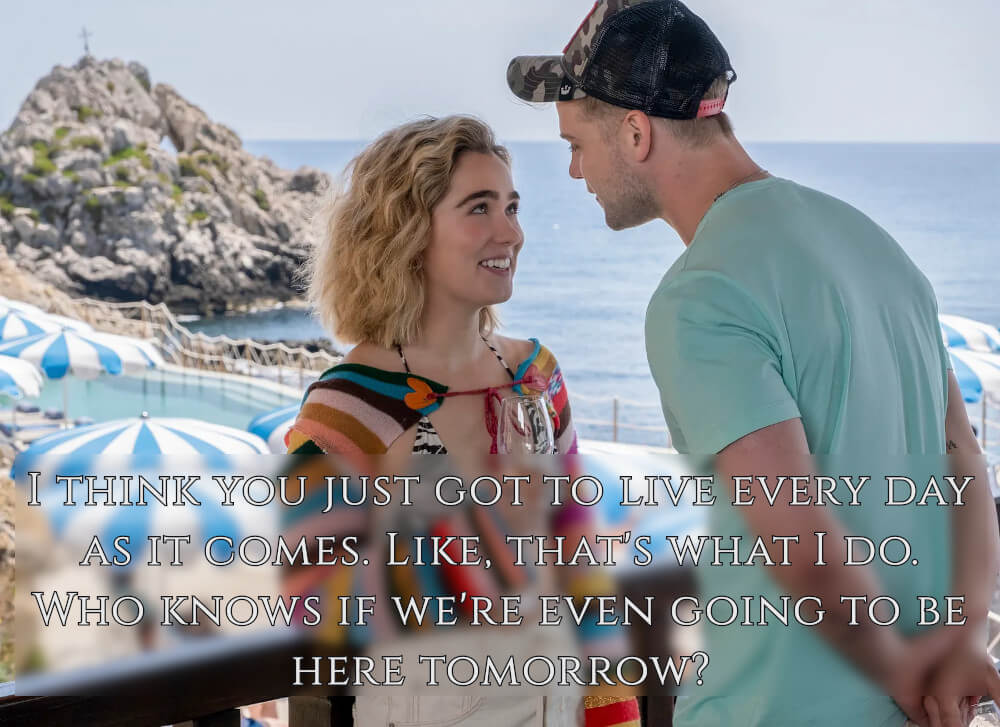 Even though this sentence was from the movie's script, it was surely a great quote. Some fans may support these characters being a pair in real life.
Do you think Haley Lu Richardson is suitable for Leo Woodall in real life?
While thinking about this, let us see the relationship details between Leo Woodall and Ambika Mod, who were going to star in the Netflix series, One Day, below.
Leo Woodall's Girlfriend: The Relationship with Ambika Mod
Are you familiar with the movie called One Day? The film, which was first released in 2011 and starring Anne Hathaway and Jim Sturgess, will now be remade by Netflix.
This time, Leo Woodall would play Dexter Mayhew, and Ambika Mod would play Emma Morley.
Ambika Mod posted this news on her private Instagram account on June 24, 2022. She captioned the post, "Sorry to Anne Hathaway," and the public seemed delighted to hear this.
Many fans showed their support by saying, "I am going to make sure to watch this," and "This is going to be epic." Yes, who wouldn't be happy that everyone's favorite movie would appear again on screen?
The excitement also came from Leo Woodall. He posted the news about One Day on his Instagram account while captioning the feed, saying, "Honored is an understatement. Em and Dex. Dex and Em. Let's go, Ambika Mod!"
The fans were excited about One Day's announcement on Tom's Instagram account. One of them also said that Leo should post more pictures about this Netflix series. Let's hope that the series will be released soon.
Seeing that Leo Woodall and Ambika Mod were earnestly promoting the series on their Instagram account, could their chemistry on this upcoming series be perfect?