Elizabeth Gillies Husband: All About Michael Corcoran & Dating History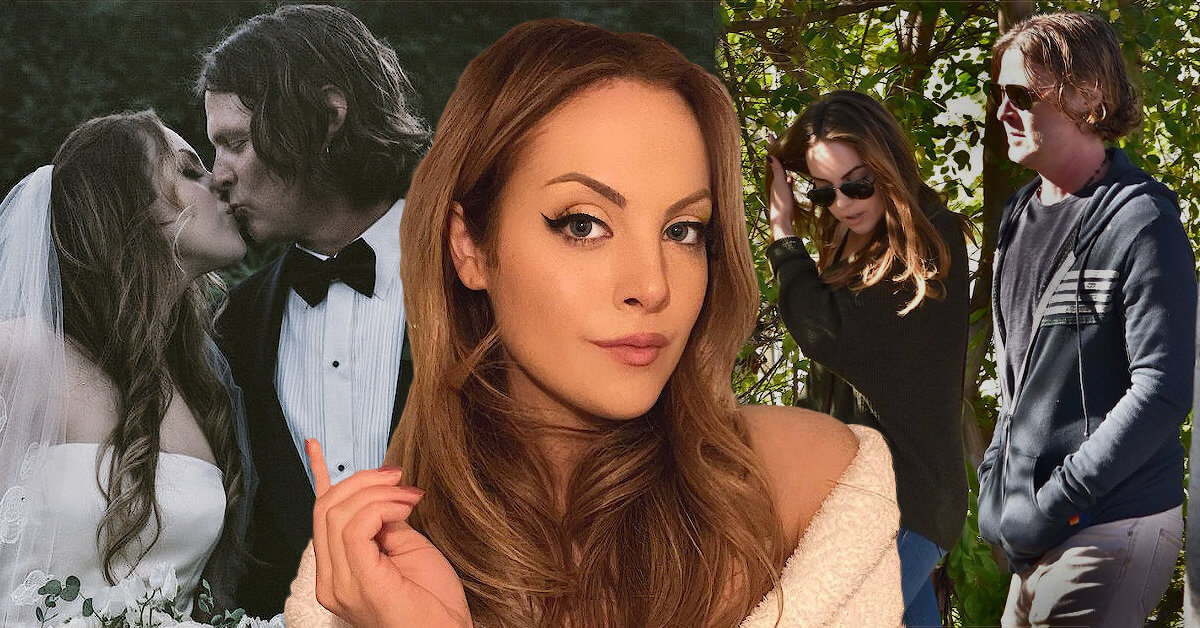 Elizabeth Gillies is a part of every 90s children's childhood. In Victorious, her role as Jade West made her into the 'either you love her or hate her' type. Being the sweetheart of the Nickelodeon channel, she also got a cameo role Big Time Rush series and lent her voice for Daphne in Winx Club.
Elizabeth experienced her breakthrough through a sitcom by Nickelodeon, Victorious. She left strong impressions on the audience with her 'bad girl' character, Jade West, who also happened to be the frenemy of Victoria Justice's Tori Vega.
Not only acting, but Elizabeth also sings! She was featured in several soundtracks for Victorious and in a duet for best friend Ariana Grande's EP in 2013. Elizabeth also starred in two musicals. One of them, 13, is a Broadway production.
Private Wedding and Relocating with Husband Michael Corcoran
While Elizabeth Gillies has been the childhood celebrity crush of many, only a few people know about her personal life and those inside it.
Fans and the general public were stunned when Elizabeth posted a picture of her in a wedding dress on her Instagram account. Many people weren't even aware that Elizabeth Gillies was dating someone!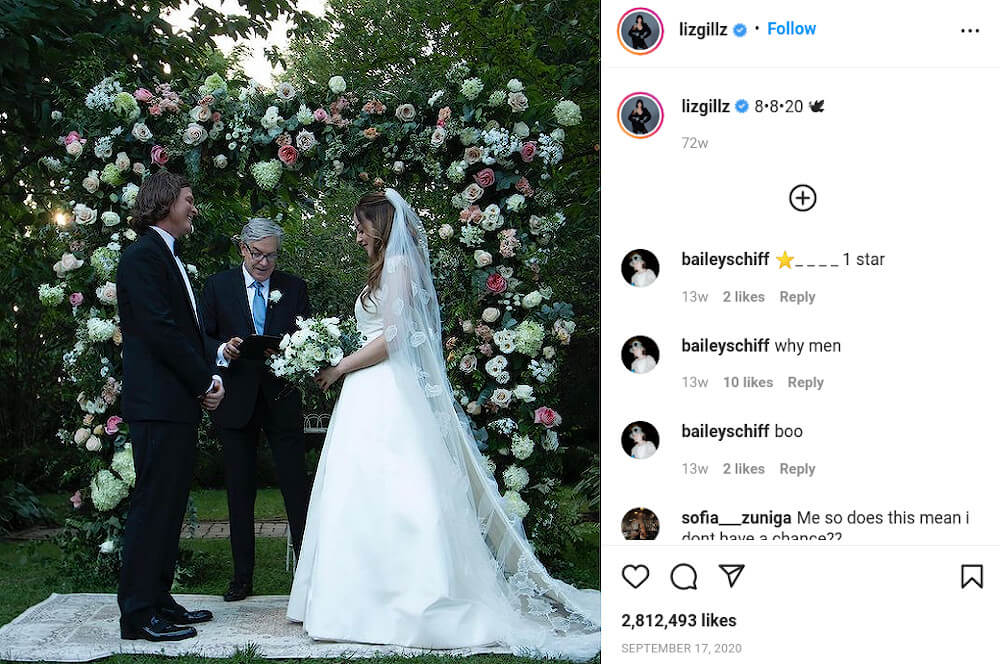 Elizabeth Gillies married American composer Michael Corcoran in 2020 after dating for six years. The couple initially set a date for the big day on April 25, 2020. Unfortunately, just like hundreds of thousands of people whose plans were canceled, they decided to postpone their wedding due to the pandemic.
Elizabeth and Michael agreed to postpone their wedding in a heartbeat because they thought that "it didn't feel right to be celebrating in such a big way when there was so much going on in the world."
"Once we saw how dire the situation was, we knew we had to postpone," Elizabeth told Vogue. "There were more important things to focus on. Our wedding could wait," she continued.
The couple told Vogue that they wanted to postpone their wedding for a year until it was safe to hold a huge, extravagant wedding ceremony. However, as time went on, both felt that "a big wedding was no longer something that made sense for us."
Michael also added that in hindsight, the pandemic "focused everything down to what matters in life."
What would have been an extravagant wedding thus shrunk into a family affair held at a picturesque Colonial-era farm in New Jersey, which also happened to be Elizabeth's hometown.
Despite the simple and private celebration, the pair were very happy with their wedding. "It was everything I could've asked for," Elizabeth admitted.
Even before the wedding, Elizabeth had already thought to relocate to Atlanta, where she worked on her show, Dynasty, for the past two years. Elizabeth joked that it was "a big deal" to get Michael to move to Atlanta because "he's a California guy through and through."
It turns out that Michael didn't just grant her wish to relocate but also prepared a surprise proposal on the backyard of their new home!
"When we got there, he started leading me down to the backyard," Elizabeth recalled the moment to Vogue. "All of a sudden, he got down on one knee and proposed to me right there," she continued.
While Elizabeth thought that the proposal was "a perfect proposal," Michael only had one thing in mind when he finally proposed: relief.
"I had to travel with the ring in my pocket all day," he told Vogue. "It was tripping me out to have it on me for so long."
Well, thankfully, she said yes!
Elizabeth Gillies' 20-year old Gap with Her Husband
Elizabeth Gillies got fans cooing on the adorable shots of her and her husband Michael Corcoran on their wedding day. However, many of them also discussed the surprising age gap between the pair; 20 years!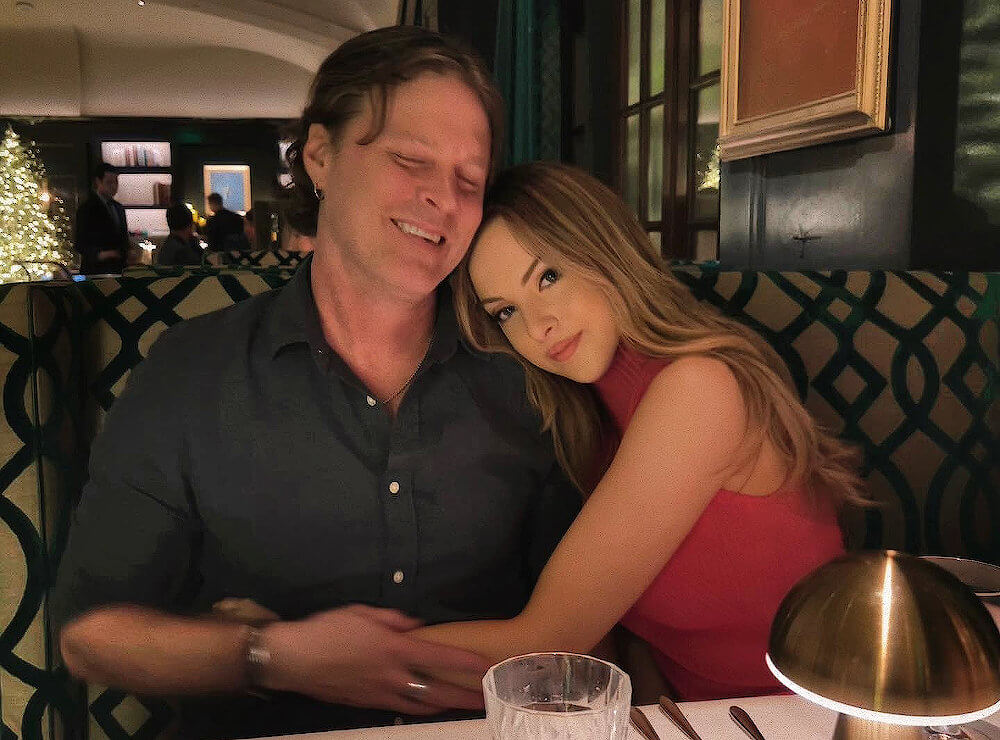 In an interview with Vogue, the pair walked down the memory lane on their relationship. They stated that it took six years of dating before Michael decided to pop the question. Although Elizabeth admitted that she "always had a crush on him" before dating because she "played it cool."
Elizabeth and Michael first met on Victorious, where Michael, alongside his Band Backhouse Mike, wrote and produced several songs for the sitcom's soundtrack. Elizabeth was in her teens during the Victorious era, while Michael was in his late 30s.
Despite the couple admitting that they started dating in 2014, which was when Elizabeth turned 21, many fans are concerned that they had an interest in each other before she reached the legal age.
Fans also assumed that their huge age gap could be the main reason why they chose to keep their mouths shut regarding their relationship.
Fans can only hope that she is safe and happy with the present situation!
Years of Speculation: Dating Rumors with Co-Star Matt Bennett
Like how her relationship with Michael Corcoran started, the dating rumors with Matt Bennett were also fueled by one fact: they both are casts in Victorious.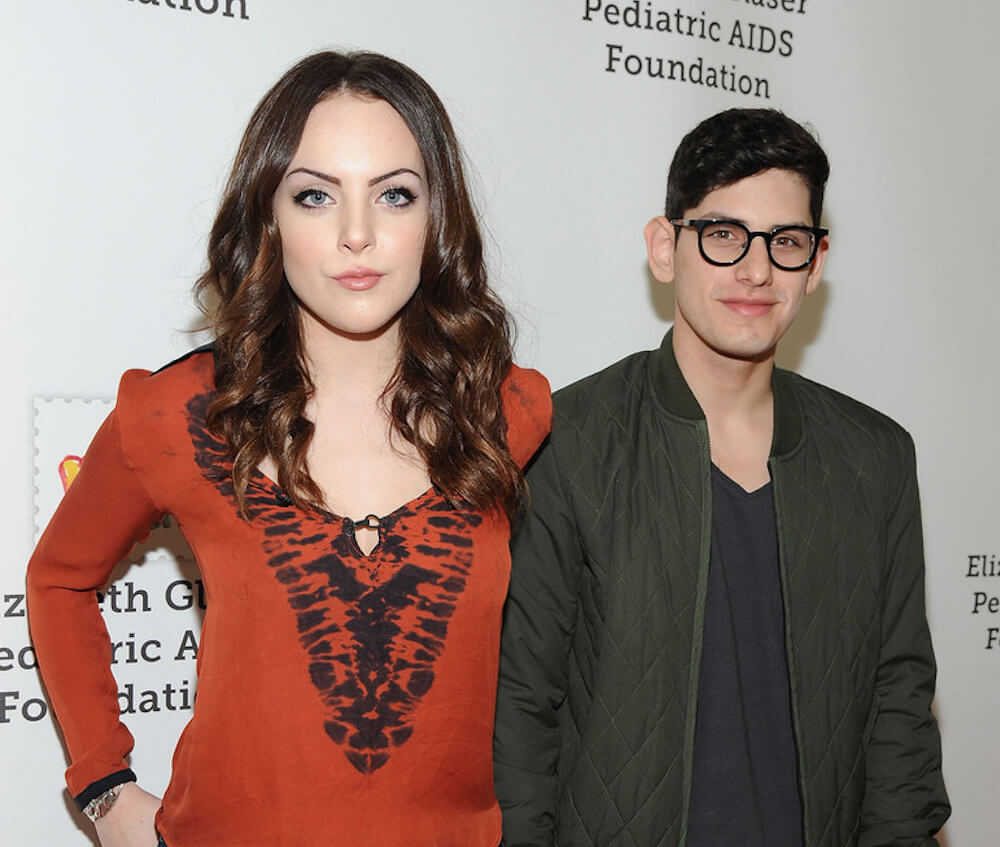 Matt portrayed Robbie Shapiro, a skilled ventriloquist who was also a part of Elizabeth's character, Jade West's friend circle.
The rumors began to spread after Matt Bennett admitted that he "talks to her all the time." Matt was also spotted visiting Elizabeth on the set of her new show.
Not only that, but the picture Elizabeth posted on her Instagram to celebrate the 2017 New Year also made fans freak the freak-out. Elizabeth gave Matt a back hug in that picture, taken in the middle of a New Year party.
That's not the only picture they ever snapped with each other, no. Some of them were a selfie, in which Elizabeth captioned "My boy & I," and a picture captioned "Baby's first milkshake."
Talk about being flirty!
Despite years of speculation and many people who ship them, neither Elizabeth nor Matt ever confirmed or denied the rumors.
On Her Relationship with Avan Jogia
Those who watched Victorious know how sweet Avan's Beck Oliver and Elizabeth's Jade were to each other.
Elizabeth's character, Jade West, is the long-time girlfriend of Beck Oliver, who was Avan's character. Their characters were the perfect fit for each other, with Beck's soft-spoken and laid-back personality and Jade's competitive and gothic sense of personality.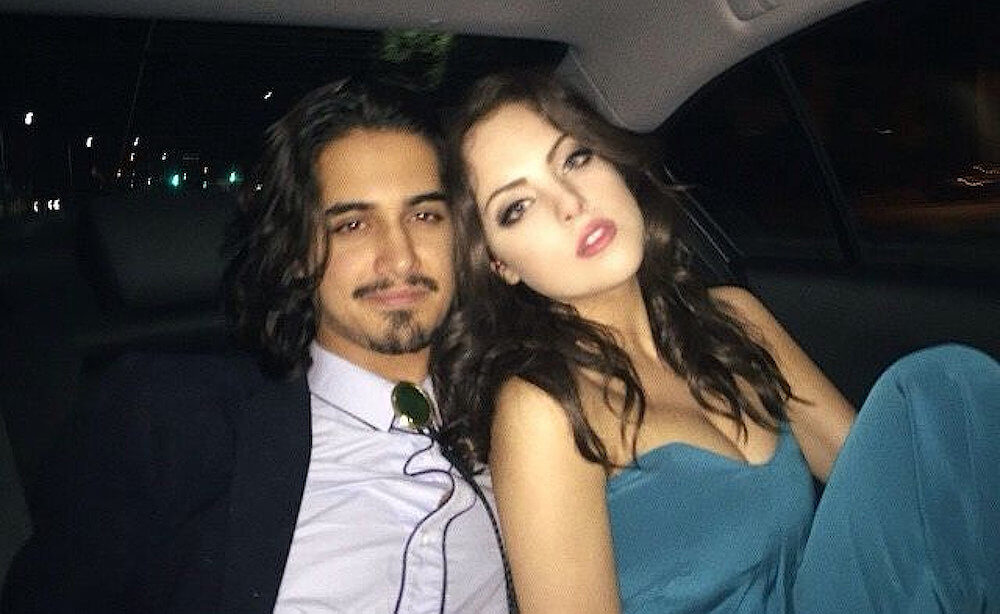 With fans swooning over their on-screen romance and chemistry, many wished that they were an item in real life as well!
The Victorious power couple continued to keep their ship sailing nearly four years after the sitcom finale after Elizabeth responded to a fan account's tweet about a prompt of a new Mr. and Mrs. Smith type of movie starring her and Avan.
"Down if you are," she wrote.
Avan later replied with his approval and a cheeky nod to Hollywood, asking Elizabeth to "call the Hollywood, they will sort it out."
Again, just like the rumors with Matt Bennett, neither Elizabeth nor Avan ever said anything regarding the speculations on their relationship.
Nevertheless, we're still waiting for that movie, Hollywood.
Elizabeth Gillies' Short-Lived Romance with Logan Miller
Elizabeth Gillies was dating American actor Logan Miller in the early days of her career breakthrough. With both being the childhood crushes of many, their relationship received huge public attention.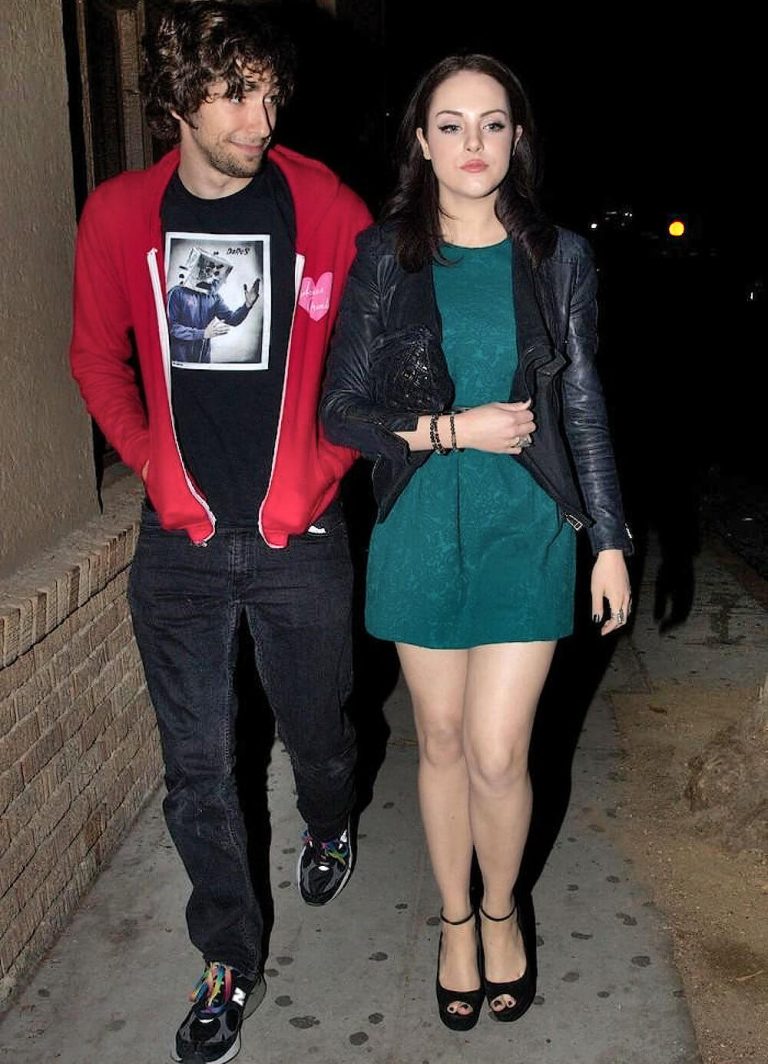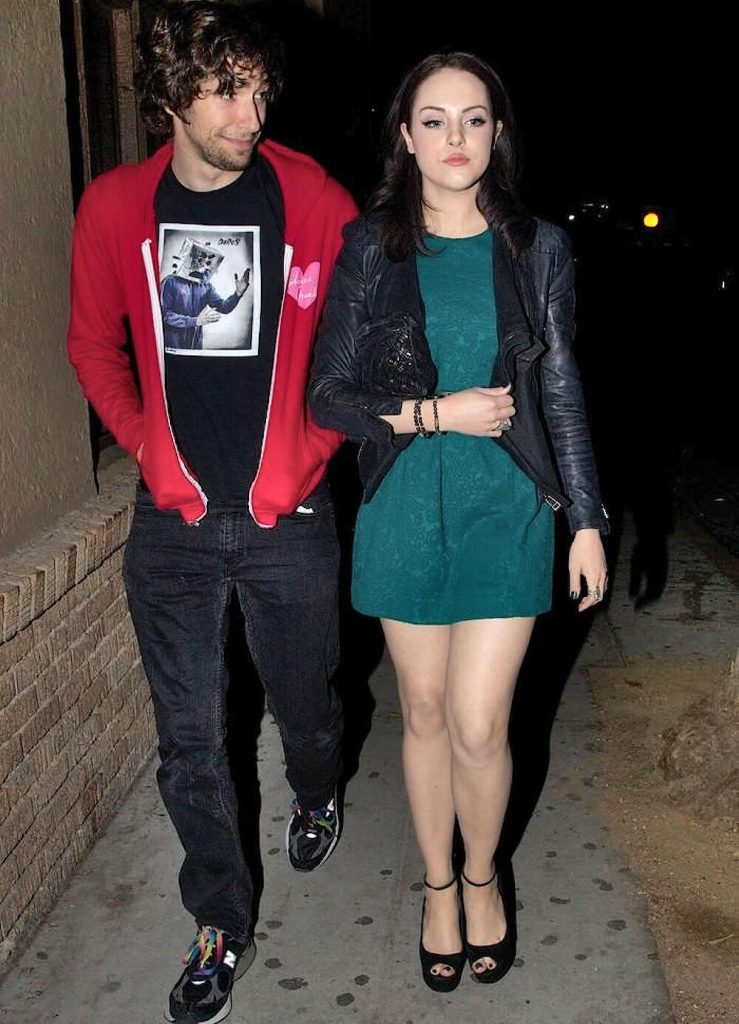 The pair first met in 2011 and dove headfirst into a young love-filled relationship. When Elizabeth and Logan dated, Elizabeth gained popularity with Victorious. At the same time, Logan was known for the main role in Disney XD's sitcom called I'm in the Band.
While many people were rooting for them, the young love didn't manage to go far. Elizabeth and Logan were reported to have broken up in June 2011, approximately six months after they got together.
Until years after their separation, no one knows the reason behind their decision to split. Looking at how private both Elizabeth and Logan Miller are, it's safe to say that they want to keep their love lives out of the spotlight.
Gotta Live It Big Time: Getting Cozy with Big Time Rush's James Maslow
Nickelodeon was the home of childhood sitcoms and TV series. With Elizabeth Gillies and her Victorious co-stars thriving, the channel started a new series and eventually a boy group called Big Time Rush. James Maslow was one of the main actors.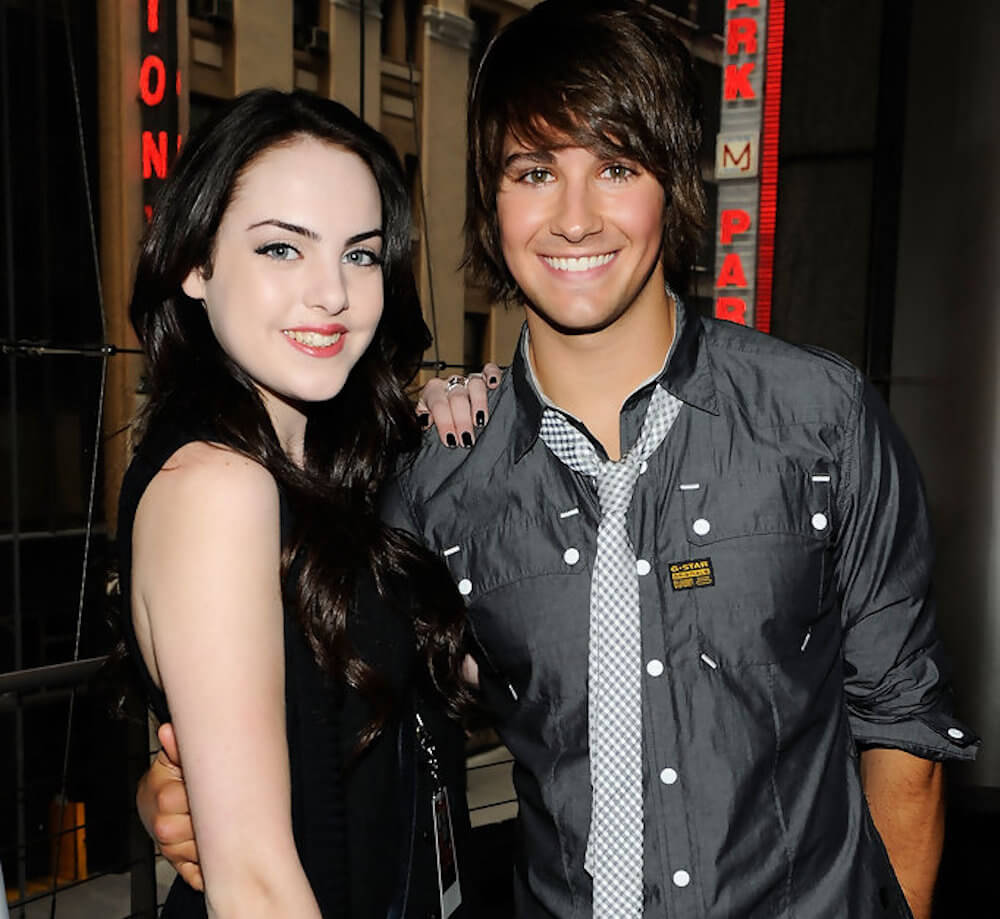 Despite Victorious and Big Time Rush never having any crossover special, Elizabeth got a supporting role on the 27th episode of the series, portraying Heather Fox, Carlos' crush who at the same time harbor a crush on James.
A complicated love story, indeed.
Fans adored their chemistry on set and went feral after Elizabeth and James Maslow attended Nickelodeon's Big Time Rush performance in Times Square back in 2010. They even posed for a picture together, with James circling his arm around Elizabeth's waist.
Both Elizabeth Gillies and James Maslow never addressed the rumors, and they eventually died down. Considering how popular both actors are, keeping their romance low-key was probably in their best interest.