Who is Nicolas Cage Wife in 2023?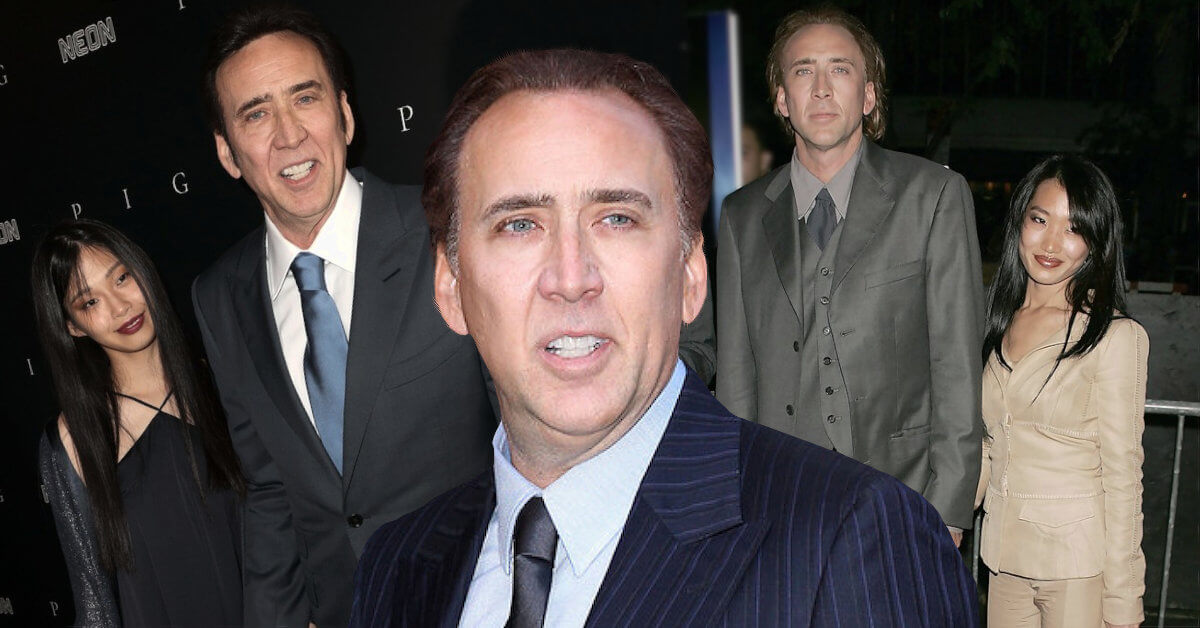 Nicolas Cage isn't only the recipient of various prestigious accolades and the star of many box-office hits, but he's also a famous man among the ladies!
He came from a well-known Italian-American family consisting of filmmakers and performing artists. The family is reported to have a net worth of $270 million!
Nicolas Cage's many box-office hit appearances include Leaving Las Vegas, Adaptation, City of Angels, and many more. He's also an acknowledged producer and director.
Nicolas Cage's Marriage to Fifth Wife Riko Shibata
After divorcing for the fourth time from Erika Koike, Nicolas Cage finally settled down and tied the knot again.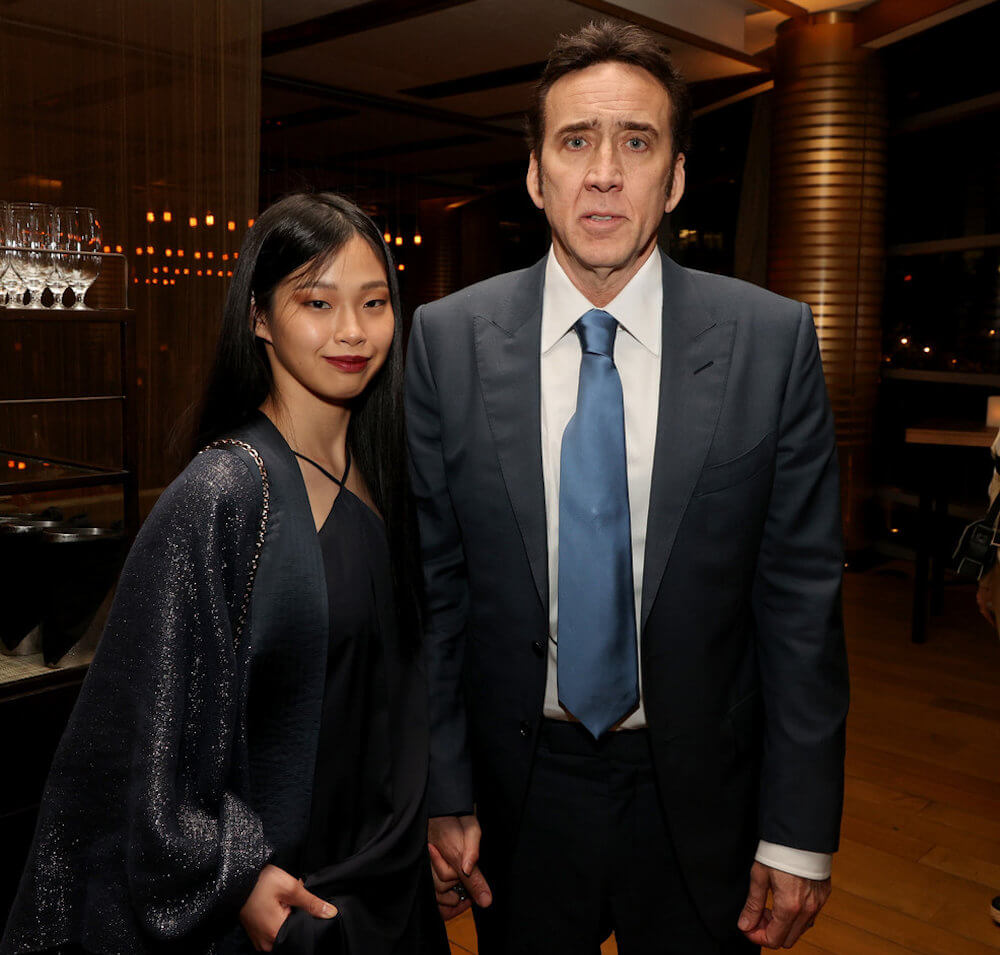 The Vampire's Kiss actor married his fifth wife, Riko Shibata, in Las Vegas in February 2021. The couple held their wedding at the Wynn Hotel.
Nicolas Cage and Riko Shibata met in 2020 in Japan, where he was filming for his new movie Prisoners of the Ghostland. Unfortunately, the pandemic hit not long after they met, and the couple was forced to spend their time apart.
"She left New York and went back to Kyoto, Japan, and I went back to Nevada, and I haven't seen her for six months," Nicolas shared the story in a podcast by his brother, Marc Coppola.
"We were really happy together, and we were really excited to spend that time together, so I finally just said, 'Look, I wanna marry you,' and we got engaged on FaceTime," he continued.
Nicolas Cage also admitted that he prepared an all-black engagement ring, knowing that black is Riko's favorite color.
After the news about their relationship broke out, many people raised their eyebrows at the considerable age gap between Nicolas and Riko, which is 31 years! Moreover, Riko, who's 27 years old as of 2022, is still younger than Nicolas' first son, Weston, by four years.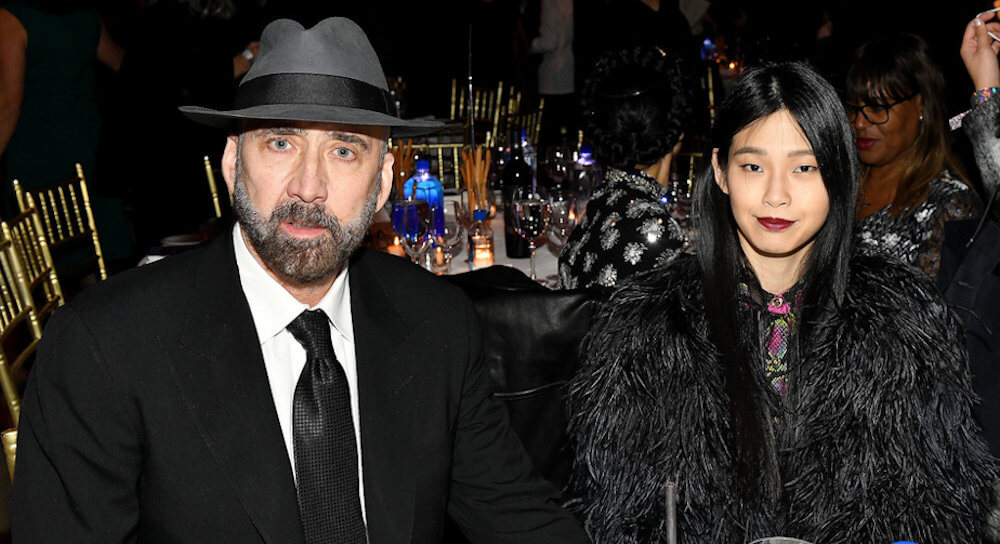 Nicolas himself admitted that he once hoped to get married in Kyoto so that they "can have a Shinto wedding." However, they held their ceremony in Las Vegas instead, with Nicolas saying the Catholic vows and Riko in traditional Shinto.
Following their wedding, the couple made their red carpet debut in July 2021 to premiere Nicolas' new movie, Pig. They also posed in their first magazine cover together for Flaunt Magazine in October 2021 and made another red carpet appearance for the 2021 GQ Men of the Year Party a month after.
Nicolas couldn't seem to hide that he was delighted to be married to Riko. "I know five is a lot. But I think I got it right this time," he gushed to the Los Angeles Times.
Well, hopefully, it's the fifth time the charm!
Nicolas Cage and His Wife Riko Shibata are Parents-to-be
Every year, the beginning of the year seems to be a blessing for Nicolas and Riko. After being first met in early 2020 and getting married in February 2021, the couple is expecting their first child together! They announced the news in January 2022, making it a good news hattrick for the past three years.
While this child will be Riko's first, this will also be Nicolas' third, with him already having two sons from his previous relationships with Christina Fulton and Alice Kim.
Imagine how protective Nicolas and his two elder sons will be if his third child is a daughter?
Nicolas Cage's Four Days Long Marriage to Erika Koike
Nicolas Cage and Erika Koike's marriage was Hollywood celebrities' stereotypical Las Vegas wedding, full of bling and short-lived.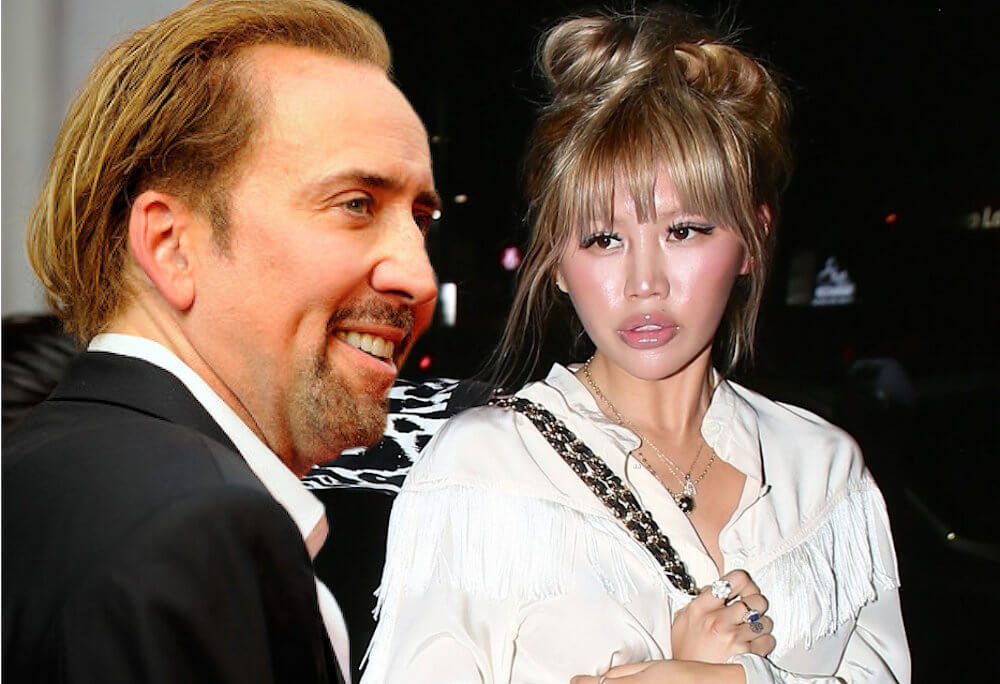 Nicolas and Koike met in 2018 before eventually getting together in April. The couple had a steady relationship and even attended several red carpet events together.
However, the couple's downfall came in the form of a Las Vegas matrimony.
In March 2019, the Ghost Rider actor and Erika went to a Las Vegas getaway. Then, they applied for a marriage license and legally married each other, which all happened on the same day.
While for many couples, the length of four days is usually filled with the honeymoon phase, Nicolas only needed four days to request an annulment of their marriage to the Nevada court. The actor cited that he was "too drunk" and drank "to the point of intoxication" before the couple married.
According to TMZ, Nicolas requested a divorce if an annulment was not possible by the court. Erika opposed the decision when it turned out that a judge would approve the annulment request. This would later encourage Nicolas to proceed with a divorce.
It seems like Nicolas Cage was adamant about having a divorce!
His wedding to Erika was made official more or less two months later, in June 2019, and he admitted that he was "pretty upset about that and the way things happened."
"There was a recent breakup, I don't really want to talk about it," he told.
Well, what happens in Vegas, stay in Vegas, I guess?
Nicolas Cage's Longest Marriage Yet with Ex-Wife Alice Kim
It seems like Nicolas Cage does have an eye for stunning Asians.
In 2004, Nicolas was with Alice Kim, a Los Angeles waitress, 20 years his junior. The former couple got married in a private ceremony in California in July 2004.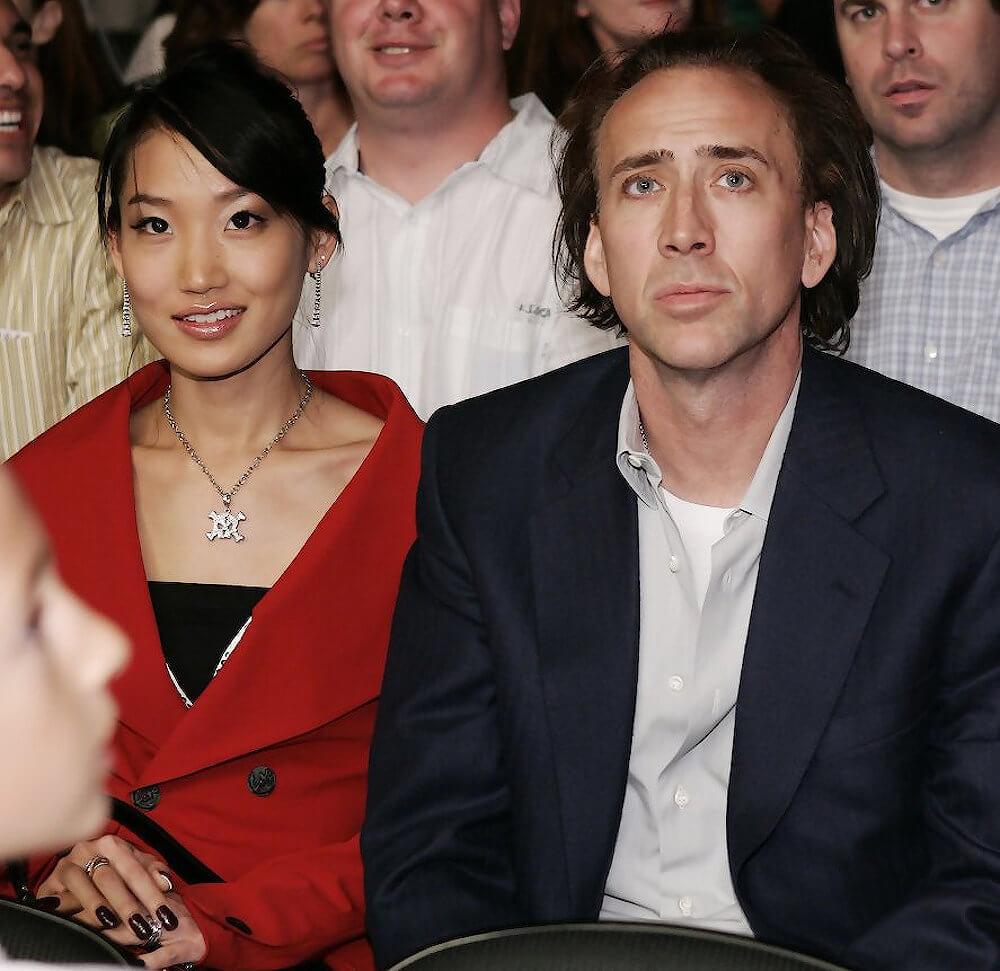 A year later, Nicolas and Alice welcomed their first son together, a first for Alice and the second for Nicolas. They named their son Kal-El Kim Coppola Cage, after the Kryptonian name of Superman, a comic character Nicolas loves so much.
The couple was together for 14 years, a sharp contrast to Nicolas' previous relationships, which only lasted for six years at the most.
Although they eventually decided to separate and end their marriage after 14 years, it seems like the couple divorced amicably and have remained friends ever since. Alice also attended Nicolas's wedding to Riko, alongside their son Kal-El.
Nicolas had also expressed his affection and respect to Alice and the life they had together in several interviews following their divorce.
"I don't really count those two [previous] marriages. I don't think they belong on my record. The real marriage for me was the 14 years I had with Alice and the child we have together," Nicolas stated in an interview with The Guardian.
Nicolas Cage Marriage to Lisa Marie Presley
Nicolas Cage is a known Elvis superfan. He even called the Rock and Roll King his "hero" and that he couldn't stop gushing that they share the same birthday.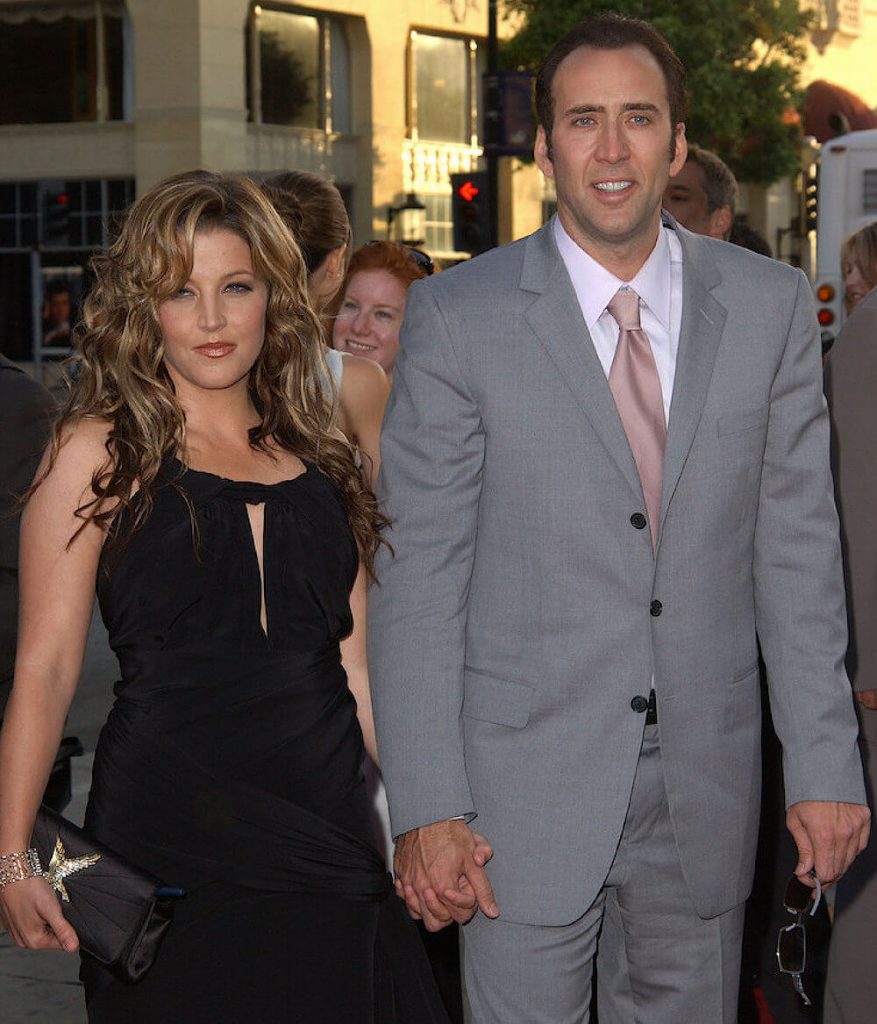 And apparently, his relationship with Elvis would run deeper than just an idol-superfan relationship; they were in-laws. Nicolas married Elvis' only daughter, Lisa Marie Presley, in 2002. Unfortunately, they decided to file for divorce only 107 days after their wedding.
"It was one of those things where you're marrying hoping that you're going to either stabilize it or it's going to, you know, accentuate all that was going on prior to what was problematic," Lisa said in the Larry King Show following the divorce. "So it kind of did the latter, that's all," the singer continued.
Nicolas also shared the same sentiment, "When you have two people who are very strong in their own personalities and rather intense sometimes, you can have a hard time meshing."
Their divorce was finalized two years later, in 2004.
Nicolas Cage and Patricia Arquette
Nicolas Cage's first wife was actress Patricia Arquette. They met in 1987 when Nicolas was 23 and Patricia was 19. And he immediately professed his intention to marry her.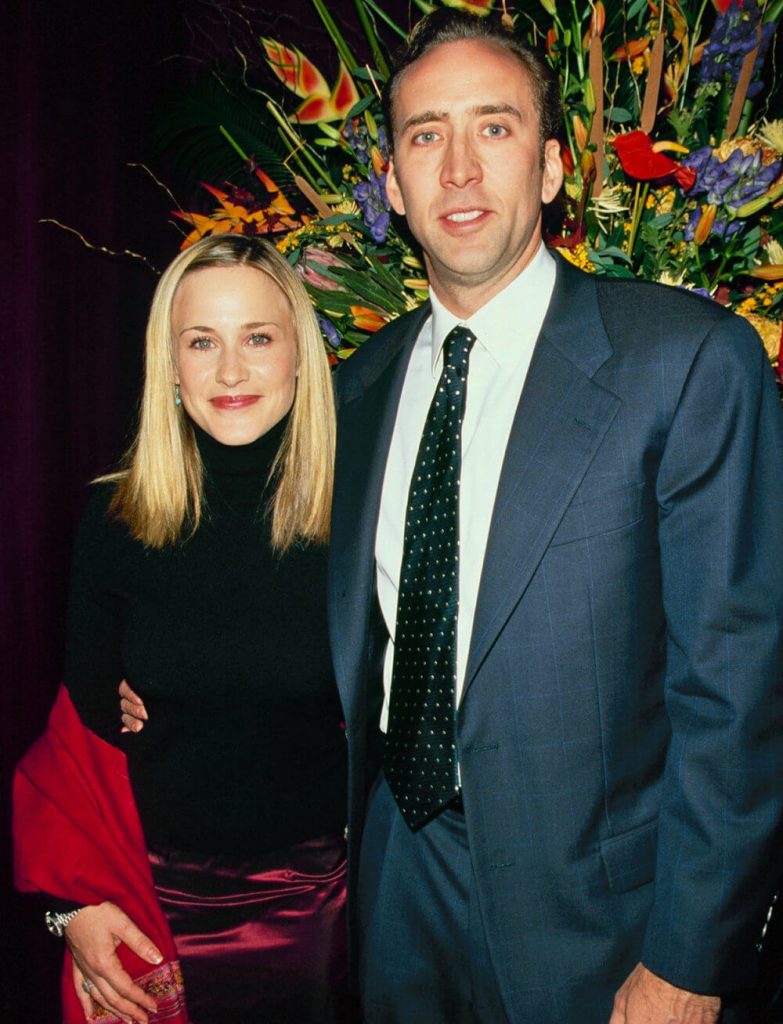 So the arduous task began. Patricia wrote a list of things that Nicolas needed to find so that she would marry him, from J.D Salinger's autograph to a Bob's Big Boy statue. And brought them to her, he did.
Patricia later agreed to date Nicolas, but they broke up shortly after Nicolas went rampage at the airport.
In 1995, they reconnected, and Patricia proposed to Nicolas. At that time, he declared that he knew he was "with the right woman." They got married two weeks later in California.
Five years later, Nicolas and Patricia agreed to separate. The divorce was finalized in 2001.
Nicolas Cage and Christina Fulton
Years before starting his matrimony journey, Nicolas Cage was engaged for a brief time with actress Christina Fulton.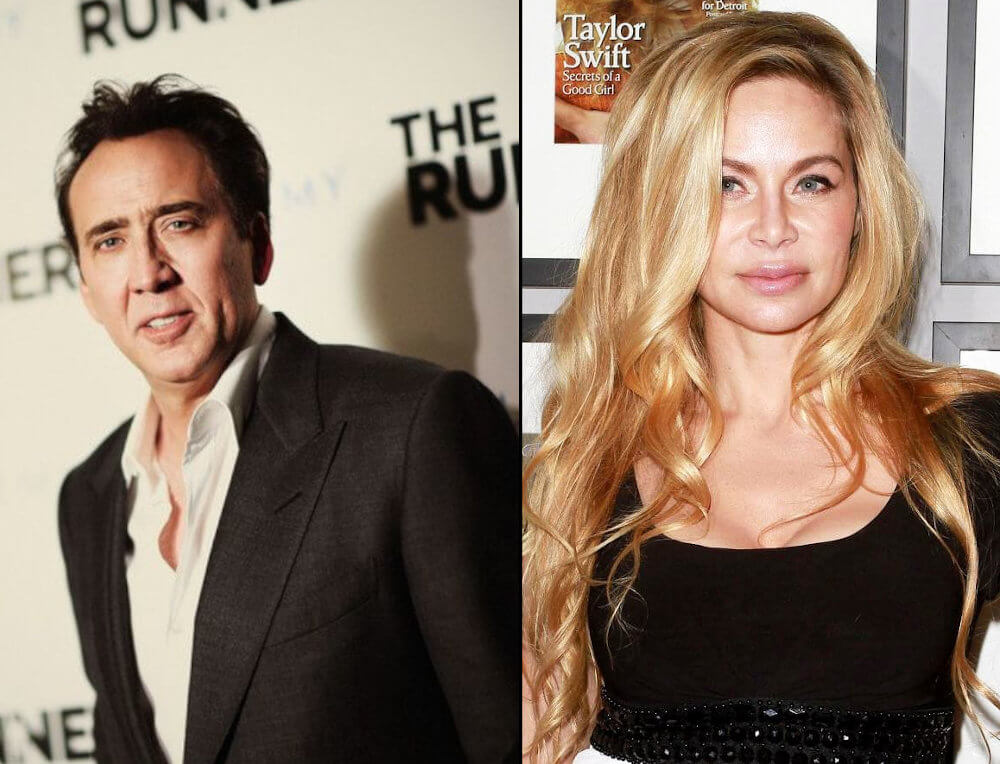 Nicolas and Christina separated a while after their son was born, with Christina receiving custody to raise Weston. The former couple began dating in 1988 and welcomed their first son two years later, named Weston Coppola Cage. Weston is Nicolas' first of his soon-to-be three children.
Years after their split, Christina filed a lawsuit against Nicolas, suing him after he didn't follow through on his promise to give her the home she lived in when she raised their son.
They eventually ended the case with a financial settlement in 2011.