Who Is Hilary Duff Husband? All About Her Love Affairs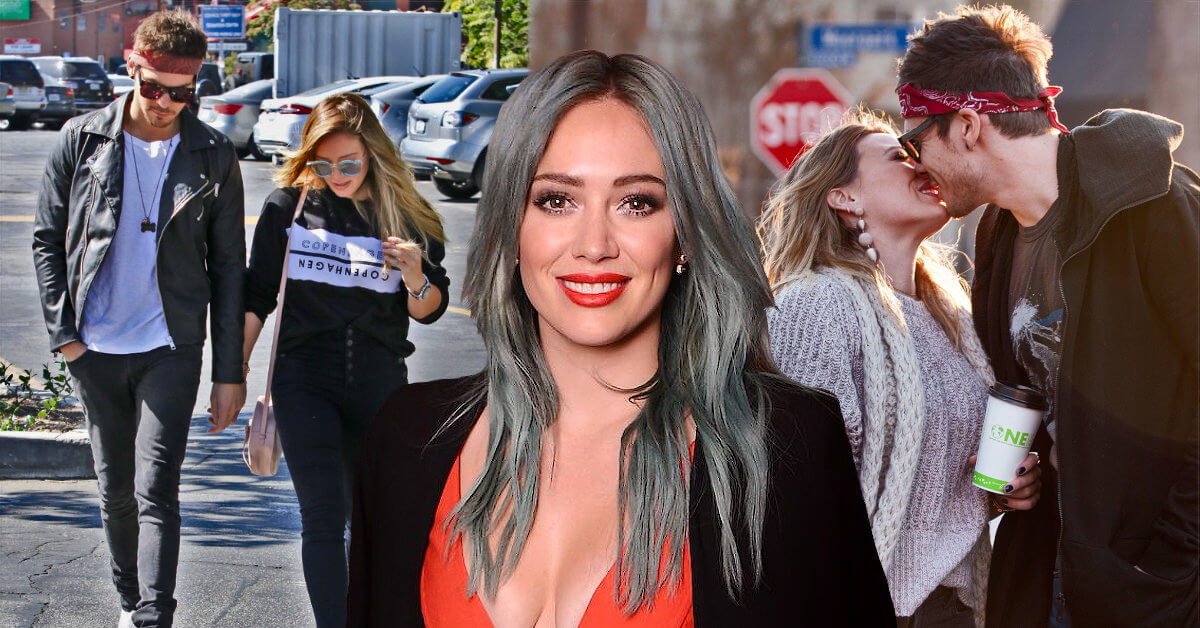 Hilary Duff is a whole package. It seems like she shines in everything that she does. Apart from being an actress, she's also a musician and businesswoman.
Her acting career began when she starred as the main character in Lizzie McGuire. Her role as a shy and clumsy girl successfully seized the audience's attention. It led her to be considered a "teen idol."
Hilary's musical career also brought her to fame. Her second album called Metamorphosis, was featured in the Billboard 200 chart.
What else could be admired from her? Of course, her love stories. Being successful in acting and music is enough to get her famous men. Even Matthew Koma and Shia LaBeouf are on her list of ex-lovers.
Hilary Duff and Her Husband, Matthew Koma
Even though it's easy for Hilary to get any man she wants, she is never that type of a girl who cheats when she's already in a committed relationship. Currently, she is married to a famous DJ for his songs Clarity and Find You, Matthew Koma.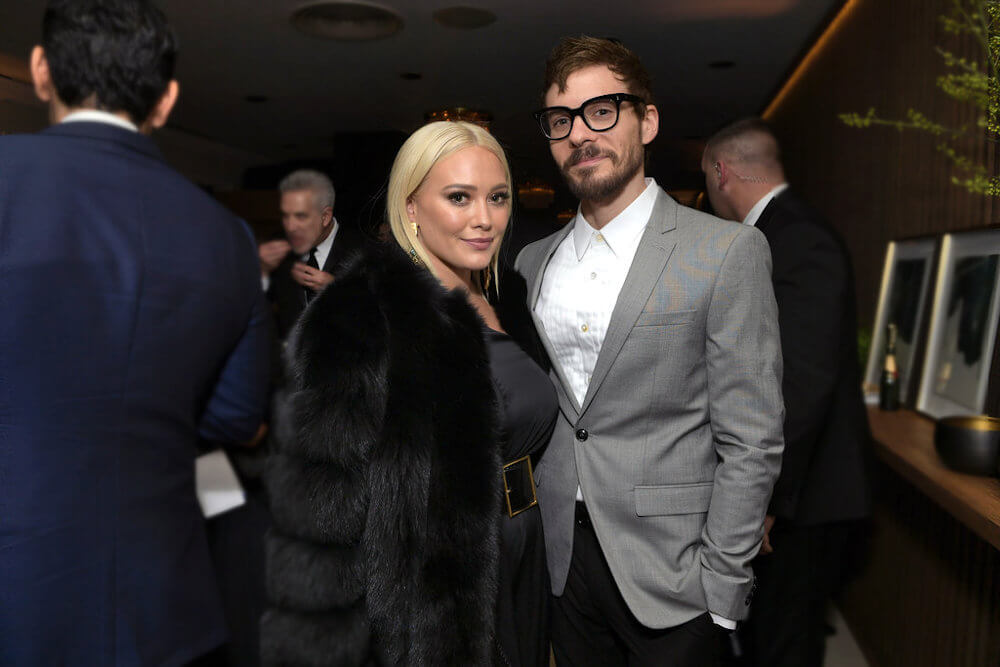 The fairy tale doesn't stop there. Matthew and Hilary are the kinds of couples who make everyone around them jealous. Their relationship is very serious, and they have already shared two kids!
Matthew and Hilary got married in December 2019. They might be new when it comes to being a husband and wife, but they have known each other since 2015 and have been inseparable since then.
Even though Hilary just got divorced from Mike Comrie, it didn't stop her from falling in love again. They knew each other after collaborating on Hilary's album, Breathe In. Breathe Out. And Hilary happened to find strong chemistry with Matthew since they first introduced themselves to each other.
One of the reliable sources involved in making Hilary's album even said that they "had great chemistry in the studio."
"Hilary thinks Matt is very talented and cute," told the source to Us Magazine.
However, they weren't caught together that often until 2017. The couple made their first red carpet appearance as an official couple in January 2017, when they attended the pre-SAG Awards Party. Both looked comfortable with each other, and they were wearing color-matching outfits. So adorable.
Matthew Couldn't Stop Expressing His Love and Admiration Towards Hilary
They split once throughout their two years of dating, but they rekindled not long after their breakup. Even before they tied the knot, the couple already posted several pictures that show how head over heels they are with each other.
Another great news was coming in 2018. Hilary and Matthew had their first baby, and Hilary proudly shared his photo on Instagram with a caption saying, "Guess what, guys! @matthewkoma and I made a little princess of our own, and we couldn't be more excited!"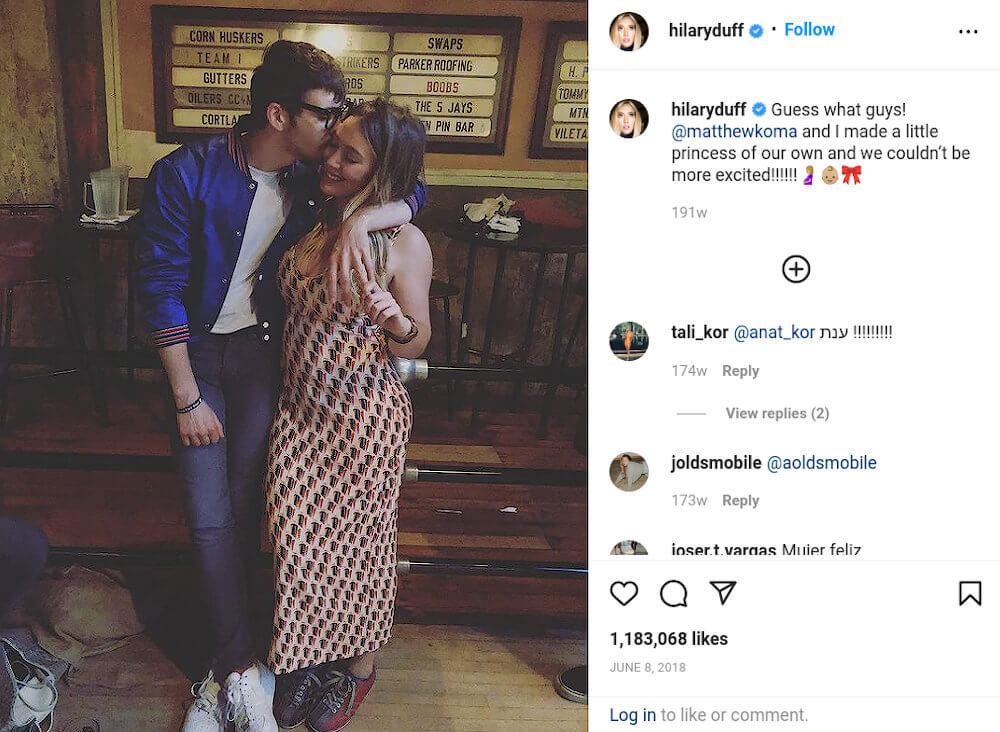 They called their baby girl Banks Violet. Even though Banks is their first child, Hilary had a son from her previous marriage with Mike.
Two years after they welcomed Banks, the couple decided to get married. It held a private wedding ceremony in Los Angeles, close to their homes. The wedding was for family and close friends only, so there was no media or many celebrities there. They might be very open on social media, but they still uphold their privacy for intimate events like this.
Both Hilary and Matthew LOVE to express their feelings on their social media, especially Instagram. Their pages are like a Wattpad story that comes true. One of the most heartwarming posts on Matthew's Instagram was when he complimented his wife with her candid shot.
"One of my favorite pictures of his wife somewhere between supremely fulfilled, exhausted, and why the f**k are you taking my photo. It was a tribute to Hilary for starting his newest series, How I Met Your Father. She started her new show this week, and it's so rad watching her kick into that mode," wrote Matthew as a caption.
He then continued, "It's easy to forget when she's nailing it as a mama bear, wife, family psychologist, and chicken lady that she was first an absolute ace at what she was born to do. A f**king cool magic trick. This show is gonna be epic." Don't we all want to have a man adoring us that hard?!
Not only that, Hilary continues to prove herself as an amazing woman. Currently, she is a mother of three, and she seems to nail both her professional life and her family. The COVID-19 situation doesn't seem to stop her from being the best version of herself.
According to what Matthew wrote on Instagram, the quarantine times make him and Hilary have more time to focus on Mae, Banks, and Luca. Even better, throughout their five years together, apart from separating in 2017, this couple grew stronger as days went by.
Hilary Duff's First Marriage That Didn't Turn Out Well
Though Hilary and Matthew's married life seems too good to be true, Hilary does have a dark past. Matthew wasn't her first husband; she previously married a professional hockey player Mike Comrie and gave birth to Luca Cruz.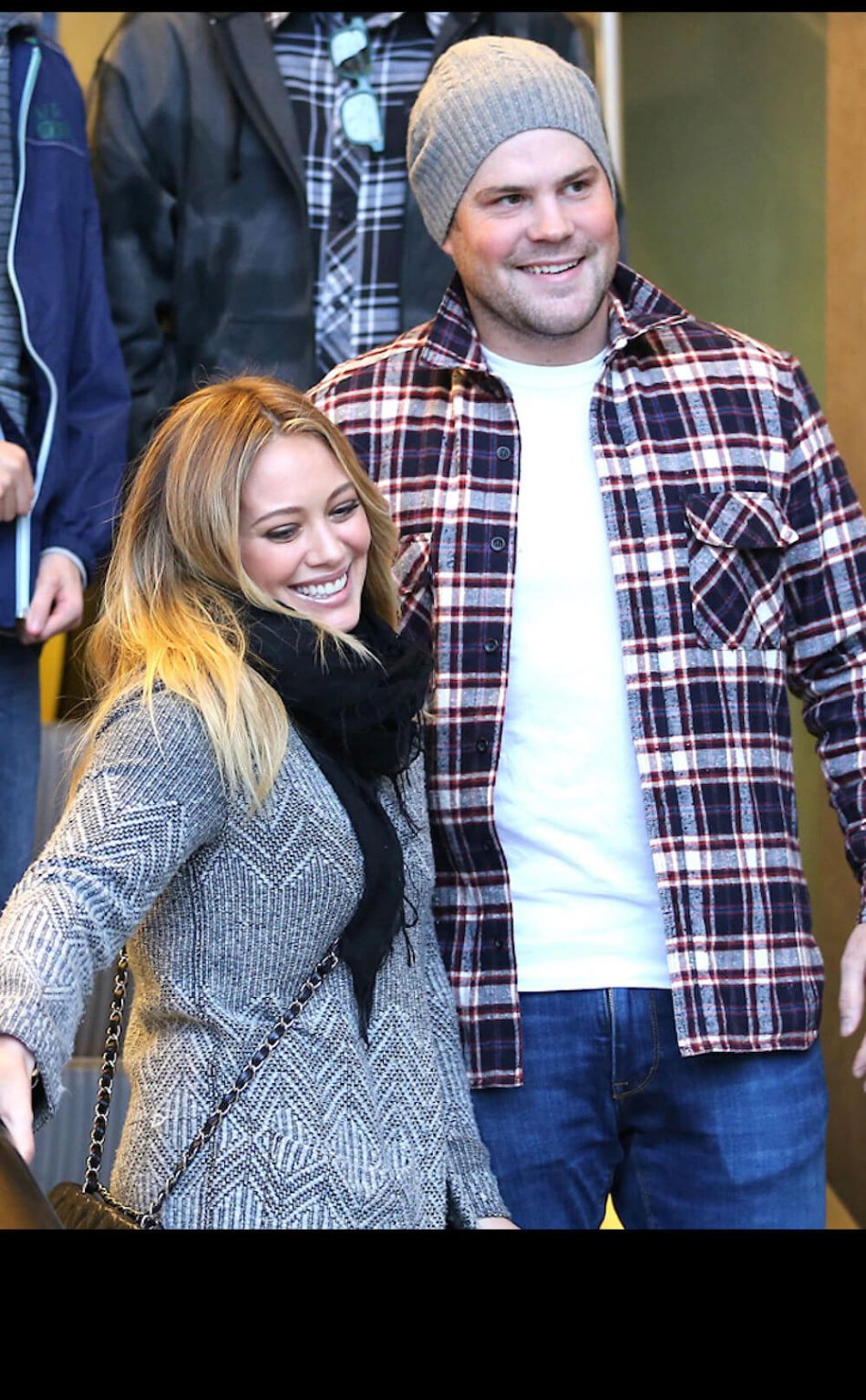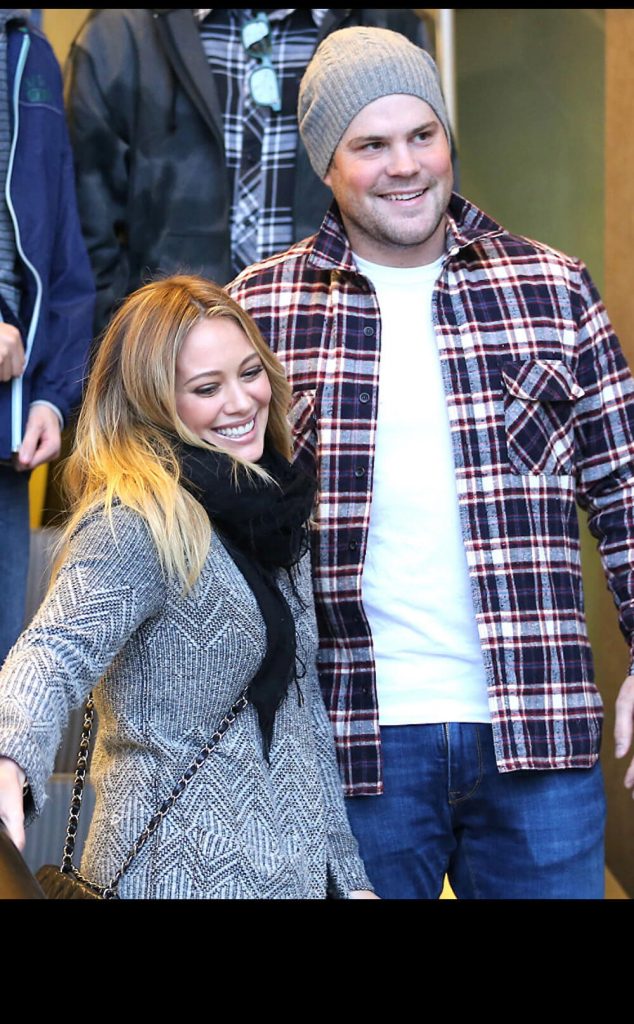 Looking at the length of their relationship makes us even more curious about the real reason behind their split. Hilary and Mike's marriage stayed for five years, from August 2010 to February 2016. And they even dated for nearly three years before finally deciding to tie the knot.
What's more shocking is that they had already parted ways in 2013, only a year after they married and had a baby together. Even though it wasn't until three years later that they were officially divorced, their split was already spread here and there in mid-2013.
According to Hilary's interview, it does have something to do with the fact that both of them were still very young to build anything serious. Hilary was 19 years old when she first met her ex-husband. Meanwhile, Mike was 22. And of course, just like any other young couple who fell madly in love with each other, they thought that they could conquer the world as long as they stayed together.
"When we were deciding to get married, I was down – I felt ready. I had already been working as an adult since I was 12, so 22 doesn't seem that crazy to get married," revealed Hilary on The Love Bomb podcast that was hosted by her co-star, Nico Tortorella.
After the split, Hilary also shared her point of view about a long-term marriage that she thought was "impossible at that time." She stated that in her interview with Cosmopolitan.
"I don't want to sound bitter because I'm not, but I don't know if people are meant to be together forever. Things happen over a long relationship that you can't always fight. A marriage of 20 years, the accomplishment of that must feel great, but there are also huge sacrifices. I just always want to fight for happiness," she stated.
In that interview, she recalled how her relationship with Mike ran its course. The two were not a great match like how they used to be. As heartbreaking as it sounds, the reality speaks for itself. Even the presence of Luca and walking down the aisle together weren't enough to make them stay. Well, what can we say?
Hilary Duff and Joel Madden Dated When She Was Only Sixteen
At this point, we know that Hilary has entered the entertainment industry since she was very young, which was twelve years old. Not only did she get married in her early twenties, but Hilary also had dated several big names in her teenage years.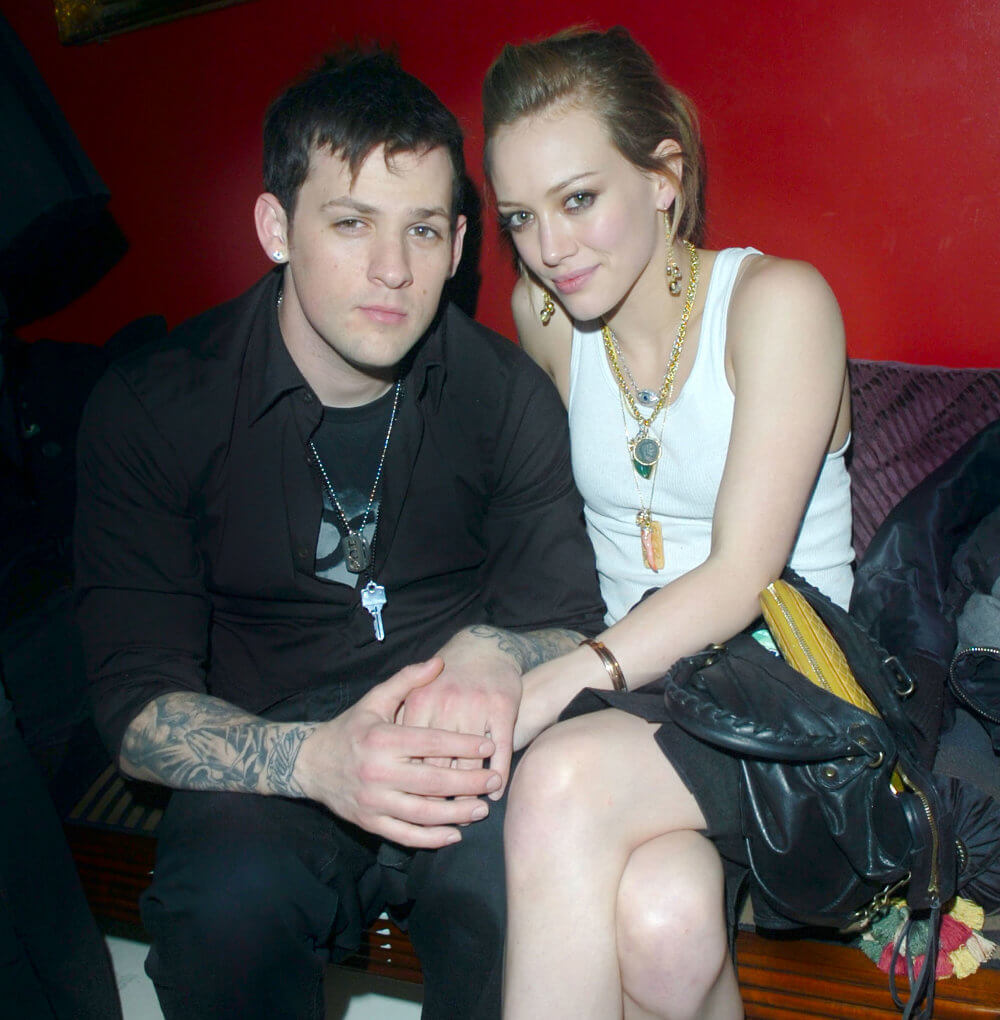 Hilary dated the Good Charlotte rockstar Joel Madden when she was 16. The relationship stayed for three years before Hilary put her eyes on Mike.
"I had a 26-year-old boyfriend," Hilary told Cosmopolitan, implying that the guy was Joel Madden. She went on, "Everyone can make their assumptions about what I was doing."
There aren't many details about her relationship with Joel. Even though three years was quite a long time (especially for a 16-year-old girl), Joel and Hilary maintain to stay low-key.
Hilary and Her Co-Star in Agent Cody Banks, Frankie Muniz Hit It Off Since Day One
If you guys are surprised by Hilary dating a big name when she was only 16, wait until you know who she dated when she was even younger. They were Frankie Muniz, Shia LaBeouf (yes, you guys read that right), and Aaron Carter.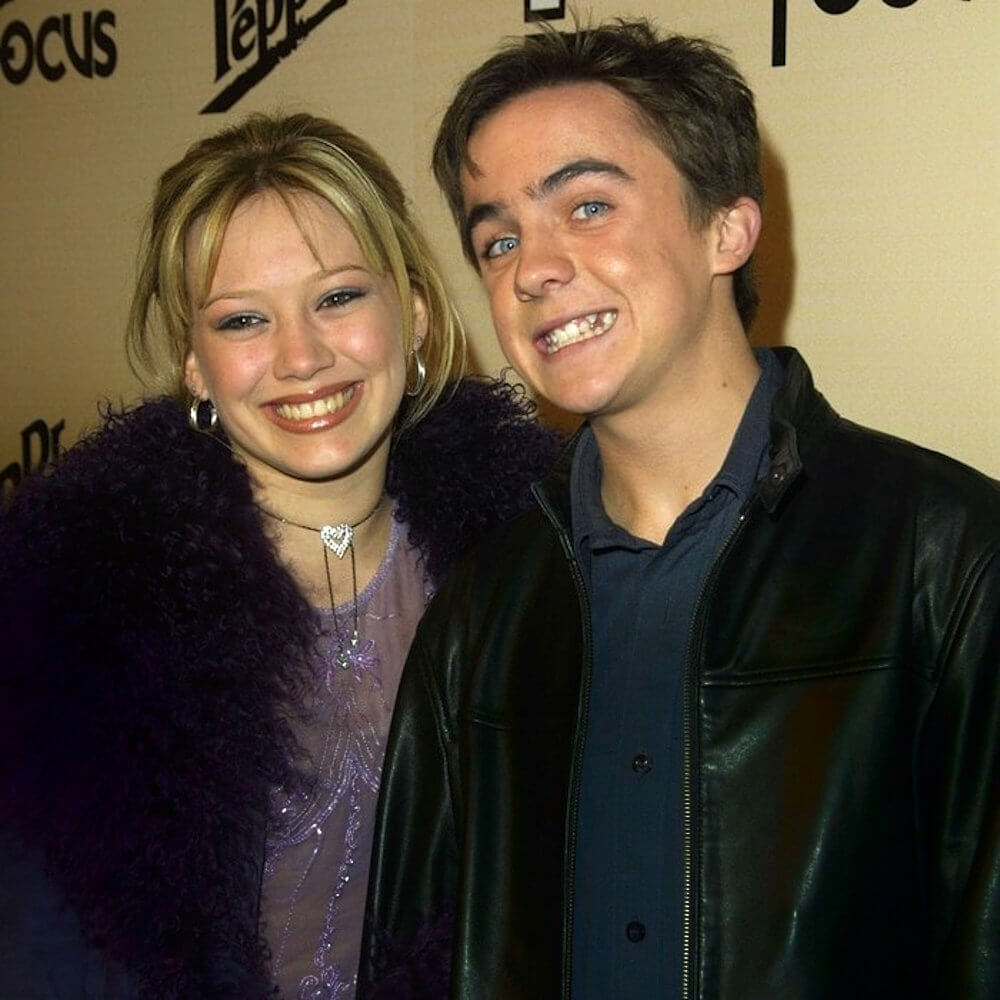 Hilary and Frankie dated for about two years after working together in Agent Cody Banks. The two were reportedly hit off since day one they met. After knowing some details about Hilary's relationship, most of them were the love-at-the-first-sight things.
According to some sources, their relationships were full of love, and even though they eventually split, there wasn't anything too damaging that happened between them. Just two co-stars in their teenage years were enjoying their lives.
A Date with Shia LaBeouf that Turned Disastrous
Surprisingly, things went down so bad with Shia LaBeouf. Hilary Duff and Shia LaBeouf were reportedly dating sometime in 2011, but it didn't stay long, and their relationship wasn't that "good."
Hilary didn't talk much about her time with Shia, but Shia himself shared a little bit about it. In one of his interviews, Shia described his date with Hilary as "the worst date either of us has ever had."
The two went on a sushi date, but it quickly turned disastrous. What happened at the date, though? What was the worst thing that could've happened at the sushi date?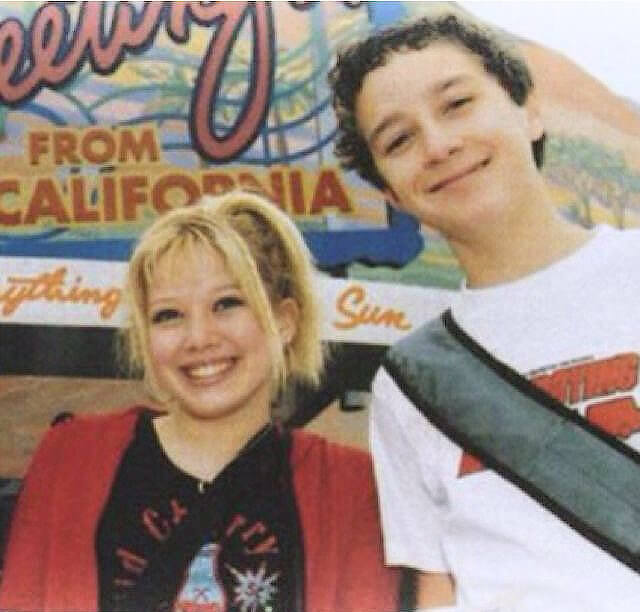 Unfortunately, Shia didn't give specific information about what happened. But, one thing for sure is that it was so bad until it became the first and last date they ever had.
Well, Shia and Hilary might not be the best fit for each other, but they sure never lose their charms in Hollywood. We just wish that we had more details about the date.
Aaron Carter Regretted Breaking Up with Hilary
Moving on to Hilary's relationship, that didn't go bad. Hilary's first relationship since she became the teenage idol was with Aaron Carter, her co-star in Lizzie McGuire (we're not even surprised). That series didn't only give her fame but a lover as well.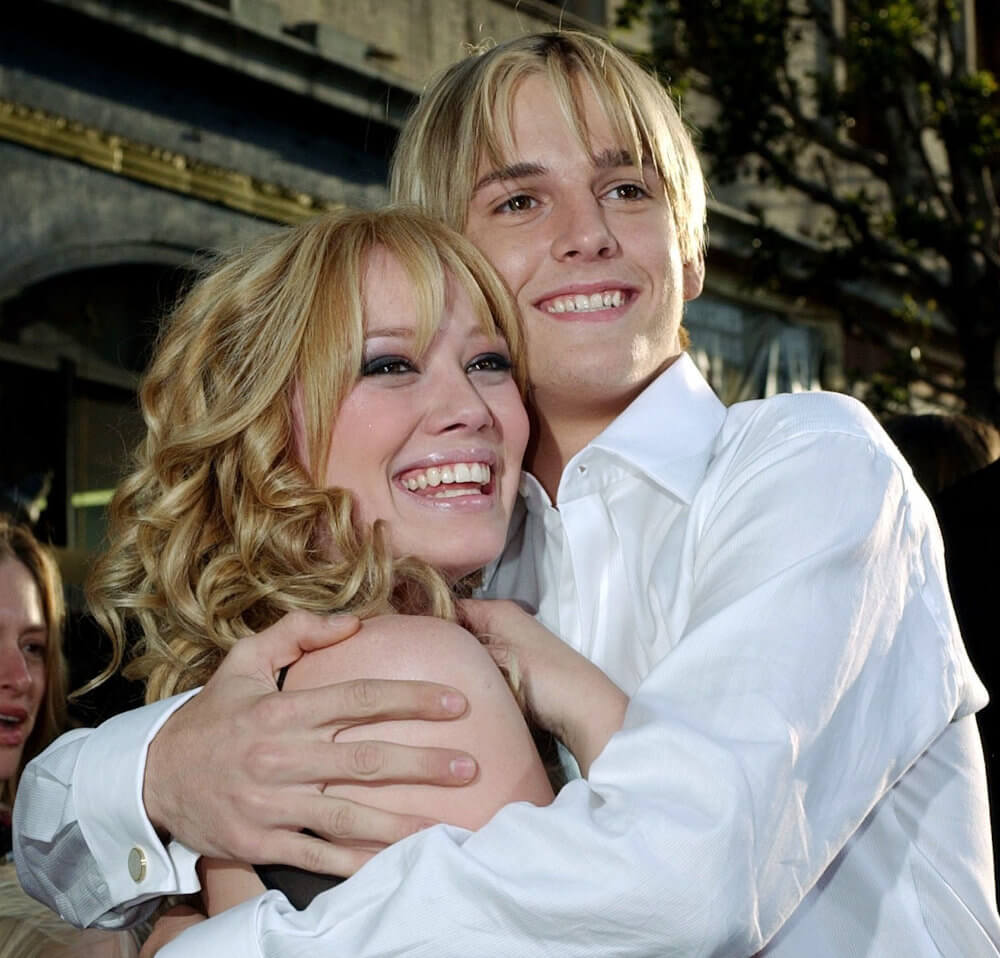 Their relationship stayed for nearly two years. And even after they broke up years later (and Hilary had completely moved on), the Fat Albert actor couldn't seem to forget her.
In his 2012 interview with Fox News, Aaron reminisced his "regret" for breaking up with her and congratulated Hilary on her pregnancy news at the same time.
"I'm happy for her that she's in a successful relationship and that she's going to have a baby. Sometimes, I think to myself, maybe that could have been me, but it is what it is." Wow, that sounds like a real regret, doesn't it?
Well, Aaron was the one who went for another girl, though. And Hilary was just doing what she had to do; moving on with her life.