Trippie Redd Girlfriend: List of Girls He's Actually Dated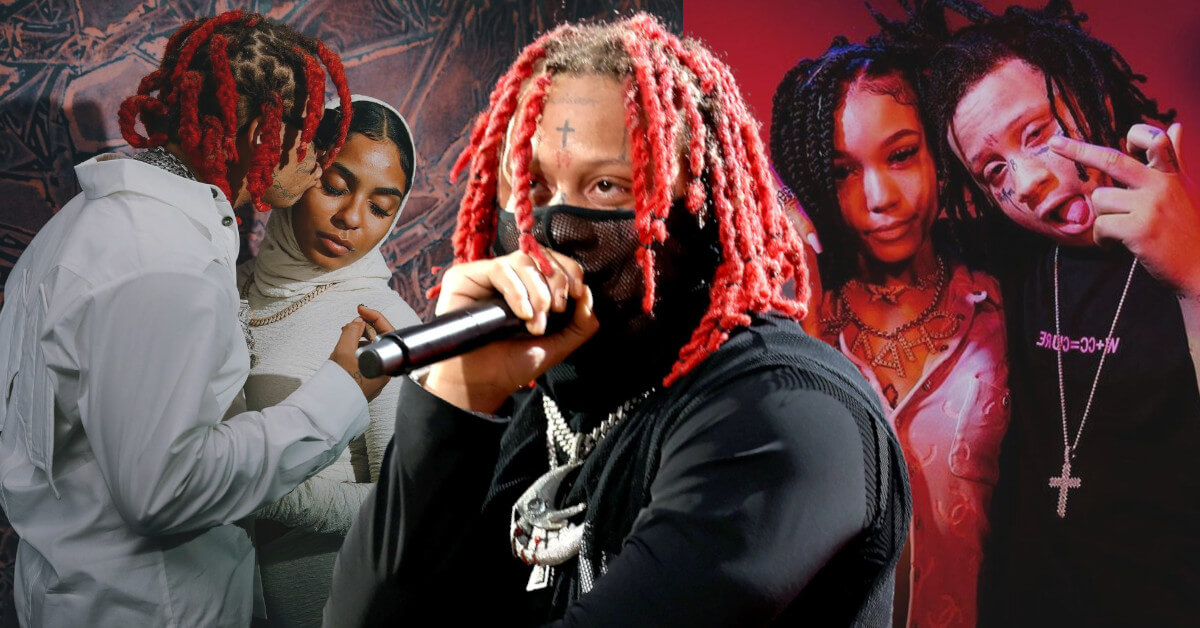 The name Michael Lamar White might be strange to you. But we're sure that "Trippie Redd" sounds more familiar. Those two names belong to one person, who he's famous for in his single "Love Scars."
Trippie Redd's popularity was legit because his three singles, "Dark Knight Dummo," "Taking a Walk," and "Topanga," all reached the Billboard Hot 100. Not many rappers can pull that achievement as Trippie Redd does.
His success doesn't stop in his career. Trippie Redd can also pull any girl he wants. So, we can already guess that his love life is far from ordinary.
Trippie Redd Is Very Happy with His Current Girlfriend, Skye Morales
The "Dark Knight Dummo" already finds his true love. Since January 2021 until now, he's been dating his fellow singer, Skye Morales.
This year, he even appeared in Skye's newest music video, "Me, Myself & You."
It's no secret that although Trippie Redd could pull any girl he wanted, he still had difficulty finding a " genuine " person with him.
Skye Morales was the exception. And according to his interview, Trippie Redd was glad that he finally found the one.
Skye was also proud to have Trippie Redd by her side. When her "Me, Myself & You" single was out for the first time, she tweeted the link and said, "Pour a glass of wine and light your blunt."
The video gained massive recognition because people can see how much Trippie Redd and Skye Morales love each other there.
Well, if two talented singers are in a loving relationship and have the same taste in art, it's hard not to feel their intense chemistry, even just from their songs.
We hope that Trippie Redd can finally settle down and have a long-term romance with Skye Morales this time.
A Tumultuous Breakup with Coi Leray
Trippie Redd's love story didn't go smoothly before Skye Morales entered his life. In 2019, he went through a tumultuous split with his fellow rapper and ex-lover, Coi Leray.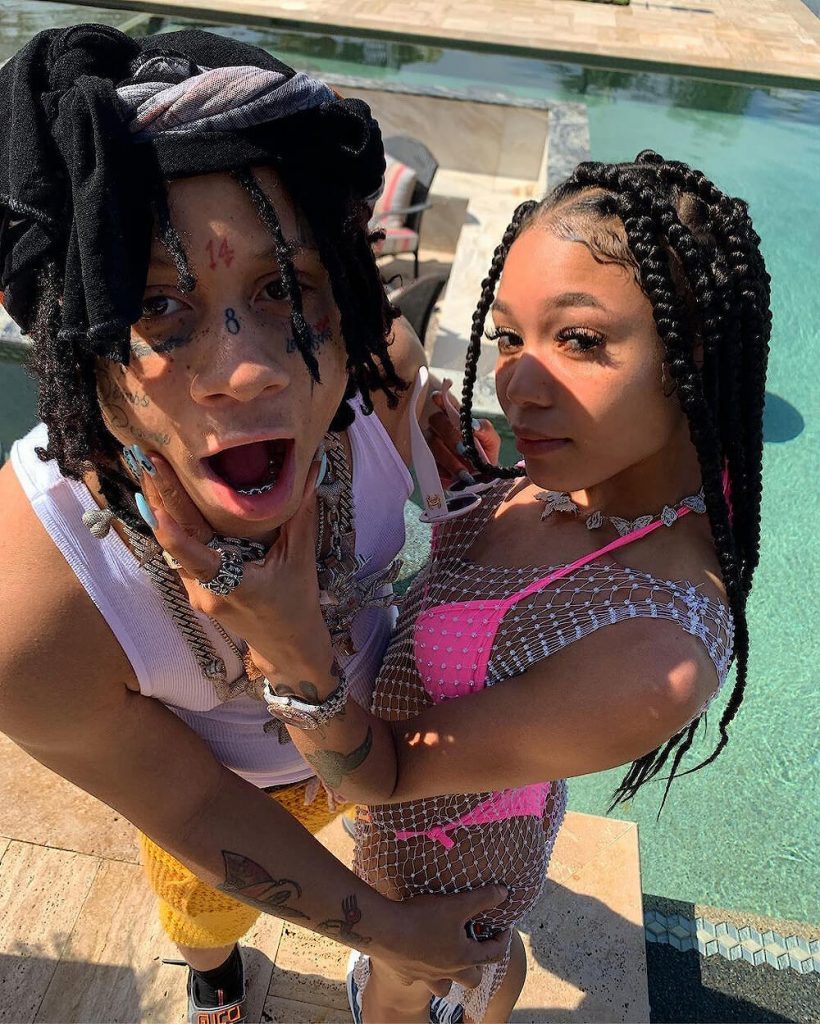 Trippie Redd expressed his heartbreak on his album, "A Love Letter to You 4," There's one song specifically made for Coi with the title of her last name, "Leray."
"It was love at first sight and misery after two months. Always feeling f**ked up either by love or no love." The lyrics of "Leray" tell us precisely what happened in Trippie Redd's mind when he split with Coi Leray.
It was clear that Trippie Redd had a hard time moving on from his relationship with Coi Leray. Although they were only together for less than three months, it left a massive scar on Trippie Redd.
But what about Coi herself? Did she also experience the same pain and difficulty as Trippie did?
In her interview with No Jumper, when the interviewer asked her whether she regretted having a relationship with Trippie Redd, Coi replied with a seemingly-heartless answer:
"No. That's who I f**kin dated, and it was public. I don't expect nobody – he's a star. He's a big dude out there."
A little bit harsh, girl. But it is what it is. It's good that they finally moved on, and we can see Trippie Redd is currently happy with Skye Morales.
Everybody Was Disappointed when Trippie Redd Dated Teanna Trump
Moving on from Trippie Redd's sad romance with Coi Leray, his name was also talked about when he was rumored to date an adult star, Teanna Trump.
The rumor first circled on Instagram when an official page of AkademiksTV uploaded a video of him and Teanna having a good time. Not only that, but @akademiks also wrote a caption as quoted:
"Trippie Redd and Teanna Trump are couple goals??"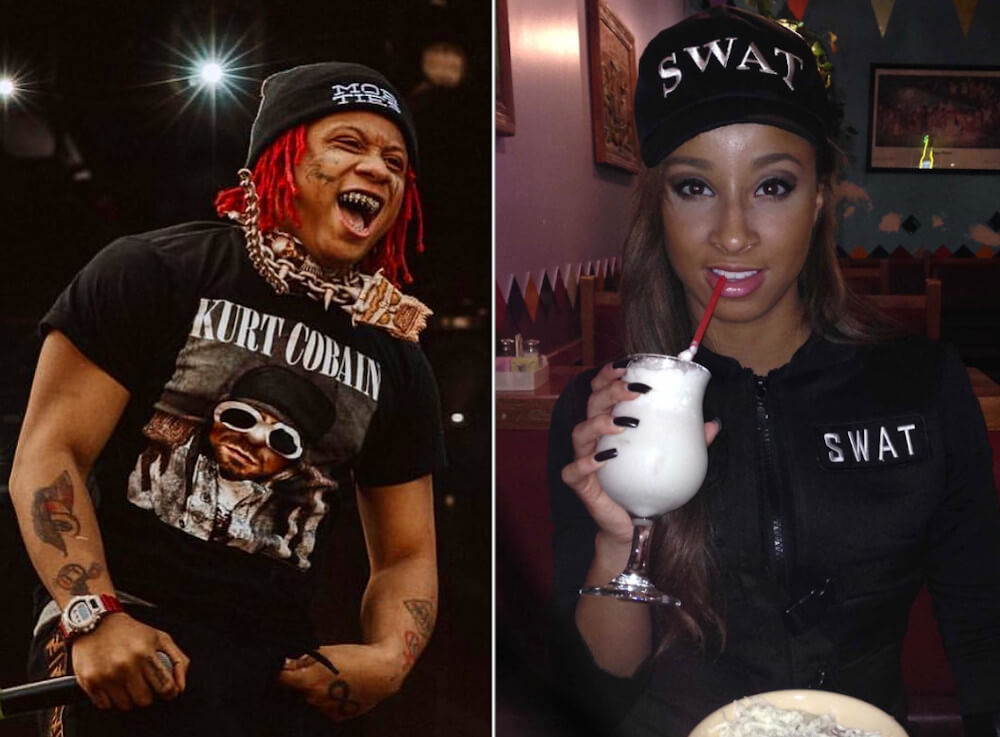 Since then, Teanna Trump and Trippie Redd have made a headline everywhere. We can see in the comment sections that not everybody supported them.
Some of his fans even made fun of her there, but most showed excitement about this new couple.
However, neither Trippie Redd nor Teanna Trump confirmed that they were an item. Another source claimed they were just "hooking up," and nothing serious was happening.
Trippie Redd Wrote Songs for His Ex-Lover, Emani 22
Some of you might still remember the rapper Emani 22, that passed away last year due to a car accident. You probably recall your memories of what happened after that.
Yep, her fans blamed Trippie Redd for not appearing "sad enough" over his ex-girlfriend's situation.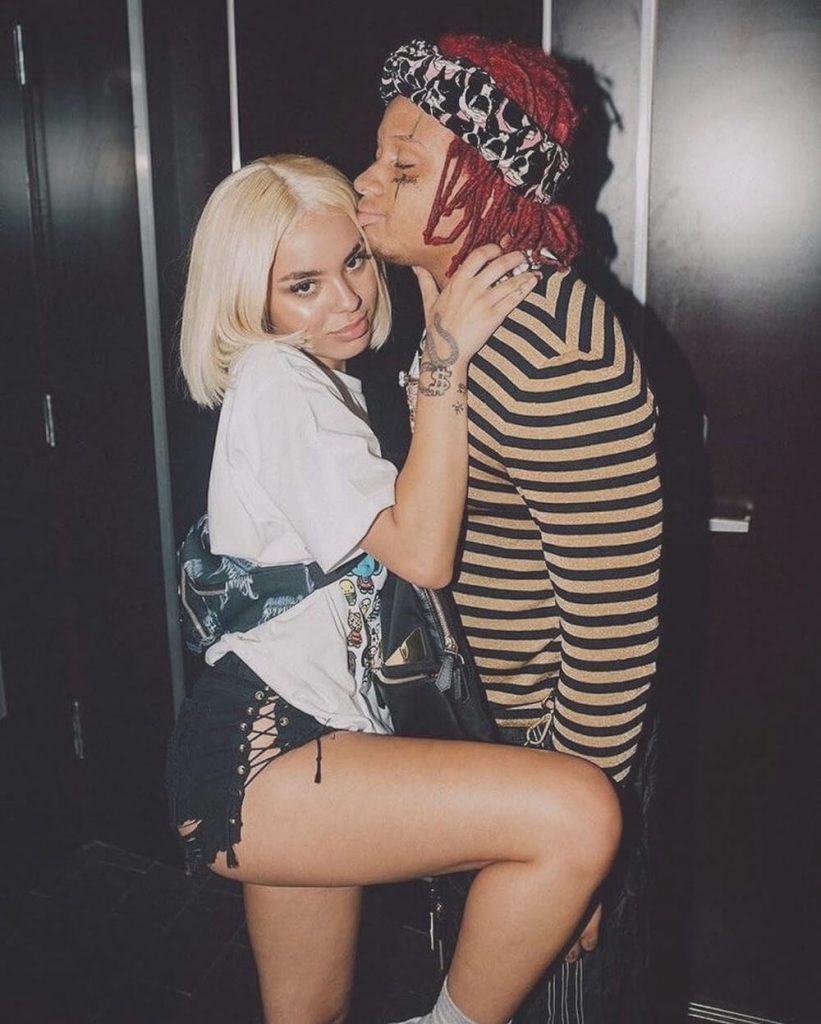 Emani 22 and Trippie Red were together in 2018, and their photos were all over the internet. Apart from sad news about Emani 22, she and Trippe Redd used to be the next Travis Scott & Kylie Jenner.
That's why many people expected him to show his sadness when she passed away, like how he showed his love when the two were still together.
Not only that, Emani 22 and Trippie Redd had made and collaborated on two songs called "Inside" and "Fire Starter." Like how Trippie Redd made a tribute to his ex-lover, Coi Leray, he also dedicated his album "A Love Letter to You 3" to Emani 22.
Working together and appearing lovey-dovey on social media wasn't enough to keep them together, though. In less than a year, Emani, 22, and Trippie Redd separated for good.
Trippie Redd Bought Aylek$ $5,000 Handbag But Got Dumped in the End?
After knowing Trippie Redd's first three lovers, we can safely say he has a thing for his fellow rappers. Aside from his romantic rumor with Teanna Trump, Trippie had always dated a rapper, and his relationship in 2018 was no different.
In 2018, Trippie Redd dated the "North Pole" and "No Feels" singer and rapper, Aylek$. Although both are rappers, Aylek$ and Trippie Redd had their first encounter through Instagram.
Republic World reported that Trippie Redd didn't mind sharing his thoughts when he first met Aylek$. He stated that when he first saw Aylek$ on Instagram, he instantly said hi to her through DMs.
His infatuation didn't fizzle out when he finally met her in person, saying that Aylek$ "hard to catch" aura made him more interested in her.
Not only that, Aylek$ herself wasn't hesitant to share her point of view about him. She stated in her 2018 interview with Montreality that the most romantic thing Trippie had ever done to her gave her a $5,000 handbag.
Although the relationship ended up being another Trippie's short romance, the breakup hurt Aylek$ so much to the point that she expressed her pain in her song, "No Feels."
Their romance ended the same year when Trippie and Aylek$ began dating, and there was a rumor that they got back together in 2020.
However, it wasn't confirmed, and later on, we heard Trippie Redd's news started dating his current girlfriend, Skye Morales.
Trippie Redd Kissed Bhad Bhabie: What Happened Between Them?
Buckle up, dear reader, because one more thing happened. 2018 seemed to be a weird year for Trippie Redd because a lot happened this year. Trippie was linked with Teanna Trump, Emani 22, and Aylek$ in 2018 alone.
In May 2018, Trippie Redd was rumored to date another famous rapper, Bhad Bhabie. She happened to be Emani 22's closest friend, and it was weird if he dated both of them in the same year, right?
Thankfully, it was only a rumor. Bhad Bhabie confirmed that she had kissed Trippie Redd, but she denied any romance between them.
Not only that, but Trippie Redd also confirmed that they never hooked up and never planned to be a boyfriend and girlfriend.
He stated that it was just a meaningless kiss, and the media took it too far. Trippie Redd also described the rumor as "weird."
Mulan Vuitton Dated Drake After Breaking Up with Trippie Redd
The list hasn't ended. In 2017, Trippie Redd dated another hot and beautiful woman; an American socialite, Instagram model, social media influencer, and musical artist, Mulan Vuitton.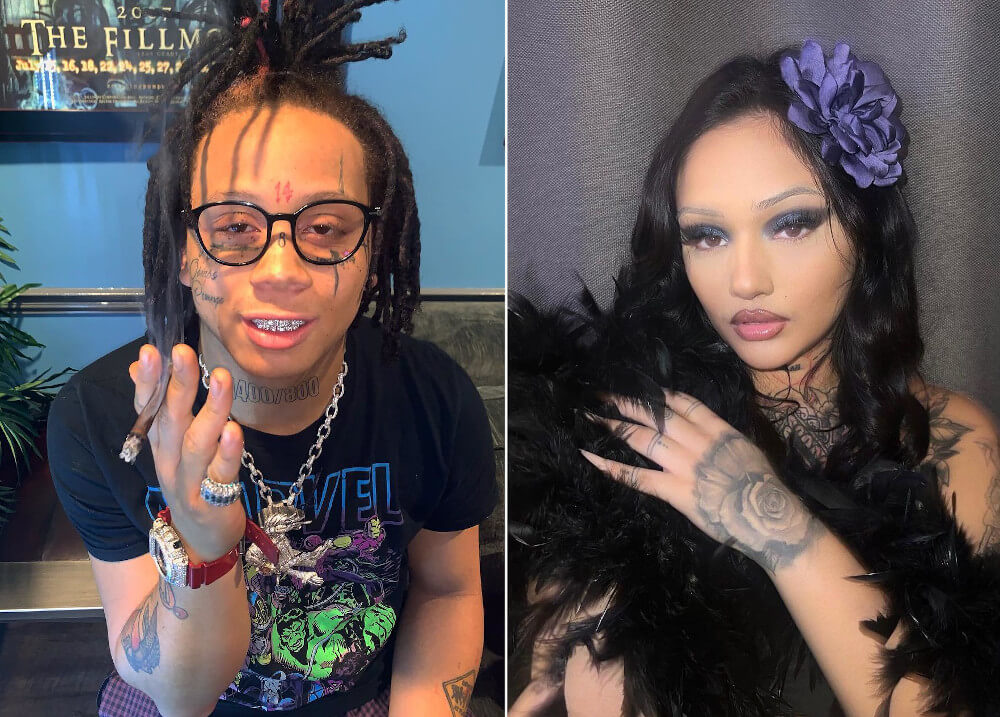 According to some sources, Mulan and Trippie Redd's romance was on-and-off before they separated for good in 2018.
Apart from Trippie Redd, Mulan was also rumored to have dated Drake right after she split with Trippie Redd. Ah, we see that Mulan also has a type.
Well, after knowing all of Trippie Redd's relationship stories was quite a ride. So, which one of his love stories is your favorite? We bet that you have a hard time deciding.