Noah Centineo Girlfriend 2023: Is He Married?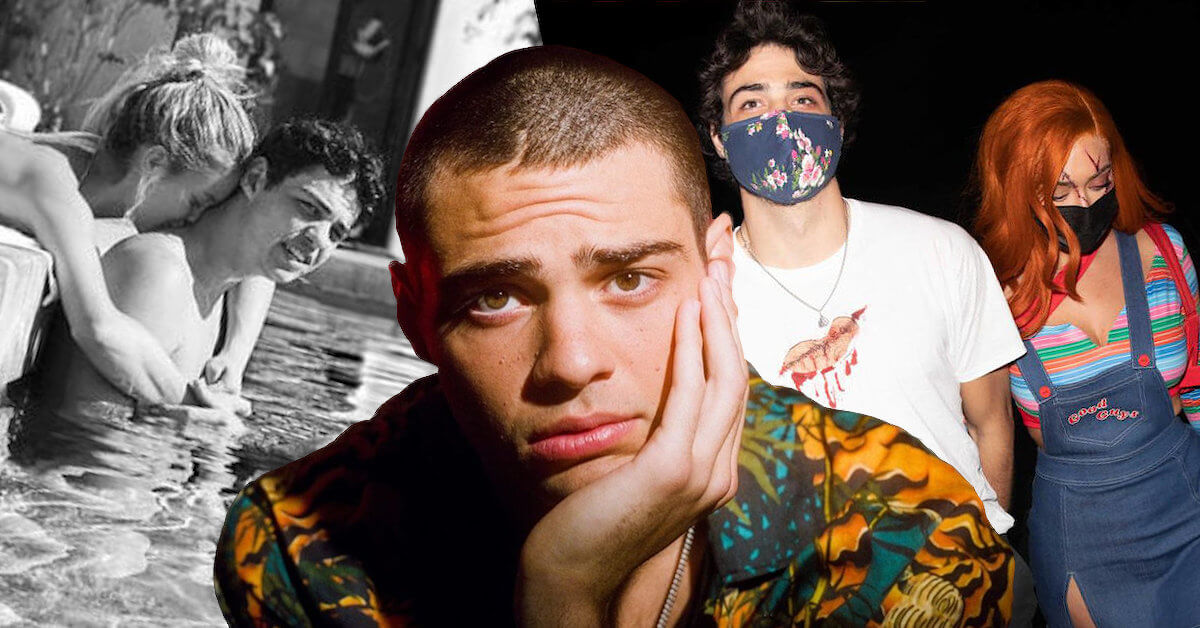 The American heartthrob undoubtedly drew many fans with his good looks, fit physique, and fun personality on and off the screen. His portrayal in the Netflix adaptation of the To All the Boys trilogy and the chemistry between him and his on-screen lover, Lana Condor, also gained him many new admirers.
Noah Centineo proved to be a promising young actor with several awards under his name, including an MTV Movie & TV Awards, a Teen Choice Awards, and a People's Choice Awards.
Noah Centineo's Relationship with Girlfriend Stassie Karanikolaou
In June 2020, Noah Centineo and Stassie Karanikolaou were rumored to be dating after the couple exchanged flirty comments under Stassie's Instagram post. In the post, Stassie wore an oversized jacket, to which Noah commented, "Give me my damn jacket back woman … PLEASE."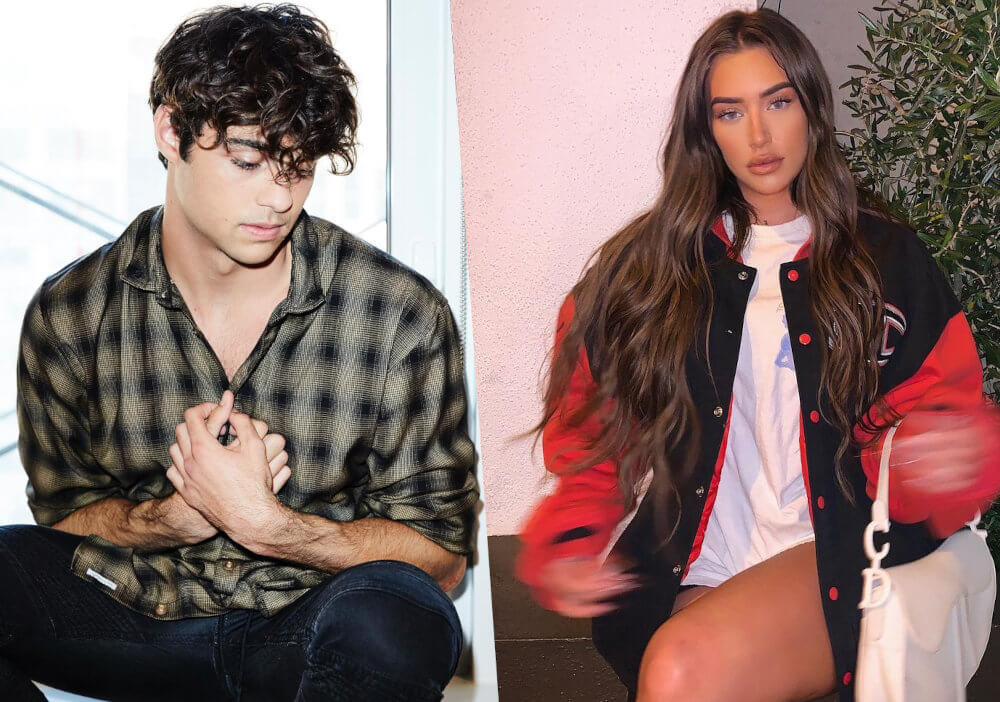 The dating rumors somehow escalated to a wedding rumor, where several accounts reported that Noah and Stassie went to Las Vegas to get married "without telling their families." While Noah stayed mum about it, Stassie quickly denied those rumors, stating that they never got married.
In October 2020, the couple was later spotted holding hands and making out at Kylie Jenner's star-studded Halloween party.
They were also pictured leaving the event together, with Noah wearing a simple white tee with a single bloody slash on the chest (talking about minimum effort!). Stassie donned a feminized version of the demon doll Chucky.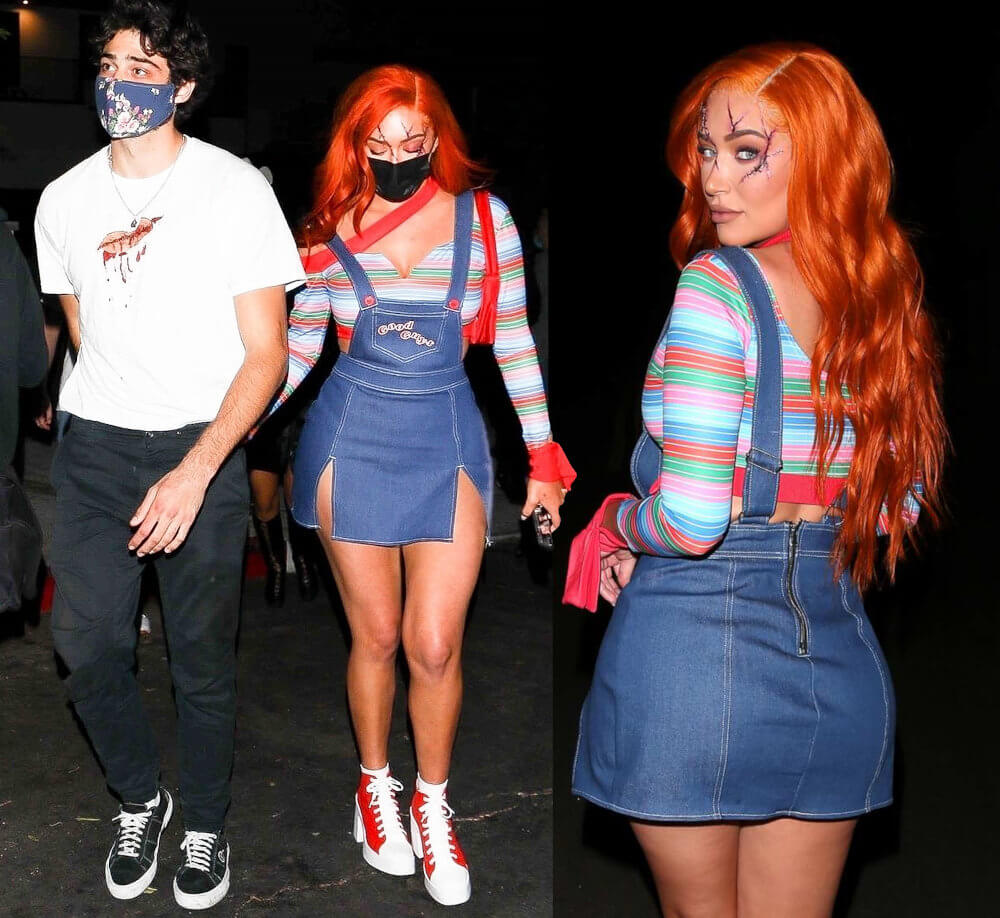 While fans were wondering why the couple has yet to go Instagram official, a source close to Noah Centineo and Stassie Karanikolaou shared with E! News that they're mostly "hanging out at either of their houses" where they can chill and have fun.
The source also revealed that they work out well because while Noah is "very outgoing," Stassie also shares the same personality and "thinks he's hilarious."
While the pairing seemed to be an unlikely couple, they had been friends for years before going out together. They initially met for a movie project but ended up "connecting and having chemistry."
Stassie Karanikolaou is Kylie Jenner's best friend following Kylie's meltdown with Jordyn Woods. But before that, Stassie has worked close to the Kardashian-Jenner family!
Being a model, she appeared several times in various promotional campaigns for Good American, a clothing brand founded and owned by Kylie's sister, Khloe Kardashian.
Noah Centineo's Highly Publicized Relationship with Alexis Ren
Noah Centineo and Alexis Ren first met through a mutual friend in 2019. Interestingly enough, the sparks between them appeared thanks to the musician Shiloh Dynasty! Noah shared with Harper's Bazaar in 2020 that Alexis was the first one who mentioned her love for the singer, and Noah was a goner.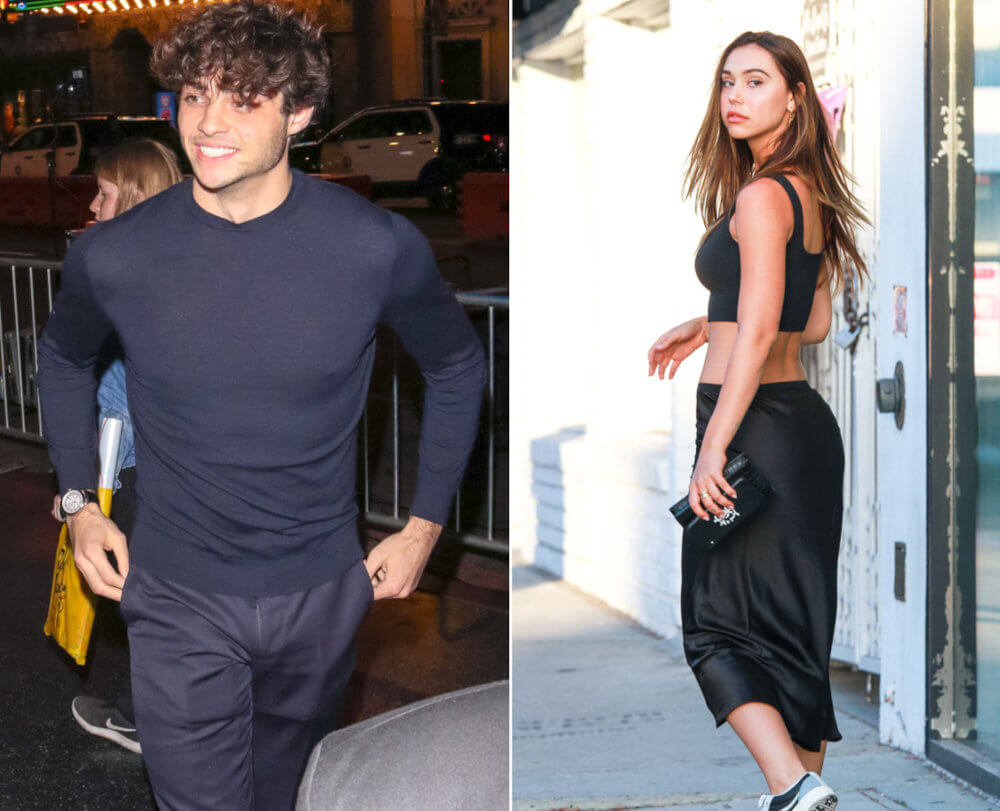 "I wasn't looking for a relationship at the time," he admitted in the interview. "But I had to follow this through," he laughed.
Noah also shared that his relationship with Alexis was the longest one he's ever been in. He revealed that his girlfriend is "very good at monogamy" and that he "loves monogamy too."
It's a rather odd way to gush over your girlfriend, but okay?
Noah admitted that he despises the idea of a one-night stand, claiming that "ninety percent of the time, they're not good." However, this sentiment is probably rooted in his need to "look for codependents."
The Sierra Burgess Is a Loser star revealed that he has a history of being "super compulsive and obsessive" in his past relationships, where he gave everything, "24/7, all in."
Noah also proudly introduced his girlfriend to his crew and castmates. Alexis was spotted in Vancouver in 2019, the filming location of the second installment of the To All the Boys series. Moreover, a week later, the couple was spotted kissing and hugging at an airport in Florida.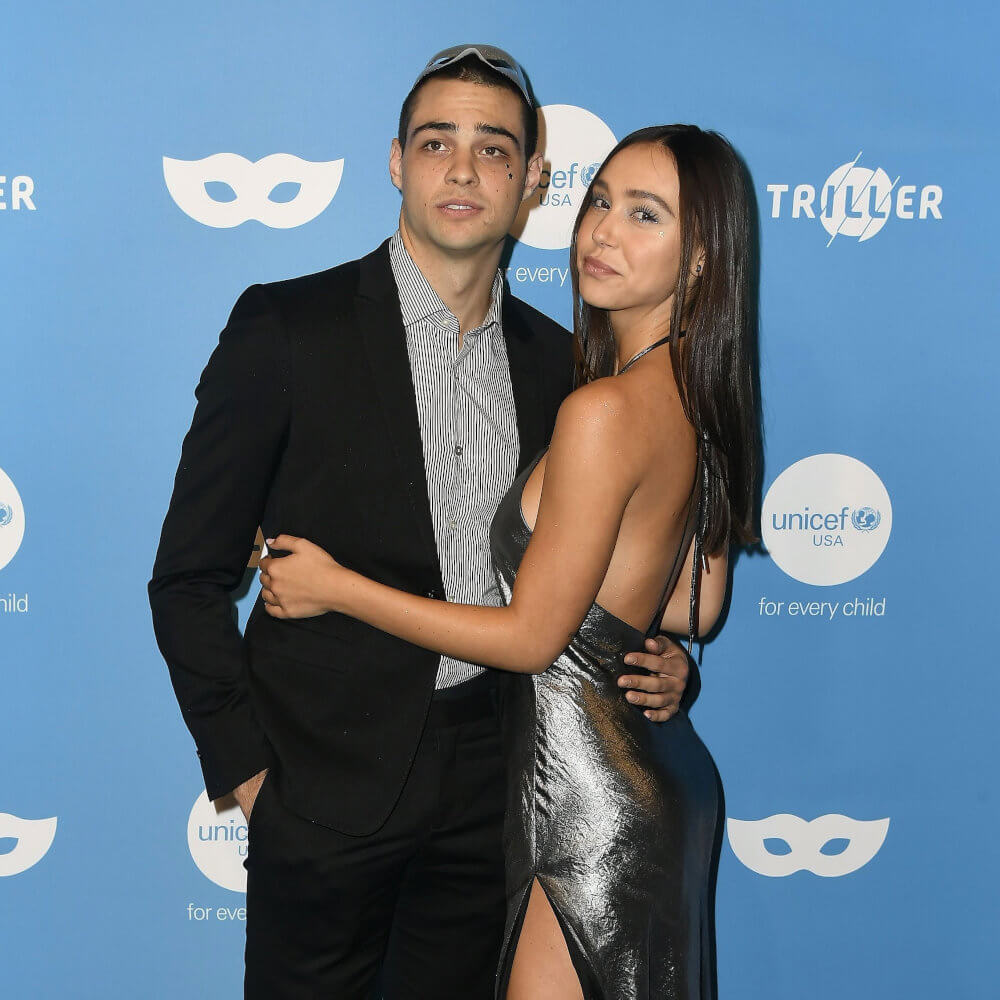 Feeling enough of keeping their relationship low-key, Noah and Alexis made their first red carpet appearance (or was it blue?) at UNICEF's Masquerade Ball in October 2019. Some people noted that they seemed awkward and uncomfortable, but it was probably due to a stage fright before their debut appearance as a couple.
Alexis was constant in showing her support following Noah's knee surgery. The actor posted several videos on his Instagram story to show fans his shower struggles. There, Alexis was seen to assist him in whatever he needed patiently.
Noah also continued to gush over his girlfriend for months later. He told that Alexis was the one who kept him grounded despite his massive popularity and that they "love each other."
Nearly a year after they started dating, Noah finally made the relationship Instagram official by posting a picture of them together, taken on their vacation to South Africa a month before.
Unfortunately, the romance seemed to fizzle out rather quickly. In April 2020, a source confirmed that Noah and Alexis had broken up "a few weeks ago." This report was later supported by Noah's decision to delete the picture of them together and even went to the extent of unfollowing each other!
Despite neither party opening up about the reason behind the split, many fans assumed that there was possibly bad blood between the two.
I mean, unfollowing your ex? There's nothing amicable about it!
Noah Centineo's Steamy Romance with Angeline Appel
While Noah once said in a 2020 interview that his relationship with Alexis Ren was his longest relationship, the history book shows otherwise. Noah dated Disney star Angeline Appel from 2016 to 2018, which means two years long.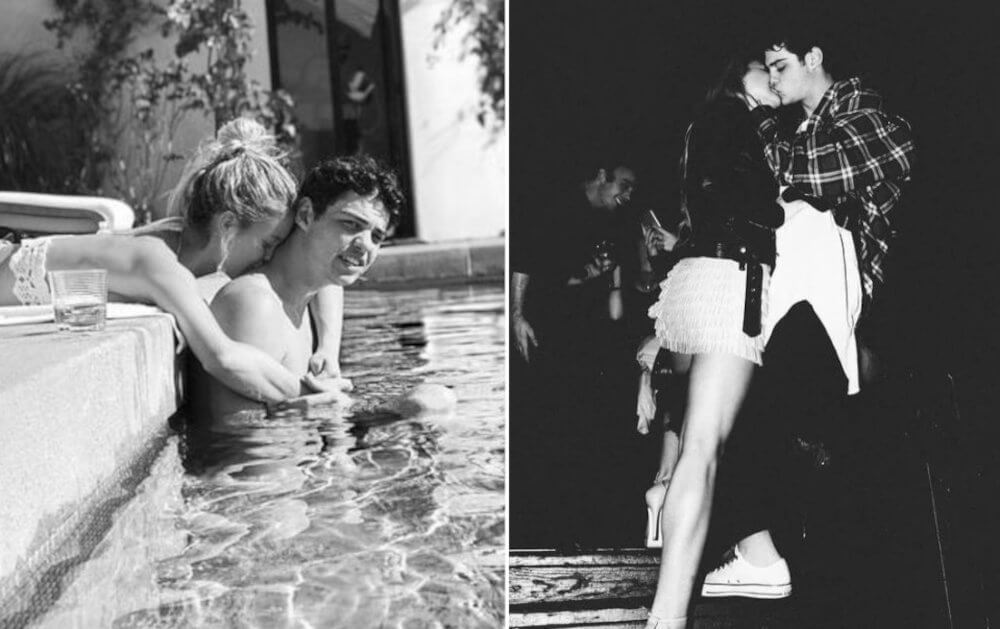 The couple dated when Noah was starring in Fosters and Angeline was filming Lab Rats: Elite Forces. The couple was also not afraid to show off their relationship with PDA and lovely banter through their respective social media accounts.
Noah once tweeted, "If our relationship ends..it'll be because of you…Breaking up with me. Because I poop for too long." He also tagged Angeline's Twitter, broadwaybarbiee.
Jokes aside, the couple has shared several pictures of their steamy romance on their social media. Some of them included pictures of Noah chilling by the poolside while Angeline hugged him from behind and nuzzled his neck.
Another picture that got fans freaking out was a picture of them sharing a kiss on a stairway where Jack Griffo's birthday party was held.
Unfortunately, the couple broke up sometime in 2018. The reason remains unknown until this day. Noah also made the same move following his breakup with Alexis Ren, deleting all pictures about his relationship with Angeline.
Noah Centineo's Bisexual Rumors and the List of His Brief Relationships in the Past
Before dating Angeline Appel, Noah was reportedly dating another Lab Rats star, Kelli Berglund, in 2013. We don't want to pry whether things were awkward for Kelli and Angeline, but we can't help it!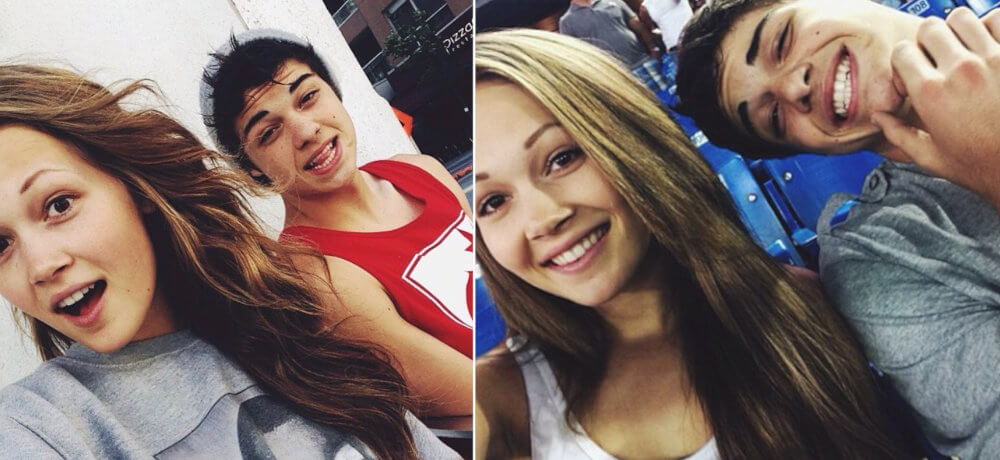 He also dated singer Lauren Kolodin in 2015, where they openly expressed how much they miss each other through Twitter, all initiated by Noah.
Noah caused quite a stir when he posted a picture of him kissing his male best friend, Chase Austin, in 2017. Many fans were convinced that the image was a way for Noah to come out and reveal his sexuality.
However, it's either he wanted to clarify the rumors, or he wasn't that ready to come out yet, because Noah edited the caption almost immediately, encouraging people to "embrace platonic intimacy."
In the caption, Noah also urged his fans to "kiss your friend's faces more" and to "destroy the belief that intimacy must be reserved for monogamous relationships." He ended his caption with a message to use emotionality and vulnerability against "a society which teaches you that emotions are a sign of weakness."
While the picture has been deleted, Noah's message in the caption deserves its place to be framed.
So far as we know, Noah Centineo has only dated women, and he never explicitly stated his sexual preferences. However, fans can't help to wonder what he identifies as or if he ever wanted to label himself!