Who is Comedian Melissa Villaseñor Boyfriend? Her Career and Love Life
Melissa once joked about her "boyfriend," which made many people want to dig deeper into the truth of her jokes.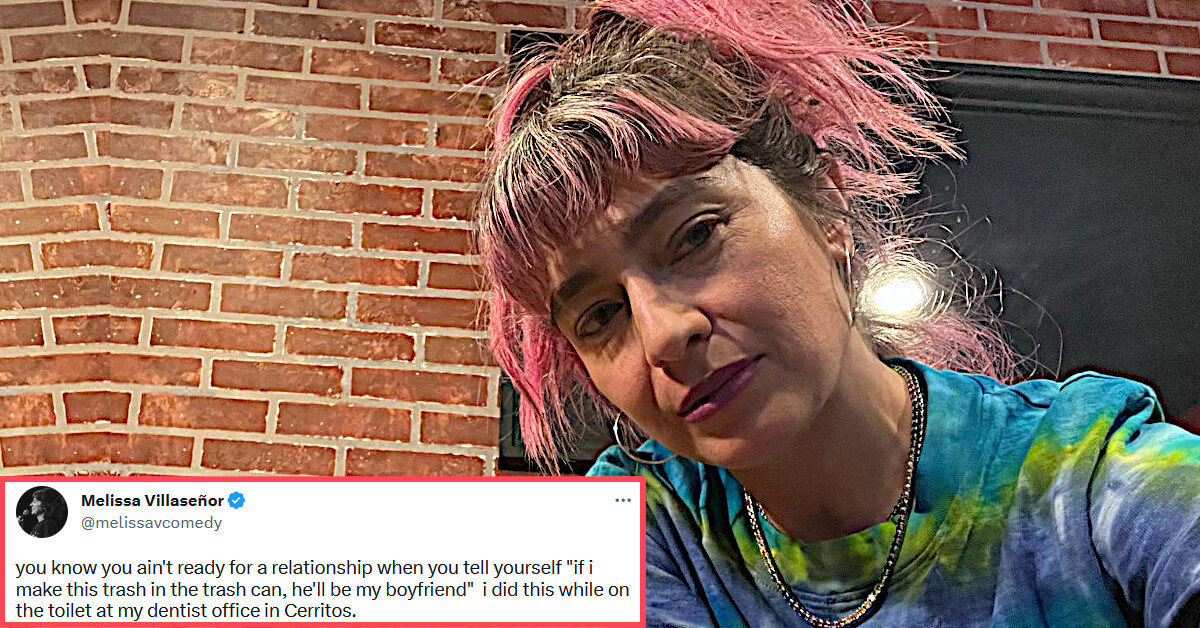 As the first Latina cast member in SNL's history, Melissa Villaseñor was quick to be the center of attention in showbiz. She's not only a talented comedian but also an impressionist and an actress. Melissa is best known for her impressions of various celebrities and fictional characters.
Melissa began her career as a stand-up comedian and gained popularity on the TV show "America's Got Talent" in 2011.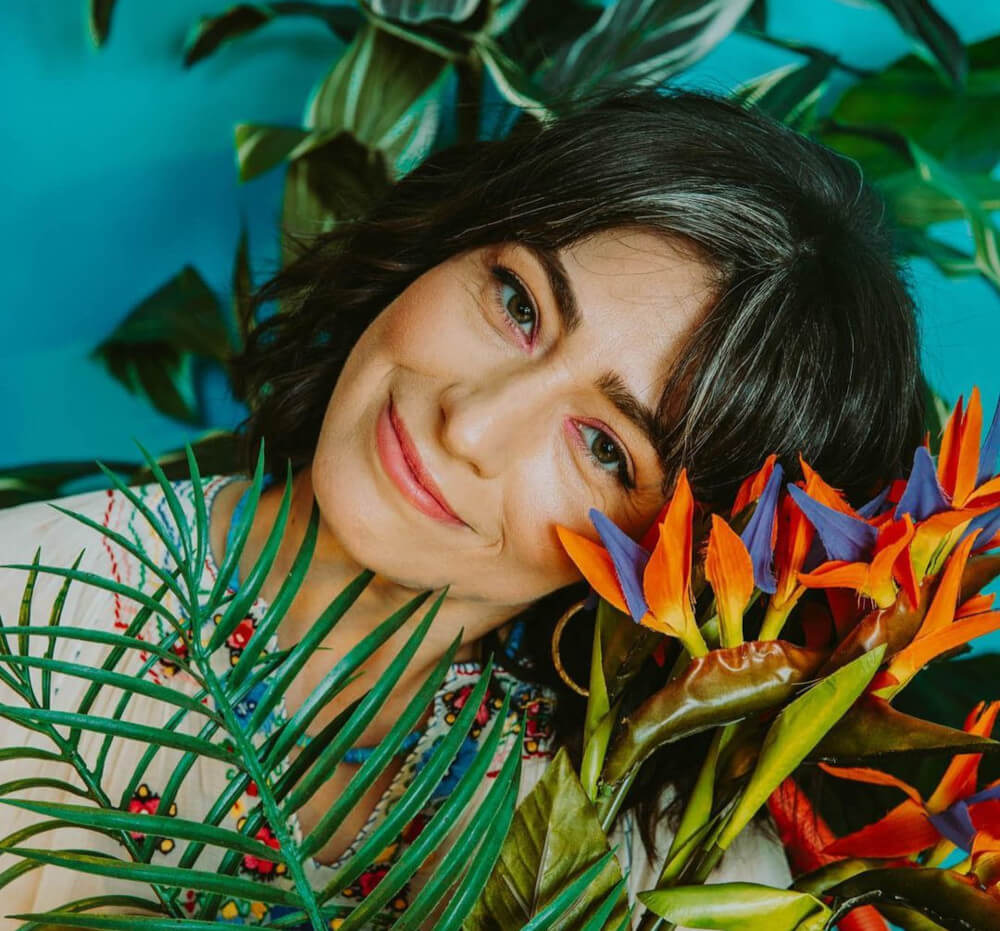 In addition to her work on SNL, Melissa has also appeared in movies and TV shows, including "Family Guy," "Adventure Time," and" Barry,"
Who's Melissa Villaseñor's Boyfriend?
However, Melissa wants all of the world's attention on her career only and not on her personal life – let alone her romantic relationship.
As comedians, it's common for them to make fun of their own life problems. But, it also makes us second-guess whether the comedians told us about their real-life problems or mere content.
In one of the "Netflix Is a Daily Joke"'s episodes, Melissa mentioned that she had a boyfriend who works as a violinist; "a good one, not a bad one," she said.
Not only that, but she also said that her boyfriend was a "sweetheart" and a "talented" person. However, she didn't reveal her boyfriend's identity.
And one of Melissa's tweets in May 2022 also indicated that she's happily single and might not be ready for a serious relationship.
She wrote as quoted: "you know you ain't ready for a relationship when you tell yourself 'if I make this trash in the trash can, he'll be my boyfriend' i did this while on the toilet at my dentist's office in Cerritos."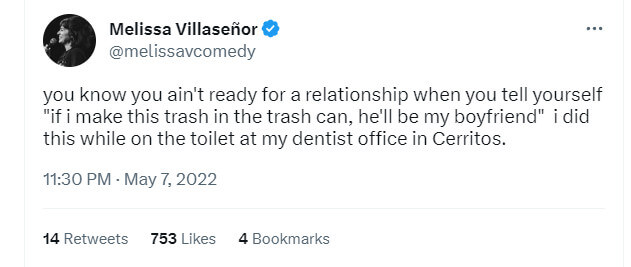 And even though she was just herself by funnily saying things, that could be a sign that a romantic relationship might not be in her utmost attention right now.
Did Melissa Villaseñor and Jason Momoa Date?
Melissa has done a very good job hiding her relationship story, but she never hesitated to embrace the rumors about the guy that hit her (or she likes).
Last February, Melissa was invited to the World Record Podcast, and she talked about how the "Aquaman" star, Jason Momoa, hit her Instagram DM.
"He [Jason Momoa] is very fun and hot," Melissa started the talk. She also continued by recalling how Jason and Melissa interacted on Instagram in the first place.
Jason was the one who commented on Melissa's post about her desire to show more of her booty on the show, while Jason replied with, "Mama, we love to see that booty." Since then, the rest was history.
Melissa also revealed that on the same day, Jason slid into her Instagram DM by complimenting her new hair, followed by the question about why Jason even texted her at four in the morning.
Of course, Melissa's appearance on the World Record Podcast triggered many questions. Melissa never took it seriously, but she made sure to make some clarifications on her Twitter account.
"Someone reached out to my manager not too long ago, asking to confirm a rumor that Jason Momoa and I were dating. My manager said, 'absolutely not' hahaha, I was like, dang! At least meet me halfway and just say we did 'over the clothes stuff," Melissa tweeted.
Not only that, Melissa added another funny comment for her own tweet, as quoted:
"Six years on SNL never went out with a hottie host or hooked up with a musician. Let ME HAVE THIS RUMOR."
Unfortunately, a rumor about a nice-looking actor like Jason Momoa didn't change Melissa's mind about staying single for a while; and even though Melissa and Jason Momoa hadn't crossed each other paths that often, they once worked together at SNL when Jason did his first sketch in "First Impression" and "Elf on the Shelf" last 2018.
Melissa Villaseñor's Confession on How SNL Had Taken a Toll on Her Mental Health
At this point, we agree that putting her personal life in public isn't something that Melissa Villaseñor likes to do. It's also safe to say that Saturday Night Live has been Melissa's life for the past decades. However, Melissa also had some roller-coaster moments during her time in SNL.
Entertainment Weekly reported that Melissa had left SNL in October last year due to her mental health problems. In the exclusive interview with EW, Melissa didn't mind sharing some of the struggles she still faces.
"It was my decision. I gave myself a lot of time in the summer to think about it and kind of play out in my head if I go back [to SNL]," Melissa stated.
She continued, "At the end of the day, it was about my mental health. I was struggling. I always felt like I was on the edge of a cliff every week. And I was like, and I don't want to be doing that to myself anymore."
She also added that the problem wasn't in the SNL itself but in how Melissa handled things. As an introvert (surprisingly), being constantly on the camera and meeting a lot of new people had taken a toll on her mental health, and she wanted to take a break.
So, does that mean that Melissa is completely stepping out of the limelight? The answer is no. Thankfully, Melissa is still active on her social media, especially on her Instagram and Twitter.
She often posts some of her comedy and talks on her Instagram page, which is relieving to her fans because she seems happier than ever there.
Well, we hope that with everything that happened in Melissa's life, she's enjoying her life to the fullest – be it with or without a lover and SNL.