Jessica Serfaty Husband: Her Relationship Status at Present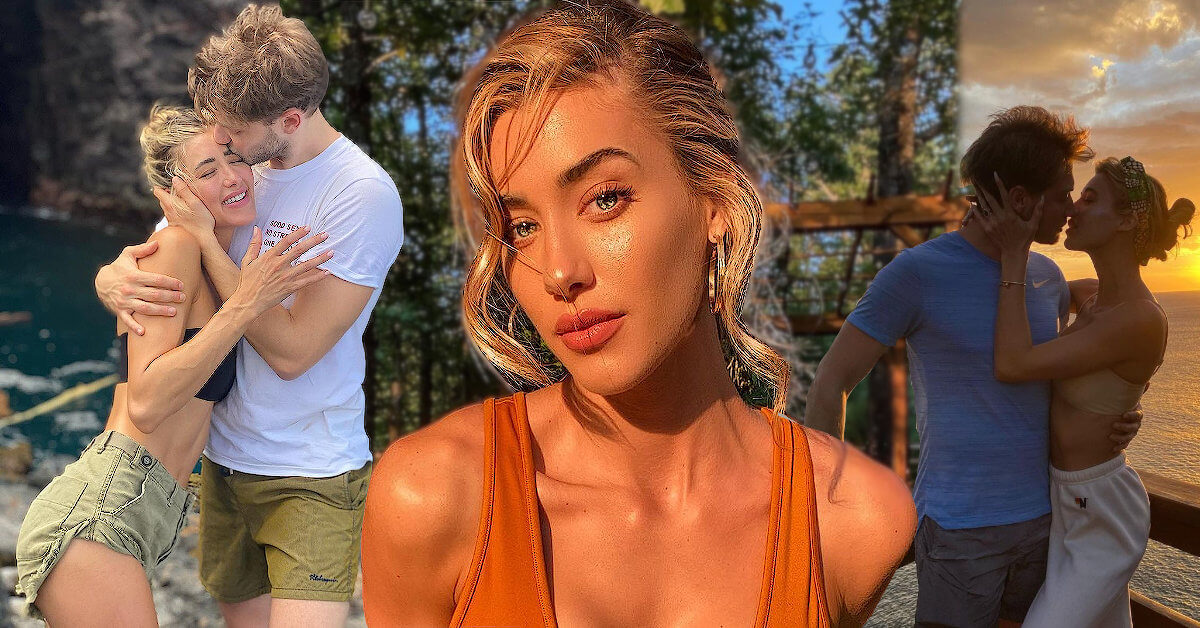 Who doesn't know Jessica Serfaty? A hot, charming, and talented actress, producer, and model in American Next Top Model came 4th at the end of the season! She has seized people's attention and also hot men in Hollywood. It's easy to get jealous of her ex-lovers because, well, she is surrounded by lots of hot men.
She appeared in various movies like The Ride, FML, and Ryde, and she is undoubtedly talented. Not only that, she's previously linked with big names like Ed Westwick and Joe Jonas!
Stay tuned to find out more about her exciting love stories!
Meet Jessica Serfaty's New Fiancé: A Hot Co-Founder and CEO, Kaan Gunay
Jessica Serfaty is currently engaged with Kaan Gunay, a Co-Founder and CEO of Firefly. He is no ordinary man because he's a Co-Founder & CEO of Firefly! Kaan is a Stanford Business School graduate, and we see his name a lot on Forbes magazine.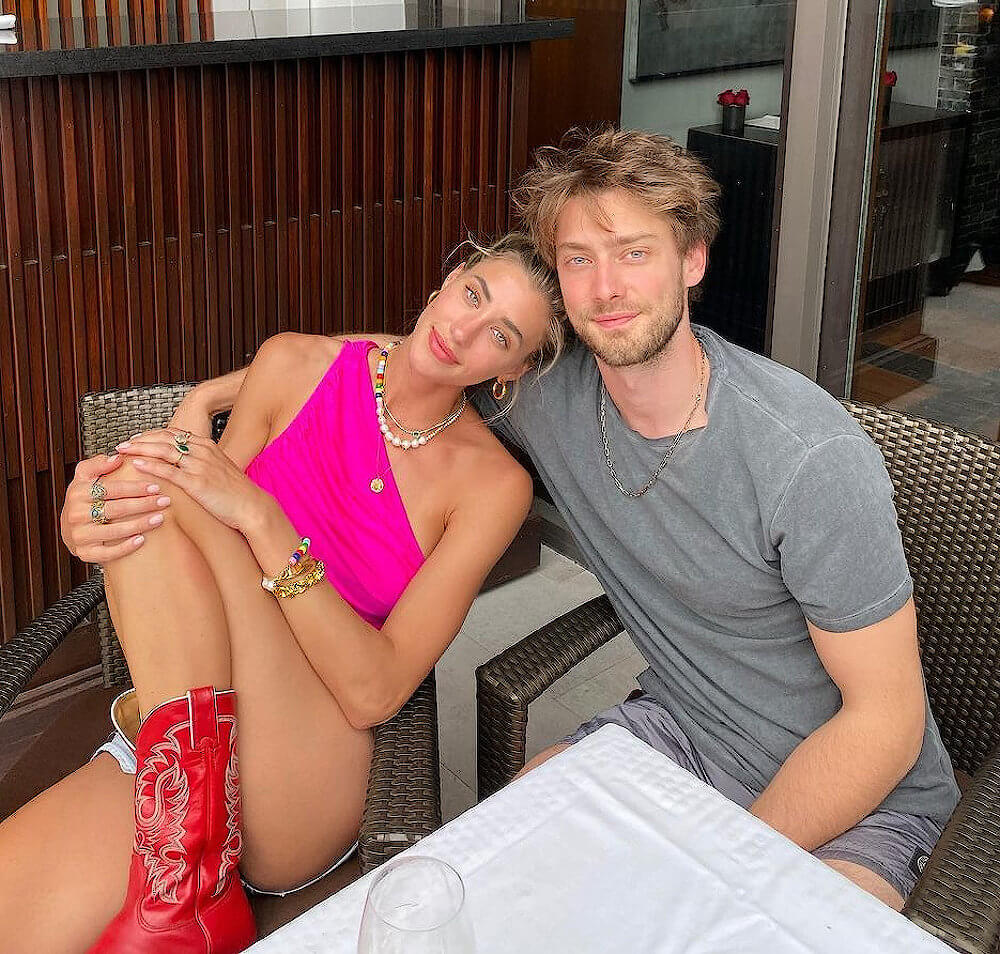 Jessica and Kaan proudly post their moments together on Instagram, in which they announced their engagement news. 
"WE'RE ENGAGED!! @kaangunayofficial, we've been keeping this secret for a while. I won't tell you guys when or where just yet," Jessica wrote the caption on her Instagram in June 2019.
She also added, "It was while we were out of the country. Kenya, Tanzania, Mauritius, Dubai, Istanbul, Mexico, Paris. Take a guess. My forever man, I love you so much it hurts." Wow, easy there! It seems like she's completely in love with Kaan Gunay!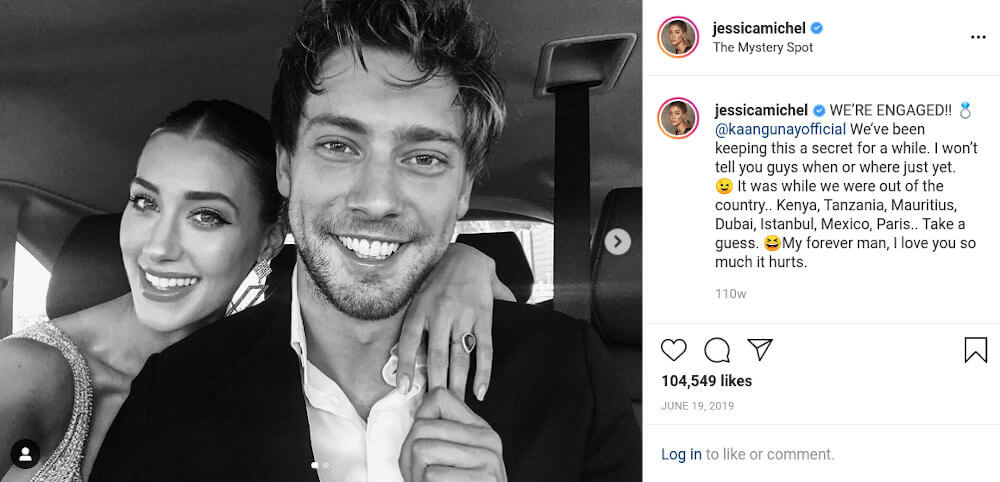 It was then followed by Kaan, who also posted on his page saying, "SHE SAID YES!! We're engaged! I love you @jessicamichael".
A successful model and actress with a super handsome and rich CEO? They couldn't be more perfect!!
Their relationship continues to grow stronger, and they keep making other people jealous. Jessica posted so many moments with Kaan on her Instagram. From taking the whole family to Paris for Jessica's birthday to spending Sunday morning together with Kaan and Roman at home, sleeping together. The two are inseparable.
However, Jessica was romantically involved with Kaan only nine months after breaking up with our favorite Chuck Bass from Gossip Girl, Ed Westwick. So we cannot help but wonder how their relationship was moving so fast, right?!
All rumors aside, we hope that their relationship will last long because the pair look perfectly good together!
Jessica Serfaty and Ed Westwick
Before being engaged to Kaan Gunay, Jessica was (almost) engaged with Ed Westwick, whom we know from Gossip Girl and Romeo and Juliet.
There are lots of ups and downs in their relationships. Jessica had always been there during Ed's sexual assault case and dealt with some hate comments from many people.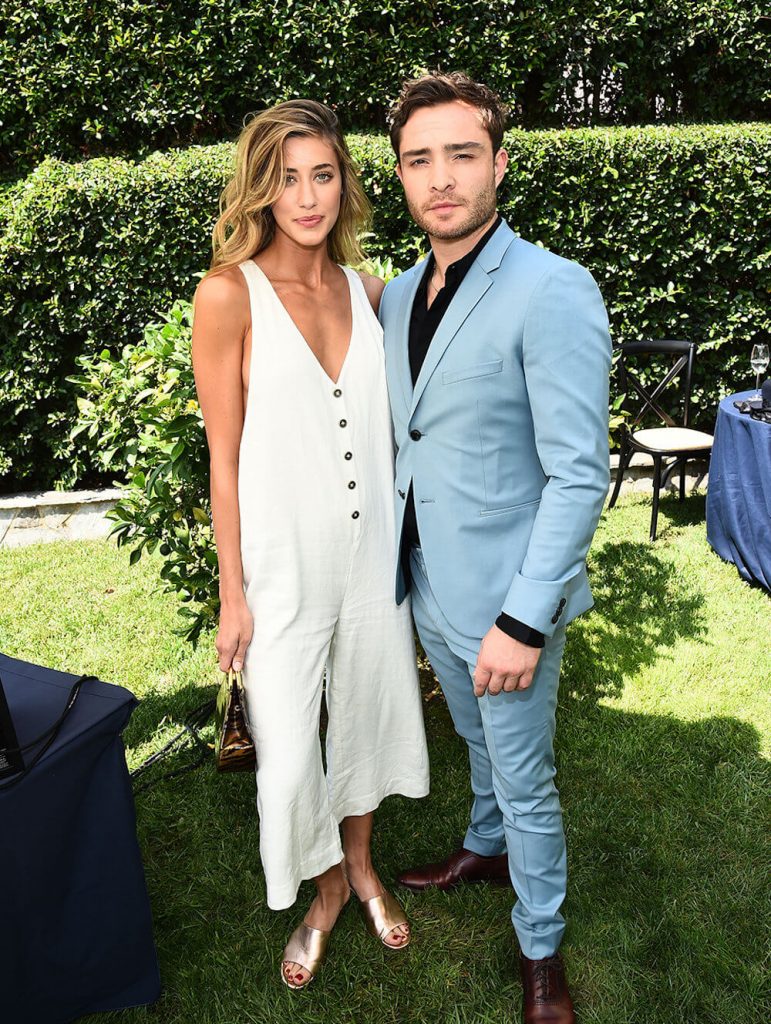 The pair broke up in November 2017 after reportedly dating for a year. It wasn't clear when exactly they start dating, though. But the two have been through many things together, and Jessica had been a supportive girlfriend all along.
We can see Jessica posted Ed's picture on her Instagram with the supportive captions that said: "justice was finally served," even though she deleted it in the end.
Ed Westwick was accused of sexual assault by FOUR women, even though he denied all allegations. As a result, many speculations arise, and Ed became headlines on the media a lot of time back in 2017.
Ed didn't only deny the claims but also stated that he didn't even know the woman who filed for the case.
"I do not know this woman. I have never forced myself in any manner or any woman. I certainly have never committed rape." He made a statement in one of his interviews.
Ed expressed his disappointment on his social media. It was very devastating that people can make a false claim on social media, and society will immediately believe the claims.
"I have not, and I am cooperating with the authorities so that they can clear my name as soon as possible." He wrote on his Instagram and Twitter.
That case, according to some reliable sources, also contributes to Ed and Jessica's split. Though they appeared to love each other still after the breakup, they need to take some time apart from each other to "focus on their selves." A source in The Sun told this information.
A Short Fling with Joe Jonas: A Quick Escape after Gigi Hadid?
Another hot guy that Jessica Serfaty has been linked to is DNCE lead vocalist Joe Jonas! They were seen kissing each other while going on ski together in 2016. It was during a trip to Mammoth Lakes, California.
Many media had been speculating that it was only a short affair and Joe's escape after breaking up with Gigi Hadid. But, instead, their romance happened two months after Joe Jonas split with Gigi Hadid.
Not only that, Jessica was reported to join Joe for the holidays in Vegas. It sounds like a lot of fun, though. But were they serious?
It was just a short fling, and the two didn't officially date. They were not that serious. It seemed like they just had fun together. According to People, the two "not even talking anymore" indicate that the split wasn't amicable. What do you guys think?
However, Jennifer already had a child when she was with Joe Jonas. She has one son, Roman Serfaty, from her previous marriage.
On Her Relationship with Logan Paul
Have you guys ever heard about a controversial video about the Japanese Suicide Forest video made by a YouTuber Logan Paul? Yep, he got canceled by people on social media due to his ignorance and disrespect towards Japanese culture back in 2017. We hardly hear any news about him ever since, but Logan has more stories in his dating life.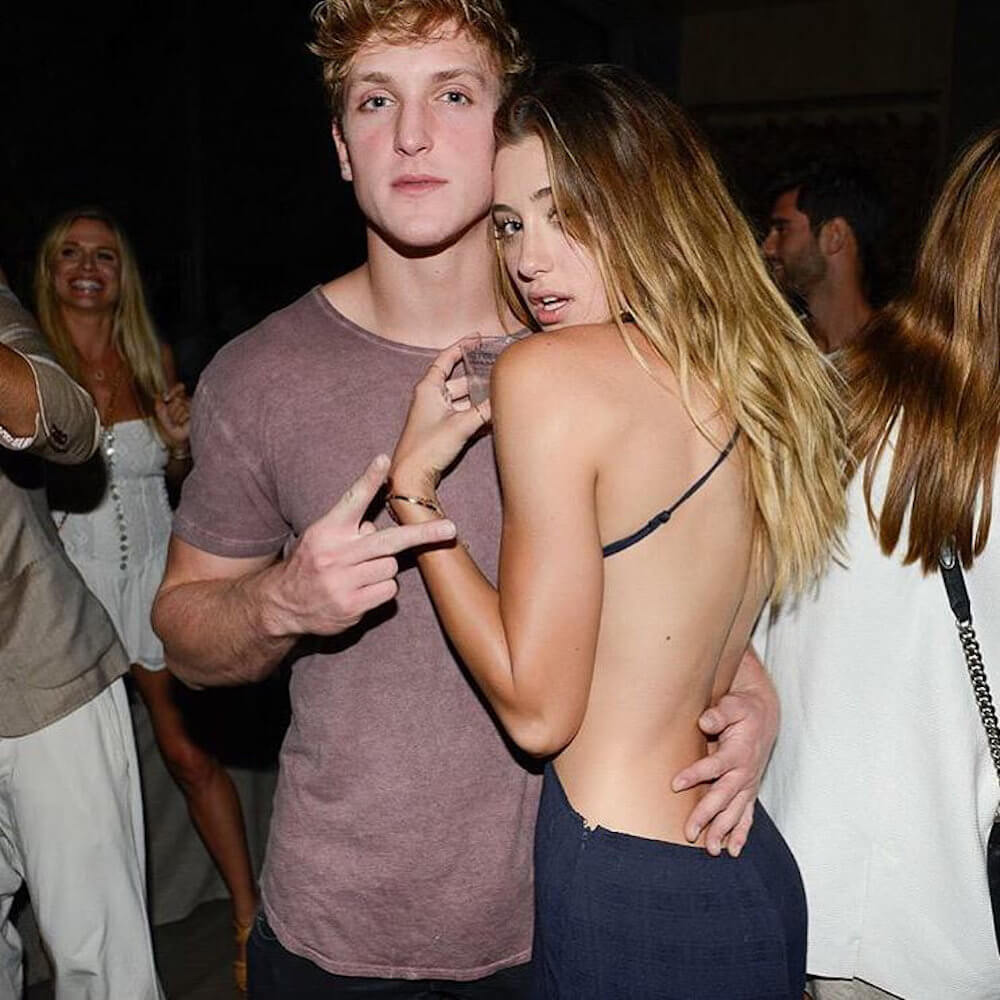 Jessica and Logan were reportedly dating for solid two years! They were together from 2014 to 2016, though we're not sure about the exact date and the reason for their breakup. The two were keeping their relationship under the radar, and we also don't know why.
That's unfortunate because we are certainly dying to know how a top-class model and producer – who is currently living with a successful CEO – could fall in love with a teenage-alike guy and stayed for two years?! Logan is even four years younger than Jessica. Even worse, some media described Jessica as "out of Logan Paul's league."
However, Logan Paul didn't seem to have a hard time moving on. In less than a year after breaking up with Jessica, Logan started dating another model and fitness trainer, Amanda Cerny. They live for social media. Well, birds of the same feather flock together.
Got Divorce from Husband Ididia Serfaty: The Truth about Jessica Serfaty and Her Son
Jessica's one, and only marriage was with Ididia Serfaty back in 2008 and stayed until 2013. They had one son together, Roman Serfaty. Unfortunately, a lot of things happened during their marriage, and most of them were not good.
India Serfaty works as a property manager. He and Jessica were first met at church when Jessica was still 16 years old. The two immediately found great chemistry with each other.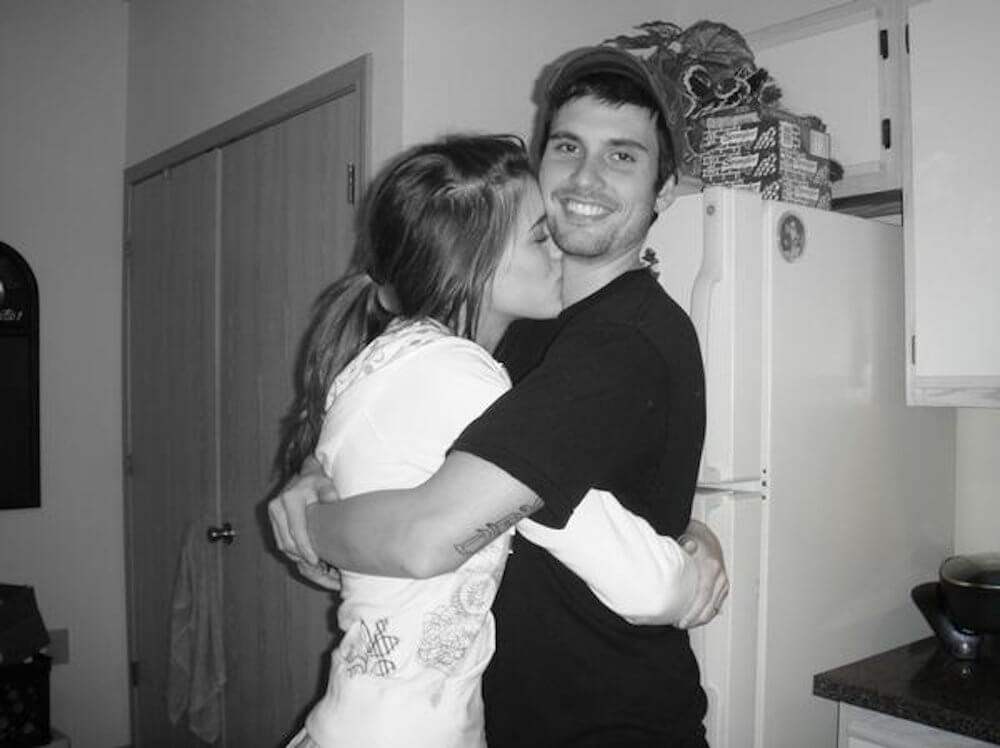 However, their marriage didn't always go smoothly. Jessica Serfaty was rumored to have abandoned her son, Roman because she was "too busy" with her work. She couldn't keep up juggling between her career and family. She eventually chose her professional life over her family.
Jessica never addressed her married life in her interviews, and, of course, she didn't give any comments about this rumor. Though many people believed that she left her family behind, her social media tells otherwise.
On Jessica's Instagram, she shared many of her moments with Roman, and it seemed like they spent together quite often! She made a special highlight about Roman and posted some pictures of her, Kanaan, and Roman being a happy little family.
So, the rumor stays the rumor; Jessica is very much in love with her son and didn't abandon him. She also kept being good friends with Ididia until now!