Jada Pinkett Smith and Will Smith's Relationship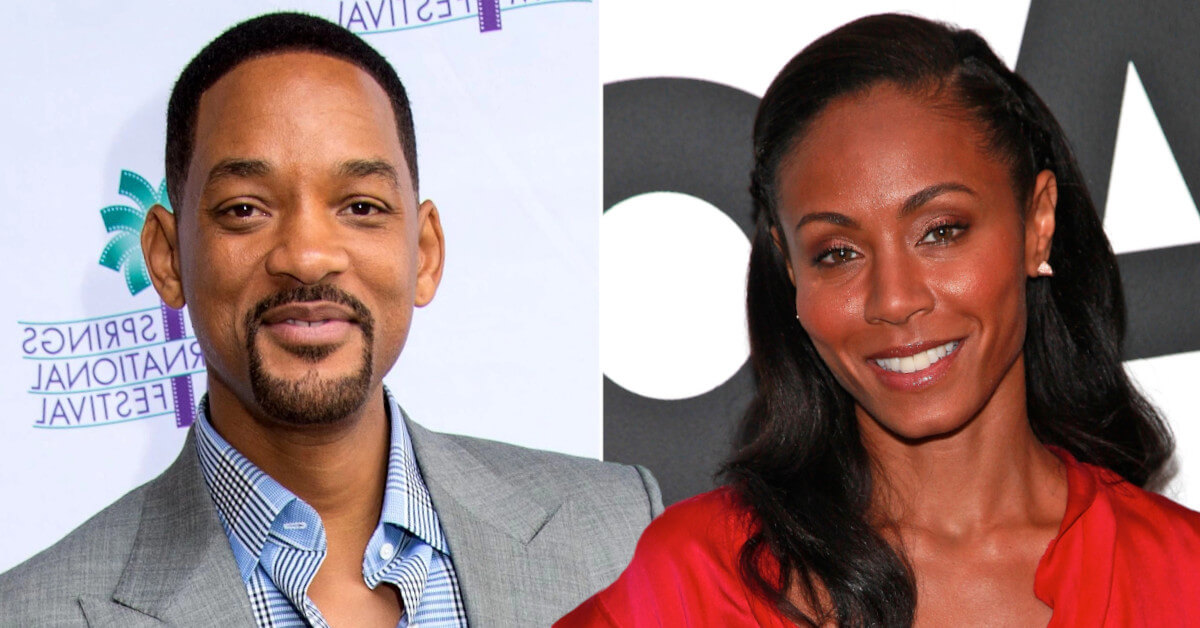 For Jada, Will Smith would always be her family. Even though there are many rumors about their separation, Jada Pinkett Smith and Will Smith emphasize that they will always be together. This statement was said in an interview, on Instagram, or even on a Facebook page.
Timeline of Jada Pinkett Smith and Will Smith's Love Relationship
The two met for the first time on The Fresh Prince of Bel-Air audition. It was regrettable that in the end, the judges didn't choose Jada as Will Smith's girlfriend in the show, and Will married Sheree Zampino.
Will regretted being married to Sheree, and in an interview on Red Table Talk, he said that he just realized that Jada was the woman he was supposed to be with.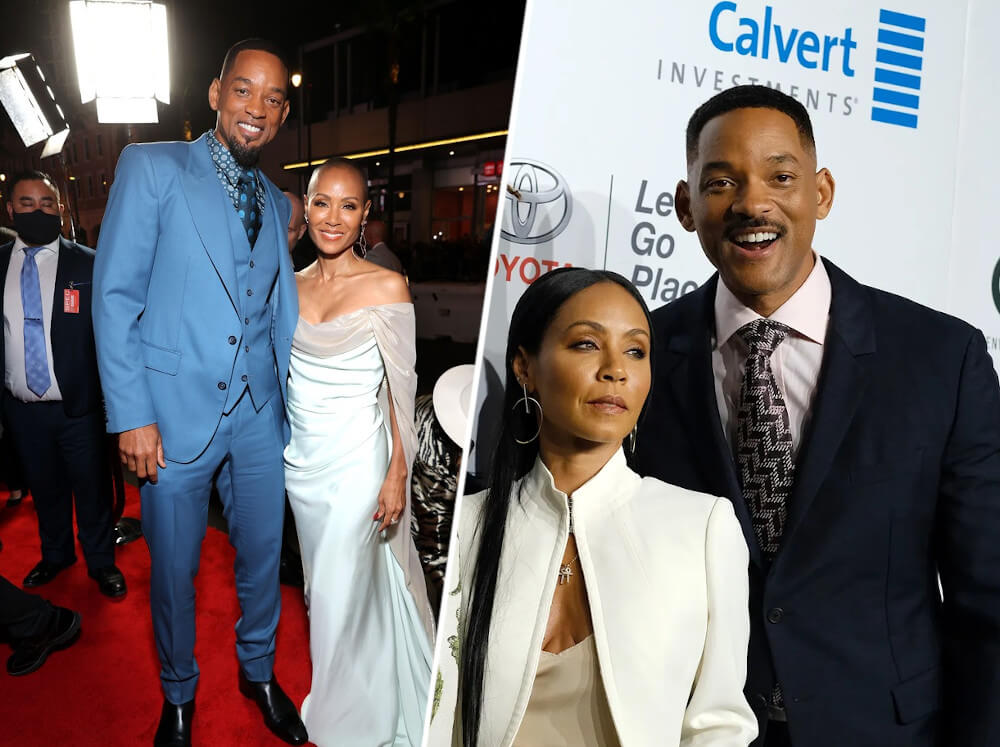 After meeting in that 1994 audition, the two began dating in 1995, after his divorce from Sheree. Will tried to make a move with Jada by asking whether she was "dating anyone," and Jada told him that she wasn't. And he coolly said, "Oh cool. Then you're seeing me now."
Several years after his confession, in November 1997, Will proposed to Jada, and they tied the knot one month later. Jada and Will kept their wedding a secret, and it took place at a hotel in her native Baltimore. Then in 1998, they welcomed a baby boy named Jaden. Jaden later starred in multiple films with his father, one of them was The Pursuit of Happyness.
Two years later, in October 2000, the pair welcomed a daughter named Willow. Her passion was for music, just like the rest of her family, and she also had an opportunity to co-host Red Table Talk with her mother.
Then the news about Jada and Will being in an open relationship was all over the internet, which happened in 2013. Jada tried to straighten the fact up. She said that she meant Will could do whatever he wanted, as he was his own man. She has always told Will, "You can do whatever you want, as long as you can look at yourself in the mirror and be OK."
The public kept having their speculations about the pair. People also gossiped about their separation until Will had enough of it in August 2015. He wrote on his Facebook page, "Under normal circumstances, I don't usually respond to foolishness (Since it's contagious).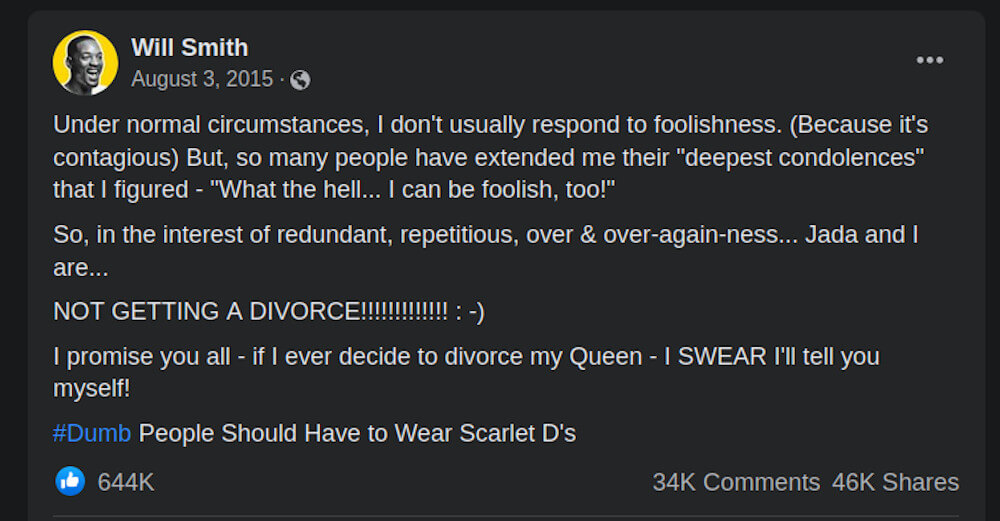 However, so many people have extended to me their deepest condolences that I figured. 'What the hell? I can be foolish as well! So, in the interest of redundant, repetitious, over-and over-again-ness, Jada and I are not getting a divorce!!!"
Will then added information through the Rap Radar podcast that he and Jada were not married anymore, and he'd rather say that he and Jada were "life partners." This sentence emphasized that Will would always be with Jada for the rest of his life. His words might have silenced the public.
"There's no deal breakers. There's nothing she can do – ever," said Will in an interview with TIDAL's Rap Radar podcast. "Nothing would break our relationship, as she has my support till the end, and it feels perfect for getting to that space." He continued.
Jada also tried to further explain their relationship by saying this during the radio show Sway's Universe, "Here's the thing about Will and me, that we are family. That's never going down. We are family. Will and I are families."
She continued, "I will hold him down; it doesn't matter. Who cares about that whole marriage/relationship crap? All that relationship, what people think of ideas of a husband, partner, and all that, man, I don't care. He is a man that can rely on me for the rest of his life, period."
The Entanglement between Jada Pinkett Smith, Will Smith, and August Alsina
Amid all the interviews that said Jada would always be beside Will for the rest of their life, August Alsina came, saying some nonsense about Jada and him being in love with each other. This statement was said in an interview with Angela Yee. August convinced the public by saying this in the interview session.
"I sat down with Will and talked about the transformation from their marriage to life partnership that they have spoken about several times. It does not involve romanticism. I intend to give myself to that relationship for years of my life, truly, and deeply love her."
As this was said, August added that he had Will's blessing regarding their relationship. Jada did not deny that she had a relationship with August, but she rejected the fact that Will gave his blessing for both Jada and August.
"From there, as time passed, I got into a different kind of entanglement with August. It was a relationship. But, Will was not the one who gave him permission or blessing. The one who can permit it in that circumstance is only myself."
Fortunately, all the Smith family members were OK with this drama. One of the sources told Us Weekly, "The Smiths are glad they addressed this and put everything out in the open. The pair, Will and Jada, are like a normal couple who happen to be glorified because they are famous. They have fought. And then, they reconciled. In the end, they do love each other."
The Interview with Oprah Winfrey
Oprah Winfrey had the chance to interview Will Smith about his relationship with Jada. Oprah was concerned about specific excerpts in his novel, as Will often used the phrase "loving freedom."
Will answered, "You love in freedom, with everybody, except your partner. People tend to lend more space in friendships and relationships with their children. Well, this rarely happens in a conventional marriage." Then he continued, "In my opinion, the difficulty that people have and the difficulty in discussing are that people only think in terms of making love."
And for a better explanation of their relationship, Will added, "Will and Jada are on a spiritual journey to cleanse the poisonous, unloving parts of our hearts. In addition, we're doing it together in this lifetime, no matter what."
Will also said that their relationship is better than ever now. No one is going to break their relationship. Both Jada and Will would always be together, no matter what anyone said.
The Moments at SAG Awards and 2022 Oscars
The red carpet host, Laverne Cox, took a moment to speak with the pair. Laverne greeted them and said, "Thank you for all the years of joy you've brought us. We can't wait for more Red Table Talk conversations! Let us see more of the 'entanglements.'" This made Jada laugh. "Well, I do not want that. I'm done!"
Jada has kept supporting Will until now. Even when some problems occurred at the 2022 Oscars when Chris Rock made a joke about Jada, who has hair loss, Jada kept being cool about it. Instead, Will Smith was the one who got mad and told Chris to knock it off.
Will also could not control himself and went up to slap Chris at the moment.
Fortunately, Will came to his senses after the incident and made a public apology to Chris and the Academy. He stated that violence in all forms is poisonous and destructive, so his behavior was inexcusable. Since jokes about Jada's medical condition were too much for him to bear, he reacted emotionally.
Will also added that he was deeply embarrassed and that his actions did not indicate the man he wanted to be.
Despite these issues, Jada and Will kept being together through challenging moments. Just like when Jada had to deal with August Alsina, Jada tried to stay calm about it. Nothing could break Jada and Will's relationship, as they were willing to stick together, no matter what happens in the future.