All About Norman Reedus Wife, Children & Dating History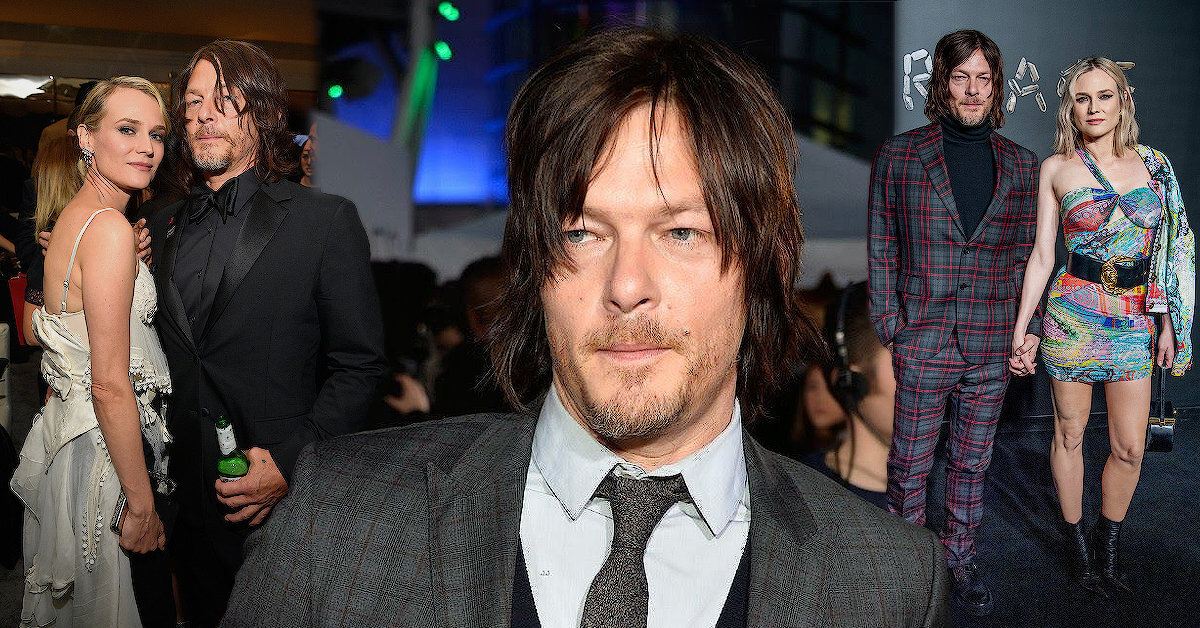 Norman Reedus is a talented actor, model, and television host. He is mainly known for his appearance AMC horror series The Walking Dead as Daryl Dixon. His other works are including Deuces Wild and Marvel's Blade II.
He is the kind of guy who always looks cool, calm, and charming. Most people might not know about his personal life because he had kept his life low-key so far. But, it doesn't stop us from searching for every little information about him.
Suppose you guys are dying to know Norman's personal life, especially his relationship. In that case, this article is definitely for you guys!
Norman Reedus and Diane Kruger
As a start, our Daryl Dixon is no more single! He's been in a long-term relationship with another actress, Diane Kruger. How did these two lovers meet, and how long have they been together?
Diane and Norman met for the first time in January 2015, when they worked together for Sky. It was an "instant chemistry" situation between them. Sadly, Diane wasn't single at that time. Though they managed to keep everything professional for a while, they finally seized the public attention through their pictures kissing.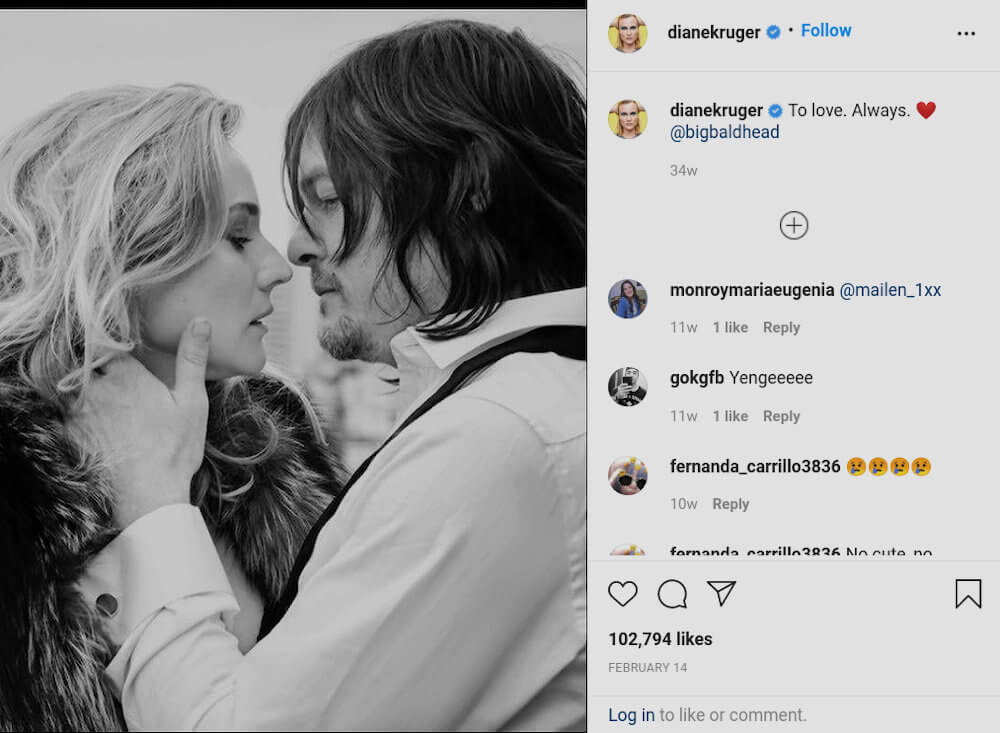 It wasn't until March 2017 when the two were spotted kissing in New York City. They were hanging out not for the movie event, just as two lovers spending time with each other. Unfortunately, some paparazzi took their pictures, and they didn't seem to notice it at first.
It happened a year after Diane broke up with her former boyfriend. She announced her split in July 2016. Norman saw this as an opportunity, and the two soon became lovers.
The picture and speculation didn't stop until that. Six months after they were spotted kissing, the two were seen together again at the U.S Open. Diane was wearing a black leather jacket paired with sunglasses and a black hat.
Meanwhile, Norman wore a white shirt paired with sunglasses as well. In the picture, they didn't hold hands or anything, but the pair seems close! They cannot hide their feelings for each other there.
In 2018, Norman Reedus and Diane Kruger became more open with the public. They attended several formal events together. Also, they didn't mind stepping up their PDA games: from holding hands to Norman putting his arms on Diane. 
Welcoming Their First Baby, Though It Wasn't the First Time for Norman
In the same year, in May 2018, to be exact, they were expecting their first child! Wow, we didn't see this coming. Well, we did, but not this fast. Though the two never explicitly stated that they were a couple, we could know by now.
When we talk about children, Norman had a kid before with his former girlfriend, Helena Christensen. Meanwhile, for Diane, it was her first time having a baby. So Norman must've been exceptional for her!
Diane then posted a sweet and heartwarming picture on her Instagram, in which she and Norman were kissing in the forest. She also added a sweet caption that goes with the image,
"2018 has been a year of new beginnings. Rewarding, if challenging, journeys. But mostly, a year of love. I'd like to thank my love @bigbaldhead for giving me our daughter and being an amazing dad and partner. I love you. HAPPY NEW YEAR TO ALL OF YOU."
Since then, Diane continued to share lots of sweet moments with Norman. From celebrating her birthday at the beach, eating ice cream together, to celebrating Valentine's Day together. But, people's favorite will always be the photo where she wishes Norman "Happy Father's Day," and it has Norman carrying their baby in black & white effect.
"They say good things come to those who wait. I'm so glad I did. We love you, Papa. Happy (19th) Father's Day," wrote Diane as a caption. Norman looked very hot and charming in that picture, and we're not going to lie!
Her latest post was when the pair celebrated their 5th year of being together. The picture captured them at the beach, taking a selfie.
It wasn't only Diane who proudly shared their moments. Norman also posted some pictures about them.
On their 5th year anniversaries, Norman posted their selfies with him wearing a black hat and his girlfriend looking adorable as always. With the username of @bigbaldhead and nearly eight million followers, the picture got thousands of likes and lots of comments. It seems like everybody just likes them. Well, it's indeed impossible not to!
Diane Is Norman Reedus' Wife? The Truth Revealed!
Though the two seem inseparable, they haven't gotten married and didn't disclose their plan to get married soon. But, with the presence of their little daughter, everything seems complete already, and it doesn't matter whether or not they'd have a wedding ceremony soon.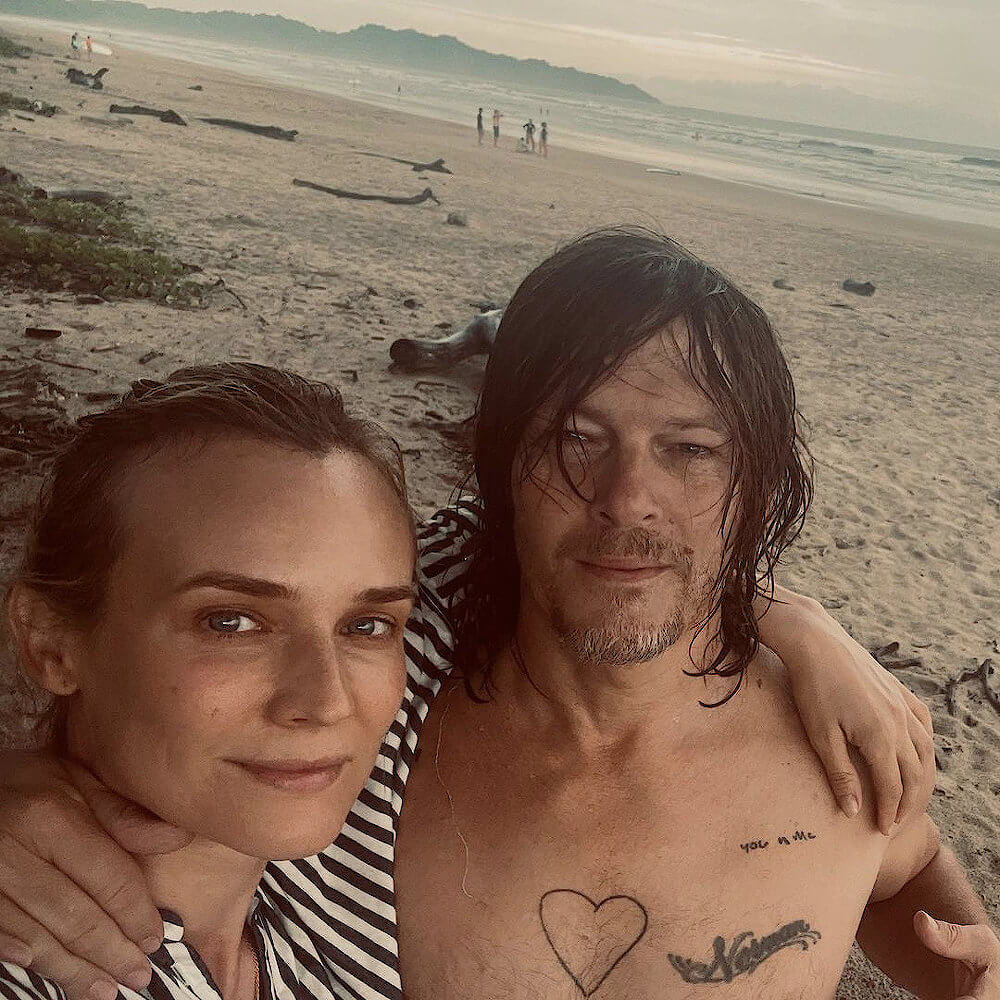 If we take a look at their journey, the two never had any nasty rumors or negative news about them. Though the two had been very open about it, their relationship didn't seem to attract any drama at all. Good for them! We can only hope that they will last even more than a decade!
Though marriage seems less interesting for them, they stepped up their relationship phase by looking at several houses in Los Angeles! And they weren't just usual houses: they were lavish, castle-like kinds of homes. And more surprisingly, the pair already bought the 7,732-square-foot mansion for $8.5 million last year.
Their new house had an ancient-looking exterior but still gave the vibe of modernity. With lots of massive glass windows and doors, paired with a good view from the house's location, the place looks perfect for the couple spending lots of quality time together with their daughter as well.
The house has four bedrooms and seven bathrooms. It also has a lovely fireplace, a walk-in closet, a private terrace, and of course, a vast and nice backyard.
Before buying this house, Diane and Norman already lived together in New York City's West Village with a home worth $11.8 million. Not only that, but Norman also owns two other houses in New York state and Atlanta. Remembering how talented they are as actors, no wonder they can live lavishly and live their life to the fullest. This couple indeed deserves the best.
Well, after moving into their new house in Los Angeles, the two kept getting stronger than ever. We hope this lovely couple will last long!
Norman Got a Thing for His Costar, Emily Kinney
Before settling down with Diane, Norman was known for his major role in The Walking Dead. Apart from gaining big success from it, he was also seen hanging out with one of his co stars, Emily Kinney. Well, their chemistry is too great in the series. But, did their romance spark when the camera's not around, too?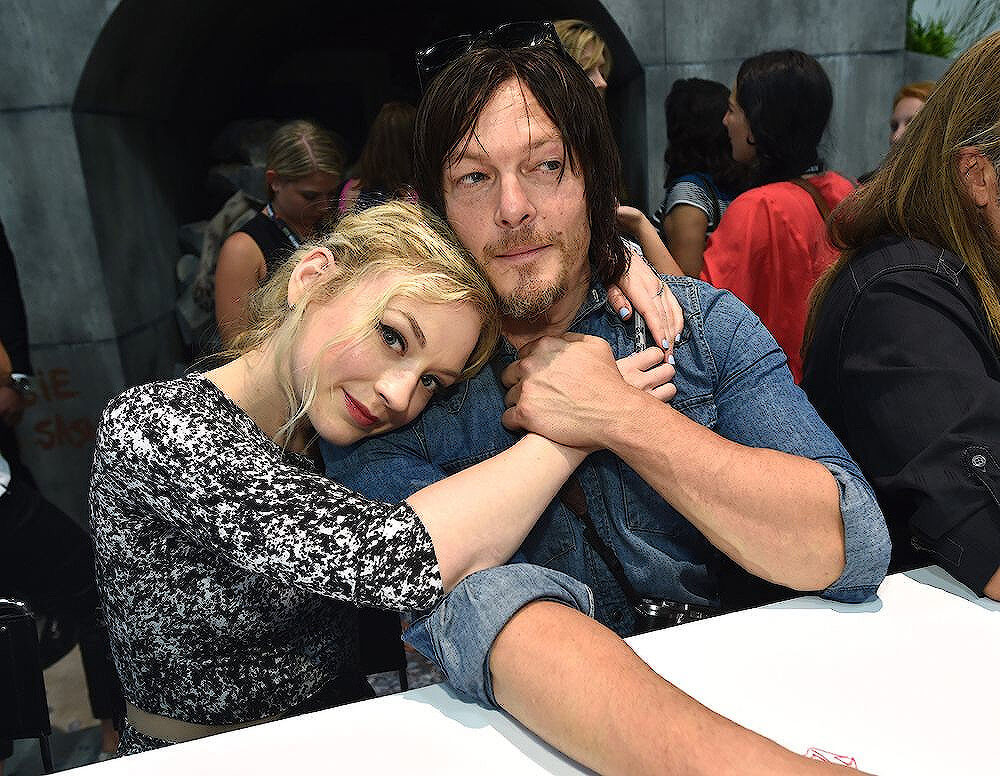 In May 2015, Norman was seen accompanying Emily, a singer, to her gig at Eddie's Attic in Georgia. The two even went to dinner together after the gig. Some paparazzi got their pictures, and there was no doubt they had fun spending time with each other.
However, Norman shut down the rumor completely. Instead, he described the relationship as best friends, and the relationship between them was purely platonic.
Well, their fans were a little bit disappointed because they ship Emily and Norman hard! But, they were also glad that the two were really good friends in real life. What else could be better than seeing your two favorite actors got along in real life, right?
Five Years Relationship with a Famous Model, Helena Christensen
Another serious relationship that Norman had besides Diane Kruger is with Helena Christiansen. As we mentioned earlier, Norman and Helena had a son together, now in his early twenties.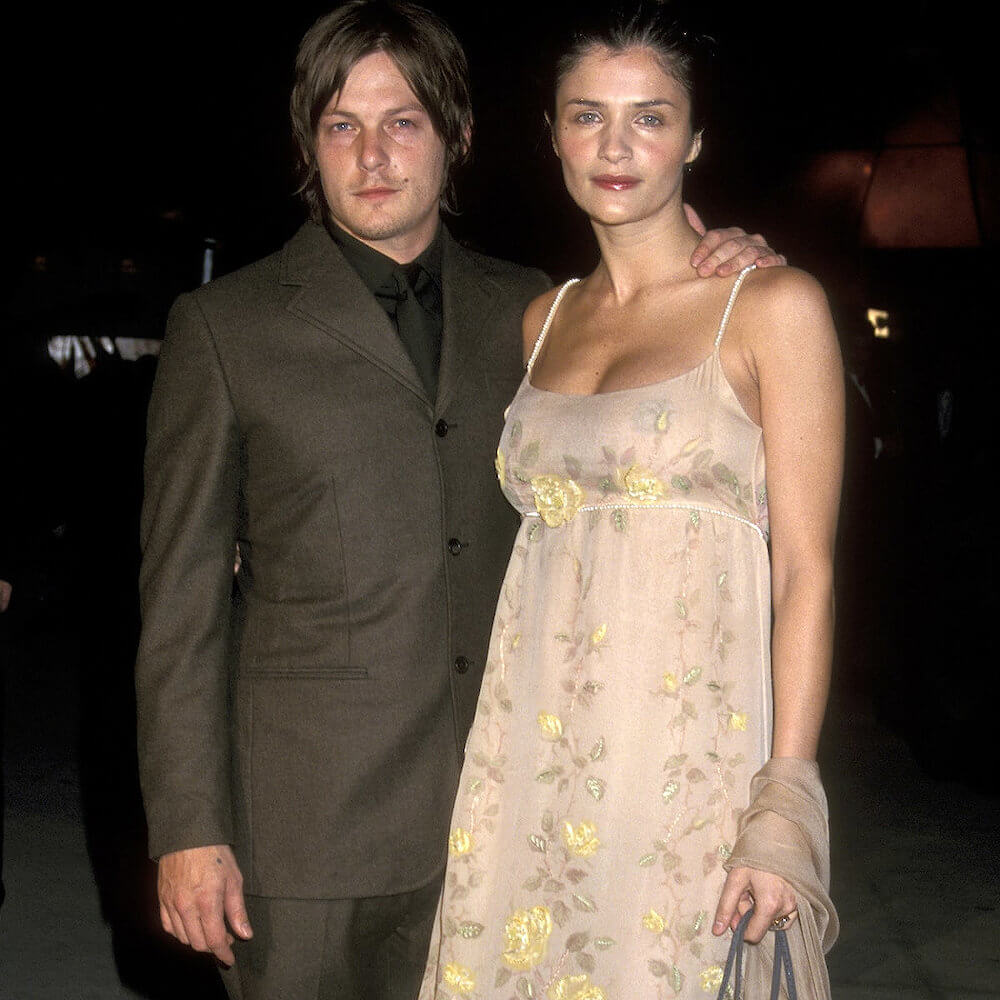 Unlike Norman's daughter with Diane, whose identity is purposely hidden, his son's name is Mingus Reedus. We don't know why he decided to keep his child's identity secret this time. Meanwhile, he didn't do the same with his first child.
Norman and Helena's relationship was long-term, too. When Norman just started pursuing his career, he met Helena, a famous model, through their mutual friends. They started dating in 1998 and called it quits in 2003. The reason for their breakup wasn't clear, but some sources stated it was due to their busy schedules.
Norman's son, Mingus, spent most of his time with his mother. He even decided to pursue a career in modeling, just like Helena. In 2017, Mingus made his first catwalk debut with Calvin Klein, and the modeling talent seemed to be running in his blood already.
Mingus rarely seems to spend time together with Norman. That raises speculation that Norman wasn't really close with his son or chose not to be close with him. However, Norman himself didn't say anything about this to explain himself or to clarify something. He seems happy with his little family now, and so does Helena.