The Women Who Have Been Linked to Wiz Khalifa
Wiz Khalifa has a long list of ex-lovers and even one ex-wife; his relationship history is always fascinating.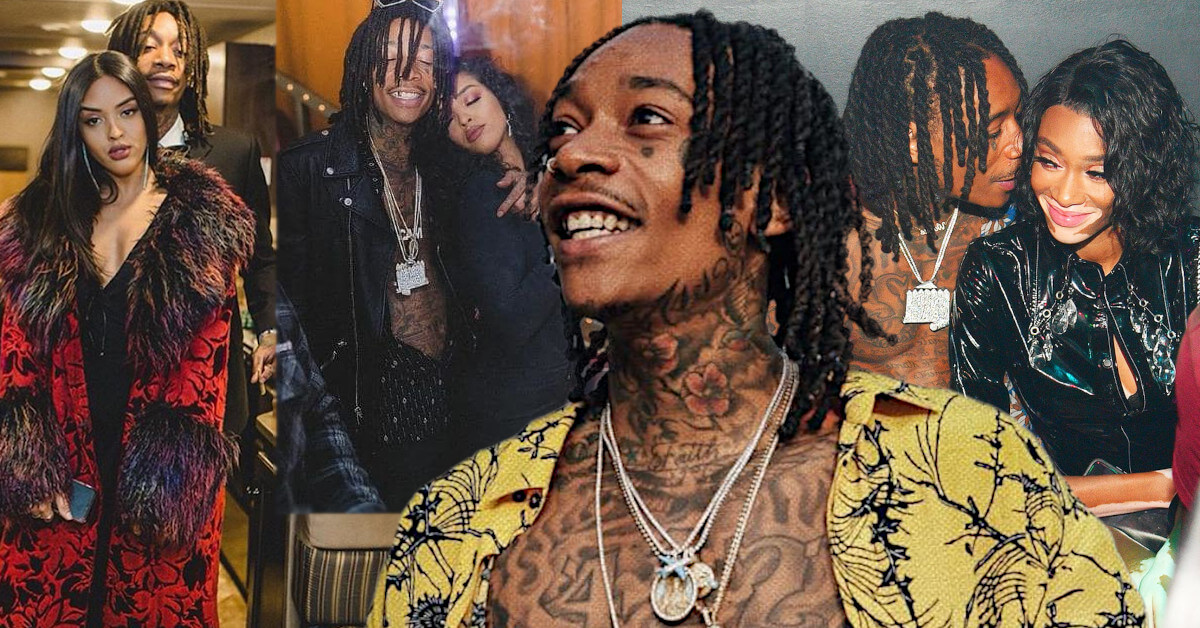 One of the most popular hip-hop artists in this generation, Wiz Khalifa, often made headlines with his achievements, hip-hop beef, and romantic relationships. For the latter, believe it when we say he has lots of it.
Aimee Aguilar Is Wiz Khalifa's Latest Girlfriend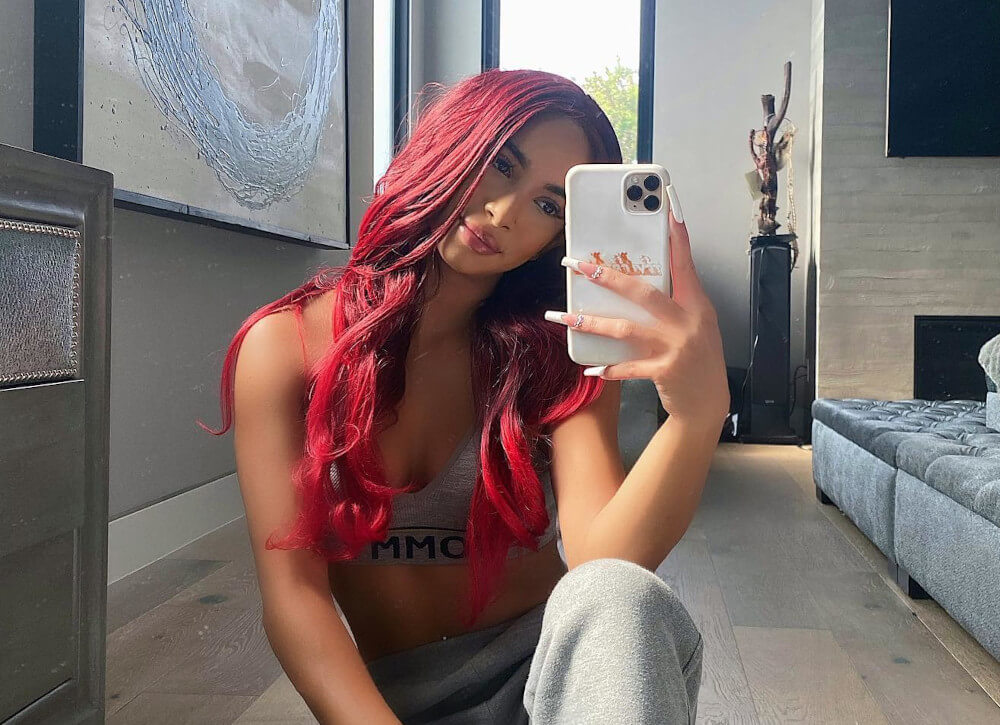 Wiz Khalifa is reportedly dating Instagram model and actress Aimee Aguilar! The couple has been seen multiple times being lovey-dovey while spending time together in Los Angeles.
However, fans began to speculate that their relationship had ended after Wiz Khalifa and Aimee unfollowed each other on Instagram. Also, they haven't been seen together since March 2022!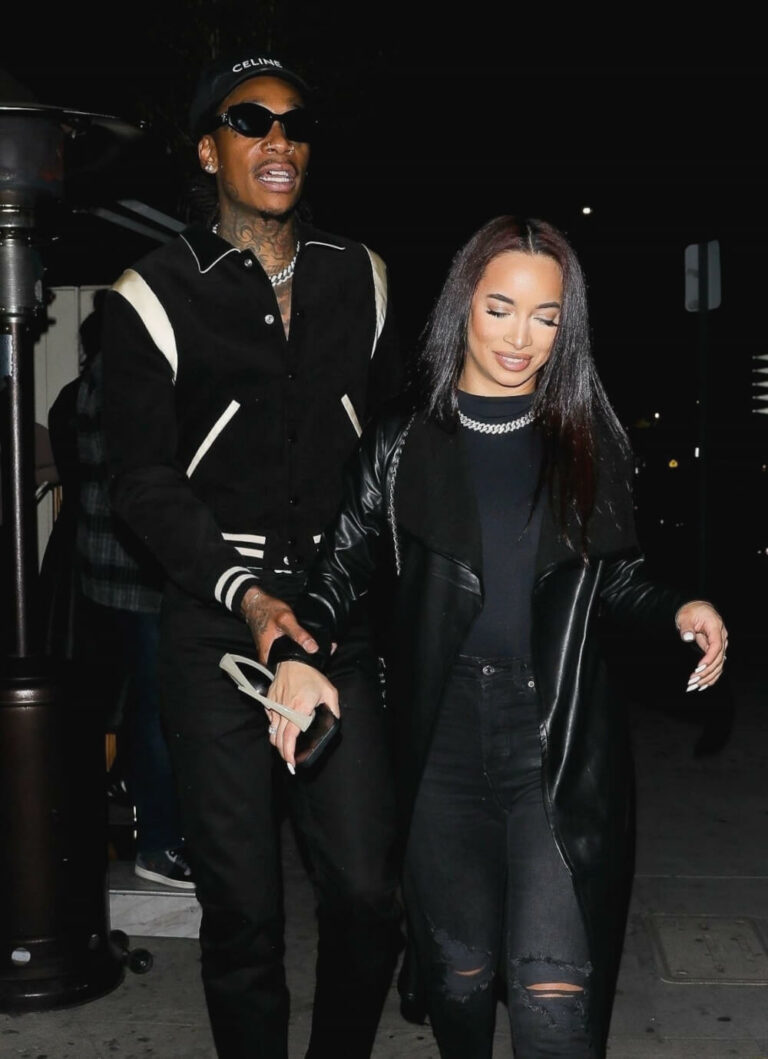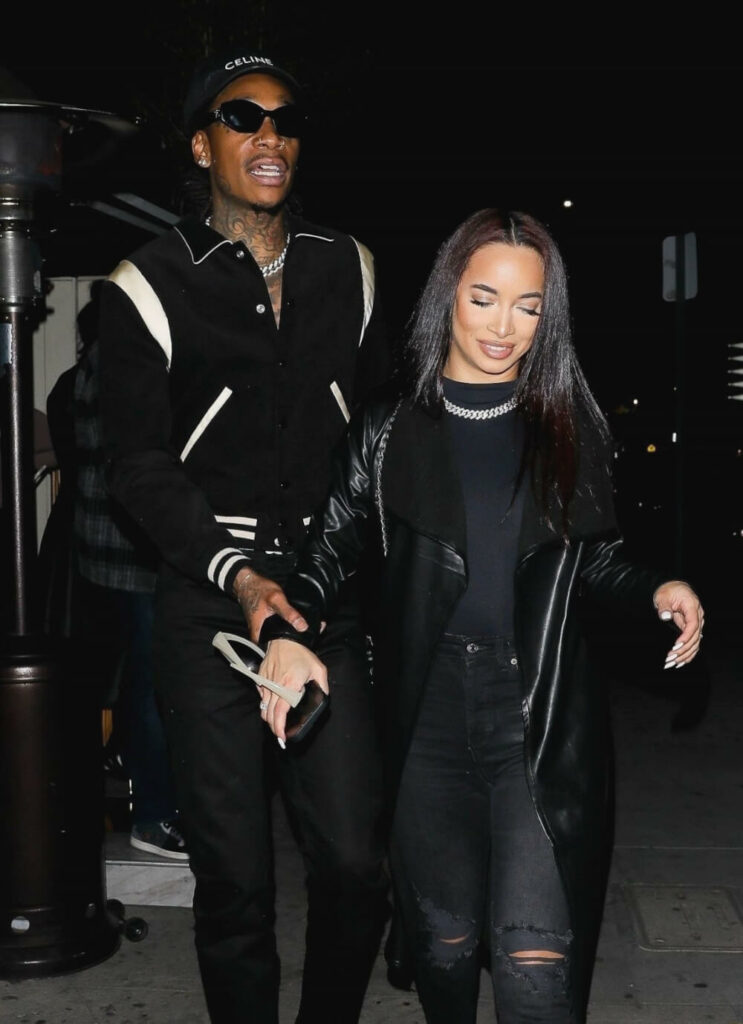 Despite the breakup rumors, the pair proved that they're still going strong as they stepped out for a dinner date. Wiz Khalifa and Aimee donned color-coordinated black outfits and matching chain necklaces.
Who Is Wiz Khalifa's Mystery Lady?
Shortly after his split from Winnie Harlow, Wiz Khalifa was spotted snuggling up with a mystery lady in the middle of the dance floor, sparking rumors of his new girlfriend. Eagle-eyed fans later found out that Wiz liked and commented on several of the girl's Instagram posts!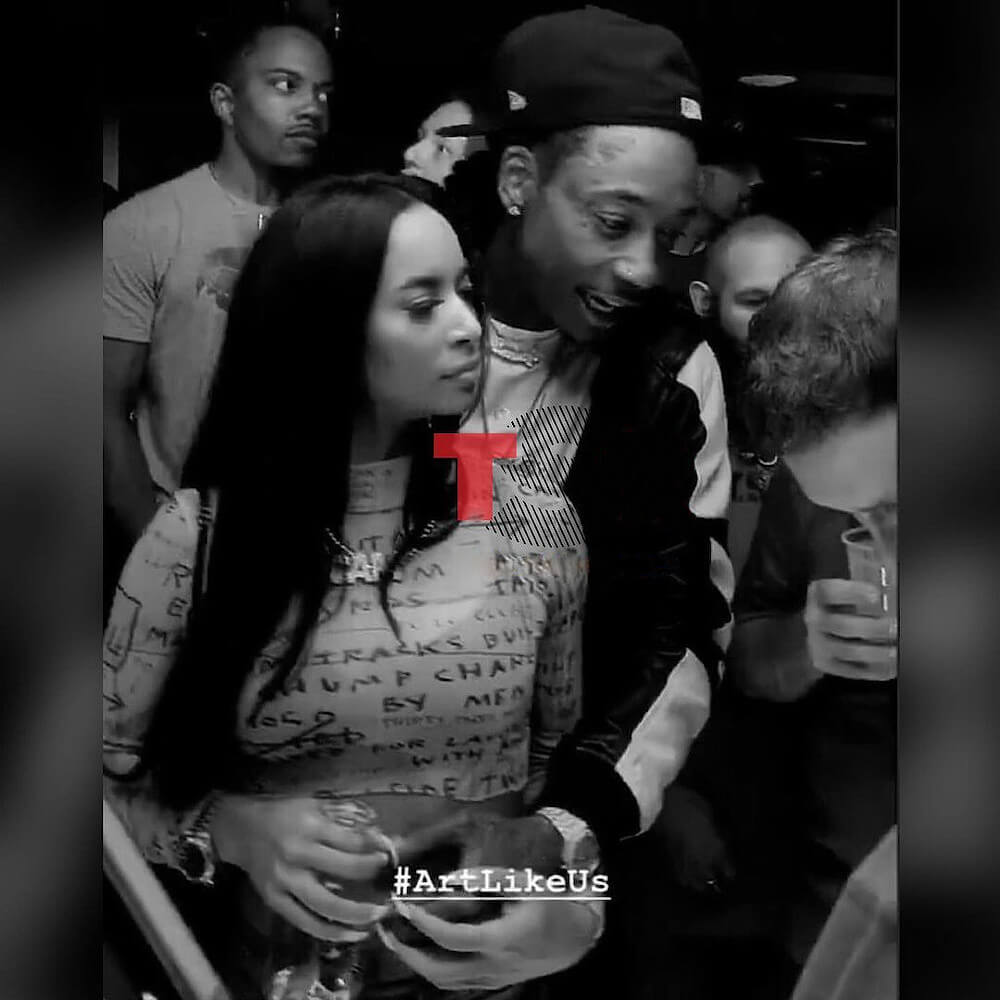 While the identity of the mystery girlfriend has never been leaked, Wiz hasn't been seen together with her ever since, making fans assume that whatever was going on between them was a mere hookup arrangement.
When Did Wiz Khalifa Start Dating Winnie Harlow?
Wiz Khalifa made fans hysterical after he posted a picture of him and supermodel Winnie Harlow on his Instagram account. Not only that, but he also captioned the photo with a bunch of heart emojis!
However, Wiz Khalifa quickly denied the rumors, telling The Breakfast Club that Winnie is his "homegirl."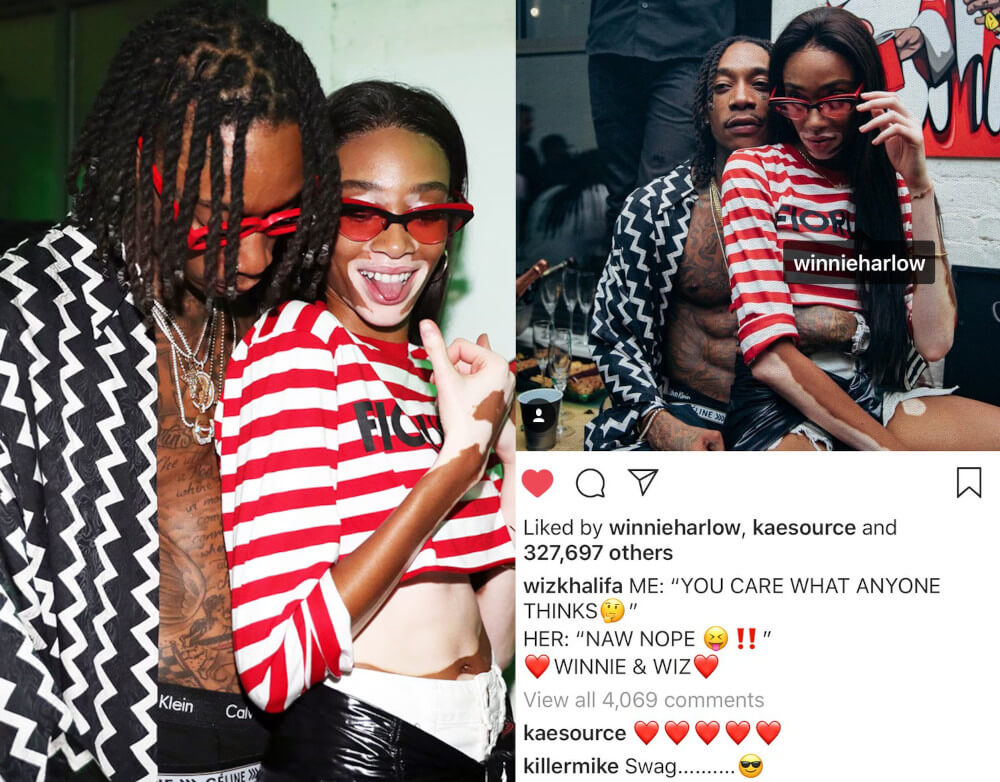 Despite his denying it, Winnie was later spotted wearing a necklace spelled "CAM," referring to Wiz Khalifa's real name, Cameron. Wiz later returned the favor by donning a necklace with "Winnie" written, confirming their relationship.
Several months later, Wiz attended the 2018 Victoria's Secret Fashion Show in Los Angeles to support his girlfriend. Winnie told Access Hollywood that Wiz "was standing up and cheering" every time she walked the runway, which she thought was "really sweet."
Unfortunately, their relationship didn't work out. According to E! News, the former flame broke up sometime after their first red carpet-debut, and it didn't take long until Wiz began dating his new boo.
Did Wiz Khalifa Date Omarion's Ex Apryl Jones?
Only a month after he broke up with Izabela Guedes, Wiz Khalifa was spotted leaving flirty comments on several of Apryl Jones' Instagram posts, who also happened to be Omarion's ex-girlfriend and baby mama. It seems his shots were reciprocated, as Apryl also left a heart emoji on one of Wiz's posts!
While neither Wiz nor Apryl addressed the relationship rumors, fans were convinced that Wiz was only looking for a brief rebound instead of a serious relationship.
Why Did Wiz Khalifa and Izabela Guedes Break Up?
Wiz Khalifa and Izabela Guedes began dating in late 2016, sometime after his divorce was finalized. However, it wasn't until the next Valentine's Day that the couple decided to make their relationship public.
Ever since the dating announcement, Wiz and Izabela have been seen together and in love. They often went on dinner dates with color-coordinated outfits, which I believe is Wiz's thing with all his lovers!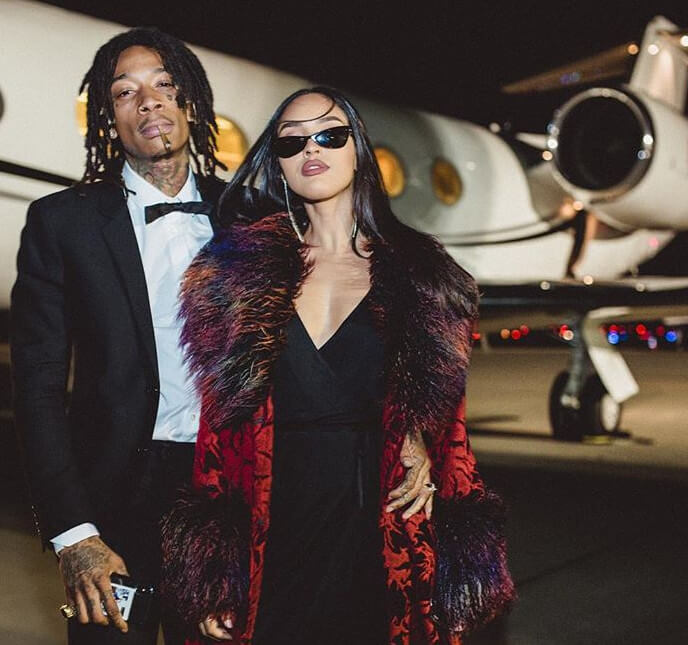 Despite their love seems like it came straight out of a fairytale, things began to go wrong after Izabela reportedly was jealous of Wiz spending time with one of his ex-lovers. Although they didn't name names, reports claimed that the ex in question is Amber Rose, Wiz Khalifa's ex-wife, and baby mama.
Both representative didn't address the rumors, but shortly after the cheating rumors sparked, the couple was reported to have broken up.
Did Wiz Khalifa Divorce His Wife?
The relationship with Amber Rose is Wiz Khalifa's longest-lasting relationship. Despite their marriage ending in divorce, the couple has deep affection and respect for each other even to this day.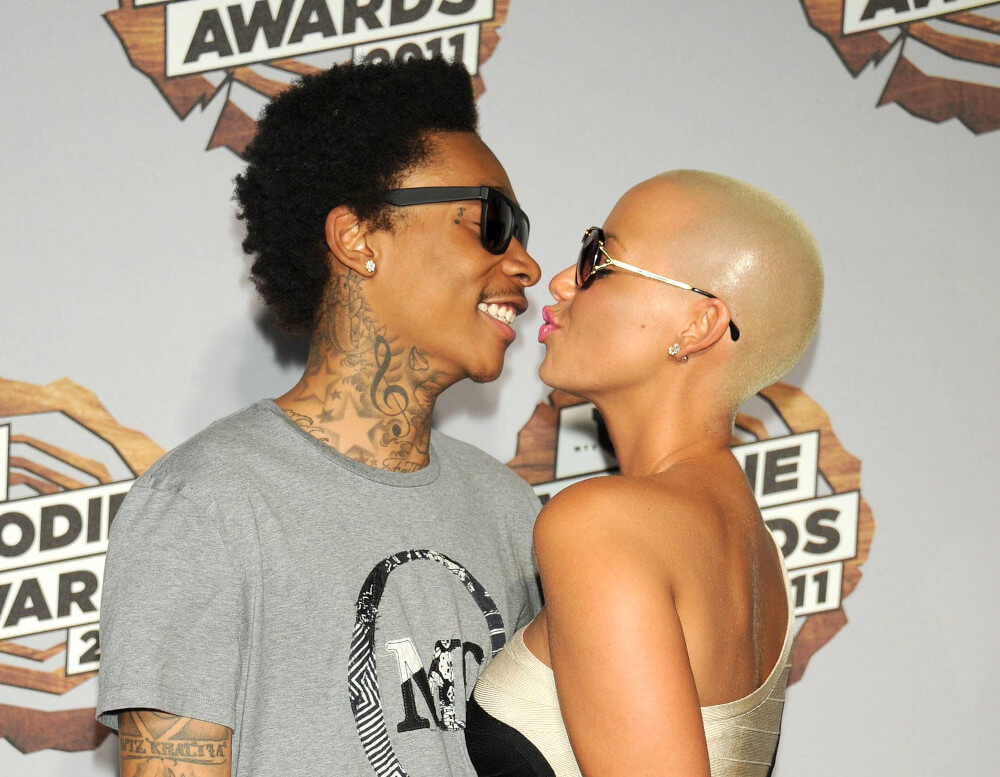 The couple got together after Wiz admitted in an interview that he had a crush on Amber. She later slid into his DMs, and the rest is history. It didn't take them long to plan for a family. Wiz and Amber welcomed their son, Sebastian Taylor Thomaz, two years after they started dating.
To make things even more official, the couple got married several months after their son was born, announced through their respective Twitter accounts. Unfortunately, their marriage seemed to be the beginning of their downfall.
Shortly after they got hitched, TMZ reported that Amber cheated on Wiz with Nick Cannon. In the same report, it was also claimed that Wiz also cheated on Amber with another woman.
Amber eventually filed for divorce and immediately got involved in a messy custody battle, although they agreed to have joint custody in the end.
When Did Wiz Khalifa Date Indya Marie?
Wiz Khalifa sure didn't wait for his divorce to be finalized to be dating a new lady! In 2015, while he was in the divorce process, Wiz reportedly dated a model, Indya Marie. They were photographed leaving Wiz's concert venue, all smiles and hands intertwined.
Fans became even more convinced after Indya posted a picture of her and Wiz enjoying an amusement park ride. While some fans wished the best for the new couple, some remained salty and accused Indya of being an attention seeker.
She later replied to one of the trolls, claiming she wasn't an attention seeker for posting a picture with "a friend."
So… Did Wiz get friend-zoned, or was it a friends-with-benefits arrangement?
Did Maria Becerra Used to Be Wiz Khalifa's Girlfriend?
Wiz Khalifa and Amber Rose's divorce was messy and full of revenge rebound relationships. Shortly before he was linked with Indya Marie, Wiz was spotted kissing model Maria Becerra, who claimed to be his "lucky fan."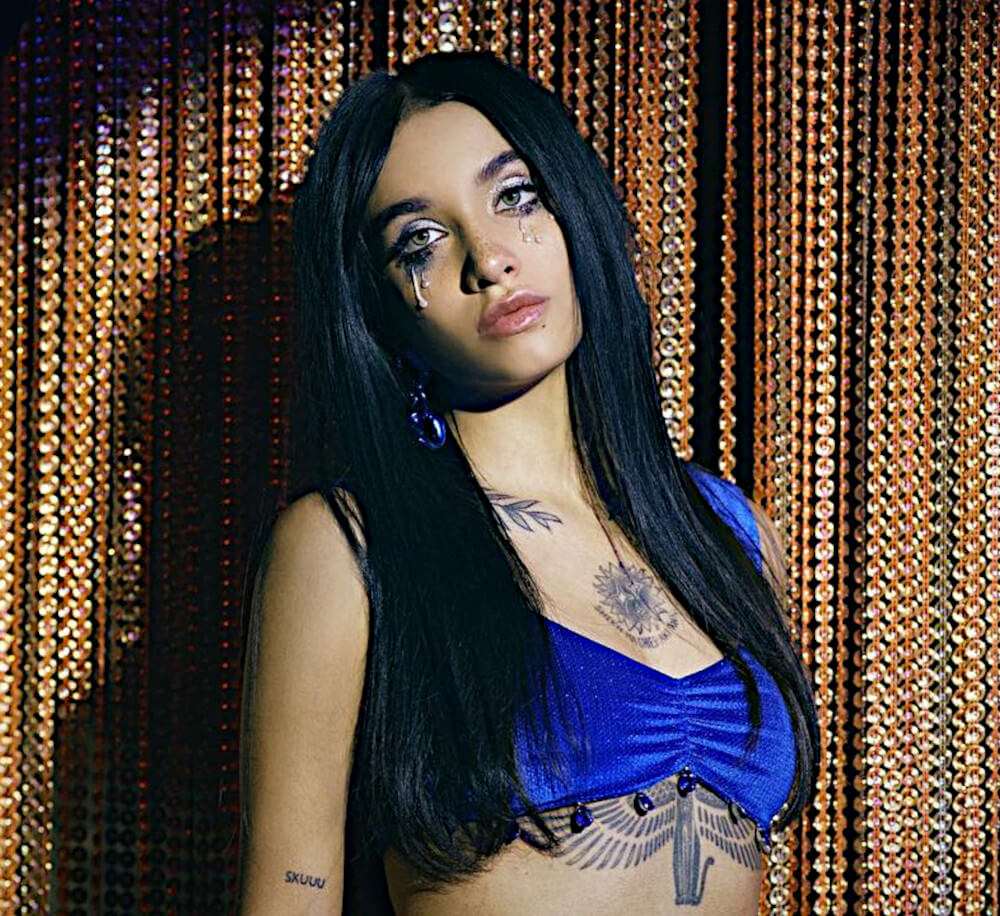 Not only that, on her Instagram page, Maria also posted many intimate pictures between her and Wiz. The now-deleted pictures convinced fans that the rapper has moved on from his failed marriage.
Wiz Khalifa and Khloe Kardashian
This relationship is almost as messy as Wiz Khalifa's divorce and custody battle. Wiz's ex-wife, Amber Rose, used to date Kanye West, Khloe's brother-in-law.
Before Wiz and Amber began dating, Amber was involved in a feud with Kanye and then-wife Kim Kardashian, and thus the whole Kardashian clan joined the party.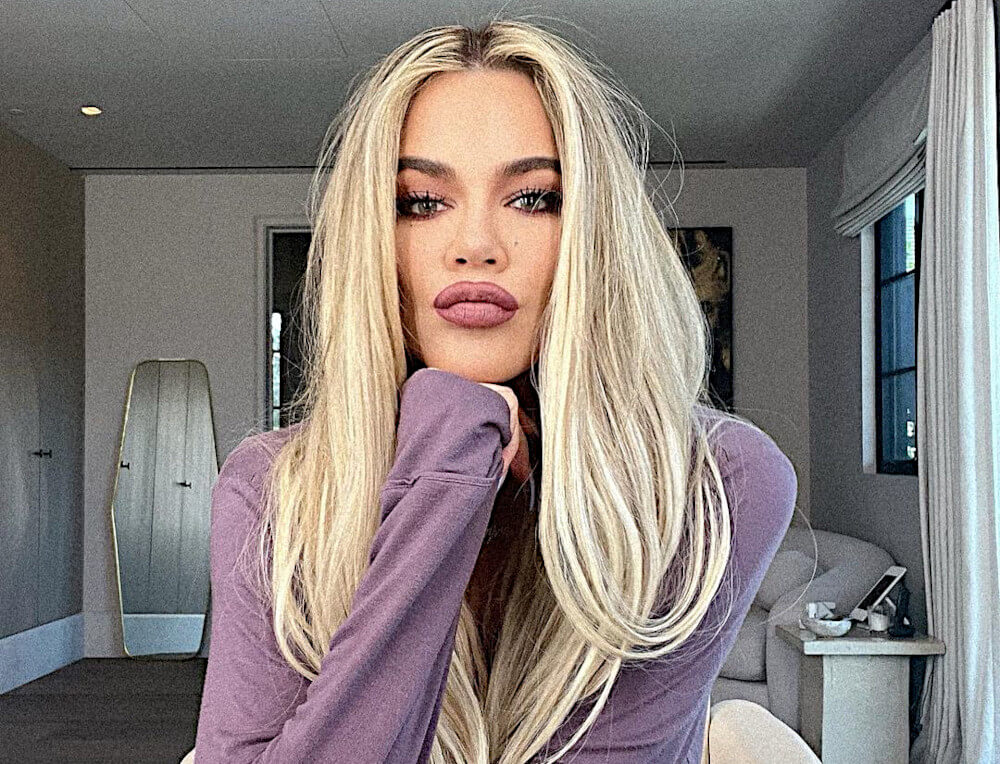 However, things got more complicated after Wiz reportedly hooked up with Khloe multiple times. Several reports also claimed that Khloe was the woman Wiz cheated on Amber with!
The news came a week after Khloe got into a Twitter feud with Amber. Fans were confused because even if it was to defend her sister, Khloe isn't the type who got into public feuds. After the rumors of her Wiz's relationship surfaced, fans were convinced that the feud was less about Kim and Kanye than it was more about Wiz Khalifa.
When Did Wiz Khalifa Start Dating Sara Dastjani?
Shortly after Amber Rose filed for divorce from Wiz Khalifa, the rapper quickly moved on and went on a date with his new girlfriend, Sara Dastjani. The rumored couple was spotted at The Emerson Theatre.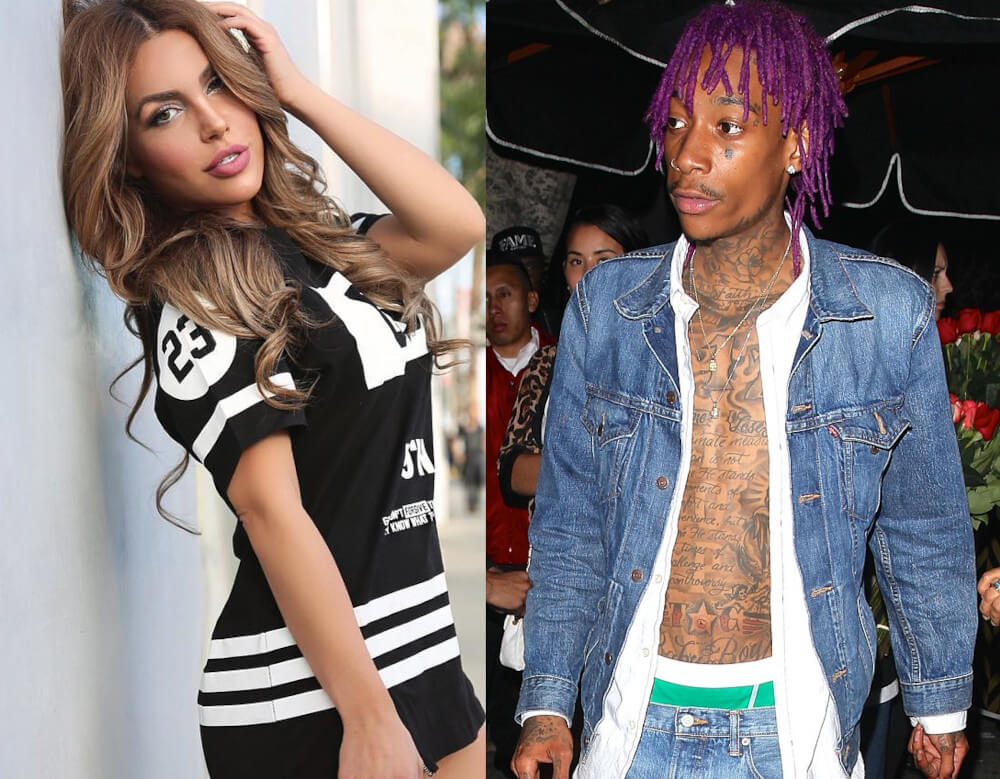 Despite leaving the spot separately, several witnesses claimed that Wiz and Sara were very touchy-freely in the theatre. That was probably why he chose an unbuttoned denim jacket for the occasion!
Chandra Davis and Wiz Khalifa
Besides Sara Dastjani, Wiz Khalifa had a rebound fling with Chandra Davis. Although several rumors claimed that Wiz and Chandra were dating, the lady insisted that they were not dating "yet."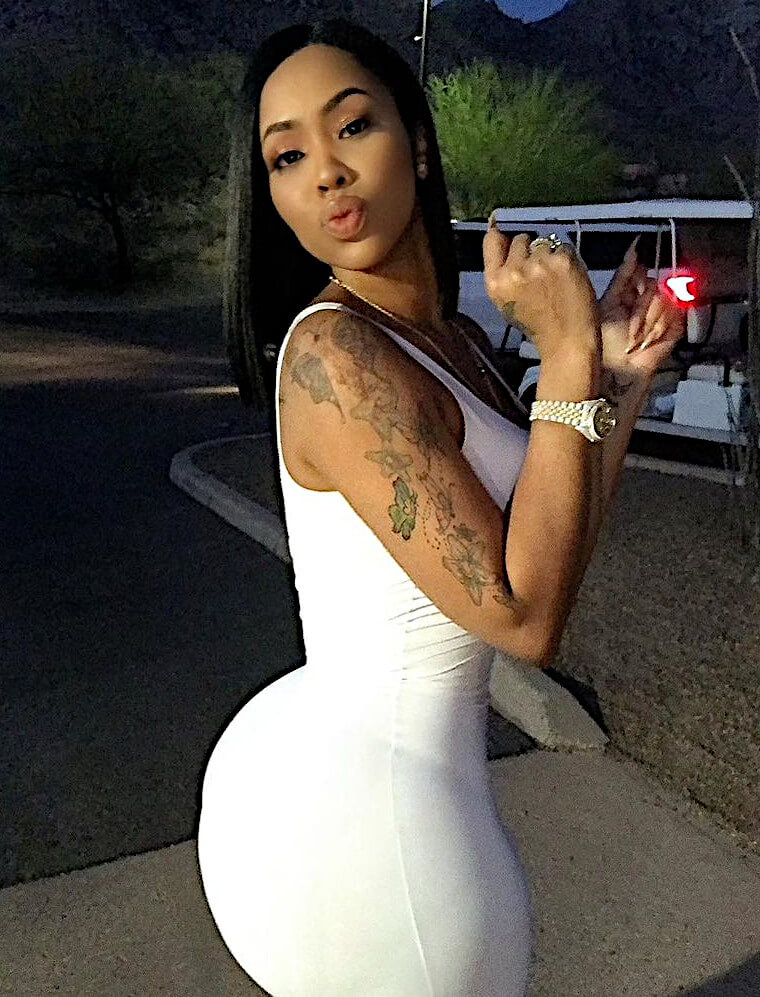 However, Chandra didn't shy away from admitting that they slept together, which got her several attacks from Wiz-Amber shippers!
One of the comments accused her of sleeping with a married man, to which Chandra replied that Wiz was "very divorced."
Wiz Khalifa and Natalie Nunn
Amber Rose's accusation of Wiz Khalifa cheating on her wasn't the first time the rapper was accused of cheating by his ex-lovers. And to be honest, that should've said something!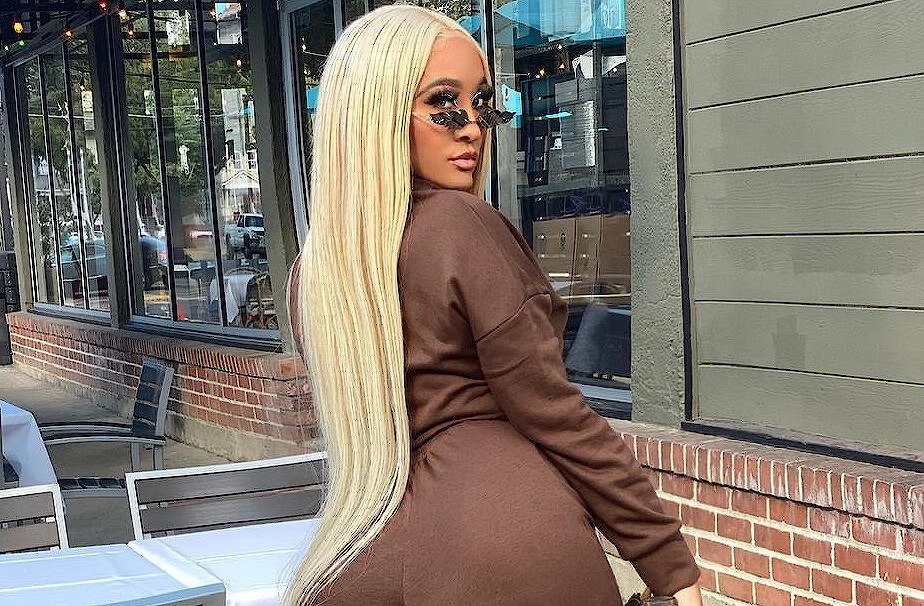 In 2010, Wiz was dating Natalie Nunn. This is weird because it was when Wiz publicly admitted that he wanted to be with Amber. In an interview with Vibe, Natalie eventually shared that Wiz cheated with Amber.
"He invited me to a party, but I was sick. I did not go," she started. "But somehow Amber Rose showed up to the party all in his face, and they exchanged information," Natalie continued.
Wow, Wiz, that's low!
Meanwhile, on another occasion, Wiz low-key admitted that he was seeing Natalie and Amber at the same time. However, he insisted that he only dated Natalie for "a short amount of time."