Who is Rachael Leigh Cook New Boyfriend? Is She Married?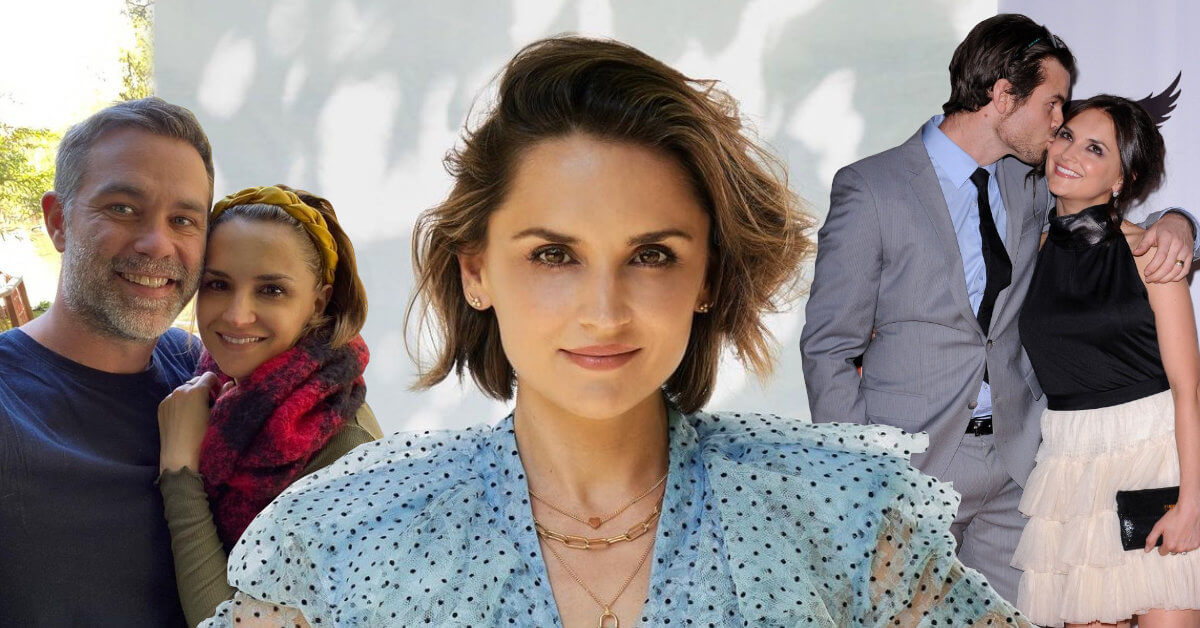 Rachael Leigh Cook is an American actress and model. Though she hasn't been nominated or won any Oscars or Academy Awards, we still can see her talent in her movies, Into The West and Love, Guaranteed.
However, her personal life isn't that smooth. We might even recognize her name from the news that she got divorced from Daniel Gillies. So what else can we know from Rachael Leigh Cook? Worry no more. We will give you guys all information about Rachael's personal life and love journeys!
Meet New Rachel Leigh's Boyfriend
Rachael Leigh Cook got no chill when it comes to dating. Only two months after she separated from her husband, whom she married for fifteen years, she was seen hanging out with another man. Her picture being out and about with a sexy dark-haired man has seized people's attention.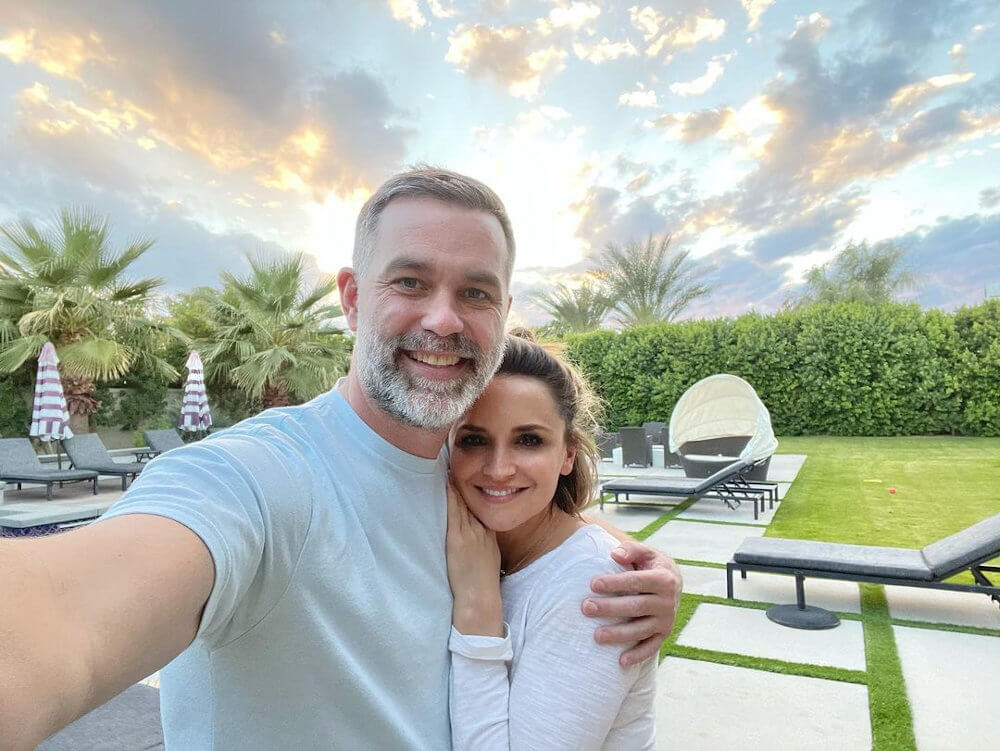 In September 2020, she dated a guy named Kevin Mann. He is a producer and swims coach. Cook looked ready to jump into a new relationship since she didn't hesitate to reveal many details about it, even though it only started in less than a month.
"I do have the heart eye emoji," Cook told ET Canada about Kevin. She also added, "I'm dating this nice guy named Kevin, and he's a producer and also, get this, a swim coach. He swam in college on a scholarship because he's just sporty like that. So he coaches in season, and he's also this fancy producer guy. He's so smart."
Many people thought she jumps too fast and put too much admiration towards Kevin. But, we should let two love birds enjoy their time together without being too judgy, right?!
Cook was aware of how it was probably "too fast." She admitted that she had a hard time keeping it cool in the whole relationship with Kevin.
"I'm trying to be very cool, which I'm not. I'm just trying to take it day by day, and I have to be honest. I can't even say it out loud, but I'm going to try. I can't say, boyfriend. I'm 40, and I haven't said that word since I was 22. I was 23 when I married my ex, so let me be able to say it out loud." Excerpting her interview still with ET Canada.
And she made a good point right there, don't we all agree?
She also seems so proud of having Kevin as her boyfriend. In October 2020, she posted her selfie with him on her Twitter while saying, "Happy #NationalBoyfriendDay to my amazing @KevinMann! K is healing after surgery to repair his ruptured Achilles owie. Help me wish him well?" and then it was followed by crying emoji.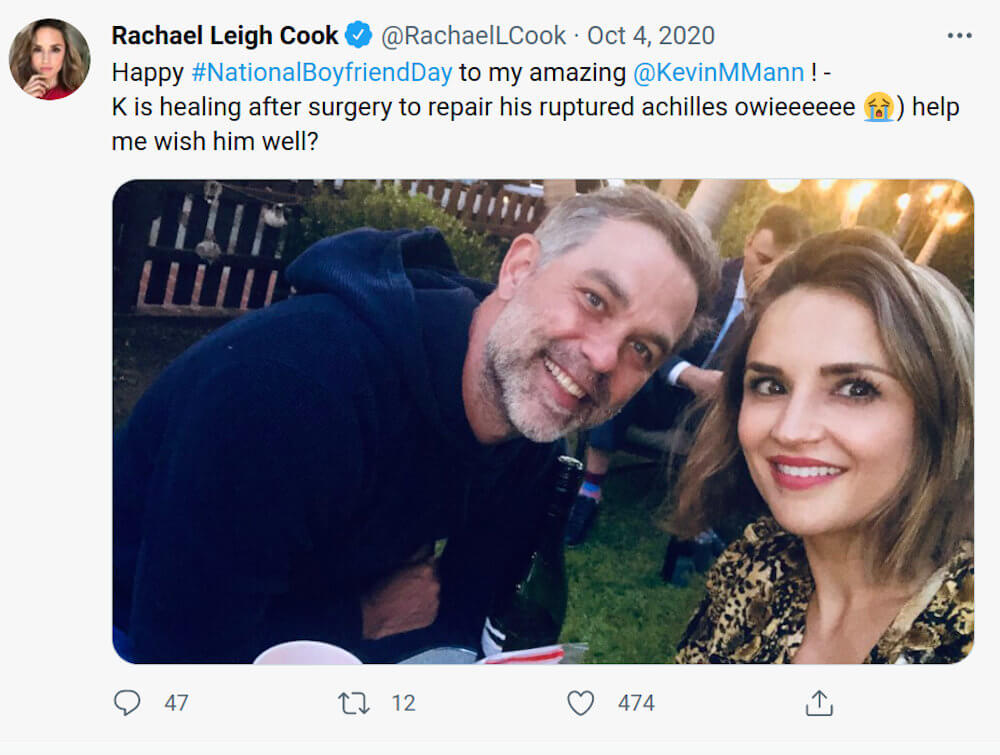 Well, we should be proud of her for being openly expressive to the media. Celeb's life is overwhelming. So when her fellow actors decided to keep their personal life private, Rachael Leigh Cook took a different approach.
How Did Rachael Leigh Cook and Kevin Mann Meet for the First Time?
The story of how the two met is also exciting to know. Cook was set up with Kevin by her best friend, Judy Greer.
Cook was ready to date right after she was "free" from her husband, Daniel Gillies. Cook was looking for a serious man to date in an online dating app first before she finally gave up and told that story to Greer. She encouraged Cook to meet a friend of her.
"Well, when you're ready to meet someone nice, you should meet Kevin," said Cook when she remembered how her friend was so excited about the idea of them getting together.
And, Cook said that Greer was right all along. Kevin was a good guy, and Cook described her as "never been happier." She thought Kevin is a good match for her, and she recalled Greer's advice for her after her divorce.
"My friend (Greer) told me that I need to stop dating guys who wear necklaces, and I took that in, starting dating business, non-actor type guys, and man, she was right."
Cook and Kevin are going strong until now. Finally, it seems like she has found what she's been looking for within the cool swim coach!
Getting Divorced from 15 Years Husband, Daniel Gillies
Daniel Gillies, a Canadian actor, producer, director, and screenwriter, was married to Rachael Leigh Cook for fifteen years! The two share two kids: Charlotte Easton Gillies and Theodore Vigo Sullivan Gillies.
Before they got married in August 2014, they had been dating for three years long. The two seem pretty serious about their relationship, so people were very shocked to see them split.
However, they were no longer together, even two years before the divorce happen. So what was the reason?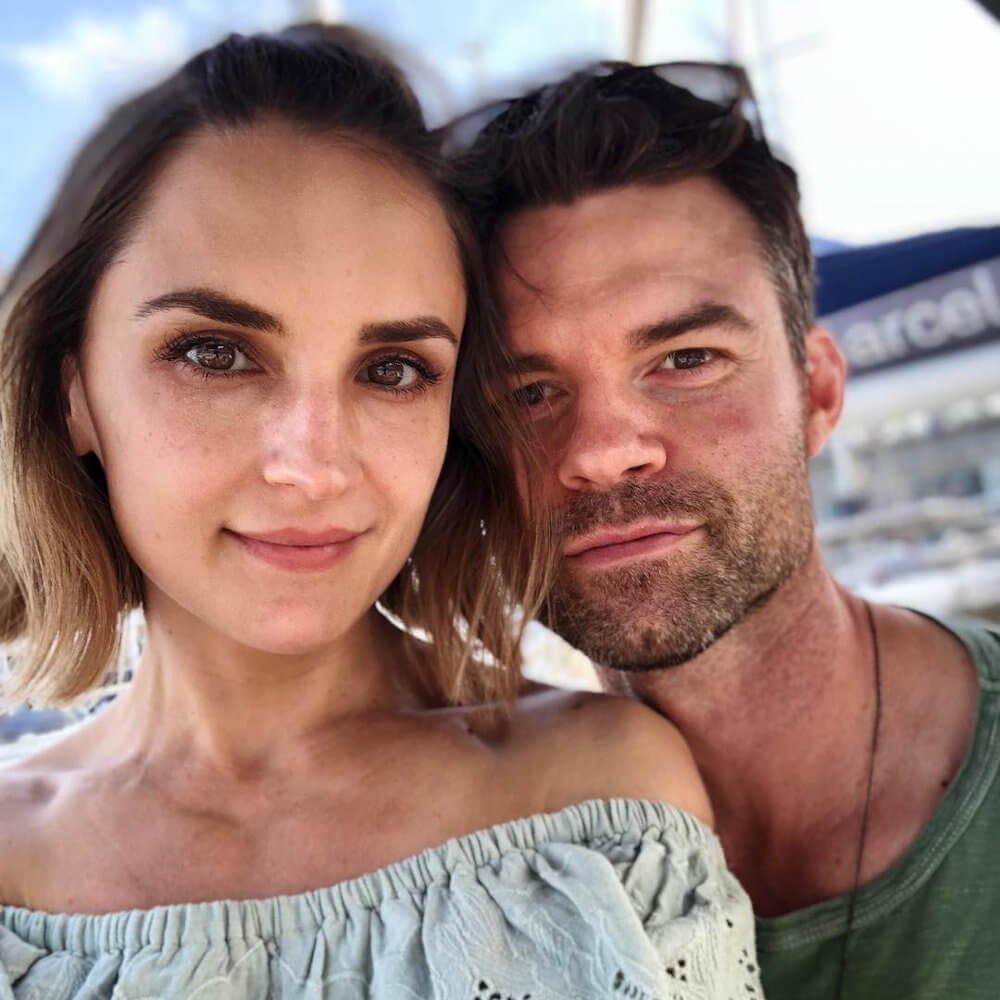 Though they both stated that the decision was mutually agreed upon, the underlying reason was pretty sad. According to a reliable source, they both have "fell out of love" with each other.
"They both, unfortunately, fell out of what made them love each other in the first place and instead dived into a routine rather than embracing the struggles and ups and downs marriages often sometimes take." The source said.
He also stated that the two didn't do anything (and didn't even have the desire) to improve their relationship.
"Every moment of their attention was either devoted to their kids or themselves and their careers. They lost track of being a couple". Wow, it sounds like every married couple ever. So, what better options than divorce if the two didn't even want to fix anything in the relationship?
Cook said the two remain good friends, and they put the children's well-being above all else.
"It was really hard when Daniel and I decided to separate because of the massive implications that come with that and the upheaval, but honestly, we're really good. We're friends now. We talk about things that we never talked about before because we have this new relationship." Cook is as mature as she could be while describing what happened after the divorce in her interview.
However, she is still sometimes confused with how to handle her life during the transition phase, let alone explaining to their two kids.
She told Entertainment Tonight that even though she felt freedom after the divorce, she couldn't deny that she was facing some hard times.
"It feels uncertain, and nobody warns you how hard adulting is going to be." She also added, "I don't know what I'm doing, so if anybody has any advice, seriously tag me online. I'm all ears."
Gillies was the one who filed for the divorce. He also confirmed that there weren't any big fights between the two, and it was completely based on mutual agreement from both sides.
That was recorded in the document, saying:
"With deep gratitude for every year we have spent together, and the thousands of beautiful memories shared, we have mutually decided to separate as a couple. This decision isn't one we have come to easily or lightly. We love and respect each other as parents, people, and artists and look forward to maintaining the best parts of our relationship for many years to come."
Well, it's not hard to know the full version of their divorce document since it was shared in their respective Instagram accounts.
The couple also decided to share the sale profits of their house (which is worth US$1.9 million) in Los Angeles and keep their items. Cook owned Audi and Gillies took his BMW.
Neither of them would receive spousal support, according to their court document in Los Angeles.
Cook and Gillies' Life After the Divorce
It's not only Cook who found someone new pretty quick, so did Daniel Gillies. He is currently dating an actress and model, Julia Misaki. We can see their romantic moments together on both of their Instagram accounts.
However, Gillies and Mitsaki just started dating in February 2021. Gillies first addressed Misaki as his girlfriend for the first time. He posted their selfie on the beach with the caption, "ok, but here's the difference: we *know* we're a-holes."
Misaki and then followed him to share some pics and wrote, "My person. @mr.danielgillies."
On the other hand, Cook dated a new guy named Kevin and made the experience of her married life to her new project, Love, Guaranteed. In her interview with Us Magazine, she explained a bit about the character that she's playing resembles so much of herself in real life.
"My character's name is Susan Whitaker, and she's someone who's given too much of her life to her work and has put all of her clients first and herself largely last – and her relationship life last." So it does sound familiar.
Nevertheless, her fans are happier than ever knowing Cook wasn't afraid to try falling in love again. She's quite excited. We hope that her current relationship will last long. And who knows that maybe, she's still into marriage?!