Who is Matthew Noszka Girlfriend? His Career & Dating History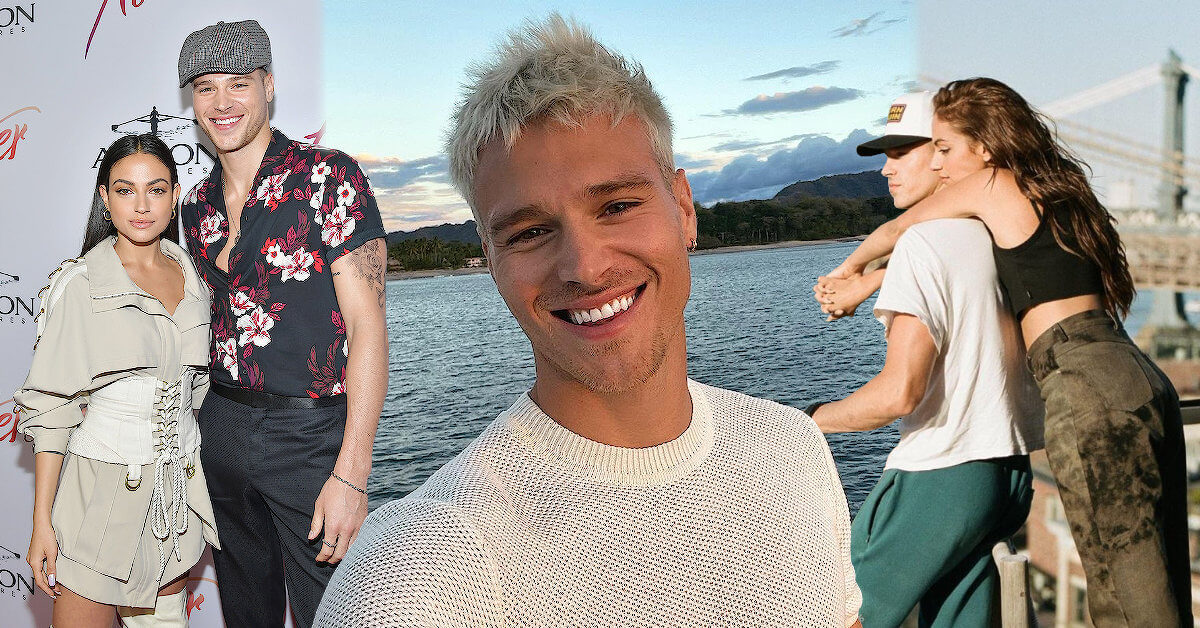 Born in Pittsburgh, Pennsylvania, Matthew Noszka is an American actor and model. He first started his modeling career in 2014 after being scouted by a Wilhelmina agent, Luke Simone.
He's considered a rising star in modeling as he's become one of the dearest models for top-tier brands like Calvin Klein, Tom Ford, Ralph Lauren, Hugo Boss, and many more!
Not only that, but Matthew has also worked with famous photographers in the industry. Marcus Piggott and Mert Alas, to name some.
He's recently expanding his specialties through Netflix's romantic comedy film based on John Green's novel, 'Let It, Snow.'
The blond hunk has swoon, so many ladies out there remain private about his love life. But, no worries! We're here to provide some insights into his romantic relationships.
Matthew Noszka and Girlfriend, Inanna Sarkis
Matthew and Canadian social media personality and actress Inanna Sarkis have sparked many romance rumors since 2017. Still, he always dodged it and stated that she was just "his best friend." They first met after being introduced by a mutual friend, who also happens to be their agent.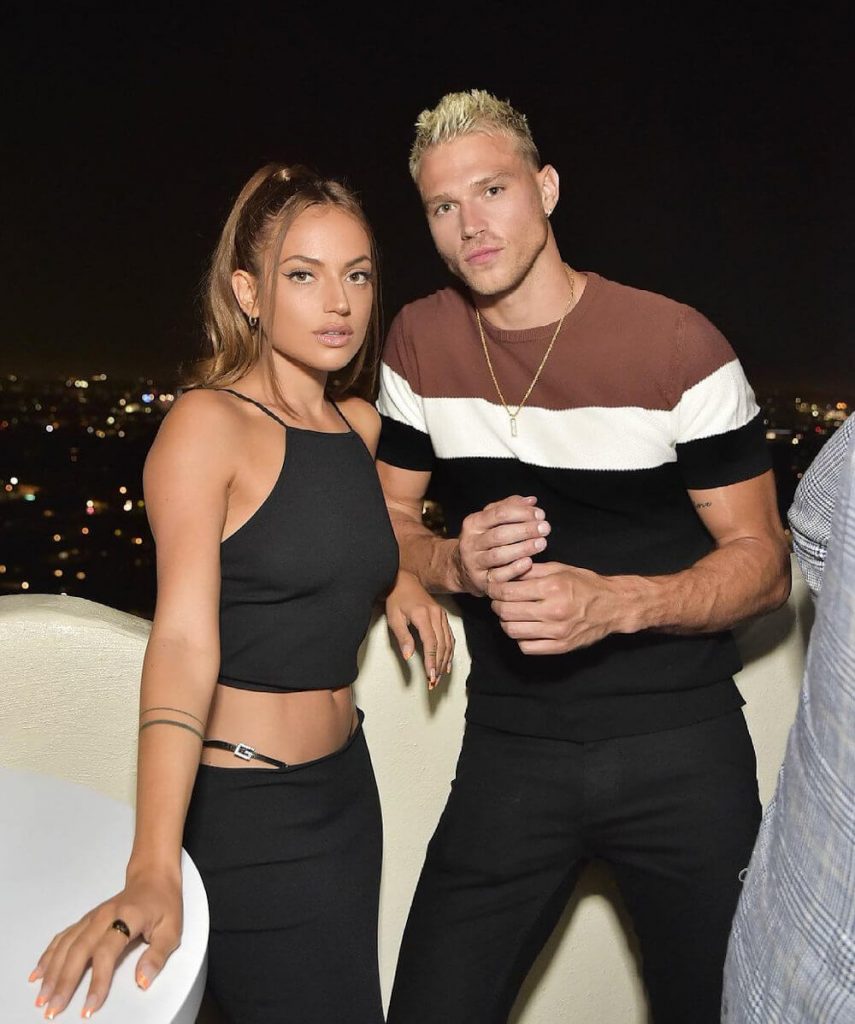 Matthew himself has addressed his admiration for his girlfriend, saying that she's "the most amazing and hard-working person I've ever met."
He further praised her for her "many amazing qualities but her dedication and drove to what lights her fire is what I admire the most."
The number of adorable pictures they snapped together and posted on their respective Instagram accounts only ignited the rumors even further. And it's not that we are complaining. We even want more of their pictures!
Aw, we are talking about love birds here.
Fans began to doubt the "best friend" title that he has been saying for years, though, after Matthew posted a picture on his Instagram account on Valentine's Day last year, where he and Inanna were seen cuddled up.
He placed a sweet kiss on the top of her head. He captioned the picture, "love you more than I have ever found a way to say to you! Happy Valentine's Day to my Best friend."
Not so long after the Valentine's Day tribute, about three months after, the couple dropped the bomb; they were expecting a baby!
Matthew announced through a picture where the pair was standing side by side shirtless, Inanna flaunting her baby bump. He expressed his delight with the caption, "My baby is having a baby…."
Meanwhile, the mom-to-be revealed her pregnancy news with two Instagram posts. The first one is a set of polaroid pictures of her bump and Matthew showering kisses to the bump. She captioned the photo with "6 months and counting…."
The second post was an adorable shot of Matthew cradling her baby bump. She expressed her excitement with the caption, "YES! My best friend & I are having a baby!!!!"
In an interview, Inanna admitted that she's really looking forward to meeting their little one and that she's "so excited to be that annoying mom that embarrasses their kid because she wants to capture every moment!"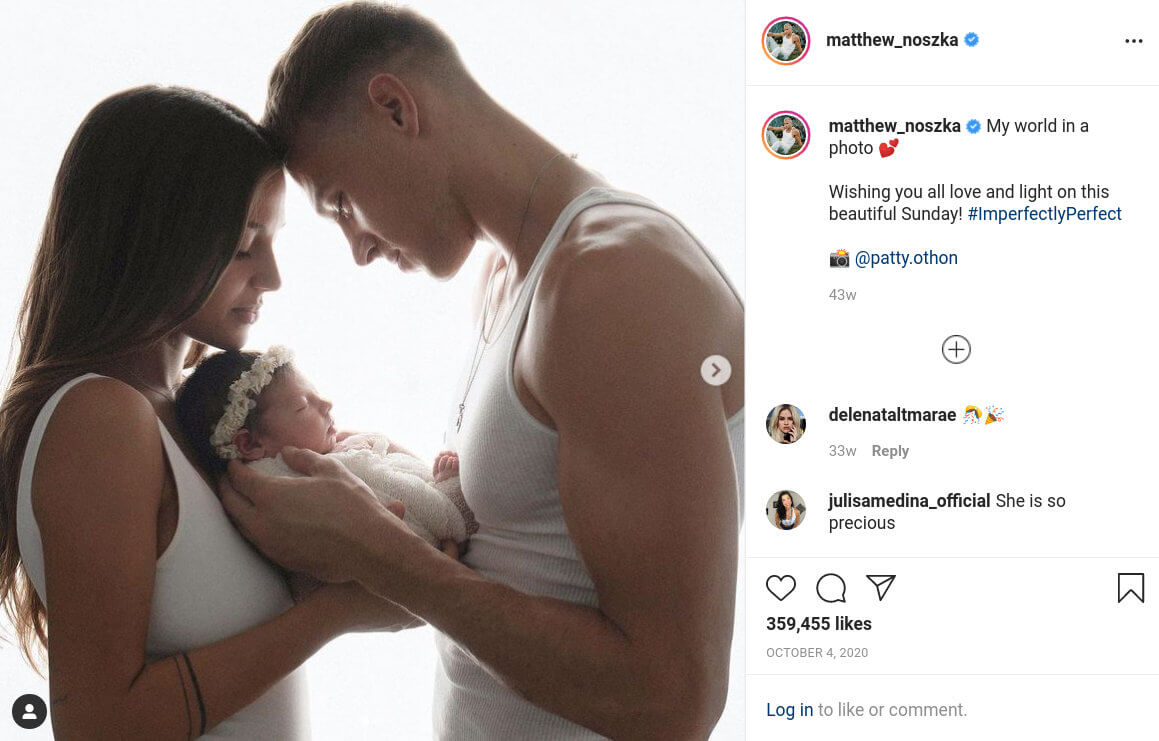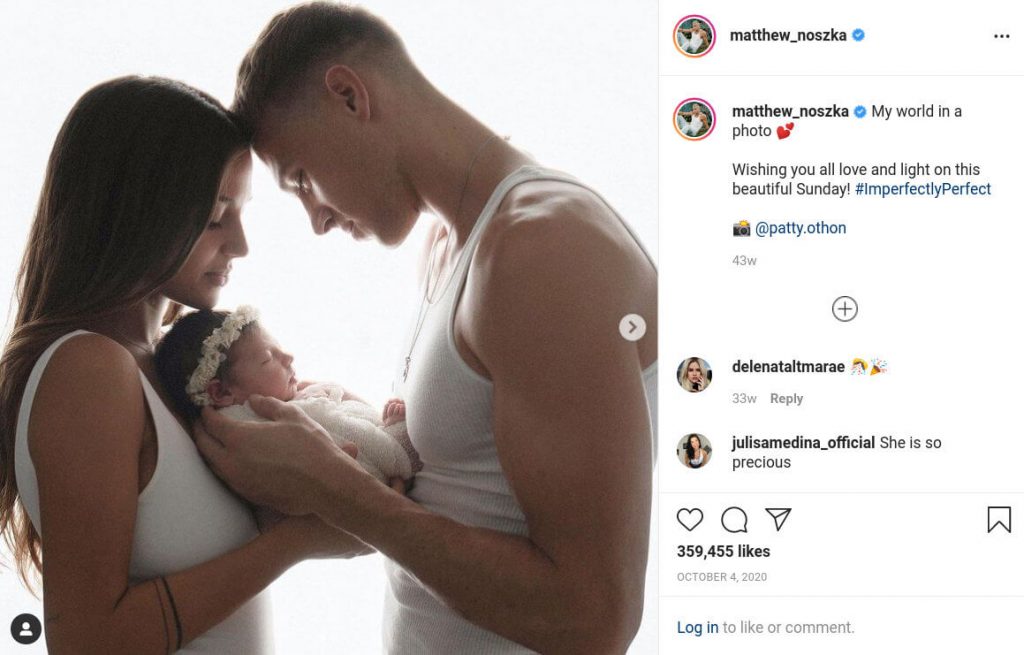 The couple welcomed their first daughter, who they named Nova Noszka, on September 12th, 2020. The couple has regularly shared pictures of their adorable daughter as well as several snaps of their little family's lovely moments ever since.
Inanna Sarkis is a multi-talented lady. She began her career with the then-popular video application, Vine. Most of her videos were based on comedy content and quickly gained a lot of followers and fans. In addition, she collaborated with fellow Vine personality Anwar Jibawi.
Not only she has beauty, but she also writes, directs, acts, sings! She is credited as the writer and director of a short film entitled 'Aura.'
She also portrayed the role of Molly Samuels in the 2019 romantic drama film, 'After,' which is also an adaptation of the 2014 adult fiction novel of the same name. She reprised her role on its sequel, 'After We Collided,' a year later.
In addition, Inanna has also released two non-album singles, entitled 'No Beauty in War' in 2018 and 'Best You'll Ever Have' in 2019.
Well, Matthew really didn't lie when he said Inanna is the most hard-working person he's ever met!
Matthew Noszka and Nafessa Williams: Was There More than On-Screen Lovers?
First met on the set of 'Tales,' these two fellow Pennsylvanians were rumored to have hooked up in 2017. Matthew and Nafessa acted as lovers in the first episode of the TV series, where Matthew portrayed the role of Brody. At the same time, Nafessa got the role of Jenny.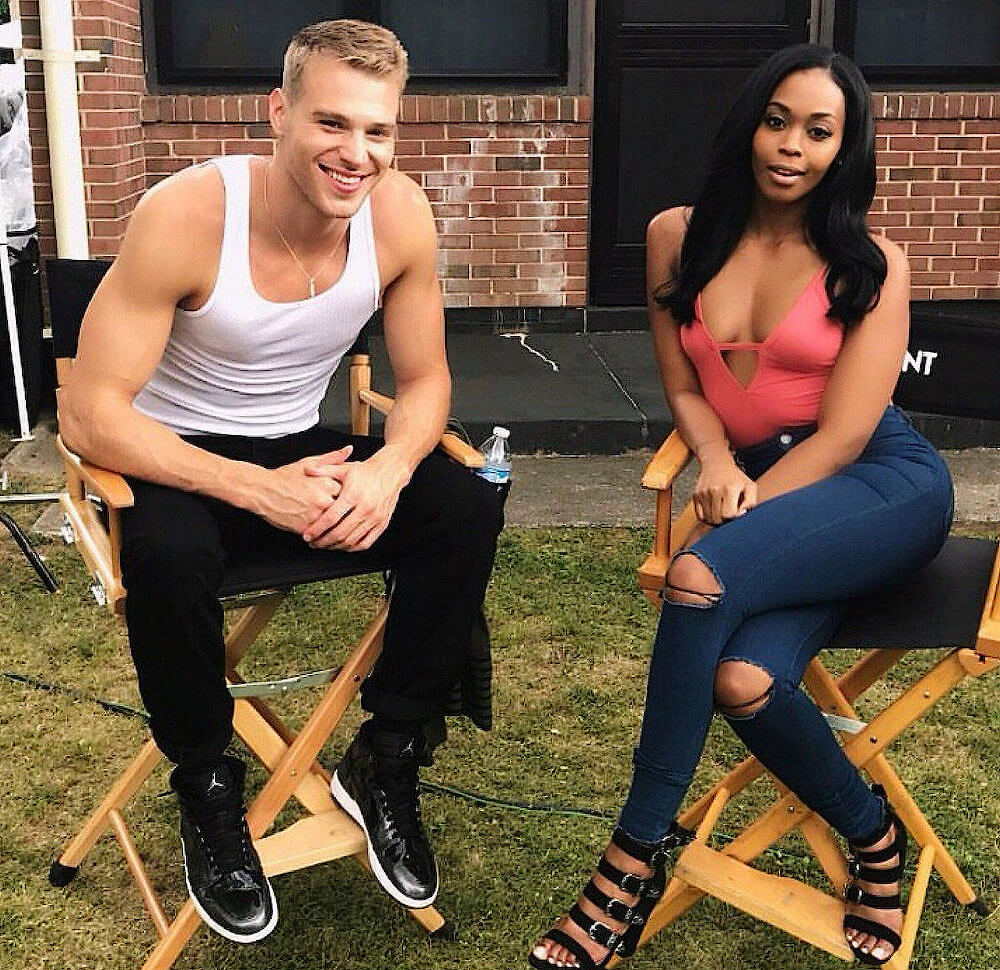 The on-screen lovers were involved in a heated and somewhat scandalous fling in the series. As it usually happens in Hollywood, the perfect chemistry they both have for each other sparked rumors whether they both are actually an item in real life or if they were ever involved in the same heated fling as they have in the series.
Perhaps they really hooked up, or maybe it was just their friendly and playful nature. Still, fans were freaking out when the pair brought up their on-screen love life in several award events.
The rumors began to escalate after Nafessa posted a short video on her Instagram account of her and Matthew in a matching black ensemble, dancing and having fun at the BET Awards in 2017. She captioned the post with the hashtags "#White Chocolate #TalesOnBet #JennyxBrody." She also tagged his Instagram account.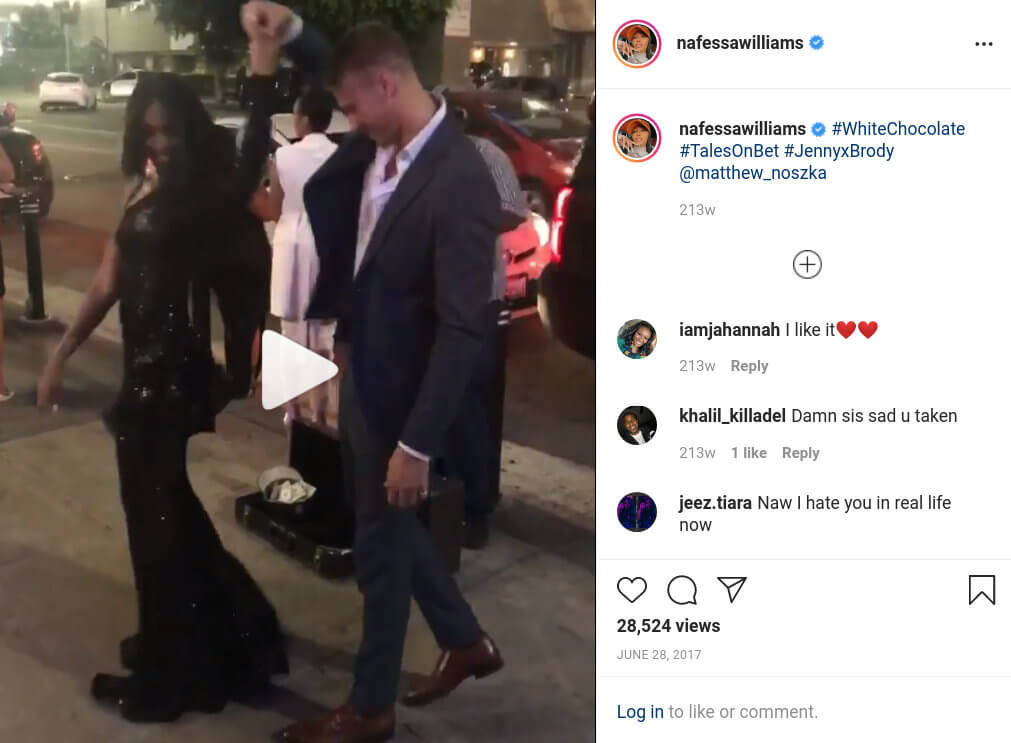 Not gonna lie. They do look adorable!
Nafessa Williams is an American actress best known for her role in the second season of CBS's medical drama series, 'Code Black.' She portrayed the role of Charlotte Piel, a first-year ER resident who was also a former popular teenage actress.
She also gained recognition through her role as Anissa Pierce, a.k.a Thunder, a.k.a Blackbird on The CW's superhero drama series, 'Black Lightning.' The series premiered on January 16th, 2018, and concluded on May 24th, 2021.
Nafessa's role is a passionate and quick-witted metahuman who can manipulate her density and breathing and equip herself with superhuman strength.