Who Is Manny Montana Wife Adelfa Marr? Details on His Married Life
Manny Montana, who starred as Johnny "J.T" Turturro in Graceland, is an American actor who used to want to be an athlete. He got a football scholarship to California State University. Still, He decided not to pursue it anymore after a shoulder injury for the eighth time.
Since then, Manny has focused more on his career as an actor. Graceland is his most prominent role. Apart from that, Manny also appeared in The Mule, Good Girls, and Undrafted.
His personal life? Far from any problems and drama. He's been married to Adelfa Marr for nearly six years. Stay tuned to get more in-depth information about Manny's personal life, stories, and relationship!
Adelfa Marr Is Not Just Known as Manny Montana's Wife
Since Manny Montana is serious about his career as an actor, does his wife come from the same profession? Surprisingly, Adelfa Marr's job is not even close to it. Even though Adelfa was once a cameo alongside her husband in Good Girls, she is not interested in pursuing a career in acting.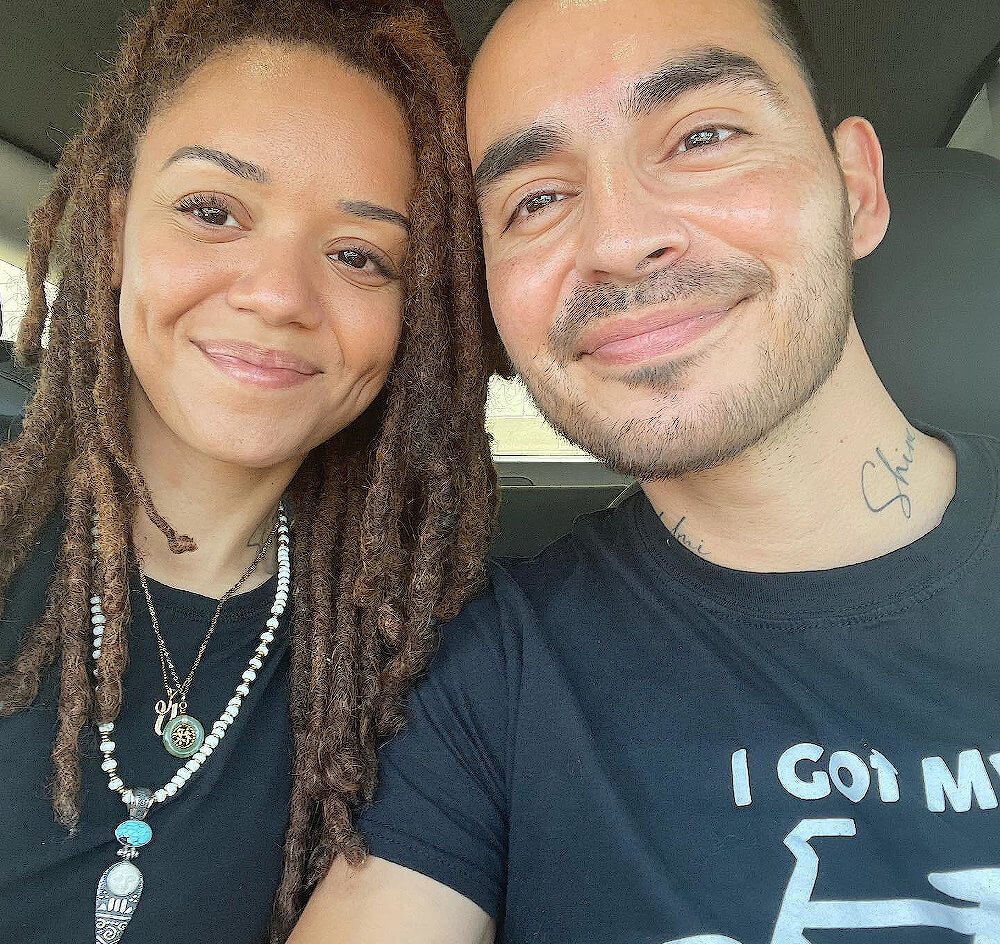 She is currently working as a freelance writer, blogger, and life coach. She focuses on writing about motherhood, sexual education, self-care, race, and anything related to them.
Adelfa often posts her work on 21ninety.com, alongside other talented writers. However, she focuses more on writing for her website, adelfamarr.com.
"I dedicate my time to remotely life coaching clients of all walks of life with a mission to help them find guidance, and work with them daily to achieve their goals," She wrote all of that on her website.
Adelfa realized that she developed an interest in psychology when she was in high school and later did a lot of in-depth studying about that topic by herself. Her interest in people and mental health has come since she was still a teenager.
She's the kind of person who would never stop until she gets it when she has put her eyes on something.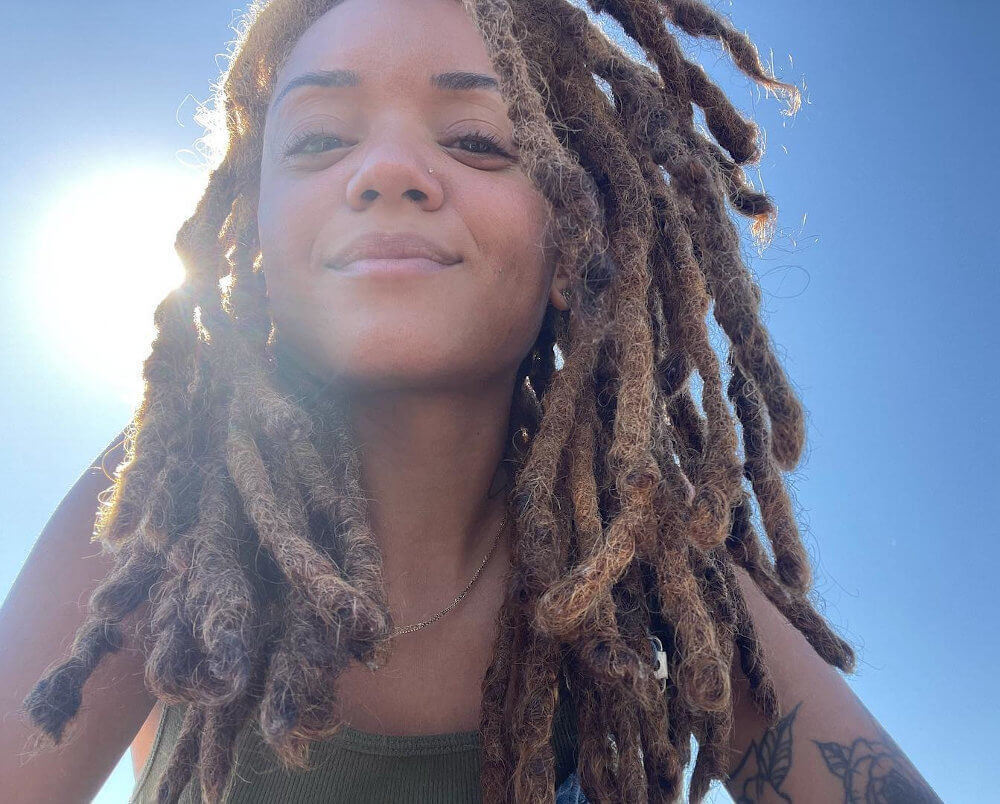 "So, I always had a passion for working with people in any sense. I started young when I was in retail. It was one way of working with people," said Adelfa in one of her interviews.
At the moment, Adelfa is really into showing people how to live their lives to the fullest and be the happiest version of themselves. I mean, if that's what she does for a living, imagine how lucky Manny is to get that positivity and encouragement from her every day, right?!
Adelfa also uses her website to fund for helping her services reach BIPOC in need. She posted her campaign and request for the fund on her Instagram.
"Now, on my website, you can donate funds to help my services reach BIPOC who are needing it and may not be in the perfect financial state to afford it. She is just too good to be true: she is kind, humble, talented, and has a husband who loves her more than anything in the world. The link in my bio will direct you to the donation link along with the link to apply to receive services," Adelfa wrote in the caption.
Manny Montana Used to Doubt Himself for Being a Successful Actor
Meanwhile, Manny Montana has different life stories. He used to want to be an athlete. He's always been passionate about acting, though, but he didn't think that he would make it. Besides, he had to call it quits for his athlete career due to an inevitable injury.
It was the main reason, but not the only reason. Manny opened up about how rare it is to have someone from his background who could make a living as an actor.
"Acting also just seems like something that doesn't happen to the first-gen kid whose dad works in a warehouse and whose mom has always had odd jobs," the Undrafted actor stated.
"I never imagined this would happen to people who came from normal families. Because of that, though, I never shared that I wanted to become an actor with too many people because it seemed like a far reach to them."
The interview was posted on Adelfa's website, adelfamarr.com. It gave many people a glimpse of Adelfa and Manny's personal lives and their past life stories.
Valuing Privacy Above All Else, Manny and Adelfa Don't Reveal Their Son's Identity.
These two began dating sometime in 2015 and got married a year later. Manny and Adelfa's wedding ceremony was private, and they only invited their families and close friends. No press, no paparazzi, just enjoying an intimate moment of their lives with the closest ones.
Adelfa Marr and Manny Montana value their privacy to gain a more peaceful life for their family. Throughout their six-year marriage, they shared one son whose identity they did not reveal. But, Adelfa once shared a video of her, Manny, and their son hiking with Manny carrying their son with a carrier (it is so cute to look at!).
"And I went on a hike — our first hike together since I was seven months pregnant — and it was beautiful. The roles were reversed this time around, seeing as Manny was carrying around our (not so little) little one. Still, it was inspiring to see him carry our baby up a mountain and handle it like his boss. I love my boys so much," wrote Adelfa as a caption.
Of course, many people gave their support and positive comments for her posts. Adelfa is full of positive energy, and she looks really humble with anyone. Everybody could not possibly hate on her and her family as well.
Manny Montana and Adelfa Marr Say about Each Other
Although they want to keep everything private, they never hesitate to express their love for each other. Be it in their interviews or Adelfa's personal blog, they are crazy about each other even after years of being together.
In one of Manny's interviews that he did with his wife, he said that marrying Adelfa was like marrying his best friend.
"Outside of acting, I'm married to my best f**king friend. She's my f**king rock", Manny stated in his interview that was posted on Adelfa's website.
And he also continued, "You always wish you find that ideal marriage, whatever that means to you, and you want it, but in the back of your mind, you think it's far-fetched. I found that, man. We do everything together. She's sacrificed so much for me, she gave my beautiful baby, and we're just family!" he said with such enthusiasm that his excitement radiated!
There's more than that, of course. Adelfa often posts some photos of her and Manny with long, sweet captions that show us how romantic she actually is in real life. One of them is when Adelfa gave an appreciation post for Manny with their adorable selfies.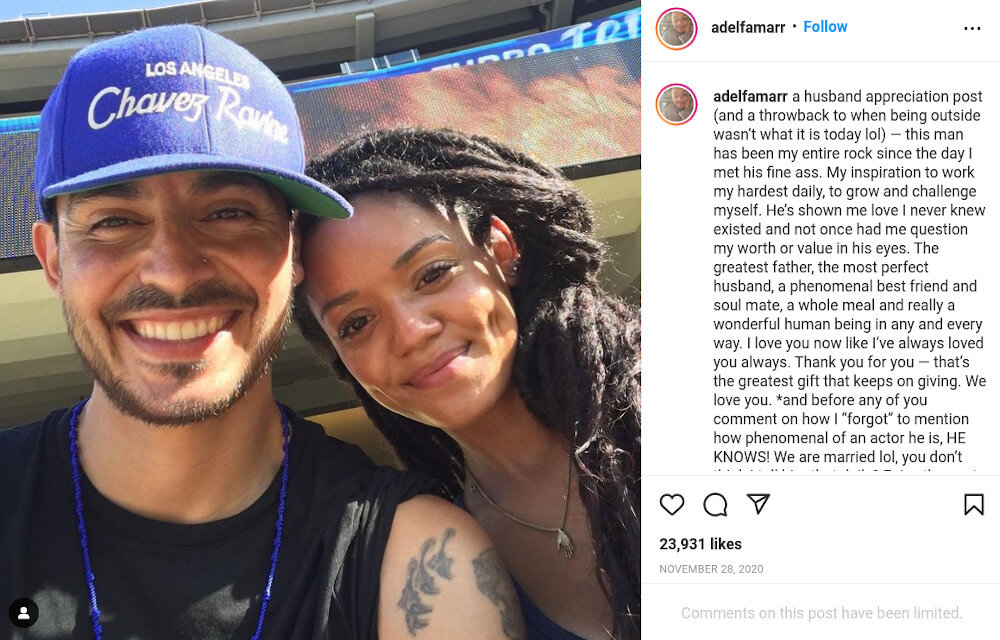 "A husband appreciation post (and a throwback to when being outside wasn't what it is today lol) — this man has been my entire rock since the day I met his fine a**. My inspiration is to work my hardest daily, grow, and challenge myself. He's shown me love, I never knew existed, and not once had me question my worth or value in his eyes.
The greatest father, the perfect husband, a phenomenal best friend and soulmate, a whole meal and really a wonderful human being in any and every way," Adelfa wrote in the caption. And it isn't over yet – there are still whole other paragraphs telling us how grateful she is to have Manny in her life. It is normal to be jealous of them, guys! I mean, who doesn't?
The romance isn't just said, though. A lot of people can write a long and sweet caption with a romantic photo that comes along with it, but action speaks louder than just words.
Manny and Adelfa actually show it in their actions by always sticking with each other and building a strong, healthy family. Even though Manny might not be the biggest movie star right now, it seems like he already got what he needs.
On the Joy of Being Parents
Manny and Adelfa don't only make a good team as a husband and wife, but also as parents. When talking about parenting, the two can't help but say how happy it is to have such an opportunity.
"Having a baby is endless love times ten," Manny said. "You never know a love like this until you have a kid. It gets hard because you're tired, but kids are just so funny and loving, and all they want to do is laugh and be around you!" Adelfa also agreed with that.
And even though they admit the challenge is too complicated sometimes, they still have hope that being parents also makes them a better person; for the sake of themselves and their family. And currently, they seem to be the happiest family ever. Good for them!