Who is Joey King Current Boyfriend? Details on Past Affairs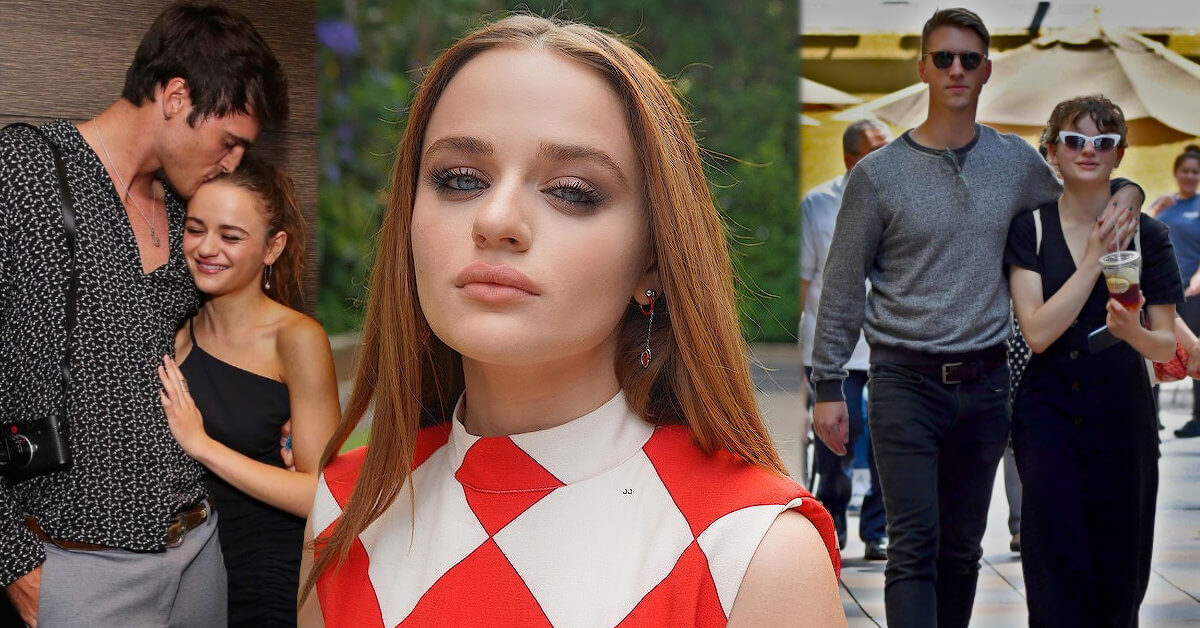 There are plenty of actresses that are still very young but have already gained massive recognition in the industry. One of them is The Kissing Booth actress, Joey King.
The Kissing Booth isn't only the big movie that she's been, though. She has appeared in other critically acclaimed films such as The Dark Knight Rises, The Conjuring, White House Down, and Independence Day: Resurgence.
Throughout Joey's career, she has been linked to some of her fellow actors, such as Jacob Elordi and Dylan Sprayberry. Currently, Joey is in a relationship with a director and producer, Steven Piet.
Joey Is Looking Happy with Her Boyfriend, Steven Piet
A producer and a famous actress in a relationship? That must've seized everybody's attention for sure. Steven Piet and Joey King are no different.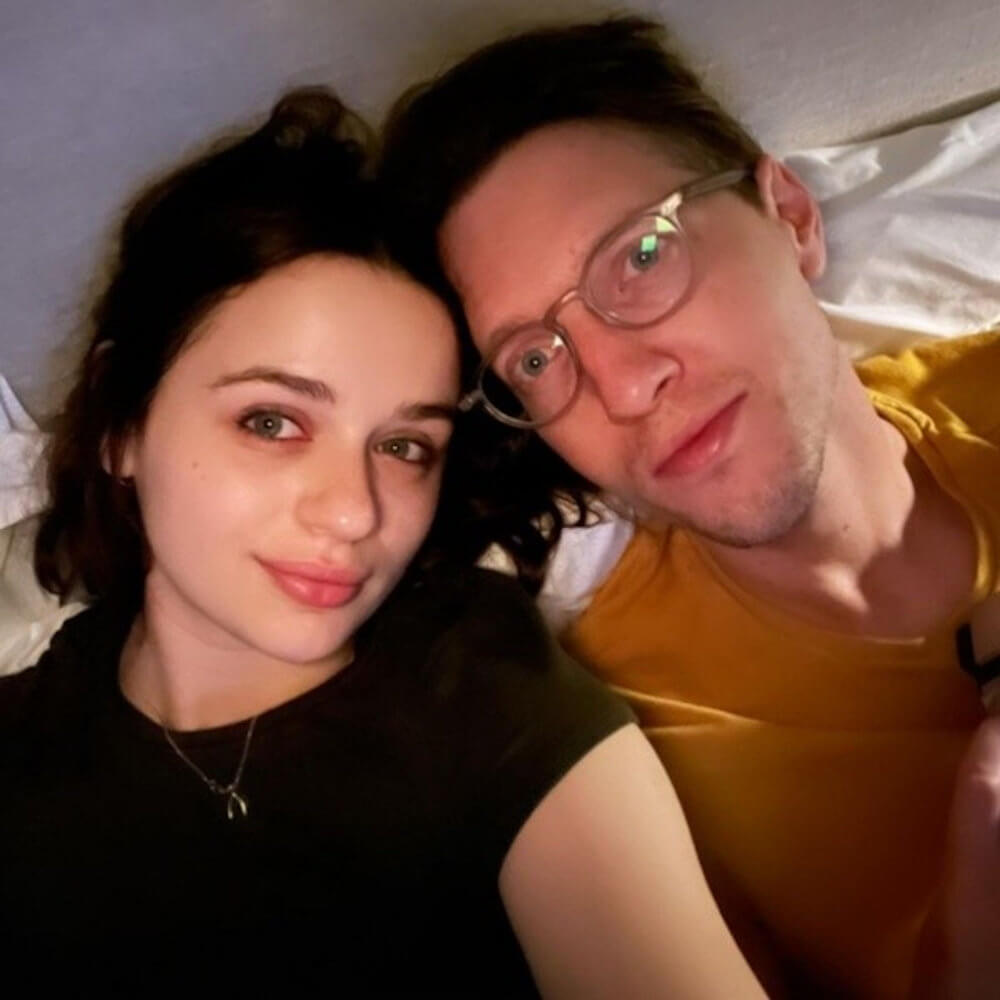 However, the two chose not to reveal too much information about their relationship. Joey and Steven are very private about their love lives.
Steven and Joey started dating in 2019 but didn't make their relationship public until December 2020. However, the pair is still going strong until now.
These lovebirds met for the first time when they worked together on the Hulu miniseries, The Act. Joey played Gypsy Rose Blanchard. Steven and Joey hit it off not long after their first encounter. They had been very private at the beginning of the relationship. But then, they made a public appearance.
They were first spotted in public when they attended Harry Potter and the Chamber of Secrets at the Hollywood Forever Cemetery in Los Angeles. It was in the summer of 2019, and the two were definitely in love with each other.
A source told E! News that they were "very affectionate and were with her two sisters sitting watching the movie together." Joey and Steven also cuddled the entire time, a source added.
Not long after that, Steven and Joey attended the 2019 Emmy Awards, their red carpet events as a couple.
Joey also started to post about her boyfriend on Instagram. However, Steven seems like a very private guy. Although he has an Instagram account, he only posted several pictures there, and he didn't reveal much about his activities.
But, don't worry, he did post three pictures of Joey, and he seemed to be very much in love with her. He also likes to write sweet captions for photos that capture Joey.
"Also, the results are in. It's unanimous. 10 out of 10 doctors agree you are my favorite person. Happy birthday, you sweet and beautiful soul. I love you so damn much."
The caption was dedicated to Joey's birthday, followed by ten pictures that Steven posted, capturing sweet moments they have together.
Despite their eight years' age gap, the two don't seem to have a problem and even bother with that. They are still everyone's favorite because they are far away from any Hollywood drama so far. We are rooting for Joey and Steven always!
Joey's Relationship with Jacob Elordi Was Everyone's Favorite
Joey's most famous relationship is with her love interest in The Kissing Booth, Jacob Elordi. Even when many people are not aware of Joey's relationship with Steven, they surely know about her and Jacob being together.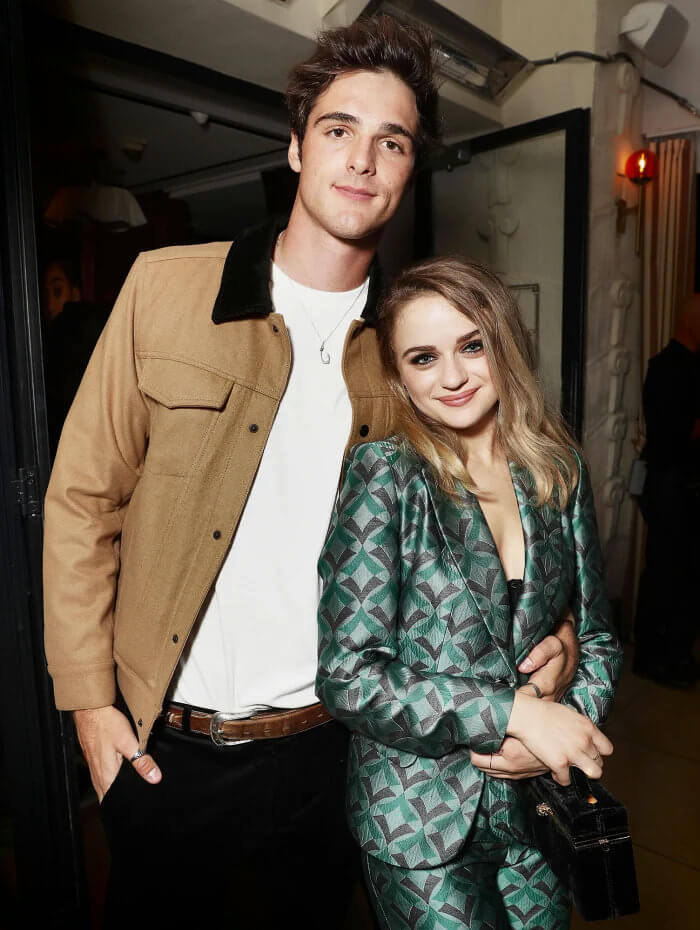 What makes them so iconic is their role as Noah Flynn and Elle Evans. Even before they announced publicly about their relationship, many people had seen it coming.
However, unlike their role in the movie that can maintain their relationship, it wasn't the case in real life. Even before The Kissing Booth 2 was aired, they had already split. But, the two had to continue playing as lovers and kept being professional. Many people will agree that they did a great job despite what happened to them, though.
Jacob and Joey began dating in 2017, soon after they met on the movie set. Joey told the media that she thought Jacob was "very cute" right after the first second of their first encounter.
"It all started as a friendship. Right away, we were talking about gross things with each other," described the actress, indicating that the two instantly liked each other at that time.
"We were spending 17 hours a day together, and all of us would hang out after work and watch movies together and stuff. It was great."
With their instant chemistry and the amount of time they spend together even outside of the movie set, no wonder they became such a great couple!
When the interviewer asked Joey how she felt about having her boyfriend as her co-star, she said it was exciting.
"It's exciting for people to know what they saw on screen was real," she opened up to The New York Times. And of course, she doesn't have to work too hard to have real chemistry with Jacob on screen, right?!
Since they were so great together, it leads many people to wonder why they parted ways.
The Real Reason of Joey and Jacob's Break Up
The couple officially broke up in early 2019, and it didn't take a long time for both of them to find a new partner. So what happened between them?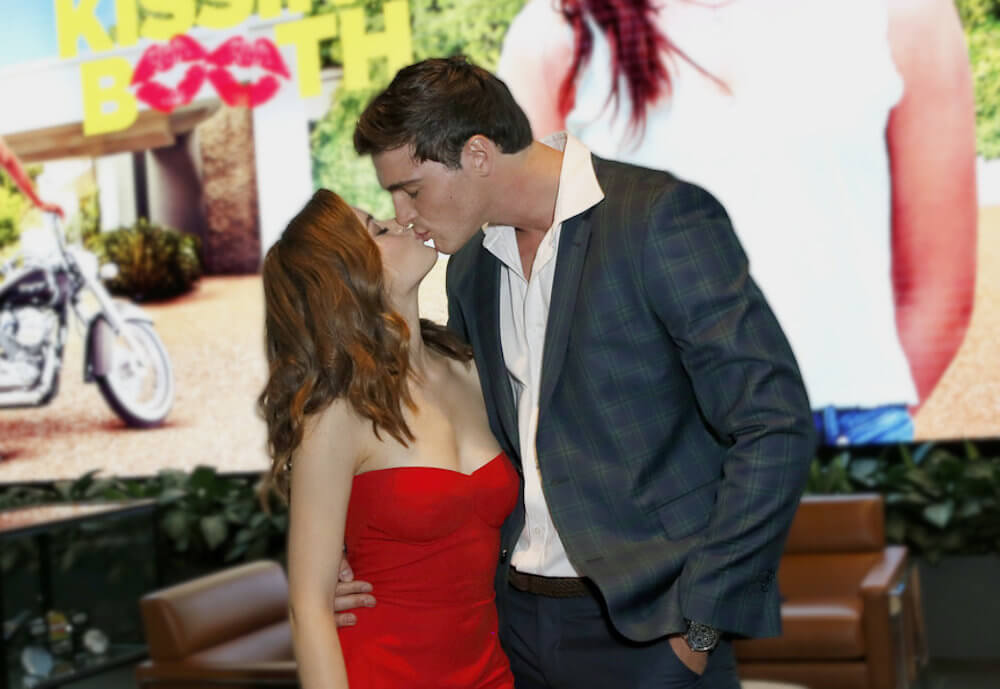 Neither Jacob nor Joey had spoken anything about it, but some sources stated it was due to various reasons. One of them was because Jacob had to devote most of his time to Euphoria's newest series. The other reason was that he came from Australia. This quarantine time made it hard to stay in the States for a longer time.
Not only that, there was another rumor that said Jacob was cheating with one of his costar in Euphoria. But, it stays as a mere rumor since Jacob was reluctant to speak about his personal matters.
Jacob doesn't like to reveal too much. However, even Joey felt irritated that there were so many people (and media included) that made assumptions and speculations about her relationship, especially after she split with Jacob.
Joey expressed her disappointment in her interview with Refinery29, saying that people seemed to cannot understand that reality could be different from what they saw on screen.
"So, I think that the reason why it was really difficult for them to let up on it is that they just have a fantasy idea of someone else's life when it's not like that at all," added Joey, as a closing statement for her interview.
After they split, Jacob and Joey even unfollowed each other on Instagram, making people more assured that their breakup wasn't amicable. But, Joey also said in her interview that she was grateful for her relationship with Jacob. She said she learned the most in her life from Jacob.
That's good to know! And even better than that, she was able to move on and not afraid to start dating again.
An Intense Photoshoot with Dylan Sprayberry, Despite Their Only Five Months Relationship
In 2016, Joey had a brief relationship with Teen Wolf and Man of Steel actor Dylan Sprayberry. Unfortunately, the two only dated for five months, and it was during their teenage era.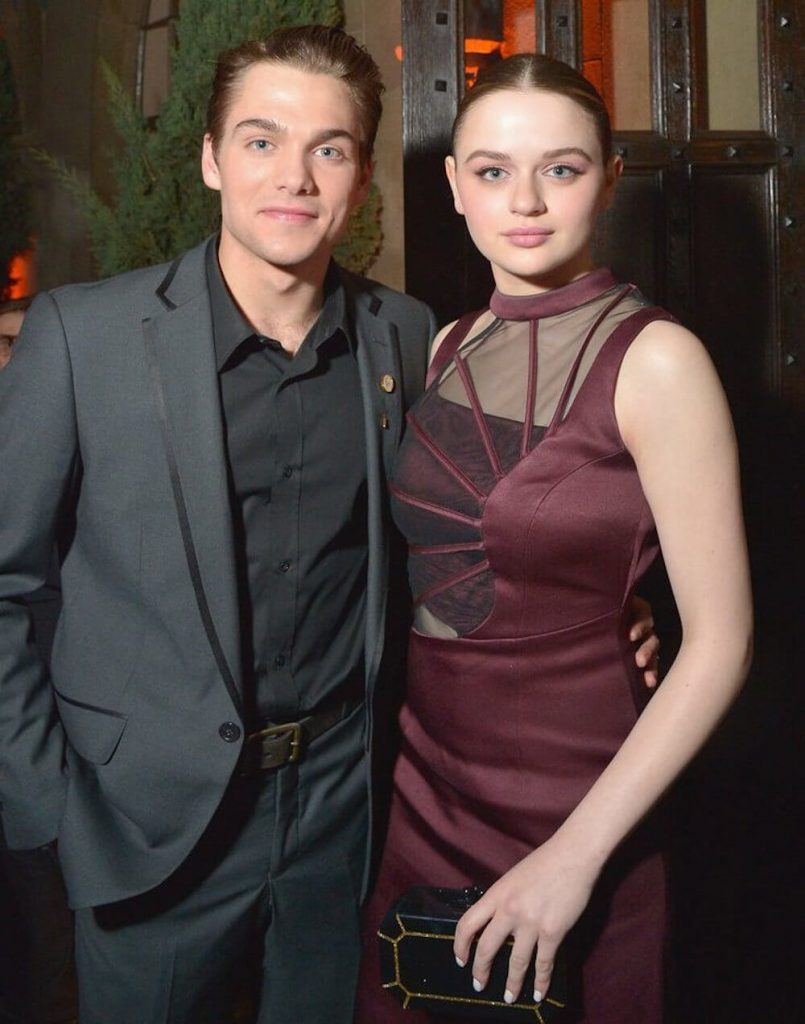 Though their relationship was very short, they already had an intense and passionate photoshoot session. The two were featured in Tyler's series showcased in the Los Angeles galley in November and December 2016.
The theme of their photo shoot was in a train station, both looking at each other's eyes when the train passed by. Joey was wearing a pink floral dress and looking fabulous, despite her age of only 16 when the picture was taken.
Tyler was so excited to work with the two. He announced how happy he was working with them in his Instagram account, @thetylershields, with the caption that goes,
"The incredible @joeykingactress and the amazing @dylansprayberry for a new series I am currently working on. Very excited to announce that I am teaming up with Leica, and I will be shooting an entire series on a few of their new cameras, including one of my new favorites, the MP-240."
Not only a picture in a train station, but Tyler also shot them in a black and white photo that captured Dylan looking passionately at Joey, and the two were very close to each other. It also seemed like they were topless, making the atmosphere between them more intense and passionate.
In June 2016, Dylan and Joey parted ways. The reason for their breakup was unknown, but it was guaranteed that there was no bad blood between them.
Joey King and Nolan Gould Stole Everybody's Attention at SAG Awards
Another short relationship of Joey King was with actor Nolan Gould. Both of them were first spotted attending red carpet events at SAG Awards in late 2015.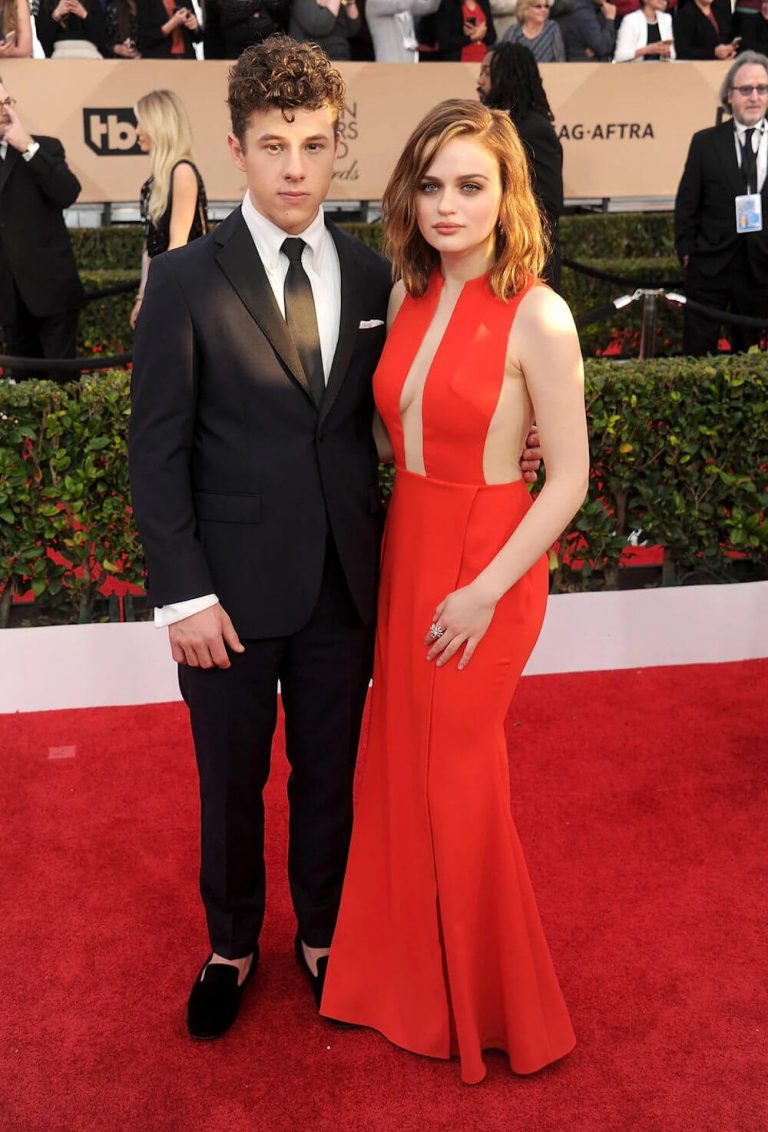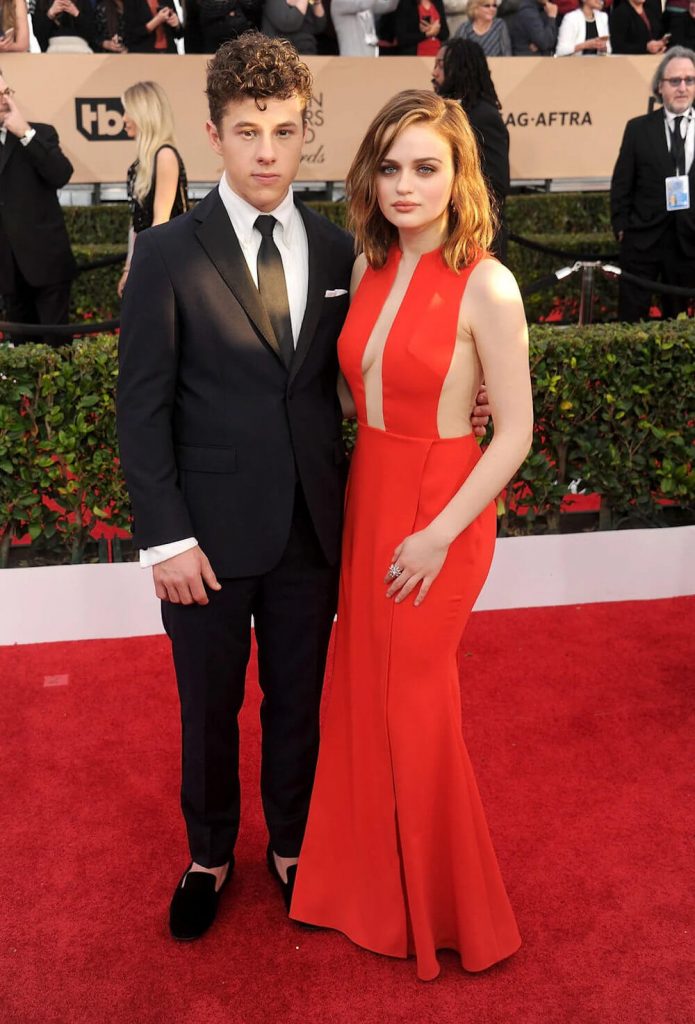 Joey, looking fabulous as always, with an elegant red long dress that fits her perfectly. Meanwhile, Nolan wore a classic black tuxedo. They looked very much in love since they were captured, looking at each other with a smile on their faces.
The two knew how to be the center of attention and make an entrance at the event!
However, their relationship was short, and it wasn't clear whether or not they were in a serious relationship back then. Joey and Nolan were just teenagers at that time, anyway, so it was understandable for them to explore all the choices that they had, right?