Who is Dina Manzo Husband? Her Married Life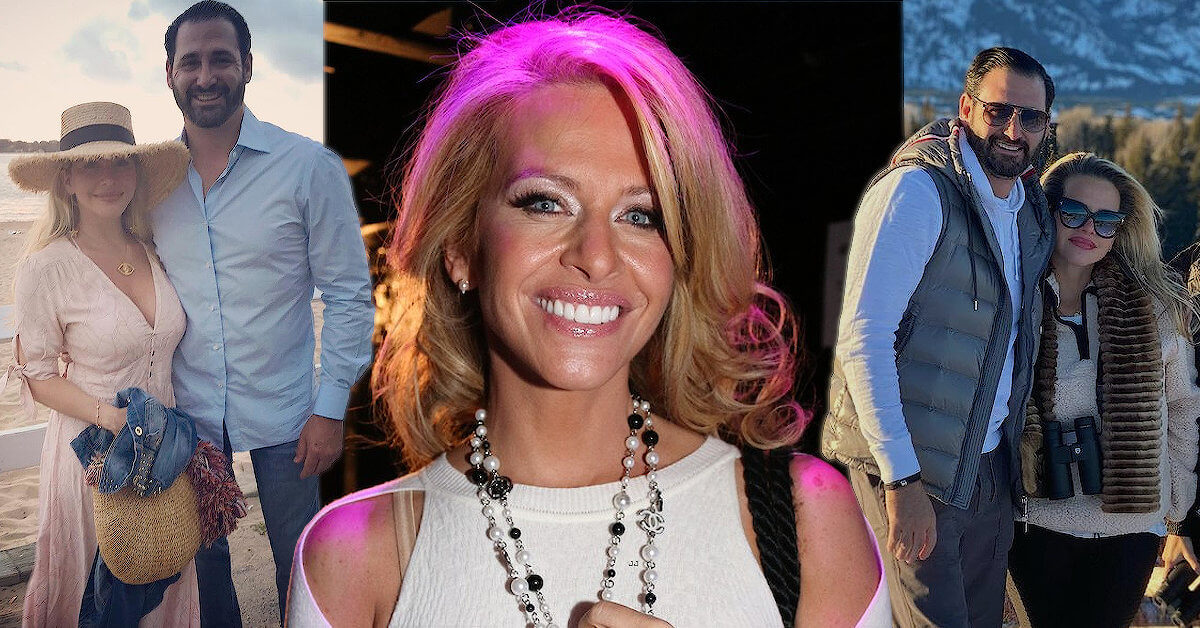 A controversial The Real Housewives of New Jersey star, Dina Manzo, never stops to make us hooked with the story of her life. From her TV series Dina's Party to her love story, we always want to know more and more about her.
When we heard Dina Manzo's name, we probably remembered the news about the attack in 2017, whose attacker turned out to be her ex-husband. Not only that, the family drama between her and her ex-husband's family is too controversial to ignore!
Dina's relationship journey is also far from ordinary. In this article, we will know everything about Dina Manzo and all of her love drama!
Dina Cantin Was Celebrating Wedding Anniversary with Her Husband, Dave Cantin
Dina Manzo, or Dina Cantin, is currently happy with an American entrepreneur, Dave Cantin. They got married in June 2017 and have been going strong ever since.
Dina would always make sure to post her sweet moments with her husband. In her Instagram account, @dina, many photos of her traveling together, kissing, and cuddling. Dave Cantin is also no different. Two people, who love to post their sweet moments, what else that we love more than that?
The latest post from Dave Cantin was heartwarming and sweet. The two seemed to celebrate their third year of marriage.
"Happy Anniversary, baby! Thank you for always supporting all my spontaneous ideas. Thank you for putting up with my fast on the go pace, and most of all, thank you for always loving me the way you do," wrote Dave in her anniversary picture, looking lovely at the beach.
Dina also replied with a sweet comment, "Happy Anniversary, My Love. So incredibly grateful for you."
Not only from Dave, but Dina also posted a sweet photo and caption for their anniversary.
"He puts his arms around me, and I am home. Happy anniversary my love. Forever is a long time, but I look forward to every minute of it with you." She added a picture of her Dave wraps her in his arms, and they wear a formal outfit, making them look lovely and classy.
The way they celebrate their anniversary is sweet and very opened. But, who could've thought Dave and Dina prefer the more secretive wedding ceremony?
The two didn't announce anything before they got married. People started to wonder about Dina Manzo's personal life since she hasn't talked anything about her ex, Tommy Manzo.
Dina appeared once on an episode of Jeff Lewis Live. When she got asked about her relationship with Tommy, she proudly answered, "I'm not Manzo anymore."
She then added a shocking revelation about her relationship with David Cantin.
"We've always been engaged, we got engaged once, early in our relationship, and then we both realized it was way too early. And then we got engaged again last year."
It wasn't until May 2019 that Dina announced that she was a married woman. In her Instagram (again), she uploaded her picture with David Cantin in Malibu with a caption that goes,
"The bride wore a dress from her closet, orange blossom in her hair, and carried a Calla Lily from her Malibu Garden. In front of the gorgeous Pacific, surrounded by nature and puppies, they promised to be there in good times and bad."
Out of nowhere, without any warning or news about her wedding ceremony with Dave, they already said "I do" to each other.
Getting to Know David Cantin: A Filthy Rich Businessman
We know that Dave and Dina are in their honeymoon phase now. But what do we know about Dina Manzo's husband? Did Dave also have the same background as Dina?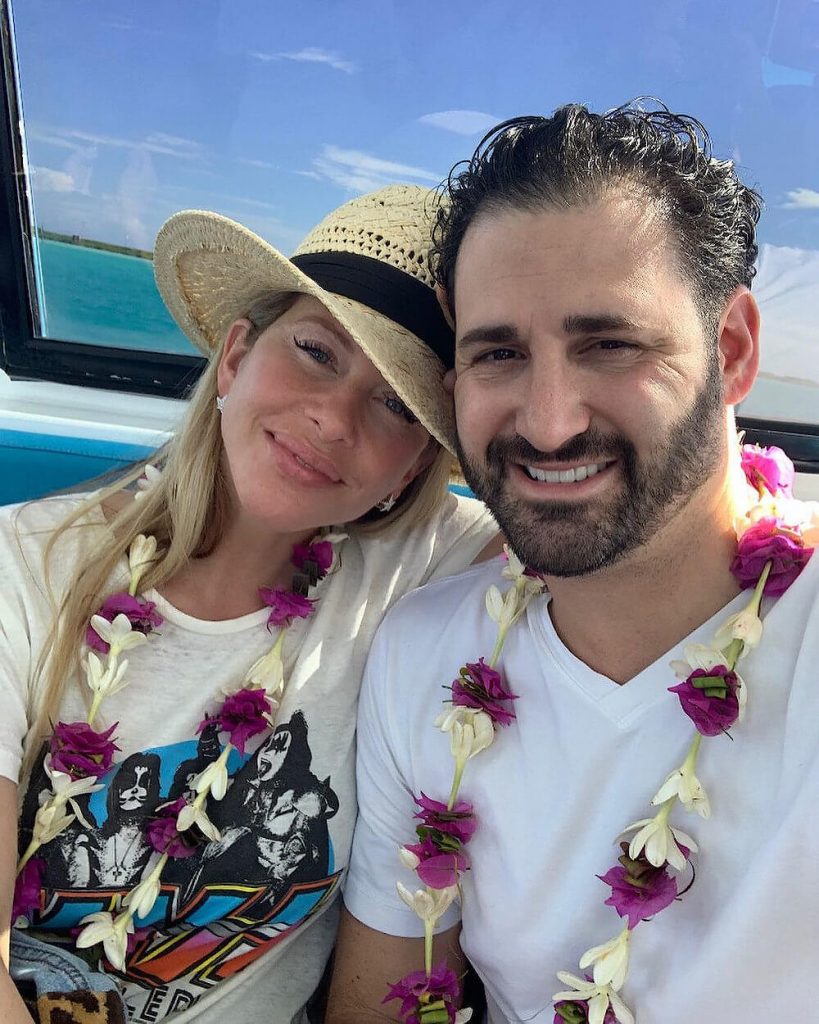 David Cantin didn't come from the entertainment industry. But he's also filthy rich. He is a successful businessman, a founder, and CEO at Dave Cantin Group, an automotive dealership merger-and-acquisition firm.
Not only that but he was also featured in Forbes in 2018. Well, a millionaire married to a successful businessman, what else could be much perfect than that?
David's success didn't come overnight. Before being a CEO, he was a co-owner and vice president of a Hyundai dealership, Brad Benson Auto Group, based in New Jersey. He worked so hard to be where he is now.
Before marrying Dina, David already married a woman called Melissa and shared two children with her. The pair separated in mid-2014. Both of their children live with Melissa on the East Coast since they got divorce now.
We couldn't find any pictures of David spending time with his previous kids, so maybe it indicates he isn't closed with both of them.
David and Dina haven't had any biological children. But, Dina revealed that she had few miscarriages before. She said that in her interview with Bravo in 2019.
It became more clear when Dina decided to express her disappointment in her Instagram caption.
"Sometimes, I recently lost a few pregnancies, but God is in charge, not me." Ouch, that is so sad.
Crazy Things Happened to This Married Couple
As lovely as they may seem, their married life isn't only filled with sweet things and happy moments. Other than the few miscarriages that Dina had, the couple also got attacked in their own home once. What?!
That happened in May 2017, when they were robbed and beaten by two masked men. The men stole the jewelry and other luxurious items that they could find. David and Dina quickly report it to the police. Thankfully, James Mainello, the guy behind the home invasion incident, was arrested nice and quick.
That's not enough, guys. In 2015, David was assaulted by Dina's ex-husband, Thomas Manzo.
Thomas and another man, John Perna, were planning to assault David in his house. The story behind the attack was even crazier. We will get down to that pretty soon.
In short, both Thomas and John were arrested in 2015. And also, the robbery that happened in 2017 got nothing to do with Thomas, thankfully.
Being Married for Nine Years with Tommy Manzo
This is the ex-husband that we've been talking about: Tommy Manzo. He's famous not only because he was Dina Cantin's ex-husband but also for his assault allegation toward David Cantin.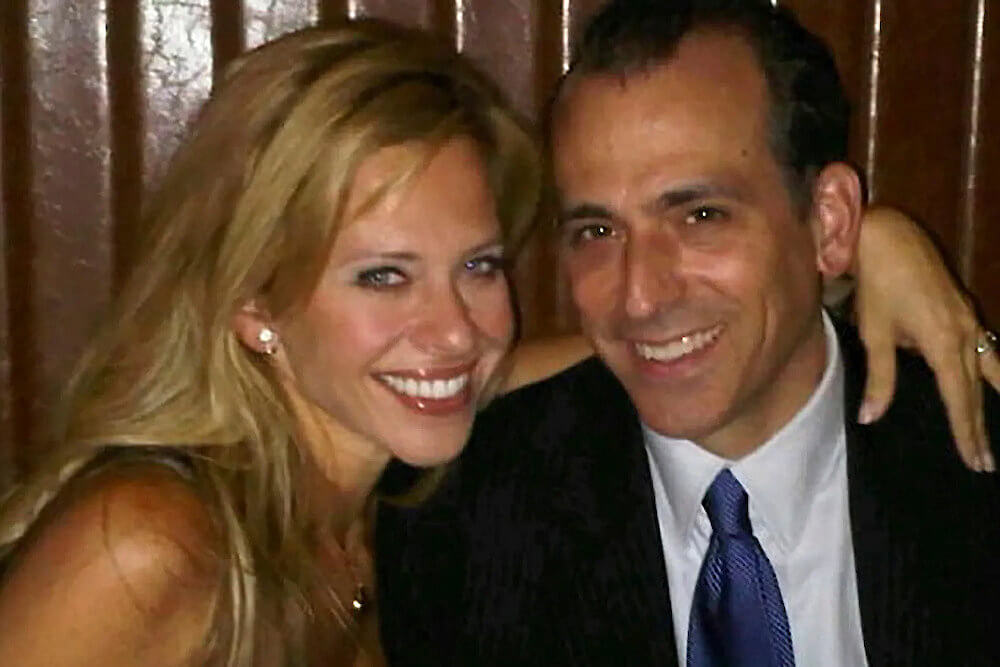 Just like David, Tommy is also a successful businessman. His net worth is around $1 million dollars.
Tommy and Dina's relationship was a long-term one. The two were married for nine years long! However, there was some bad blood between them when they were about to get a divorce. The divorce was finalized due to Tommy's assault case.
There are some speculations about the main reason for the divorce. According to some sources, Dina filed for divorce because Tommy had cheated on her.
More surprisingly, Dina even revealed that Tommy had cheated on her before their wedding. In one of The Real Housewives of New Jersey's episodes, she also disclosed that Tommy proposed to her during his "breakup" with another girl.
Dina's best friend, Kim DePaola, stated that their marriage was never healthy in the first place, and Dina was just "madly in love with him."
"Dina was madly in love with him, and she sat home every night waiting for him. She was a good wife. He was off at The Brownstone doing his thing, if you catch what I'm saying," told Kim DePaola.
Crazy Ex-Husband Hired Someone to Assault David Cantin
Though Tommy was the one who was always cheating on her, he was also the one who refuses to let Dina go. After they officially got a divorce, Tommy still didn't want to accept that and went to assault Dina's new husband instead. This man is crazy.
Thomas hired John Perna, the man who went to David to assault him. Thomas promised John to give him discounted reception at The Brownstone restaurant, New Jersey. Having a lavish wedding is a payment for assaulting a man. Yep, that sounds make sense.
According to some sources, Thomas gave John David's personal information so he could attack him easily. John then stalked him, followed him into a local mall, and purposely attacking him. According to the police document, the order was to attack him until he had a serious injury.
David and Dina might be the couple who got attacked the most, LOL. Two years after that. The two got robbed and beaten down in their home, as we mentioned earlier.
When her best friend, Kim DePaola, was asked about her opinion regarding this, she said that it was "just a man thing."
"I think it was a man thing. They want what they can't have. He didn't want Dina when she was starving for attention and was dying for his love, but when she leaves him and goes off with a new, younger guy? His ego couldn't take it. He got too wrapped up. That's my take."