Uncovering Val Kilmer's Net Worth & Successful Career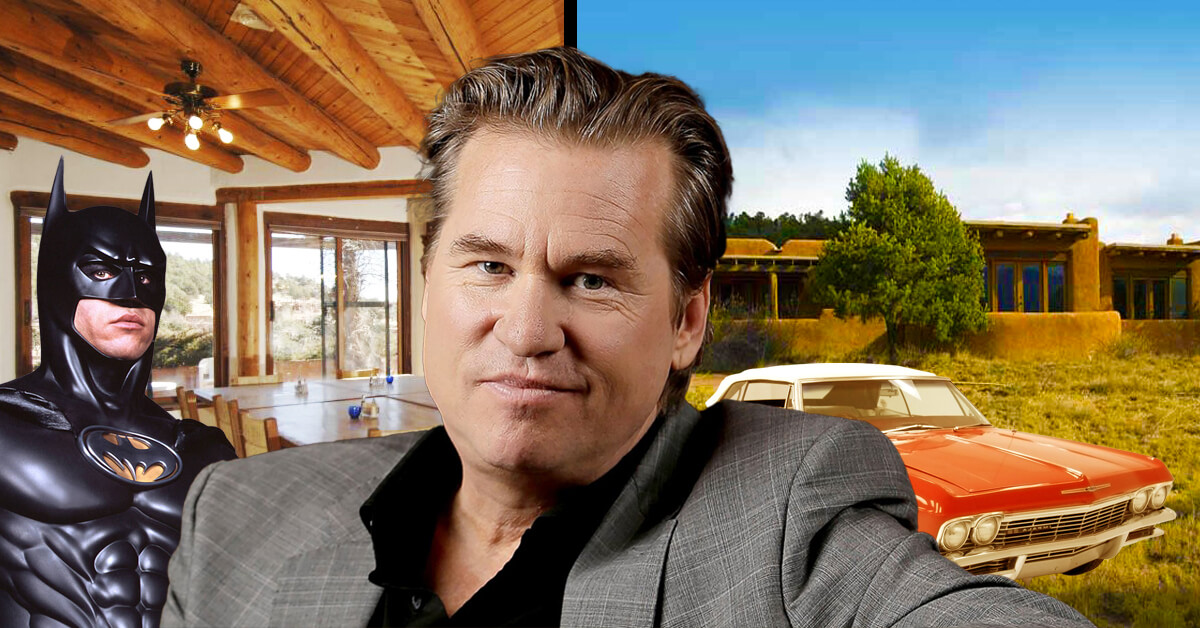 Val Kilmer is one of the familiar faces in the film industry. From Top Secret! to Top Gun, Val has always been a fan's favorite.
He's more known for his role in action movies, for example, Kiss Kiss Bang Bang, which earned him a Saturn Award nomination for Best Supporting Actor.
Today, we'll dig deep into Val Kilmer's net worth, wealth, and career!
Val Kilmer's Net Worth
With many roles in 1990s movies that became box-office hits, Van Kilmer was named one of the highest-paid actors in the 1990s.
Val Kilmer's net worth has been evaluated at an impressive $10 million as of 2023!
His list of successful movies includes Batman Forever, The Island of Dr. Moreau, and At First Sight. Also, with how active he still is today, it's fair to say that the list is still growing!
Long-Lasting Career: From the 1980s to the 2020s
Val Kilmer initially began his career as a stage actor. During his college years, Val participated in How It All Began as a co-author and an actor, despite his face gracing the film industry so many times.
Two years later, in 1983, he starred in another play, The Slab Boys.
He eventually got his breakthrough role in Top Secret!, portraying an American rock and roll superstar.
Following his career breakthrough, he starred in Real Genius's comedy film in 1985, followed by his role in the box-office hit Top Gun. The latter would eventually solidify his career in Hollywood and make him a big star.
After his success in numerous movies, Val returned to stage play in 1988, starring in Hamlet. He played two leading roles in Kill Me Again and Billy the Kid a year later.
In the early 1990s, Val Kilmer was cast for the role of Jim Morrison in the documentary film The Doors.
"I was working hard getting my mannerisms down and trying to get that same edge the Lizard King had," Val Kilmer told Dazed.
Well, his effort paid off, judging from how so many people struggled to tell the difference between him and Jim Morrison himself.
"It still boggles me to this day to see people with a tattoo of me playing him and not knowing it isn't Jim," he recalled. Val also said that the incident "happens more than you think."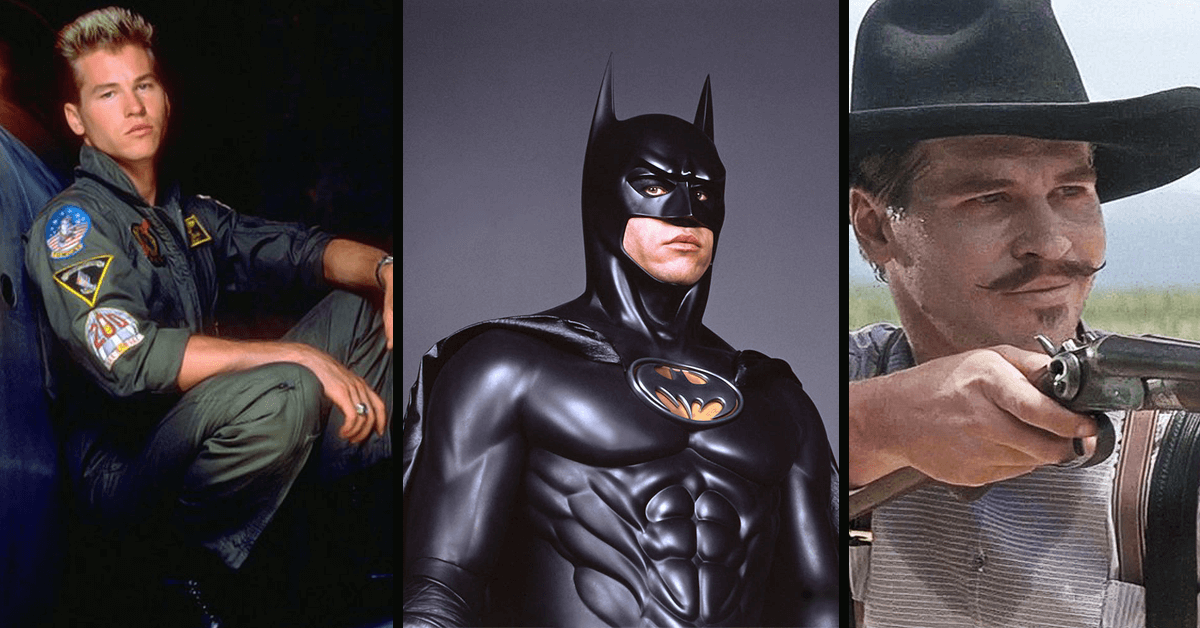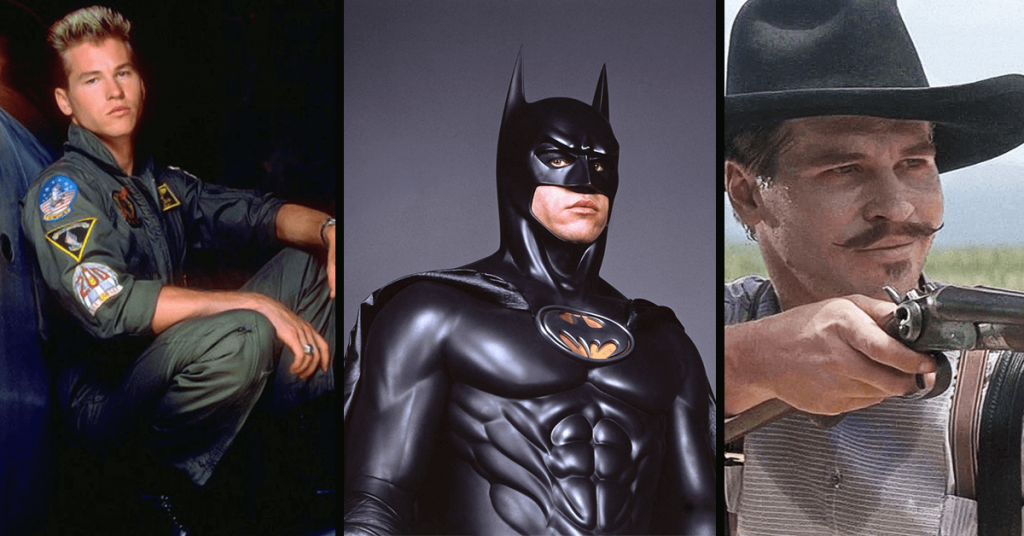 Also, in 1993, Val Kilmer was cast for the role of Bruce Wayne/Batman in Batman Forever. Val would replace former Batman actor Michael Keaton, who refused to film the third installment following some "creative differences."
After the success of Batman Forever, Val was cast in The Saint, an action film that became a huge hit. He also lent his voice as Moses in the Dreamworks animated film, The Prince of Egypt.
Val finally decided to return to stage play in 2004, more or less 15 years after his last play, Hamlet. He portrayed Moses for the musical The Ten Commandments: The Musical. He also performed in The Postman Always Rings Twice on the London Stage a year later.
Returning to the big screen, Val Kilmer secured a supporting role in the action-comedy Kiss Kiss Bang Bang in 2005. He also starred in the film Felon in 2008, in which both movies received positive reviews.
His career continued well into the 2010s and 2020s, with him starring in MacGruber, The Traveler, and Song to Song, to name a few.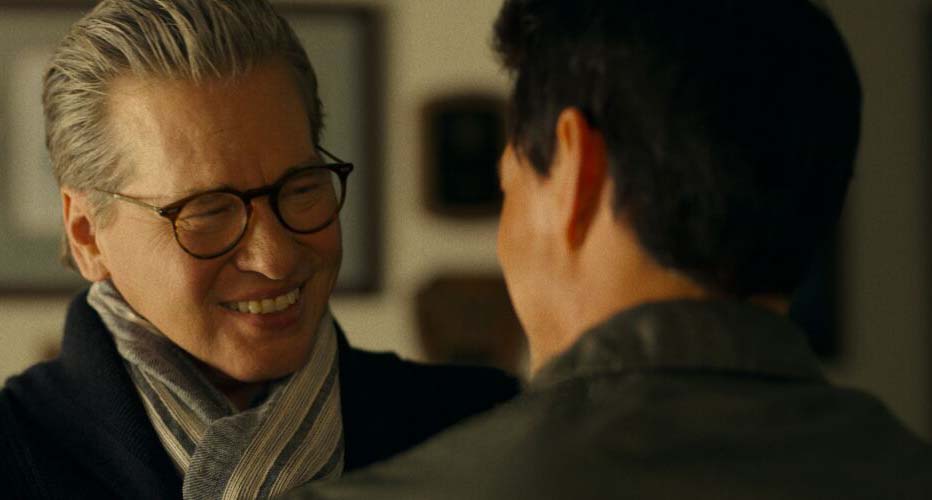 Val also reprised his role as LT Tom "Iceman" Kazanski in the upcoming Top Gun: Maverick.
No wonder Val Kilmer became one of the most familiar faces in Hollywood, considering all the movies credited under his name.
Val Kilmer turned down an offer to play Neo in The Matrix
Before the role of Neo fell into Keanu Reeves hands, the producers of The Matrix offered the position to Val Kilmer. The crew believed that Val would portray Neo perfectly.
Unfortunately, Val declined the offer and refused to play Neo. The crew still tried to get Val into their team by offering him the role of Morpheus instead. Still, Val turned down the offer.
Val chose the romantic movie At First Sight role rather than going out of his comfort zone and diving headfirst into a sci-fi production.
The role of Neo would eventually be won by Keanu Reeves, while actor Laurence Fishburne portrayed Morpheus in the franchise.
It sure is fun to know what would have been if Val Kilmer had agreed to play in The Matrix and take the red pill!
"It's So Bad, It's Almost Good" Val Kilmer on Batman Forever
Batman is one character that has been portrayed in so many ways and by different actors. Val Kilmer is on the list, who also happened to be the fifth actor in history ever to portray The Dark Knight. Val replaced Michael Keaton on the last installment of Michael's Batman trilogy, Batman Forever.
"I was buzzed about being Batman but hardly for artistic reasons," Val wrote in his autobiography. He also stated that the Batman suit he had to wear during filming was "the trap."
"The chair became my friend, my crush, and my only comfort," Val recalled his experience wearing nearly a hundred pounds costume.
Val Kilmer also reviewed the film with "it's so bad, it's almost good."
Val Kilmer's Mexico Ranch
With paparazzi chasing you everywhere you go, big cities hardly become a comfortable place to live, even for A-listers. And Val Kilmer shares the same sentiment.
Val once owned a 6,000 acres ranch in New Mexico. However, Val reportedly listed the property for sale in 2009.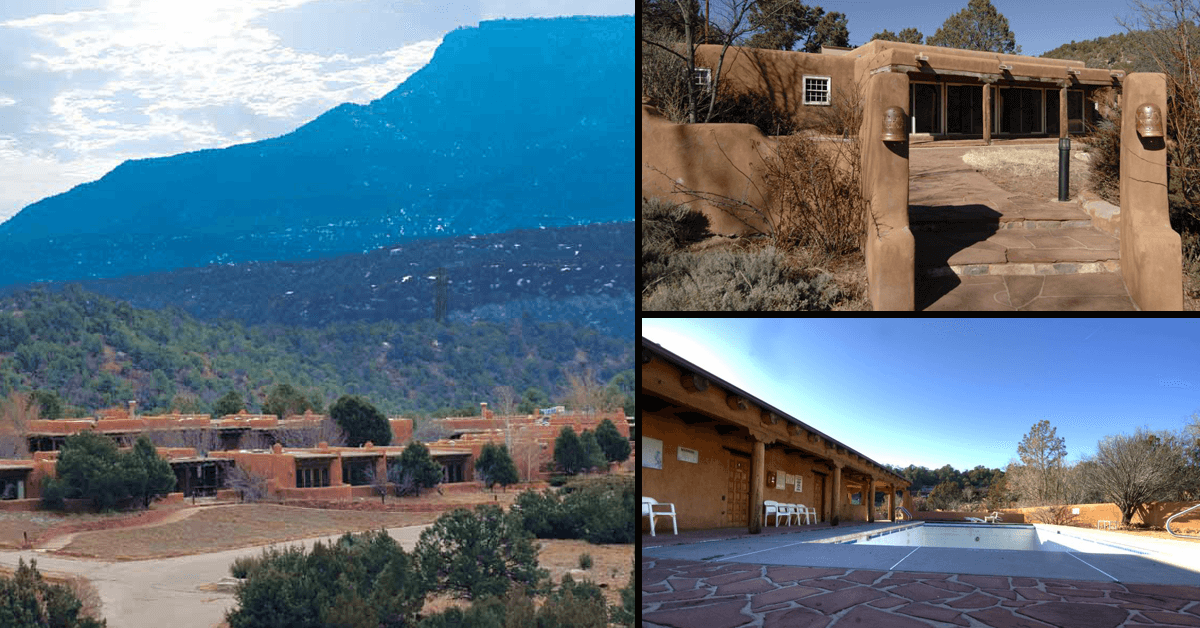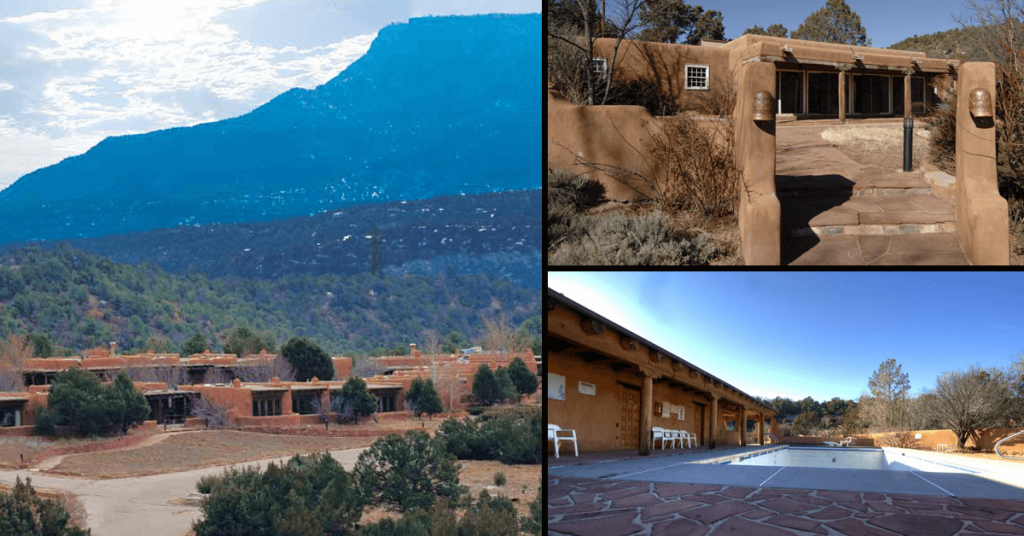 Three years later, he managed to strike a deal to sell more or less 5,300 acres of the whole property for $18.5 million. He also managed to sell another part of the property several years later.
As of now, Val Kilmer only owns approximately 160 acres of the entire property.
Val Kilmer's Classic Taste on Cars
Being one of the Hollywood A-listers, Val Kilmer can own whatever car is available. But, the Kiss Kiss Bang Bang actor knows what he wants: classic vehicles.
Val owns a 1965 Chevy Impala, a former castmate 50 Cent gift. The rapper reportedly bought the car for $100,000 and gave the key directly to Val Kilmer.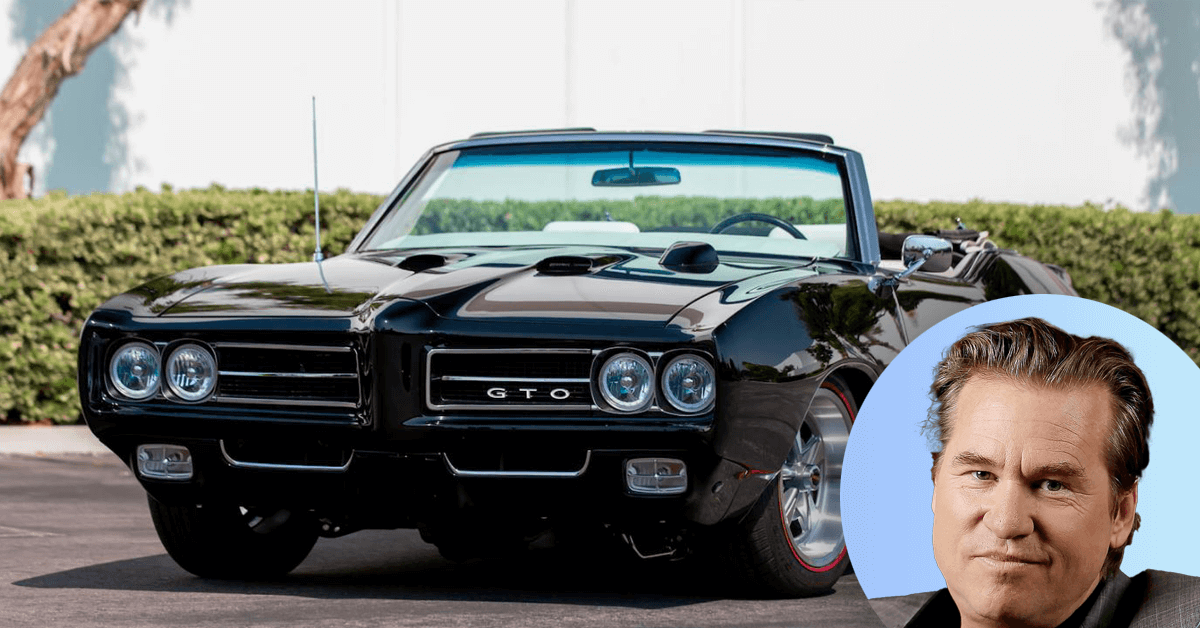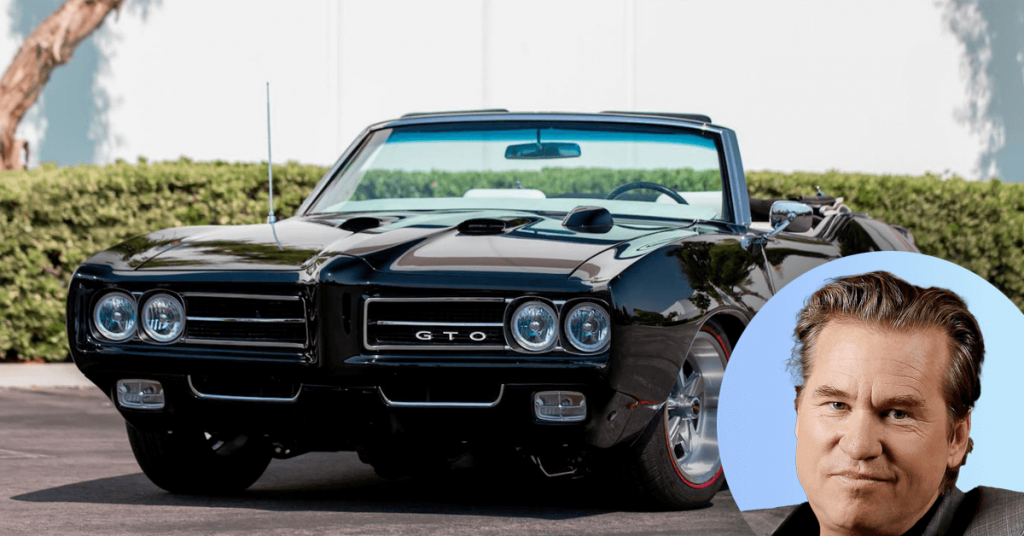 Another classic inside his car collection is a 1969 Pontiac GTO convertible. Unfortunately, Val decided to put the car up for auction in 2021.
Mecum Auction held the auction in its annual Monterey Car Week. The car is sold at a price between $120,000 to $140,000.
Val Kilmer's Fight to Cancer and How an AI Company Gave His Voice Back
Val Kilmer is undeniably a great actor due to his ability to portray his characters with the appropriate mannerisms and emotions. His voice is also the one that draws his fans to him.
Unfortunately, in 2015, he lost his voice following the treatments for the throat cancer he suffered. Val Kilmer's battle with cancer was documented in his biographical film, Val.
Following the documentary's release, Val's team contacted an AI company called Sonic. The company recreated Val's voice before he had cancer, and the result was indistinguishable.
"The chance to tell my story, in a voice that feels authentic and familiar, is an incredibly special gift," Val stated. "I'm grateful to the entire team at Sonantic who masterfully restored my voice in a way I've never imagined possible," he continued.
Thanks to Sonic, we can look forward to Val Kilmer's performance in the Top Gun sequel!
Val Kilmer's book "I'm Your Huckleberry"
Val was still determined to tell his tale, even though he had lost his voice. He decided to write a book.
Val Kilmer's memoir, "I'm Your Huckleberry" tells the story of his career as an actor and how he copes with throat cancer. This book is a must-read for anyone interested in Val Kilmer or Hollywood.
The book title was a nod to Val's character, Doc Holiday in Tombstone.
Is Val Kilmer Worth That Much? Salary Highlights
While it's true that Val Kilmer is no longer that active in the film industry, his past box-office hits prove to be sufficient for him to live a comfortable life.
For example, for the fan's favorite Batman Forever, Val received a salary of $7 million, which equals $12 million in today's currency. He also earned $7 million for his role in The Saint and $6 million for The Island of Dr. Moreau.
Last but not least, Val Kilmer also earned $9 million for his movie, At First Sight, and it equals $14 million in today's currency.