Hugh Grant Wife: Know About His Marriage and Dating History
Hugh Grant is the name that we associate with the term "perfect actor." Charming, funny, and he's British. The London-born actor was a star in several projects, some of those becoming worldwide sensations. His involvement in "Four Weddings and a Funeral," "Notting Hill," and his recent series, " The Undoing."
Grant's love stories are also a well-known story in the film industry. From the media and his perspective, he had several flings and relationships, three of which were famous and a bit controversial. But Grant finally found the love of his life, Anna Eberstein.
Hugh Grant's first touch into love with Elizabeth Hurley
We meet several people we regard as "suitable partners" in our lives. Even though you maybe didn't date them, you knew you had that click with them. That is a good description of how we describe the relationship between Hugh Grant and Elizabeth Hurley.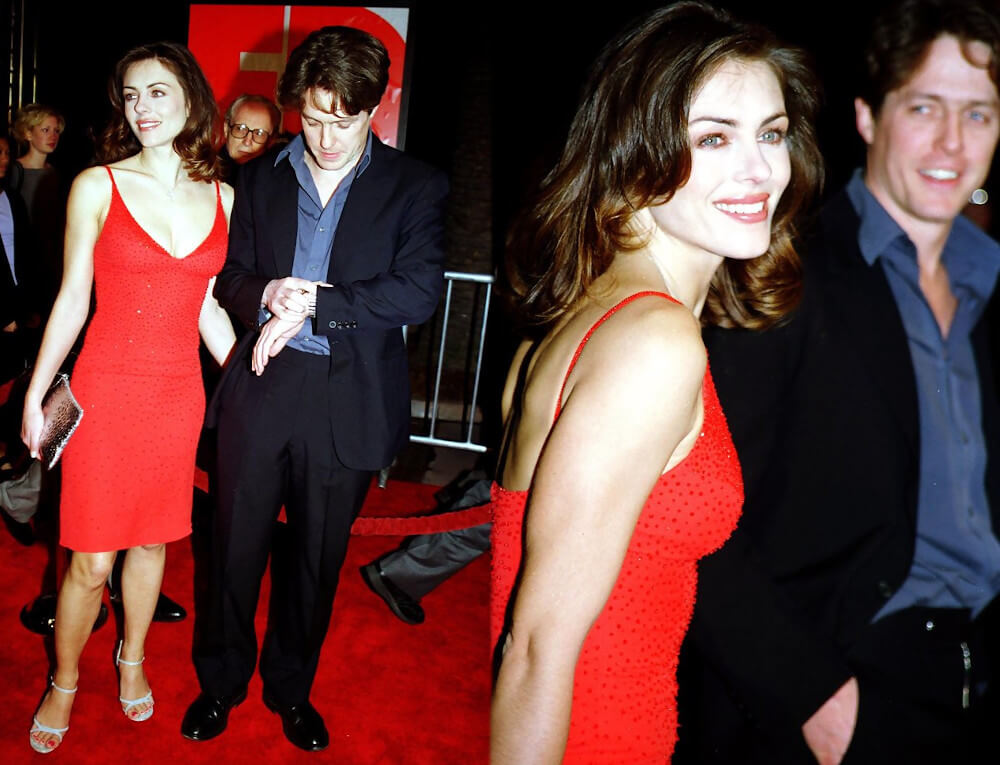 They were a good match, even dubbed the perfect couple by several media and magazines. Why not? They both were breakthrough actresses and actors with huge futures ahead.
The then-former couple met when both were working together on a film project called "Remando Al Viento" in 1987. Grant and Liz – Elizabeth Hurley's nickname – knew they were good as a couple. And in that instant, the world recognized them as a pair.
Not much occurred while both were dating, even though several photos caught the sweet moments of Grant and Liz together, attending Grant's movie, "Four Weddings and a Funeral," in 1994. We hoped their relationship could progress into a more stable and official relationship before one disastrous event sparked long speculation about Grant and Liz's relationship.
The event took place in 1995 when Hugh Grant was about to premiere his next film "Nine Months." Grants stated that he was miserable about his acting skills in that play. His slump-state gave way to another significant problem when Hugh Grant was making out with a woman in his car.
It was a massive blow for Grant, with all eyes looking not only at him and the woman who gave him the "paid service" but also at Elizabeth Hurley.
The couple somehow withstood the ordeal of that momentous incident, but in 2000 the couple called it over, ending 13 years of relationship. Liz and Hugh Grant, however, didn't finish their relationship as best friends.
Liz Hurley eventually found her love in Steve Bing, with their passion resulting in the birth of Liz's first son, Damian. And guess what? Hugh Grant was the one who received the title "godfather" for Damian. Liz regarded Hugh as her advisor when she needed some help on film scripts or her work in the film industry.
A relationship that lasted for 10 minutes with Drew Barrymore
Hugh Grant's ties didn't end well before he met Anna Eberstein. This relationship is, well, quite audacious yet funny to read. Hugh and Drew met in a romantic comedy film called "Music and Lyrics" in 2007. Their relationship didn't last long, but Grant and Drew shared some exciting moments in that short period.
One of these moments was when the two went high after drinking together with the same film executives. Drew met with Hugh before she grabbed him, and both went for a quickie for 10 minutes.
According to Daily Mail, the London actor recalled that experience as a particular moment. He stated that he just wanted to greet Drew, then things ended in that way. We know something about acting foolish while being high after lots of drinking, so don't worry, Hugh and Drew.
A love that materialized into two living beings with Tinglan Hong
So far, Hugh Grant can get away from the relationships he managed to get his hands on. Not much happened when Liz Hurley and Drew Barrymore left him, and now, Hugh Grant is ready to embark on his chapter in his relationship book.
Around 2011, Hugh Grant was in London, eating in a Chinese restaurant before he stumbled upon a receptionist lady. The girls' name was Tinglan Hong, a Chinese-born woman who had studied in the UK. Grant eventually went nuts for her at that brief moment, and it didn't take long for Grant to realize that he was in love with her.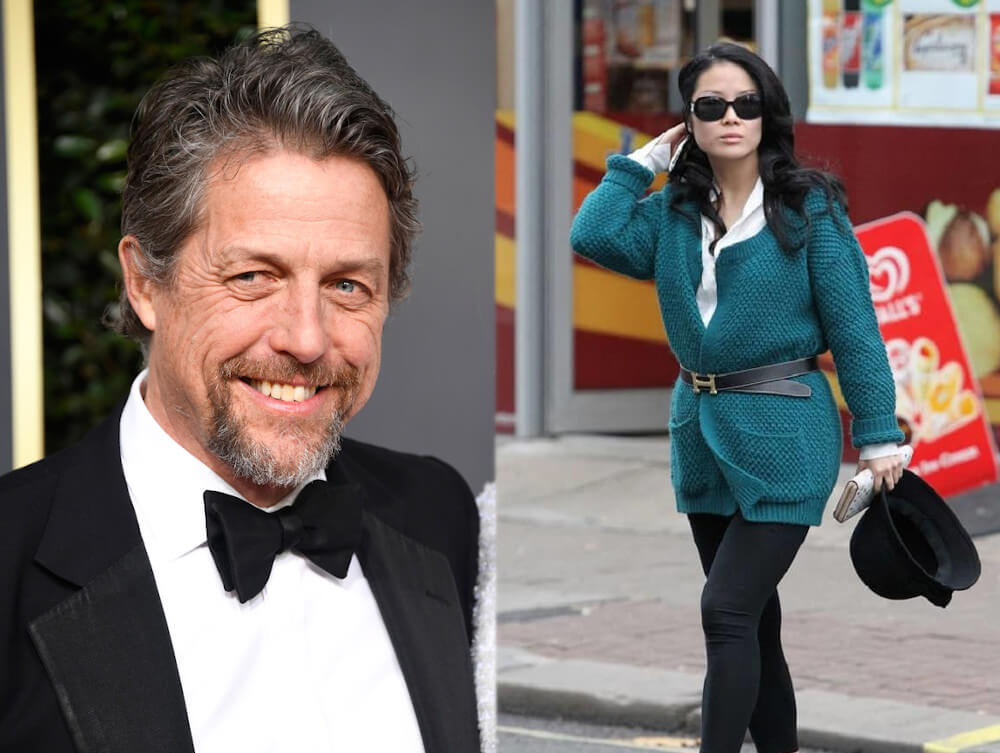 Hugh Grant's reputation as a ladies' man formed the notion inside the press that the relationship would end soon.
Unfortunately for the press, the relationship between Hugh Grant and Tinglan would take off on a whole different level. The media eventually caught the pair showing their affection in public. Grant and Tinglan went separate ways after the media caught a glimpse that Tinglan was pregnant. According to Tuko, Grant gave his partner and his firstborn a house located in London.
Grant told The Guardian that the time he received the news that Tinglan had successfully delivered his first daughter, it was hard for him to be able to meet with her. He also added that the media has woefully treated Tinglan and Tabitha.
Tinglan and her daughter, Tabitha, then had another brief moment with Hugh Grant after the media settled down. However, reports came that Tinglan was pregnant once again in that brief moment.
All eyes turned to Grant, who had been in a relationship with his eventual wife, Anna Eberstein. In 2018, just three months after Anna welcomed her third child, Tinglan welcomed her first son, Felix.
Hugh Grant and His Current wife Anna Eberstein
Hugh Grant was a real-life ladies' man. Up until this moment, we are sure that you have conflicted feelings about Grant's love narratives he had. But, as we all know, there will be a time that a proper ladies' man will meet a girl that he would like to spend his life with.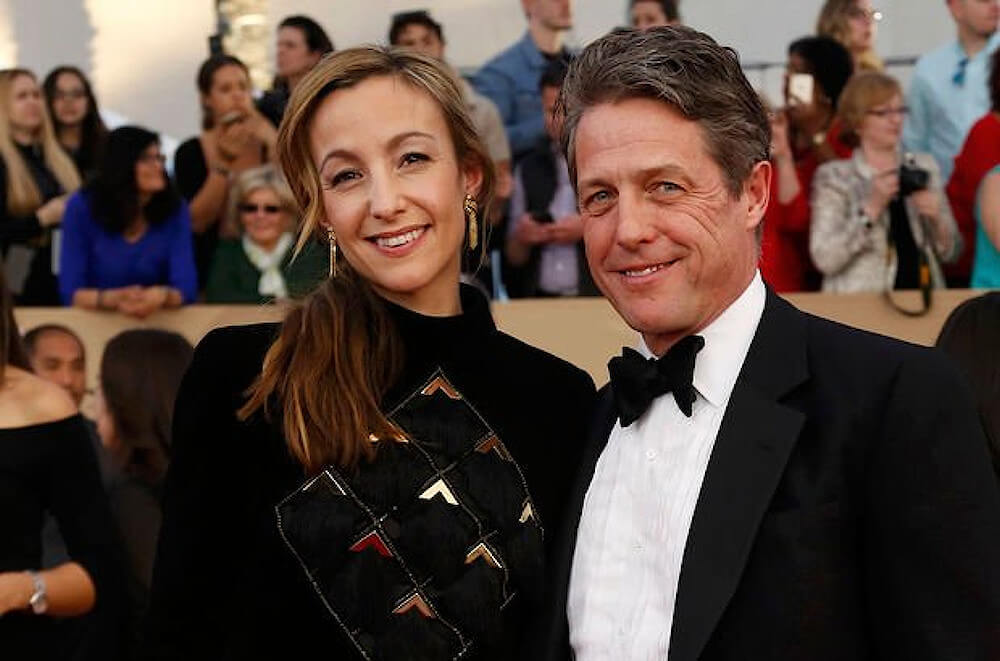 For Hugh Grant, it was Anna Eberstein that was capable of giving that comfort to Hugh.
Hugh Grant is a father of three children, two from Tinglan and one from Anna, in a short time. Anna was a Swedish-born businesswoman, and believe us, we tried to find how she met Hugh in the first place, but we couldn't find it.
But we know for sure that according to Marie Claire, Eberstein gave birth to Grant's son, John, with the Swedish woman. In Grant's story with Tinglan, Tinglan welcomed her first son and Grant's second son named Felix after Eberstein. In summary, Eberstein gave birth to John before Tinglan 's turn to deliver Felix. Well, we know now that Hugh was a fertile man after all.
The news of Anna dating Hugh began to skyrocket in 2014, two years after Hugh welcomed his first child with her. The rumors were true, and in December 2015, Anna gave birth to Hugh's second recorded daughter and his fourth child.
The couple went on fire before ending their streak with the arrival of Anna's second daughter and Hugh's fifth child. For better or worse, Liz Hurley, Hugh's former girlfriend, and his best friend announced the forthcoming of Hugh and Anna's third child and Hugh's fifth child, with the other two coming from Tinglan Hong.
Instead of leaving Anna's side, Hugh finally settled down with the pair and announced their official engagement in May 2018. It was a small ceremony that occurred in London. According to The Sun UK, a few close friends and relatives attended the happy occasion.
Hugh Grant's love narrative finally ends with his choice to marry Anna Eberstein, and both are currently having their best times together as a family.