Is Crystal Reed Dating Anyone? Who is Her Boyfriend?
An actress who seemed to know her passion since a young age – Crystal Marie Reed – was known dating Maria Sten since 2019.
She was the one who divorced Peter John Nottoli and had a relationship with Darren McMullen in 2017. It was also known that she had another relationship with Daniel Sharman in the previous year.
Are you curious about how Crystal met her current girlfriend and her previous boyfriends? Let us dig into the truth thoroughly below.
Crystal Reed and Maria Sten's Relationship, Which Made Fans Freaked Out
After starring in the television series titled Swamp Thing in 2019, Crystal Reed was known for dating her co-star, Maria Sten. At first, the public guessed their relationship was no more than just friends, but something felt strange.
While Maria Sten had been traveling in Italy for the holidays, Crystal Reed commented on Maria's post, saying, "Can't wait to have my girlfriend back." The comment, which exceeded 1000 likes, made fans quickly jump to conclusions, saying they could be an item.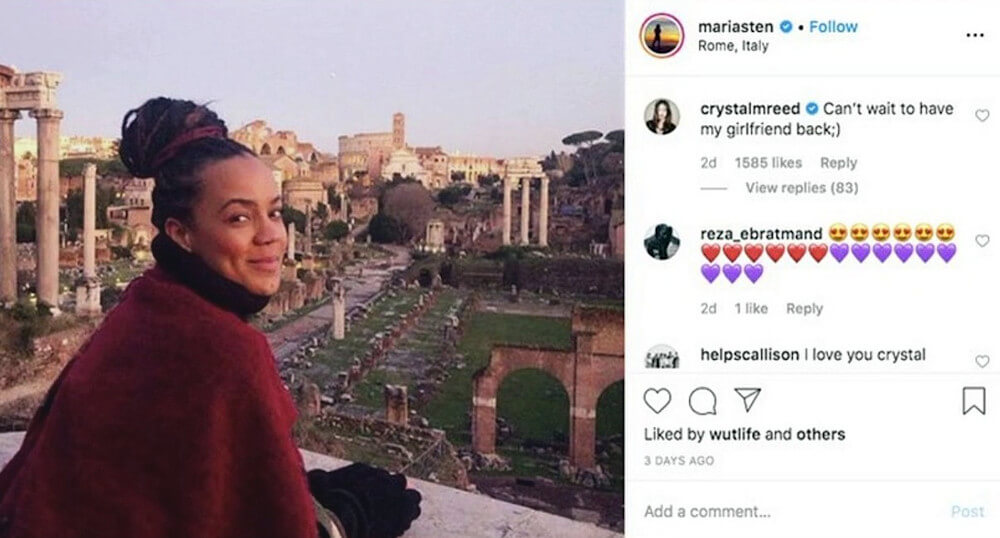 One of the Instagram users seemed thrilled as he commented, "You're dating Crystal?? Yes, let's go, gays!" with a rainbow emoticon at the end.
Also, on December 31, 2019, a Twitter account posted a photo of Crystal Reed with Maria Sten. Like Maria's Instagram post, many girls shipped them, although some seemed surprised, as Crystal had no history of dating girls.
And some fans also commented as if they were jealous, saying, "Imagine getting to date Crystal Reed? I had a fat crush on her during my teen wolf days. It couldn't be me."
There seemed to be many heartbroken fans when that particular user posted the photo. That was unfortunate, but how could we stop them anyway?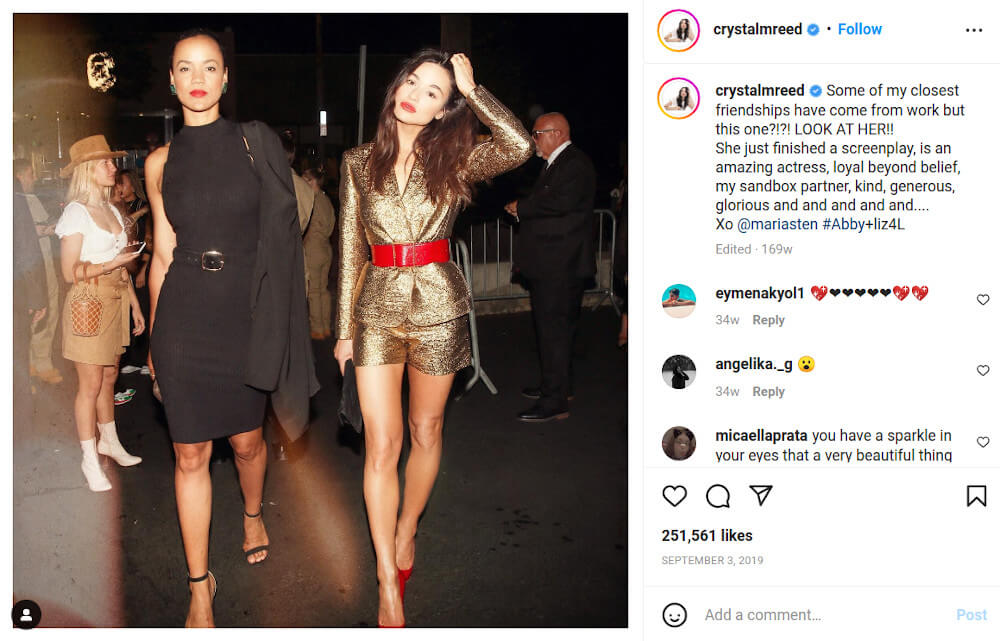 Crystal also kept praising her girlfriend, as she posted an Instagram feed where she posed beside Maria Sten. She wrote, "Look at her! She just finished a screenplay, is an amazing actress, loyal beyond belief, my sandbox partner, kind, generous, glorious, and…."
But the public might have guessed that Crystal Reed had her relationship with Maria Sten just when she still had a thing with Darren McMullen. Because the report of their dating coincided with the time, she was assumed to be still dating Darren. The news of Crystal and Darren's breakup came in 2020.
Neither party has confirmed, so we can't be sure whether Crystal did date Maria.
Let us jump to Crystal Reed's previous relationship with Darren McMullen below.
Crystal Reed's Boyfriend: Her Relationship with Darren McMullen
In 2014, Crystal Reed was reported to have a serious relationship with The Voice Australia's host, Darren McMullen.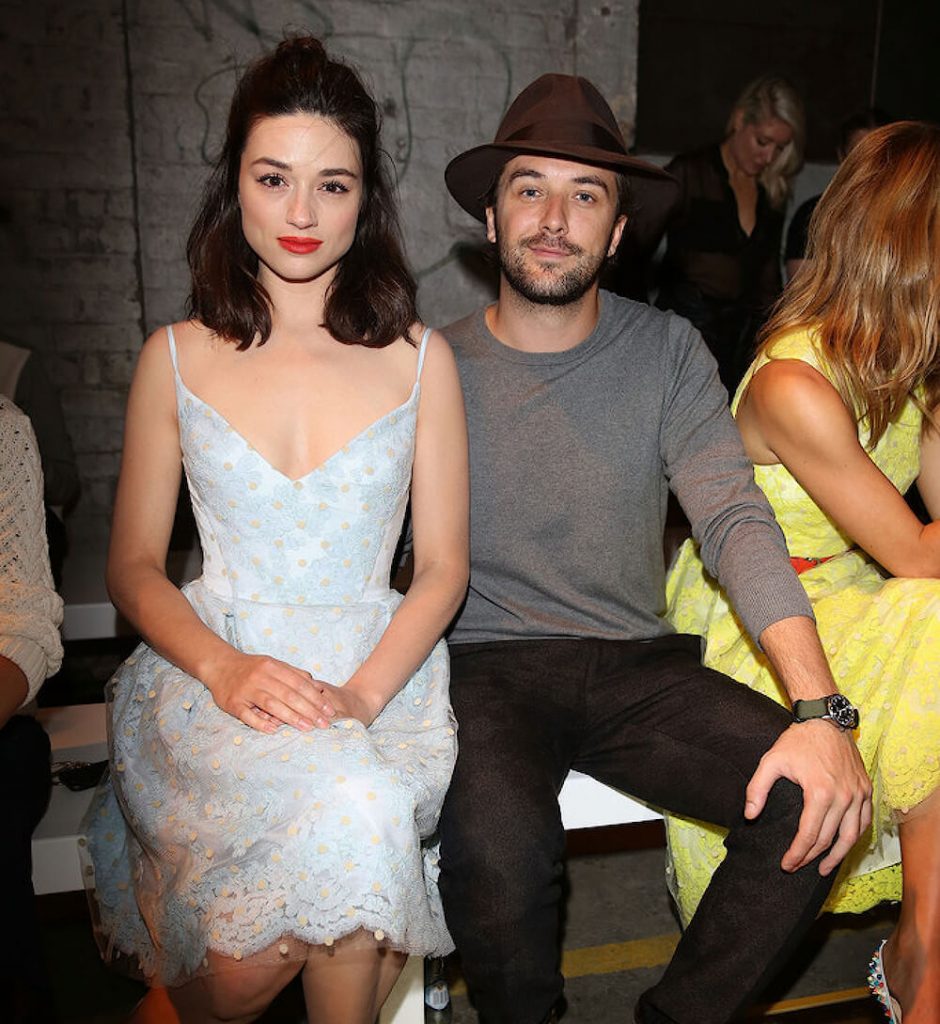 It was pretty surprising as Darren had a reputation as being a "ladies' man." And it seemed that Crystal Reed made him fall in love.
Darren McMullen then quickly confirmed his relationship in CLEO Magazine. While people recognized him as a shy man, it was unexpected that Darren said he was in love. Darren McMullen said, "Yeah, I am in love. I'm definitely in love," when asked about his relationship with Crystal Reed.
Furthermore, on Valentine's Day, Crystal posted a picture of a book that was opened on a specific page. The page consisted of one sentence, "Love me when I least deserve it because that's when I need it," with Darren, who picked up his nose as a background. Well, can we consider this post sweet?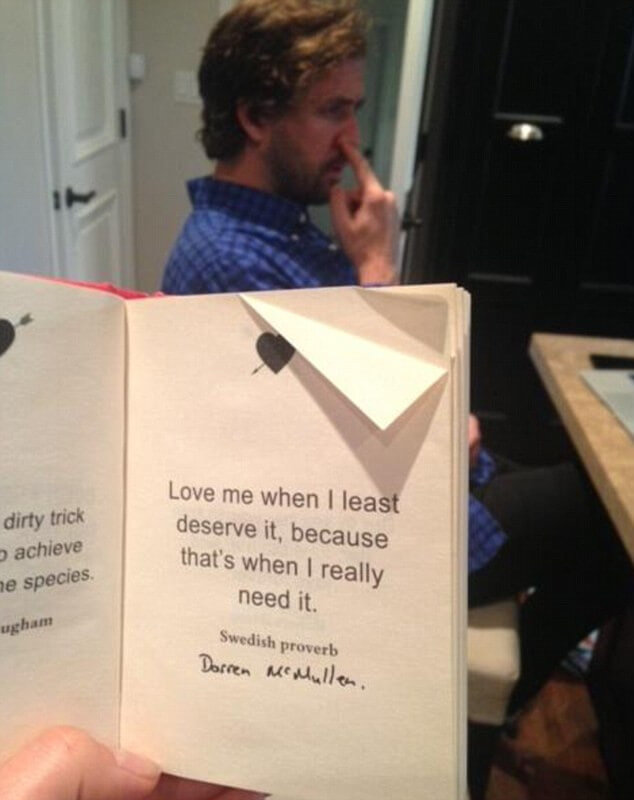 Later, Darren McMullen shared how he met Crystal Reed in 2013. It revealed that Crystal was the one who instigated their first interaction by calling him out in a bar. This act made Darren remember that he used to be quite surprised when called by Crystal.
Darren said, "She walked by and just stared at me and smiled," then he continued, "I went, 'Hey,' and she also answered, 'Hey.' I was just like, 'Oh my God, she took my breath away.'"
Darren also had hoped that Crystal Reed could be his life partner. It seemed that the host expected a serious relationship with the actress.
It was unfortunate that the two went separate ways because of their busy schedule. In 2020, it was reported that Darren and Crystal split up, but Darren was manly enough to conclude that everything happened for a reason. He also emphasized trying his best not to focus on the negative.
Even though they were not meant to be, we do hope the best for them.
Let's now talk about the relationship story between Crystal Reed and Daniel Sharman.
When Did Crystal Have a Relationship with Daniel Sharman?
In 2011, tabloids went frenzy over the news about Crystal Reed and Daniel Sharman's relationship. They didn't get roles where they would kiss and hug as a couple, but the love blossomed between them.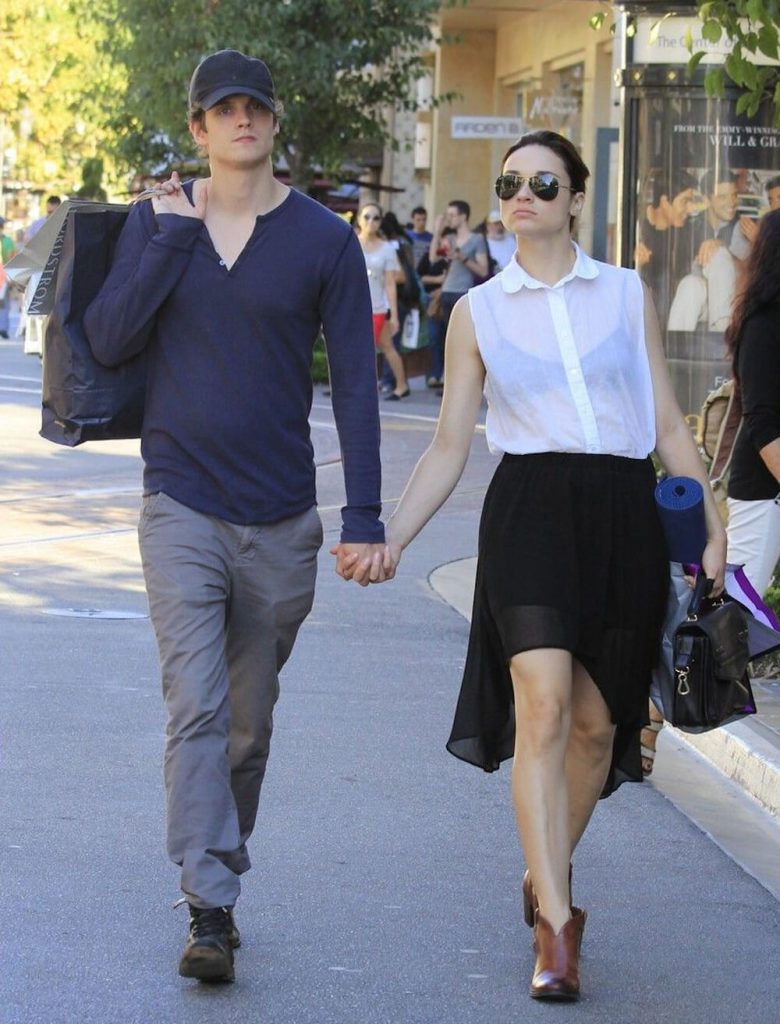 Not only being lovers, but the pair also had the chance to co-star in the Teen Wolf series.
The romance started just after Crystal Reed had divorced Peter Nottoli. We could see that the two started dating when the media showed the photos of them holding hands while out at The Grove in Los Angeles on November 25, 2012.
Crystal Reed seemed to have fun as she was always smiling while walking hand in hand. Crystal was also seen stopping at Zara to buy something before heading out.
On their date, Crystal rocked a stripe-patterned sweater with short pants, while Daniel Sharman wore a striped white shirt with gray pants. The actor wore black sunglasses and red sneakers, while Crystal wore boots.
However, those moments couldn't continue as they decided to separate. On June 27, 2013, Crystal got a brief interview, and there, she said about how her relationship with Daniel ended.
She said, "I went by myself, and it was cold, but it was lovely. I was getting over a breakup." She continued, "So, it just jump started my singleness."
She seemed sad, but at the same time, she was also feeling lucky. As quoted by Us Magazine, the actress said, "It was lonely, but I was lucky enough to meet the most incredible people."
Crystal also had the chance to share her favorite tracks after her breakup with Daniel Sharman. It was on the album Jagged Little Pill by Alanis Morissette, which had 12 songs. The songs seemed to empower Crystal so that she could feel a little better.
It was a sweet moment yet very brief. May Crystal Reed could move on and find her other half soon.